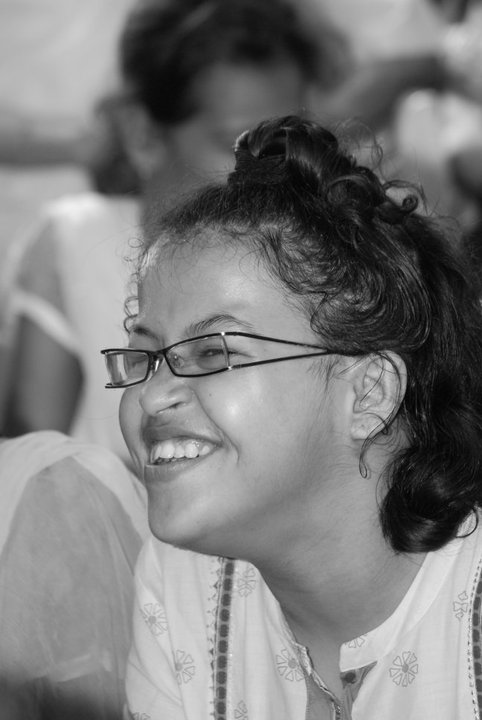 A new program in Chennai is enabling differently-abled children and children with special needs to experience the joys of music, dance and other art forms in a comfortable and non-invasive environment. With performances from stellar artists, this organization aims at including these children in the cultural space that is largely denied to them due to their peculiarities, and allowing them to immerse themselves in the therapeutic effects of creative arts.
A new program in Chennai is enabling differently-abled children and children with special needs to experience the joys of music, dance and other art forms in a comfortable and non-invasive environment. With performances from stellar artists, this organization aims at including these children in the cultural space that is largely denied to them due to their peculiarities, and allowing them to immerse themselves in the therapeutic effects of creative arts.
Seven different colours form a rainbow. Different gestures, expressions and movements enhance the beauty of a dance. Seven different notes form a divine melody. Similarly, it is differences in people that make up a beautiful society. In a society demarcated with boundaries, social and physical, it is music and the arts that act as the unifier and leveler. In a society, prone to be wounded by tension and conflict, the creative arts act as a healer. Music and the arts see no religion, language and social status and reach out to the senses and the soul without any discrimination. This is the foundational premise for Tarang.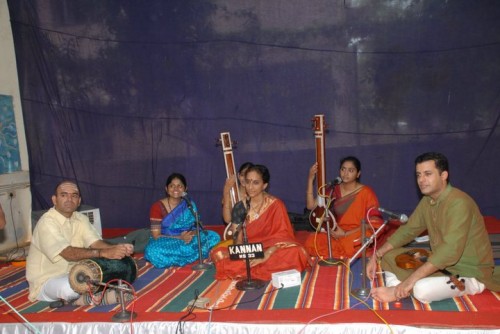 Tarang, a cultural initiative for persons with special needs and their caregivers was launched by V-Excel Educational Trust, a not-for-profit organization for children, in collaboration with Bharatiya Vidya Bhavan (Chennai) on 3rd December, 2013 to commemorate the occasion of World Disability Day. The idea was to bind those with special needs into an inclusive society, to give them the joy of experiencing the beauty and harmony of the creative arts, besides promoting healing and therapeutic effects of the performing arts in special education.
Dr Vasudha Prakash, Director of V-Excel Educational Trust says:
Tarang is a symphony, but it is also a symphony that binds. It forms chords and bridges in the community between everybody, between the children with special needs. It also caters across age groups. We have children as young as 3 and 4 years and we also have adults with special needs. We have lifespan intervention with early intervention. Our oldest student is 40 years old. We have so many things available for them to do.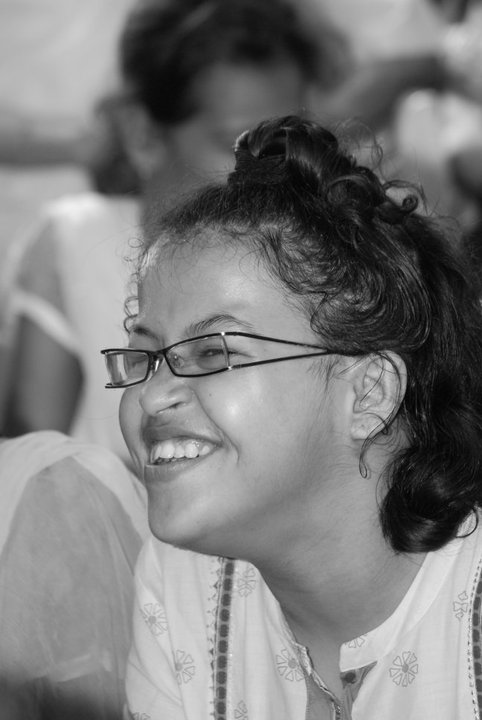 The Tarang seed was unknowingly sown by the Academy Award nominated Carnatic musician and singer, Bombay Jayshree, when the V-Excel Educational Trust-BVB association hadn't taken place as yet. Music had always been part of the 'classes' at the NGO. Come every Friday, you would find eager listeners and participators among the special students in the music classes. While Vasudha noted that loud filmy music held great appeal for them, she imagined how the soothing touches of classical music could do wonders to their senses. A meeting with Jayshree solidified that belief. Vasudha recalls:
Suddenly one day, Bombay Jayshree, she said that tomorrow I am coming to your school at 2 PM to sing for the children. So we immediately put the shamiana together and it was a very beautiful and spontaneous thing that she did. She brought her accompanying artistes and we gathered the children from all our schools, around 100-150 children. We called all the children's parents also. It was an amazing way in which the children sat through one hour very happily; it gave such a good energy in that place. So then we decided that we should do this again.
And there was no stopping after that. The first concert that lasted 20 minutes, had even autistic children who had difficulty sitting down for long periods of time, listening in rapt attention. The experiment had been hugely successful. Over the next three years, V-Excel continued conducting these free concerts on the last Friday of every month from 1 to 2 in the afternoon. They were supported by several dignitaries in the music fraternity to the likes of T M Krishna, Sowmya, Trichur Brothers, Anil Srinivasan, Lalgudi Vijayalakshmi, Vijay Shiva, Lalgudi GJR Krishnan, Shobana Balachandran and many more.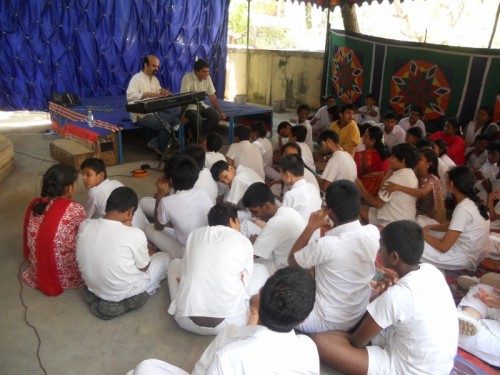 Vasudha noted how the special audience was not only getting culturally stimulated but also intellectually and behaviorally. There was a tangible difference in the way the children responded to music, they started opening up and gaining more confidence. They would react differently to the young artistes and the more seasoned artistes, to vocal music and instrumental music.
As time passed, more schools started participating and parents of the children with special needs began realizing the need for a recreational facility, which they could enjoy as a family. This led V-Excel to ultimately launch this initiative with the support and consent of Bharatiya Vidya Bhavan.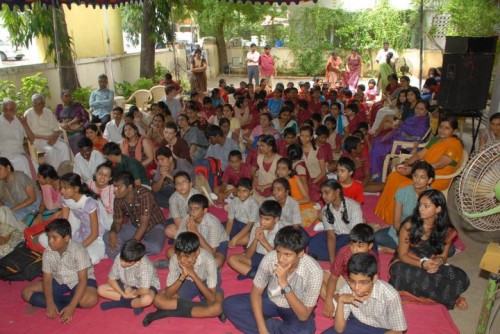 From the very beginning Vasudha had been particular about the music or art that is chosen to be presented to the students. What had to be showcased for the people with special needs and their caregivers had to reflect excellence in that field. Talking about this initiative, she says:
That was our vision, aisa nahin ki special children hai isliye kuch bhi suna de, it was not like that. (We never believed that these are special children so we can make them listen to anything). This is also going to be the place where we will display art by students who are hearing impaired, those who are good in singing or playing instruments will also be allowed to showcase their talent. We want art exhibitions, photography exhibitions. We want to showcase everything that could be included under culture in that space.
In fact, C Venkat, a prolific photographer specializing in insect photography has already volunteered to teach photography to the special children who show aptitude in this 'technical' art form. Who knows, they can bloom into professional photographers later in their lives and carve a niche for themselves? After all, some of the children are blessed with hypersensitive vision, a valuable physical trait in photography.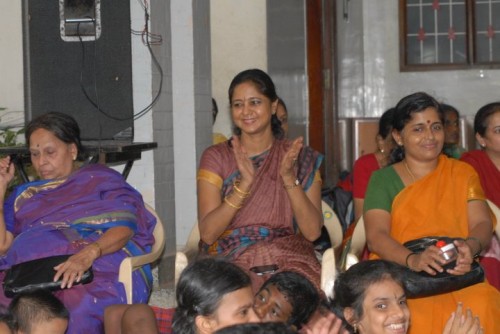 The initiative is also about being respectful and sensitive to the needs of special people, something that gets lost in the mainstream society. Picture this, how many times have you been to a classical music concert and seen a special child enjoying the performance with equal ease and the mainstream audience not getting distracted? Have you ever thought whether families' enthusiasm in taking along their special children to public performances gets overshadowed by their apprehension and awkwardness? Formation of Tarang had this other underlying objective as well. Vasudha elaborates:
Persons with special needs, children with autism or mental retardation -sometimes they process differently. The large number of people in auditoriums, the kind of seating that they have is not amenable to this. Sometimes the children want to just get up, shout or wave their hands, do whatever they do, which is sensorially triggered. Some might look at it broadly or some may look at them with suspicion, they might think that this is a place for normal people and ask why they are being included. So it is nice that people who are understood will be there, the volume can be adjusted, the music can be fine-tuned based on the response, the interaction can be more. You can drop a bit of formality with the children.

The idea is not to exclude but to show the children that this is how it happens in a concert and if you want to go to a concert, say a music academy, you can use tickets. It gives a readiness for inclusion and we can also customise and create a special environment needed for persons with special needs to listen to music. Parents might feel very awkward to bring such children to concerts, if it gets late in the night. Then there is difficulty to get autos. So we can have these concerts in the afternoon. The school can bring them. So we want to explore that freedom for extra-curricular activities.
As part of the Tarang initiative, every month, the Bharatiya Vidya Bhavan will open its doors to persons with special needs in the city for a free musical concert organised by V-Excel. India's abounding tradition of music, dance and other performing arts will be showcased and make way for a larger acceptance of disabled people in traditional settings. Tarang had its first cultural program on 3rd December, 2013. It was inaugurated by V-Excel's brand ambassador, Bombay Jayashri. On the inaugural day, there was a piano recital by Anil Srinivasan, dance by Priya Murale and students of Shree Bharatalaya, songs sung by students of V-Excel and a classical music concert by Saindhavi Prakash.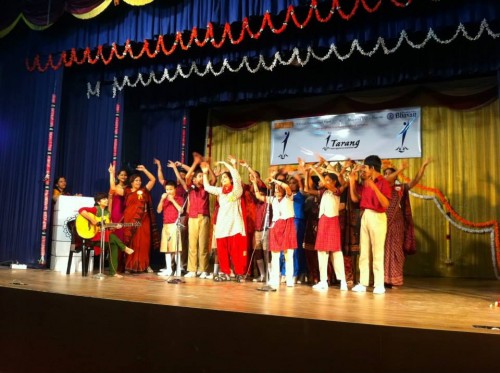 The programs and performers are planned out well in advance. Not only do the students and their parents remain excited about the programs, but the performing artistes too love to put up their shows here. The experience is unmatched in terms of the warmth and acceptance they receive here without being judged.
Tarang is indeed putting up a good show and is doing marvelous work for not only those with special needs but their families too. As a result, the children are opening up and venturing into new zones which till before had been restricted to them. Due to their own set of challenges, they don't socialize and make friends easily. The cultural initiatives of Tarang are filling in this vacuum and in the process, helping them to build their confidence and self-esteem and face the world. More interesting plans lie ahead from Tarang in order to create a more culturally active and inclusive society.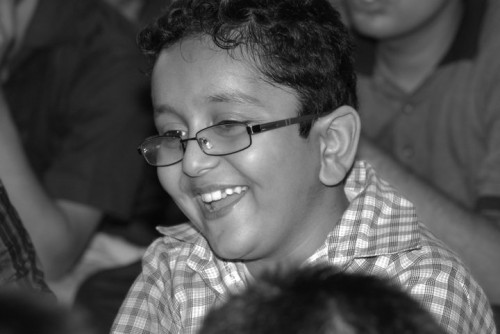 The next program is all set to take place on 19th February (tomorrow) between 1 and 2 pm at the Bhartiya Vidya Bhavan auditorium. The performer this time is singer Sandeep Narayan, who will be accompanied by M Vijay on the violin and NC Bharadwaj on the mridangam. Do include it in your 'must-visits' if you happen to be in Chennai!
Ipsita Sarkar is a freelance writer.
We bring stories straight from the heart of India, to inspire millions and create a wave of impact. Our positive movement is growing bigger everyday, and we would love for you to join it.
Please contribute whatever you can, every little penny helps our team in bringing you more stories that support dreams and spread hope.