Everything you needed to know about the Pradhan Mantri Jan Dhan Yojana.
According to a recent World Bank report, as of 2013, India is home to the largest population in the world that is living below the international poverty line. According to the study, 30% of our population earns less than $1.90 a day (approximately ₹124.38). Additionally, World Bank's poverty profile of India shows that 80% of those who are poor in India reside in rural areas.
This means millions in India simply do not have the financial wherewithal to open bank accounts or have access to banking services like life insurance as a result of it. They literally exist outside of the grid, which puts them at great risk when reformation policies like demonetisation are launched.
Which is why the Pradhan Mantri Jan Dhan Yojana plays a crucial role in the future of Digital India.
Image for representation. Photo source: Wikimedia
What is the Pradhan Mantri Jan Dhan Yojana?
It is a national mission to ensure financial inclusion of all Indians, not just those who are financially sound. The campaign, which was launched officially on August 28, 2014, allows citizens of India to open zero-balance bank accounts. In other words, those who want to open a bank account don't have to show minimum balance or pay service fee charges in order to have an account.
Within five months of the scheme going live, the programme made it to the Guinness Book of World Records for having orchestrated the most number of bank accounts opened within a span of one week (18,096,130 in the first week of the launch).
Additionally, there was also a boost in the number of bank accounts being opened post demonetisation. According to a report in the Hindu Businessline, within 100 days of demonetisation, the number of bank accounts under PMJDY had increased by 2.26 crore. Deposits made under the scheme also got a boost by ₹19,084 crore.
Can a person only open an account in specific banks?
All banks under the public sector fall under this scheme and can be accessed to open accounts by the general public. There are a total of 27 public sector banks that include Allahabad Bank, Bank of Baroda, IDBI Bank, Indian Bank, Union Bank of India, Vijaya Bank, State Bank of India and its five affiliated banks, and more.
There are also a number of banks that fall under the private sector both nationally and internationally that have participated in the scheme. This includes HDFC Bank, Axis Bank, ING Vysya Bank and more.
Many of these public and private sector banks have also conducted camps across India to ensure maximum reach to the public.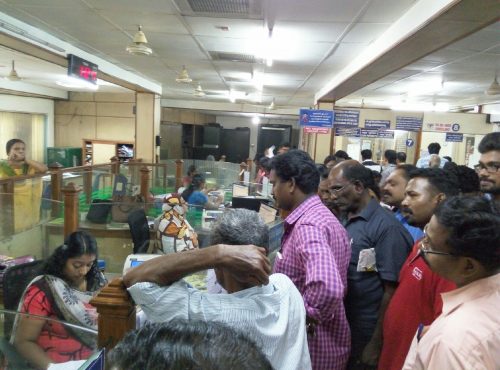 Image for representation. Photo source: Wikimedia
This online tool can be used to locate the nearest bank that allows accounts to be opened under PMJDY.
Who is eligible to start a bank account?
Anyone who holds an Indian nationality is automatically eligible under this scheme.
A minor who is above the age of 10 can open a bank account in her or his name. But the minor should have a guardian who can manage the account. And while he or she can have a RuPay Card, they can withdraw from any ATM only four times in a month.
---
You may also like: How India's First Bank for Rural Women Has Changed Over 3 Lakh Lives
---
What do you get once you open a bank account through PMJDY?
The moment a person opens an account under PMJDY, they will get a RuPay Card whose function is similar to that of a debit card. They also get free life cover worth ₹30,000 payable on death of the beneficiary and accidental insurance cover of ₹1 lakh.
How can you open an account and what documentation should you have?
Opening a bank account is fairly simple. The government urges citizens to walk into any of the nearest banks and submit whatever documentation you have and consult with bank officials to take it forward.
Here are some of the documents that banks will accept:
If a citizen has an Aadhaar card, then that is accepted immediately.
Banks will also accept government-issued identification, such as the Passport, Driving License, PAN Card, Voter ID Card and NREGA (Mahatma Gandhi National Rural Employment Guarantee Act) Card.
But given there are quite possibly millions of Indians who may not have necessary documentation, the scheme also provides the following provisions:
An individual who has an identity proof (a letter along with a photograph) that has been authorised and attested by any gazette officer will be able to open a bank account.
In case there are no documents available then the bank will have do background research on the individual. If the person is classified as "low risk" after ground research, then the bank can allow the person to open an account.
The list of documentation required can be found here.
What are the benefits of having an account under this scheme?
Apart from life cover, here are some of the benefits of having an account:
Money can be transferred across the country with no additional charges.
Interest upon deposit of money.
Deposit and withdraw money for free.
Mobile banking facility that is free of charge.
---
You may also like: How India Post Payments Bank Can Be a Game Changer for Financial Inclusion
---
When there are more questions…
The government has instated two national toll-free numbers to address the queries of people who might be interested in the scheme.
They are 1800 180 1111 and 1800 11 0001.
Additional information can also be accessed through the official website here.
Like this story? Or have something to share? Write to us: contact@thebetterindia.com, or connect with us on Facebook and Twitter.
NEW: Click here to get positive news on WhatsApp!