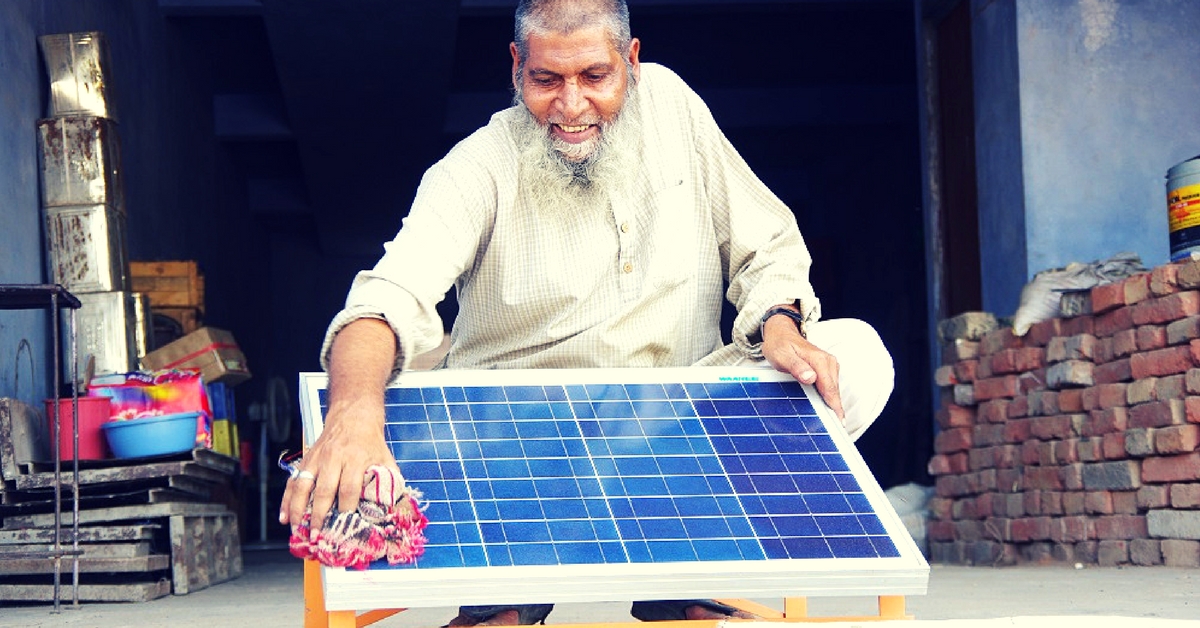 Even though the solar story in India is replete with a multitude of highs and lows, its progress in certain aspects is encouraging and its overall growth is inevitable.
Even though the solar story in India is replete with a multitude of highs and lows, its progress in certain aspects is encouraging and its overall growth is inevitable.
Efforts are being made by government, institutional and private enterprises in India to consciously tap into this source of energy and meet global environmental, financial and social challenges in doing so.
The spark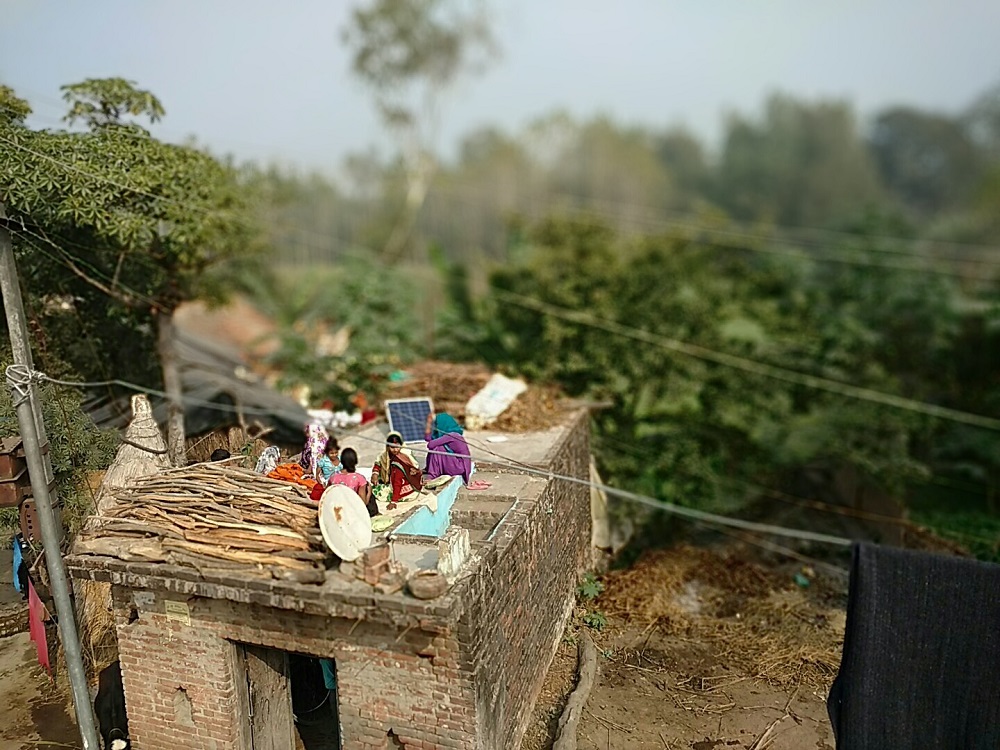 Photo Credit: Simpa Networks
To address the immediate issues of energy scarcity and environmental degradation by creating a strong foothold for solar energy, the Jawaharlal Nehru National Solar Mission (JNNSM) was launched in 2010. The policy measures and subsidy schemes that followed have led to a favourable environment for the solar sector, fuelled by investment through companies looking at renewable energy as a solution to bridge the demand-supply gap.
In 2015, the government ramped up the solar capacity target originally set at 20GW by 2022 under the JNNSM to 100GW (60GW through Large and Medium Scale Grid Connected Solar Power Projects and 40GW through Rooftop Solar Panels) by 2022. A fivefold increase to be met within the same deadline. Is it realistic, ambitious or imperative?
Conversations with some practitioners and entities within the solar space helped lend perspective on how the solar story is panning out.
Grid Connected
Lakshey Sehgal is the young founder of Spektron Solar Private Limited, a company formed for the purpose of providing quality engineering and training services to the rooftop solar industry. He has completed his Masters in Renewable Energy from Pondicherry University, and his team comprises members with considerable experience in the fields of electrical systems, fire protection and solar photovoltaics. They work extensively with small-scale solar entrepreneurs in various regions across the country.
---
Also read: A Husband-Wife Duo Is Harvesting Rainwater & Solar Energy at the Same Time – Using an Umbrella!
---
"We provide training on what goes into installing a rooftop solar structure, how to do it, and ways in which to procure the subsidy applicable. Even though there are guidelines and procedures for subsidies, it is very state-specific and the ground reality changes from one state to another," explains Lakshey.
A common hindrance faced by those seeking to install rooftop solar panels is dealing with a multi-layered structure comprising local- and state-level authorities. These include the local Discom, a state nodal agency and then the Centre, with each entity catering to different aspects of the process involving installation and subsidies.
To add to this, many states have different Discoms in different regions.
Photo Credit: Spektron Solar
Lakshey voices the concerns of many in this space, "We need a single point of contact to speed things up. Also, an increase in the training and awareness of state-level and Discom officials on solar technology and its operational model is imperative to streamline the process in future. "
One is compelled to ask – when will urban cities adopt to solar energy alternatives? The answer lies in the question to a certain extent. Not until it is an alternative.
Lakshey explains why. "There is no subsidy linked to off-grid solar products that use batteries to store the generated electricity. Incurring a substantial upfront cost and storing a huge battery bank in their homes is not an attractive proposition for city dwellers that do not face power cuts."
An affordable energy source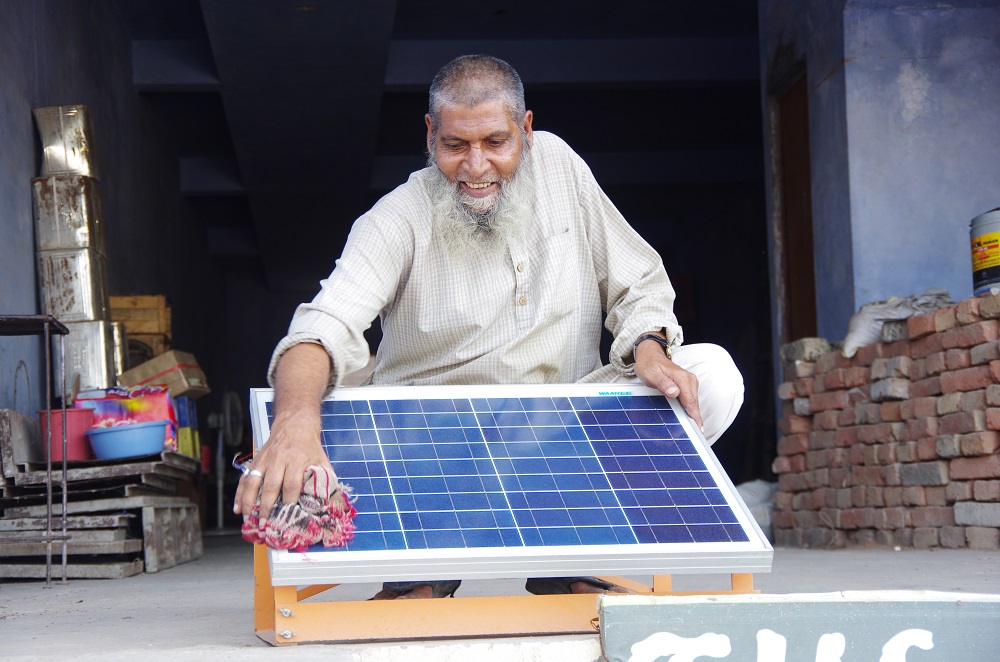 Photo Credit: Simpa Networks
Private participants such as Simpa Networks, Husk Power Systems, OMC Power and Mera Gao Power have taken on the role of Rural Energy Service Providers and are providing solutions to rural and semi-urban areas that are not suitably electrified.
The solution in this instance is one that addresses the concern of energy source and its affordability. A case in point is the pay-as-you-go model for a flexible-use solar system being offered by Simpa Networks.
This system can power up to 3-4 light fittings, a fan, a mobile charger, a television and is being made available to shops and homes that need a reliable source of electric supply amid the bad- or off-grid areas they inhabit.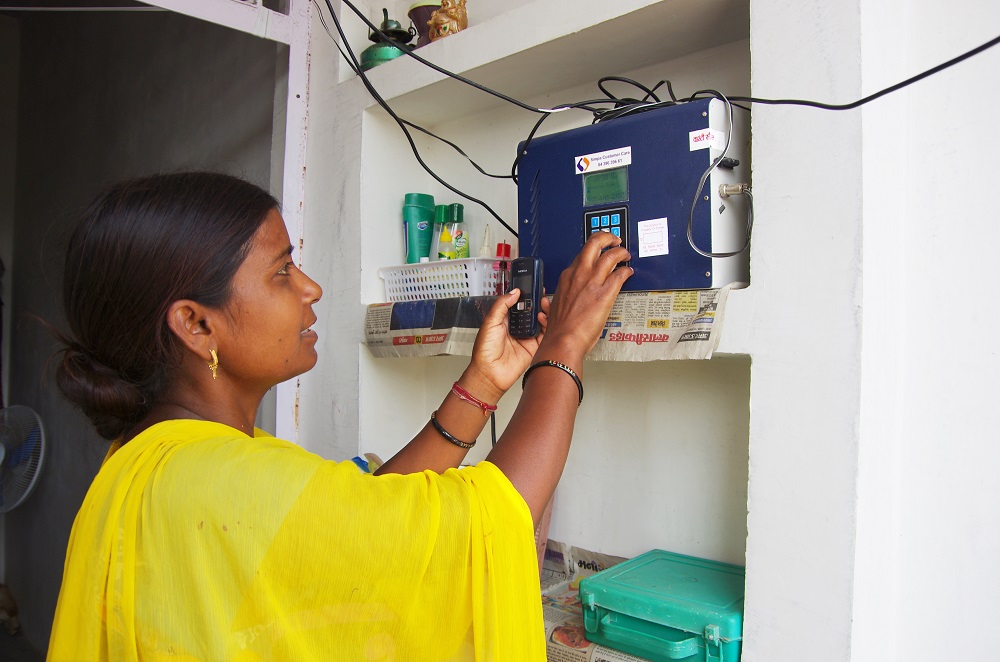 Photo Credit: Simpa Networks
The pay-as-you-go facility allows for smaller payments made over a period of 1-3 years towards the purchase price of the device following which customers become its rightful owners and the energy service too is free for life.
Mitali Sahni from Simpa Networks explains how the company's pay-as-you-go model is making it possible for solar solutions to become accessible and affordable for those with limited means.
"Solar systems available today can solve basic energy needs to a great extent, especially in the rural areas, but the lack of adoption awareness of what solar can do and a high capital cost often prevent them from doing so. At Simpa, we are addressing these issues by packaging a solar device with point-of-sale financing and a doorstep service to help people with irregular incomes avail of this benefit. We are also partnering with mainstream commercial banks to provide energy financing to help create a financially inclusive ecosystem."
Off-Grid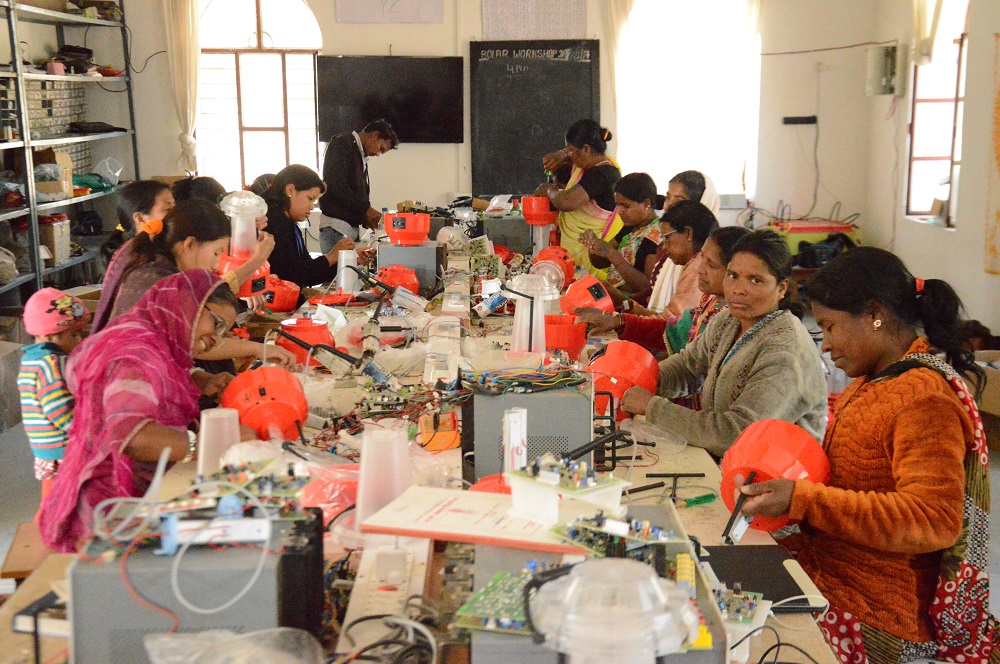 Source: Barefoot College.
While these instances outline the situation mainly faced by those in grid-connected areas looking towards solar as an option, there is a global population of more than a billion people being forced to live off-grid for whom solar is the only answer.
So how do people who rely on kerosene and candles for their lighting needs come to consider solar as a solution? Two factors – energy from the Sun is a free resource, and the Barefoot College is making serious efforts to train people in 'All of the least developed countries' on how to harness it.
"I work in the Solar Energy Department at the Barefoot College and provide solar training." His confidence shot through in the conversation and rightly so. Satyanarayan Sharma has been at it for the past 17 years and is able to trace the journey of this pioneering college from 1984 when it first began work in the solar space.
The Barefoot College currently trains women from villages in India and countries in South East Asia, Latin America, Africa and the Pacific Islands that do not have electricity.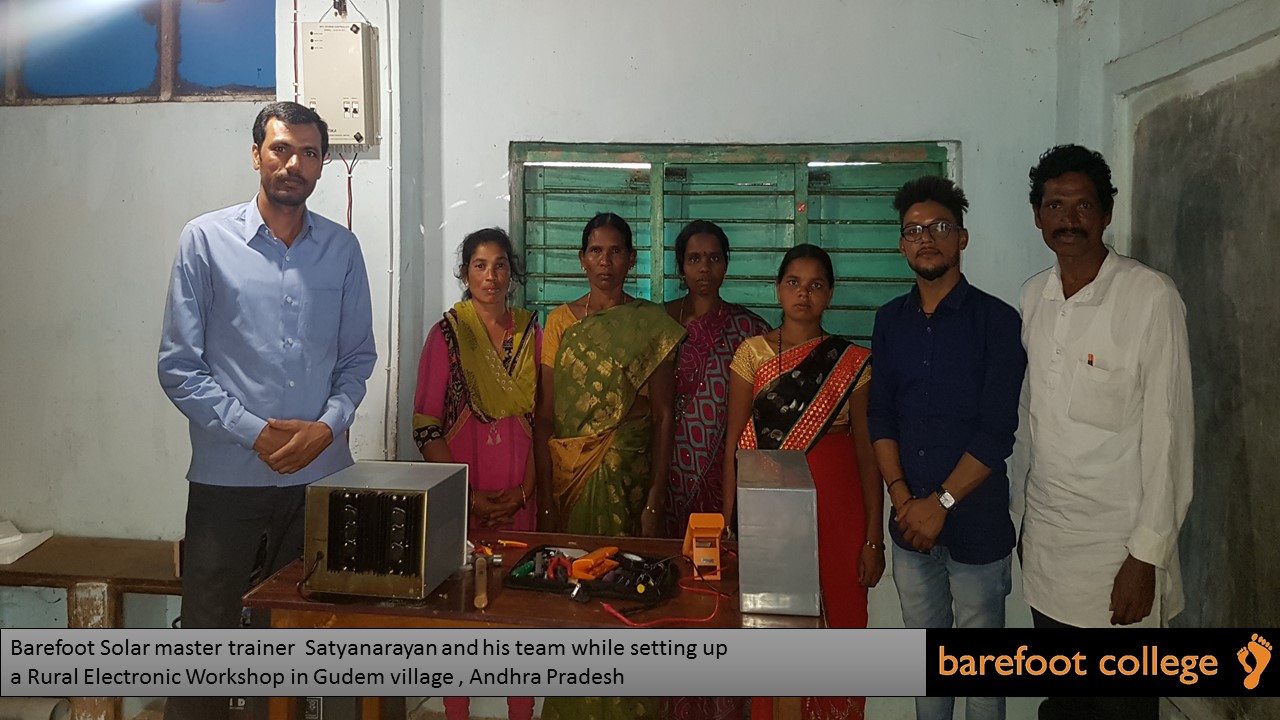 Source: Barefoot College.
These women are selected by their respective communities. The training, involving everything from soldering, detailing, connecting insulated wires, installing a home light system, troubleshooting techniques, among other things, starts with the basics.
The trainees begin by familiarizing themselves with tools and components, understanding what goes where followed by the actual process of installation. "Language is not an issue" clarifies Satyanarayan and describes how the training is a good mix of the practical approach aided by print and digital media.
"We have a solar manual which contains pictures of the equipment and the process. We also use instructional videos and other digital methods of connecting an IPAD to a TV screen and zooming into images that indicate how the components are put together. The trainees are then made to practice on old circuit boards to make sure they fully understand what they have seen and heard."
The training is carried out over a 6-month period and on its completion, the women, now Barefoot engineers and fondly referred to as 'Solar Mamas,' carry out the installation and maintenance of these systems in their villages. They can reach out to the team at the Barefoot College whenever the need arises, either through the ground partners or directly.
---
Also read: How a Farmer's Son From Maharashtra Developed a Solar Dryer That Is Now Used in 8 Countries
---
The trainers are in constant touch with them while the installation is underway and also follow-up with a field visit once it is done. The women trained for this work are paid remuneration from the monthly contribution collected from the beneficiaries that receive the solar systems. The contribution made by each beneficiary is based on their expenses previously incurred on kerosene, candles and other sources of light. The funds collected are deposited into a Bank Account registered in the name of the Village Energy & Environment Committee (VEEC).
The operation of the account is overseen by the VEEC and funds are also used to pay for repairs and replacements at regular intervals. This sustainable model for solar has been replicated globally in partnership with the Government of India and the governments of each of these countries to provide green energy to those at the bottom of the pyramid.
A Barefoot Engineer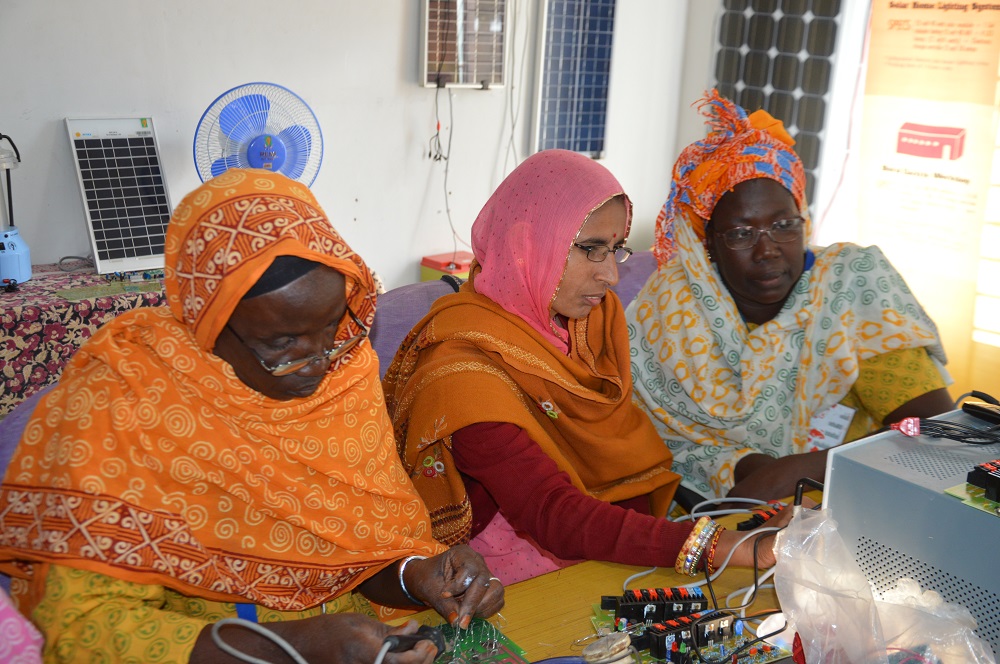 Source: Barefoot College.
Magan Kanwar is a mother of two who has also taken on the responsibility that comes with being a Barefoot engineer and a Solar Master Trainer with the International Training team. She started her journey in this space when she began her training at the Barefoot College.
"First I learned sewing and then I learned solar work. I trained for six months, after which I carried out the process and now I am training other women to do the same. We provide solar training to women from developing and underdeveloped countries of Latin America, Asia, South East Asia, Africa and the Pacific Islands. They do not have light in their homes so they train with us and install solar systems that help light the entire village. I visited Senegal and Tanzania with the solar team to verify the installed systems and they are working well there. Being able to do this for their village makes them very happy."
At present, a majority of these regions use solar for a very basic need – lighting. However, the solar team at the college is already thinking ahead in terms of other essential facilities that could be provided by way of solar to the residents.
Satyanarayan elucidates: "We are constantly innovating and finding newer ways to use solar energy. For instance, a solar projector was devised to educate children in remote villages that have no schools by way of apps. We are also working towards using solar energy for livelihood activities that need electricity to run machines. This will help in eliminating the middlemen who do not pay villagers the right price for their produce."
The targets and figures, projected and actual, may tell one story. It sounds ambitious to some and unrealistic to others. But the first-hand accounts of people and organizations driving the solar revolution to a great extent cannot be refuted. They are beacons of hope for a solarised India, a solarised world, and their stories are worth knowing.
(Written by Urvashi Bachani)
Like this story? Or have something to share? Write to us: contact@thebetterindia.com, or connect with us on Facebook and Twitter.
NEW: Click here to get positive news on WhatsApp!
Tell Us More
We bring stories straight from the heart of India, to inspire millions and create a wave of impact. Our positive movement is growing bigger everyday, and we would love for you to join it.
Please contribute whatever you can, every little penny helps our team in bringing you more stories that support dreams and spread hope.