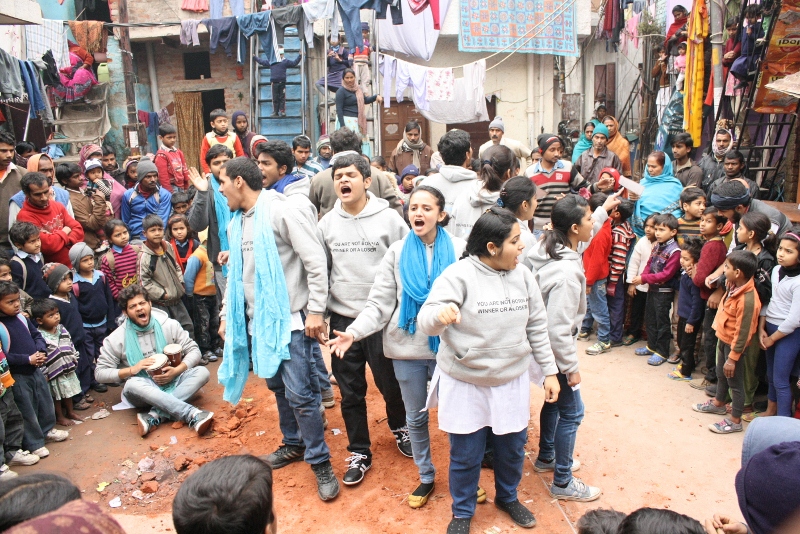 Ensuring success of the RTE inclusion policy requires concerted efforts by all of us. Here is an organization that is working to spread awareness about the process and helping more deserving candidates from Economically Weaker Sections of the society get their seats in private schools. With only 2 days left for the current admission cycle to close, if you know of any such deserving students, here's what you can do!
Ensuring success of the RTE inclusion policy requires concerted efforts by all of us. Here is an organization that is working to spread awareness about the process and helping more deserving candidates from Economically Weaker Sections of the society get their seats in private schools. And if you know of any such deserving students, here's what you can do!
A team of field coordinators in Andhra Pradesh asked 45 scholarship children a simple question – "What is the farthest place you know that you would like to go to?" These children aged between 10 to 12 years were from low-income families across five districts in Andhra Pradesh. Except for five students who named Mumbai, Kolkata, Mecca, Kuwait, and London, everybody else named a place within their district or state. Children's "capacity to aspire" seems constrained by early family and schooling experiences.
The Supreme Court's April 2012 mandate of upholding RTE Clause 12, which mandates 25 percent of entering class seats be made available for 'weak' and 'disadvantaged children', provides an opportunity to bridge the growing rich-poor private schooling divide. Giving our children a chance to integrate with children from other social groups might influence among many things, their "capacity to aspire." This video illustrates this fact: (If you cannot view the video here, please click on this link to watch it on Youtube).
Unfortunately, the pathways to entry into private schools are not straight-forward for families from Economically Weaker Sections (EWS). Only 5 percent of the 80 EWS families at the end of five years had awareness about Clause 12 in Andhra Pradesh. Access to information regarding the scholarship opportunity, data proves, is the first barrier to entry. Section 12 of the Right to Education, estimates show, has the potential of reaching 2 lakh children in Delhi in the next 5 years and cumulatively 10 million children across the country. Published reports of dismal awareness threatened to derail this progressive provision.
The Team
To urgently resolve this information gulf, a few Harvard and MIT alumni got together to conceive the idea of INDUS ACTION. Coming together in August 2013, the diverse backgrounds of the founding team of INDUS ACTION converged at their conviction for equal opportunities for all irrespective of socio-economic standing. Aniket Doegar, a commerce graduate, pursued the Teach for India fellowship and worked on school management committees in Pune. Debanshu Roy has a degree in medicine, research experience in designing public health projects and was a 2012 Young India Fellow. Richa Hingorani, a mass communication graduate has worked with NDTV and went on to manage media and communications for the Self Employed Women's Association (SEWA).
The Idea
Project Eklavya, the premier project of INDUS ACTION was designed to provide a solution to the government and the society at large to implement section 12 effectively in Delhi to begin with and scale it gradually pan India. With diverse backgrounds, a team of 4 young people joined hands together to pull off the execution of their pilot project in South Delhi. Their baseline survey revealed that only 3% of the eligible families were aware of Section 12 and less than a percent knew about the documents required.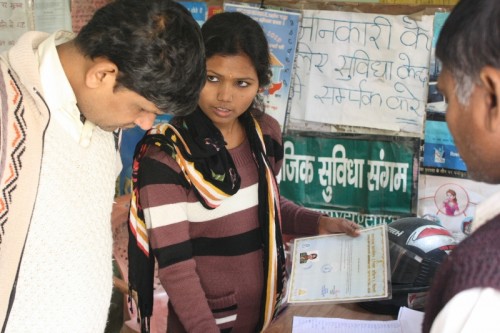 With these stats and preliminary groundwork, a toll-free helpline was started with the idea that since most of the beneficiaries themselves might have limited literacy, easy access to a person who can walk them through their anxieties might be a more effective intervention than handing over a piece of paper with bulleted information. Our managers receive several calls a day ranging from enthusiastic admission queries for two-year-old kids to confusion resolution between a "janm patri"(birth certificate) and "kundali"(horoscope). As the timeline proceeded from December, through January, the calls transitioned from queries, to complaints about private schools, which now, being overwhelmed by applications, were looking for ways to contain them. What remained constant was the faith that they had on the organization to provide support. What evolved were their aspirations and their hope for a better opportunity.
Partnerships
Leveraging existing institutions and connecting the dots within existing service delivery structures was the strategy that was followed. In its first year, Project Eklavya bagged two key partnerships with government institutions – Mission Convergence and Integrated Child Development Services (ICDS), Ministry of Women & Child Development. Mission Convergence aims to make Delhi a more inclusive city by integrating the existing social security schemes and delivering them through a unified structure in a decentralized manner. Operating Gender Resource Centres (GRCs) in vulnerable communities, Mission Convergence has created information hot spots for effective dissemination about government-related schemes. INDUS ACTION partnered with GRCs in South district of New Delhi to generate information about Section 12 of the Right to Education. Each of the 10 GRCs in the aforementioned district have INDUS ACTION volunteers providing form-filling support, clarifying doubts and providing a list of neighboring private schools for eligible families.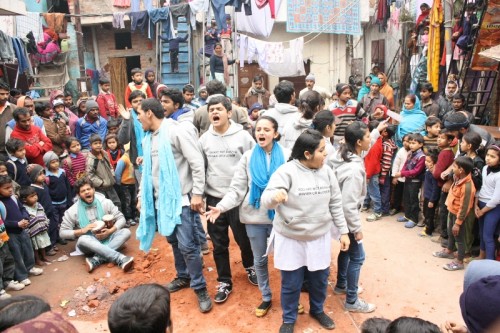 Furthermore, their partnership with the Ministry of Women & Child Development gave them access to 19 Anganwadis in South Delhi. Anganwadis provide basic pre-school education and act as mother & child care centres. As such, these centres act as the feeder groups for their targeted interventions with eligible and motivated families. By their estimates, their on-ground team of 45 volunteers will help complete and submit 1000 unique applications for this admission cycle.
What You Can Do
INDUS ACTION firmly believes that education is an opportunity that should not be determined by birth. Every child deserves an opportunity for education irrespective of his or her socio-economic status. Their efforts need to be supported by yours! You can help enable an opportunity for education by sparing 2 minutes of your time. Ask your house help, driver and other service provides (milkman, washer-man) if:
1. They have a child between the age group of 3-6 years
2. Their family income is less than a lakh a year or they belong to a socially disadvantaged group (SC/ST/OBC Non-creamy)
3. If the child is physically or mentally disabled or an orphan
If they fulfill the criteria, then all you need for a successful application to be submitted in school is the following:
1. EWS Admission Form (available on www.edudel.nic.in)
2. A declaration of age of the child by the parent or guardian
3. If they earn less than a lakh a year then an Income Certificate. Under the prescribed guidelines, it takes a maximum of 21 days to obtain an income certificate but for admissions under Section 12, schools also accept acknowledgement receipts of income certificate application.
4. If they belong to SC/ST/OBC (non-creamy layer) then a caste certificate issued in Delhi needs to be annexed with the form. Socially disadvantaged groups are ONLY required to submit a caste certificate and NOT an income certificate.
Earlier on, all copies of certificates needed to be attested by a gazetted officer. Their interactions with parents and complaints on the helpline showed that this was fast emerging as a barrier. Taking cognizance, the Directorate of Education asked all schools to accept self-attested copies of certificates.
With the process now simplified, you can help by holding meetings in RWAs, relaying the helpline number (1800-419-1019; 9am-6pm) to those who may fulfill the criteria.
Two minutes worth of your time could translate into a colossal change in the life of a family. For more information, call us on our toll-free helpline 1800-419-1019.