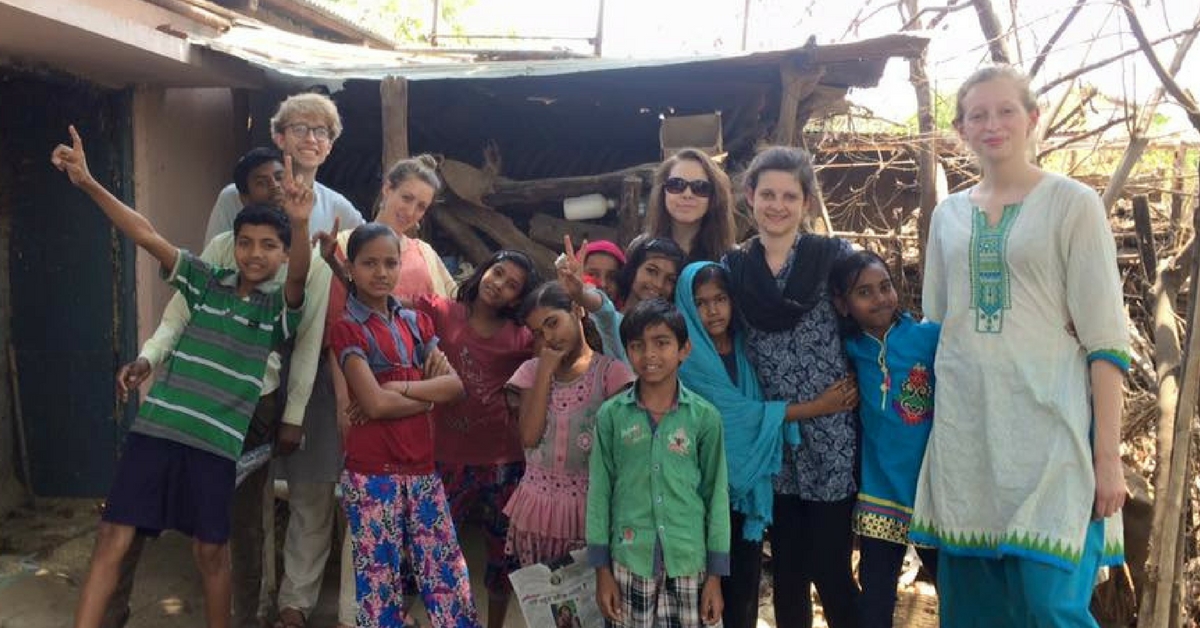 Women in many rural parts of India often lack public forums and spaces to come together and discuss their matters and socialise. Laura McGuire describes how she and her fellow volunteers managed to create such a forum for the women of a Madhya Pradesh village.
Women in many rural parts of India often lack public forums and spaces to come together and discuss their matters and socialise. Laura McGuire describes how she and her fellow volunteers managed to create such a forum for the women of a Madhya Pradesh village.
Since arriving in Pandarmati, both in work and in play, we've all been intrigued and inspired by the stories of the women we've met. From the tales of premarital years and lives from Bhopal to Satna to wishes for their future, the women of Pandarmati have continually been a source of joy for us. However, this female force could be mistakenly overlooked by the casual visitor, and we couldn't help but ask ourselves why most of our exchanges with these people were in the cover of kitchens and the wrap of walls.
Although there is a continual "gaggle" of young boys and girls throughout the village, the visibility of women noticeably decreases with age. Whilst social hubs for the young and older men of the village were on our radar (we recommend the Dana-way shop for a sip of Limca and a game of chequers), we failed to see equivalents welcoming women.
So, we made it our task to provide such a space, if only for one night. Logan, our logistical get-stuff-done-r (the technical vocabulary!) of team P, with the help of his brick phone and a knack for sweet talking, managed to secure the primary school as a venue. With our physical area secured, we began to think of how we could develop the safe, fun, and welcoming atmosphere we had in mind.
A brainstorm or two later, we had decided upon a few key aspects.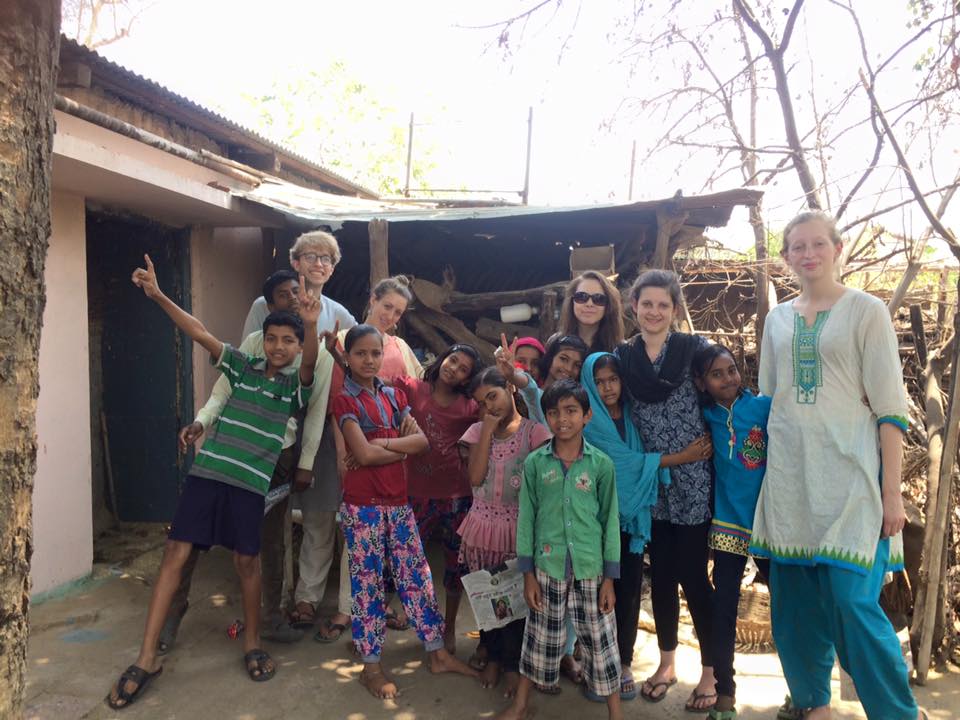 Recreational activities, relaxation and beauty were to be coordinated by Tilly, myself, Elfine, and Annemarie, with a motivation to emphasise the importance and value of fun, self-care, and giving oneself 'time off'. We are all susceptible to forgetting these things on occasion, with a particular prevalence for this amongst these women, for various reasons. So, added to the market list were mehendi cones, hand massage oil, cosmetics, and craft supplies.
Added too to this list were varying global foods for a cross-cultural stall, as well as a world map, string, and a projector for a slideshow of photographs of lifestyles from around the world. We felt this was important, as through sharing different aspects of our cultures, we could create a shared understanding. Finishing off this theme was a timeline of inspirational women from around the world, throughout history.
Finally, we had a stall for problem sharing and solving (credit to Annemarie), with the option for women to write their issues on the wall, and others to add bindis to the problems in agreement, hopefully reinforcing the bonds between them, and emphasising the fact they are not alone in these problems.
In somewhat organised chaos, the incredible turnout of around 100 took the night into their own hands, and we took our roles as background facilitators contently. Anita – a member of the SMC, and drummer extraordinaire – took the role of scribe for the women's problems—a slow burner at first, but with encouragement from Astha, our programme coordinator, confidence and participation grew.
The craft became appropriated a little by the younger girls. But the mehendi was a key player in the relaxation and fun with the older women.
As the mehendi cone lost:present ratio grew, a number of little groupings sat around, talking, laughing, and painting nails too.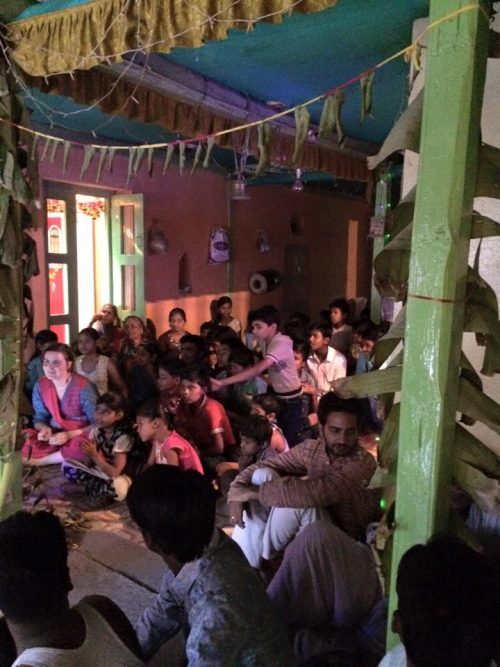 The projector too was a focal point, with the slideshow of photographs helping demonstrate the diversity "out there". Recurrently, in conversations with villagers, the little gaps in knowledge here became apparent. We felt that reinforcing the different choices out there could help project the idea that women can make varied choices. They can take different roles in their own lives, should they wish.
As the night rolled on, a crowd of men and boys began to grow in and around the primary school. It brought to the forefront a question that may resonate with some readers. In an event for gender equality, why did we request there be no males in attendance? Whilst different volunteers may have different answers here, I think all of us can agree upon a few key points.
Facilitating a space for women gave them access to a privilege the men already had, making it accessible to all. Secondly, the often-shy women may not have been able to fully open up and relax in a mixed gender event. Finally, by devoting time, energy, and resources to women, this hopefully reinforced their value, and the value of femininity. After all, femininity gives status to our feminine qualities, likes, and desires.
Although "confidence", "happiness", and "collaboration" can aptly summarise the event, "ownership" probably describes it best. The way the women of Pandarmati made the night their own made it truly memorable and beneficial to the community. It proved the power of the female force, and the potential of people when given opportunities to make good.
(The author was a Volunteer in Pravah ICS, Batch February–May 2016, in Synergy Sansthan, Madhya Pradesh.)
To venture on the exciting volunteering journey of Pravah ICS yourself, fill out the application form here.
Like this story? Or have something to share? Write to us: contact@thebetterindia.com, or connect with us on Facebook and Twitter.
NEW: Click here to get positive news on WhatsApp!