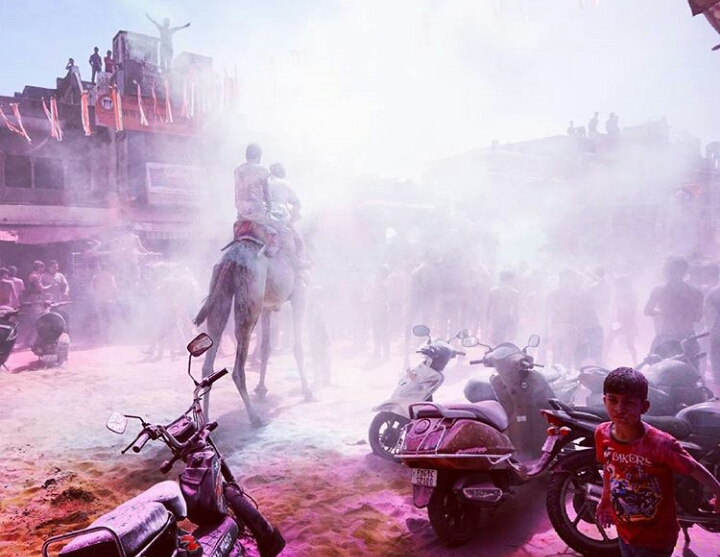 Holi in Pushkar was probably the craziest experiences I've had to date and one I'll remember for a long time.
Fresh out of a sleepy slumber and still rubbing the sleep from my eyes, I stepped off of my overnight bus in Pushkar.
WHACK.
Something hit me straight in my face. My vision suddenly went dark. I began to cough and splutter as a powdery substance filled my lungs. Shouts and jeers of excited voices pierced through my eardrums. A chorus of joyful cheers rang out 'HAPPY HOLI, WELCOME TO PUSHKAR!'
Unexpectedly, I had stumbled straight into the middle of a Holi celebration in one of India's holiest places, Pushkar.
Holi is India's most loud and vibrant festival. Holi (aka the festival of colours) marks the end of winter and the start of spring. As Mother Nature is preparing her show of remarkable spring colours, many streets across India are re-enacting this revival of life with coloured powder, music and festive cheer. Traditionally a religious festival for the nation's Hindus, Holi has become a much-loved celebration, eagerly anticipated by Hindus and non-Hindus alike. In recent years it has even travelled across oceans, bursting onto the shores of Europe and North America by way of huge Holi parties and 5k runs called 'Colour Runs.'
I hadn't been prepared for the magnitude of the celebration I had stepped into one bit, which explains why I was caught so off-guard. When I had heard that I would be in India in March, the month of Holi, of course I was very excited. I even considered altering my travel plans to ensure that I was in the best place for when the festival arrived. In my naivety, I thought only the bigger cities across India would go 'full-power' and I even felt a pang of disappointment when I realised I would be in the tiny Rajasthani village of Pushkar.
I never thought to ask what Holi would be like in Pushkar. I had no expectations.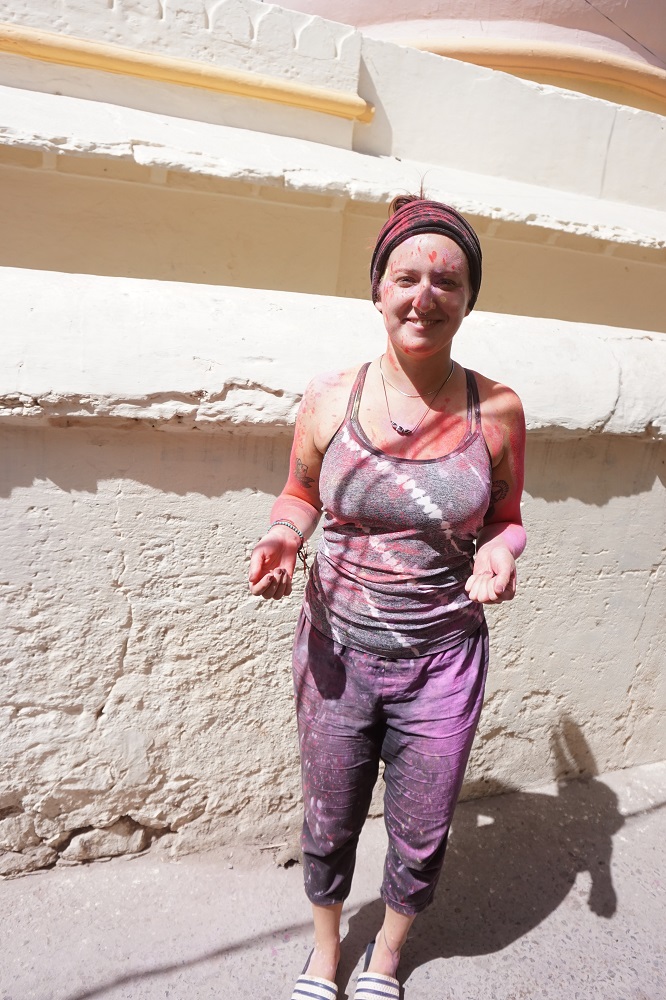 To set the scene if you've never been, Pushkar is a small town set around the holy Pushkar Lake and is one of the most sacred pilgrimage sites in India for Hindu pilgrims. Since Holi is a Hindu festival and I happened to be stepping into one of the most sacred sites for Hindus in India, I should have put two and two together. However, judging by my complete lack of awareness stepping off the bus, clearly I had missed those two very significant points altogether.
Luckily for me then, the locals were on hand to offer me a not-so-subtle reminder that I had slightly misjudged the situation.
So going back to me stumbling off my bus on arrival in Pushkar, when I had finally wiped away just enough powder to be able to open my eyes a fraction, I squinted to see a group of local children all in hysterics. Plastered head to toe in a slimy, purple-ish, pink paste, the children were clearly taking a lot of pleasure from my circumstances. I managed to spot a couple of them dipping their hands into the small plastic bags they were carrying and sensing that I was milliseconds away from looking like they did, I made a dive for it.
Rookie mistake. The children took this as me being playful and wanting to join in and so one after another puffs of small pellets of colour rained over me. I thought it was all over for me. But then another poor, unsuspecting back-packer stepped down from the coach behind me and they turned their aim at him. This gave me just enough time to pick up my bag and jump into the arms of my knight in shining armour, a local rickshaw driver. 'Chalo hotel!' was all I squeezed out of my poor, unsuspecting lungs and we sped away from what I now refer to as 'the scene of the great slime.'
It's not that I didn't want to be a part of the Holi madness. I just hadn't expected it to be so big, so loud, so…COLOURFUL! So after some time recovering in my hotel room from the initial shock, I grabbed my camera and built up enough courage to go back out there. I may have lost Round 1 but for Round 2 I'd be victorious.
I soon realised that I had made my second mistake of the day. Cameras + Holi = a photographer's nightmare. Heading out with the intention of capturing as many photos as I could, it didn't occur to me that coloured powder, water and cameras weren't the best combination. No more than a few steps out of my hotel someone lurking in a doorway launched a fistful of colour right down the lens of my camera.
I realised then that Holi is for making memories, not photos! To truly enjoy Holi, one should leave everything behind and experience it without worry.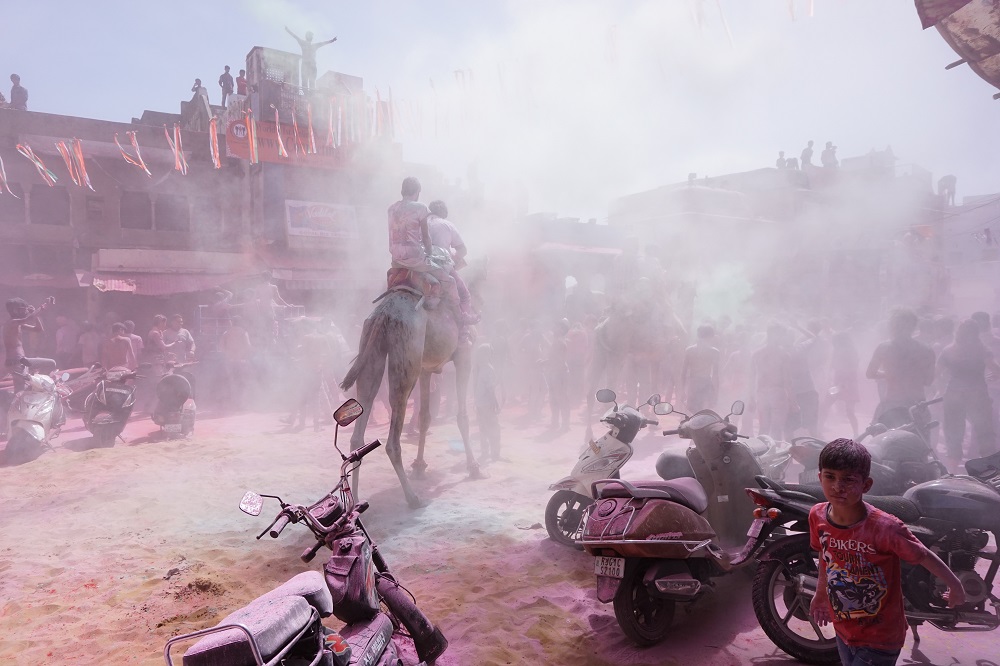 So it was 'Chalo hotel!' for the second time that day.
Better mentally prepared and minus any electronic burdens, I headed out into the celebrations for the third time. I followed the thumping vibrations of music pulsating through the narrow streets into the town's main square. The scene was absolutely out of this world. What must have been thousands and thousands of locals and foreigners blended together filling the tiny centre. Floats carrying party-revellers and pumping out loud techno beats from huge speakers were crawling down the main market road. Shots of colour and water were shooting across the pink sky coating everything below in its entirety.
Keeping a bit of a distance I got the impression that during Holi it's assumed that anyone out on the street is asking for a good colouring. Anyone and everyone is fair game. Locals or foreigners, rich or poor, man or woman, young or old, on Holi it doesn't matter.
Even camels, cows and dogs were not safe from the explosions of colour that ripped through the streets of the small town.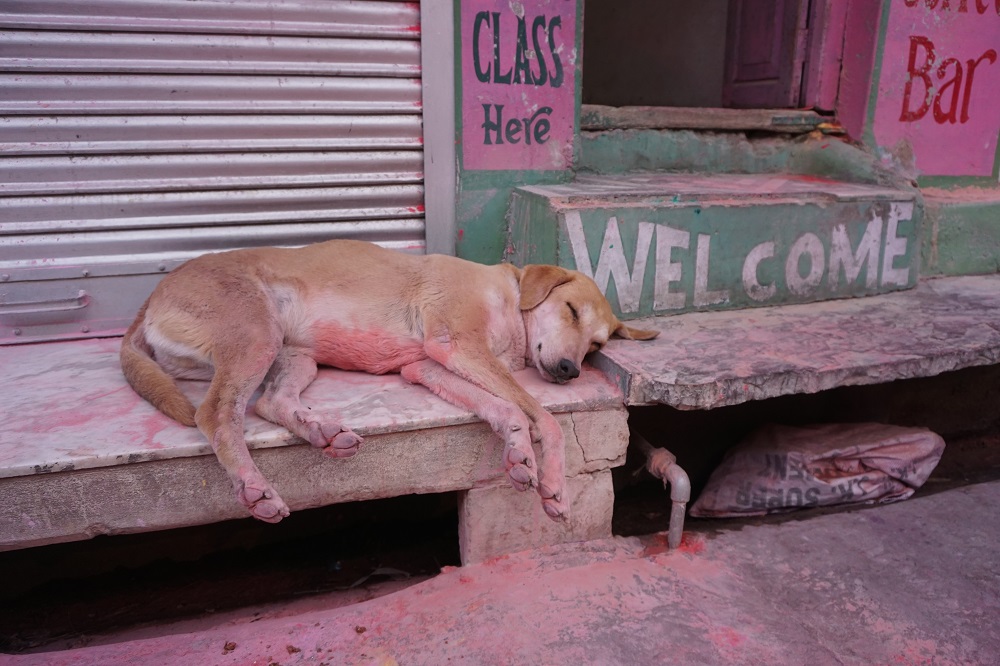 I decided then that, for me personally, Holi would be best experienced from above so I hurried into a local roof-top restaurant and enjoyed the rest of celebration from a safe distance!
Holi in Pushkar was probably the craziest experiences I've had to date and one I'll remember for a long time (mostly because it's going to take that long to wash the colour out of my clothes!)
Like this story? Or have something to share? Write to us: contact@thebetterindia.com, or connect with us on Facebook and Twitter.
NEW: Click here to get positive news on WhatsApp!