India is considered one of the fastest developing countries in the world. We are proud of the developments we have made since independence, but there are ill-effects, some from the
India is considered one of the fastest developing countries in the world. We are proud of the developments we have made since independence, but there are ill-effects, some from the British rule,that still linger. An example of one such residue is the discrimination towards Phase Pardhis.
Phase Pardhis are one of India's so-called denotified tribes. They can be called that, except that they are more often termed a criminal tribe. This is a legacy traceable to the British. In the 1871 Criminal Tribes Act, they listed and notified over 150 such tribes across the country as criminal.
As of 1871, if you were born to a member of such a tribe, you were automatically defined as criminal.
As T.V. Stephens, a British official at the time, said while introducing the Bill that became the Act: "People from time immemorial have been pursuing the caste system defined job-positions: weaving, carpentry and such were hereditary jobs. So there must have been hereditary criminals also who pursued their forefathers' profession."
Volume XII of the 1880 Bombay Presidency Gazette has further comments about the group, stating:
"They are still fond of hunting and poaching and have not got rid of their turn for thieving. The Phase Pardhi [a sub-tribe] is nearly always ragged and dirty, walking with a sneaking gait."
In 1952, independent India repealed the Act, thus denotifying these tribes. Unfortunately, Act or repealed Act, Stephens' patronizing legacy endures. Both the authorities and society in general continue to think of them as criminal. They are accused of petty crimes, rounded up and beaten by the police, driven from their homes and assaulted by fellow villagers.
Matin Bhosle had to endure all of this since his childhood. His only crime? He was born in this tribe.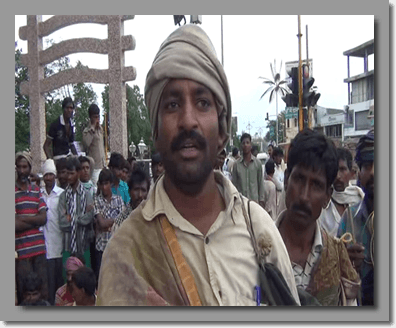 "When I was a child, I did not know what chapatti or rice was. We would just hunt and eat animals or raw fruits and honey that we could get from the jungle. We did not know how to dress up or live a civilized life. Once, my uncle got some jowar for us to taste. I don't know where he got it from, but I remember the police dragging them to the police station. They were kept in the jail for 3 months for getting a handful of jowar," says Matin.
---
You may also like – How the Dalit Women of Bidar Are Fighting to Bridge the Wage Gap and Assert Their Rights
---
Fortunately, Matin's father got a job as a farm laborer at a noble man's farm, who pushed for Matin's education. Matin eventually finished his graduation and also got a job as a teacher in the Zilla Parishad primary school of Mangrul Chavhada village in Amravati district of Maharashtra.
While Matin now had the respect of the villagers, he was frustrated that the general perspective for his community had not changed.
"Every other day I would hear women getting raped, men being tortured for false cases of theft and children compelled to either beg or become thieves from my community," Matin said while speaking to TBI.
In 2010 Matin was worried about a child who did not show up to school for many days. Later, he came to know that the child had drowned while fishing, along with his brother and father. By the time the bodies were recovered, they were drenched in mud and eaten by animals. The sight disturbed Matin.
"We have reservations and schemes to uplift our community but how do we use reservation to change people's thinking? How are the schemes helpful to make these people civilized? The kids are forced to hunt and beg, which is considered as age old traditional way of living for these tribes," says Matin.
---
You may also like – District Officers from Karnataka Town Take Dalits to Temple, Despite Opposition from Upper Castes
---
After this incidence, Matin started his mission to uplift the Phase Pardhi community. His first step was to do a survey in which he found out the number of people left in this community, he asked them their main issues and difficulties. He made a list of the people who had migrated from their villages and were either begging or living a miserable lives at railway stations or traffic signals.
"They were living just 3 kms away from the cities and still didn't have electricity, water, roads, houses or any employment opportunity. They did not have any identity proof; they did not have any papers for the land they owned. Many were killed in fake encounters as they were not even in the voters list," he says.
There were many Phase Pardhis whose children were orphaned and had migrated to different cities to work or to beg. In 2011, Matin took three months leave without pay and started gathering these children from cities like Nagpur, Ranchi, Chennai, Baitul, etc.
He gathered almost 188 children and got all of them along with him.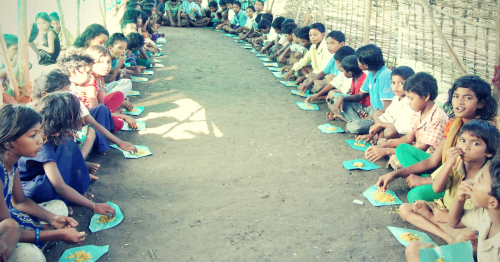 While searching for these kids, Matin also got to know about two kids of his community who came under the train and died while begging at the railway station. He decided that he would not let any of the Phase Pardhis' children to die like this. He then left his job and started 'Bheek Magu Andolan' with the entire community. He would lead the community and the kids and ask people to donate Rs.1 for them to build a school.
"This was not just to collect money but to make the society realize that there is one such community which is still living in dark. I rented a godown to stay with these orphaned children and started teaching them there," says Matin.
As Matin would go to the top officials of the district to tell of their ordeal, he was considered as a threat to the police. He was also put behind bars along with the children once but he would take his classes there too. He was accused of using these children to beg and get money for him.
After a long battle with society and the authorities, Matin could finally get identity proofs for the Phase Pardhis and gather money to build a school for these kids in 2013. However,there were still many questions for these Phase Pardhi children. How would they get the regular supply for their school? How would they get teachers for this school? How would they get rid of the tag given by society?
So the school was aptly named, 'Prashnchinh Adivasi Shala' (Question Mark Adivasi School).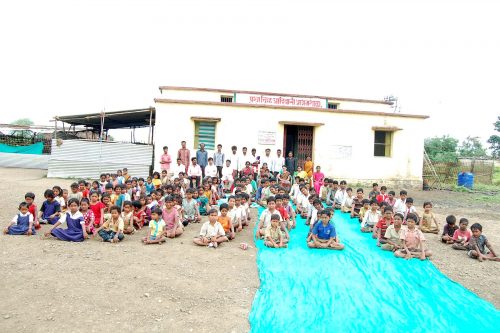 Today, few of these questions have been answered, but many remain. The school has a strength of 447 students now. Matin is still striving hard to get some help from the government and society. But he is sure that this school will produce thousands of more Matins who will befreed from the Phase Pardhis tag of being thieves.
If you wish to help Prashnchinh Adivasi Shala, then please log on to their website or call Matin Bhosle on 9096364529
---
Like this story? Or have something to share? Write to us: contact@thebetterindia.com, or connect with us on Facebook and Twitter.
NEW: Click here to get positive news on WhatsApp!