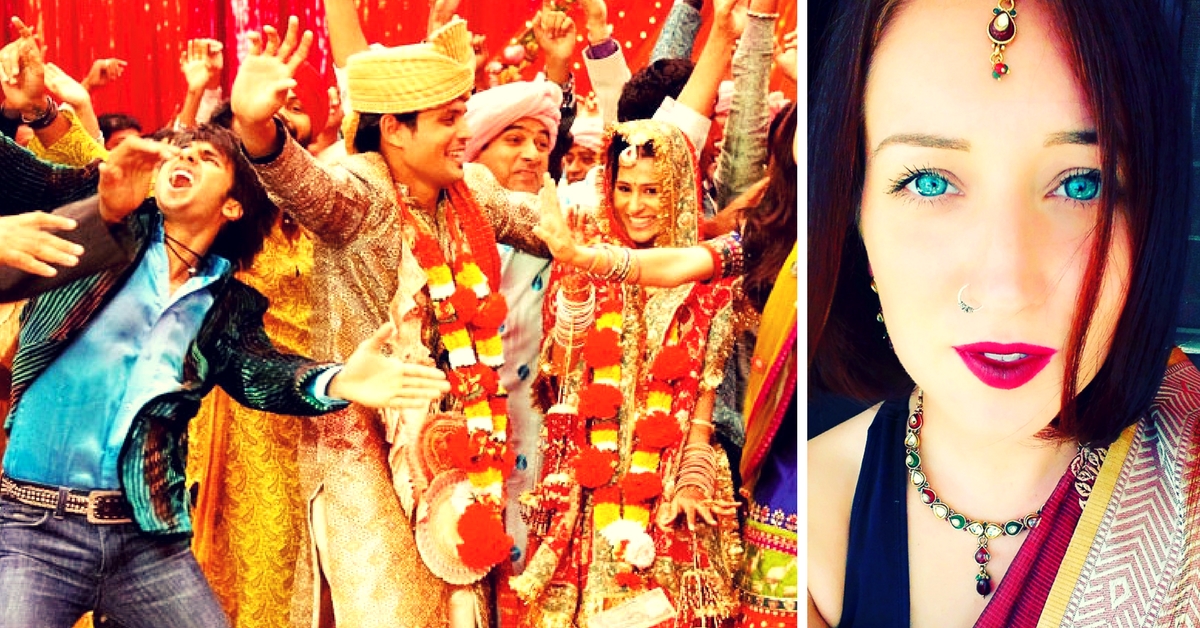 There's not much else that excites a foreigner in India quite like the thought of attending a Big Fat Indian Wedding.
There's not much else that excites a foreigner in India quite like the thought of attending a Big Fat Indian Wedding.
Ask any visitor to India to share their must-have experiences and I'm almost certain that attending an Indian wedding would appear in the top three. We want to learn about all the fascinating traditions, we want to dance to the best Hindi wedding songs, we want to dress up in Indian clothes, we want to taste the magnificent spread of food and we want to understand just how a wedding can last three days!
So you can imagine my excitement when, after only 3 weeks in India, I received my first official invite to attend an Indian wedding!!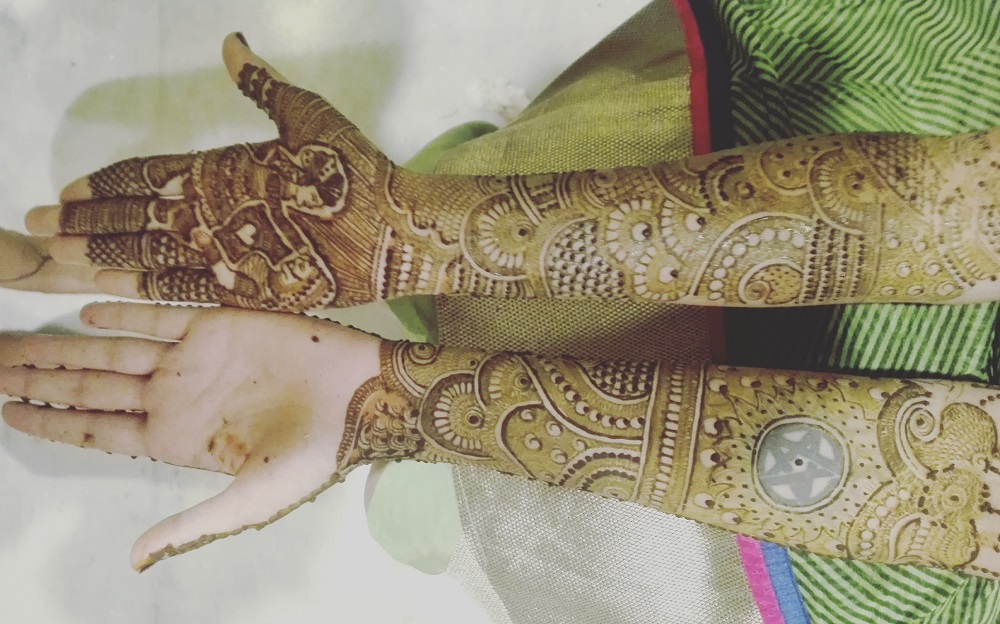 The invitation came from a female cousin of my friend from London. My friend had connected the two of us when I first moved to India and although we had good intentions of meeting up, we hadn't yet gotten around to doing so. So when she sent me a message saying, "I'm getting married next week and I'm inviting you for it" — after my initial reaction of jumping up and down with excitement I was touched to have received an invite despite never having met her face to face. And yet again I am reminded of the warmth and welcoming nature of India.
Sensing that I was way more excited than I probably should have been, she told me that it was going to be a small affair and said that unlike weddings in other states this was going to be relatively low-key. South Indian weddings, she explained, are a lot more 'serious' and tend to take place during the day so I shouldn't expect a grand celebration.
She also confided that her husband-to-be's parents would not be coming. I hesitated to ask why but quite openly and matter-of-factly she explained to me that they did not agree with their marriage. Upon study of her astrological sign, the parents had found her to be an unsuitable match for their son.
This was the first time I had heard anything like this and it caused me to reflect on how different attitudes are to marriage in India then what I am accustomed to in my own culture.
During the build up to the wedding day I was nervous and full of anticipation (anyone would think that it was my own!) I had so many questions. Would the family members think that I was gate-crashing their special day? Would I be welcome at such a personal family event? Would it be disrespectful if I took pictures? Do I look silly in my saree? Should I be showing my midriff? Is my gift appropriate? Is my gift enough? What if I do something disrespectful because I don't know the traditions? What if I offend someone?? My mind was churning out all kinds of worries and fears.
So when the day finally came, I arrived quite early. Maybe it was the excitement that made me rush over, but the bride was still in her pyjamas. Great, I thought. I had always wondered how long it took for Indian brides to look so fabulous! Now I know that there is a reason for this and I needn't have rushed over at all. I was amazed by just how much went into this part of the wedding alone.
The bride told me to do my makeup and I told her I had already done it. She laughed at me and said, "this is an Indian wedding, you haven't done your makeup." I still had a lot to learn.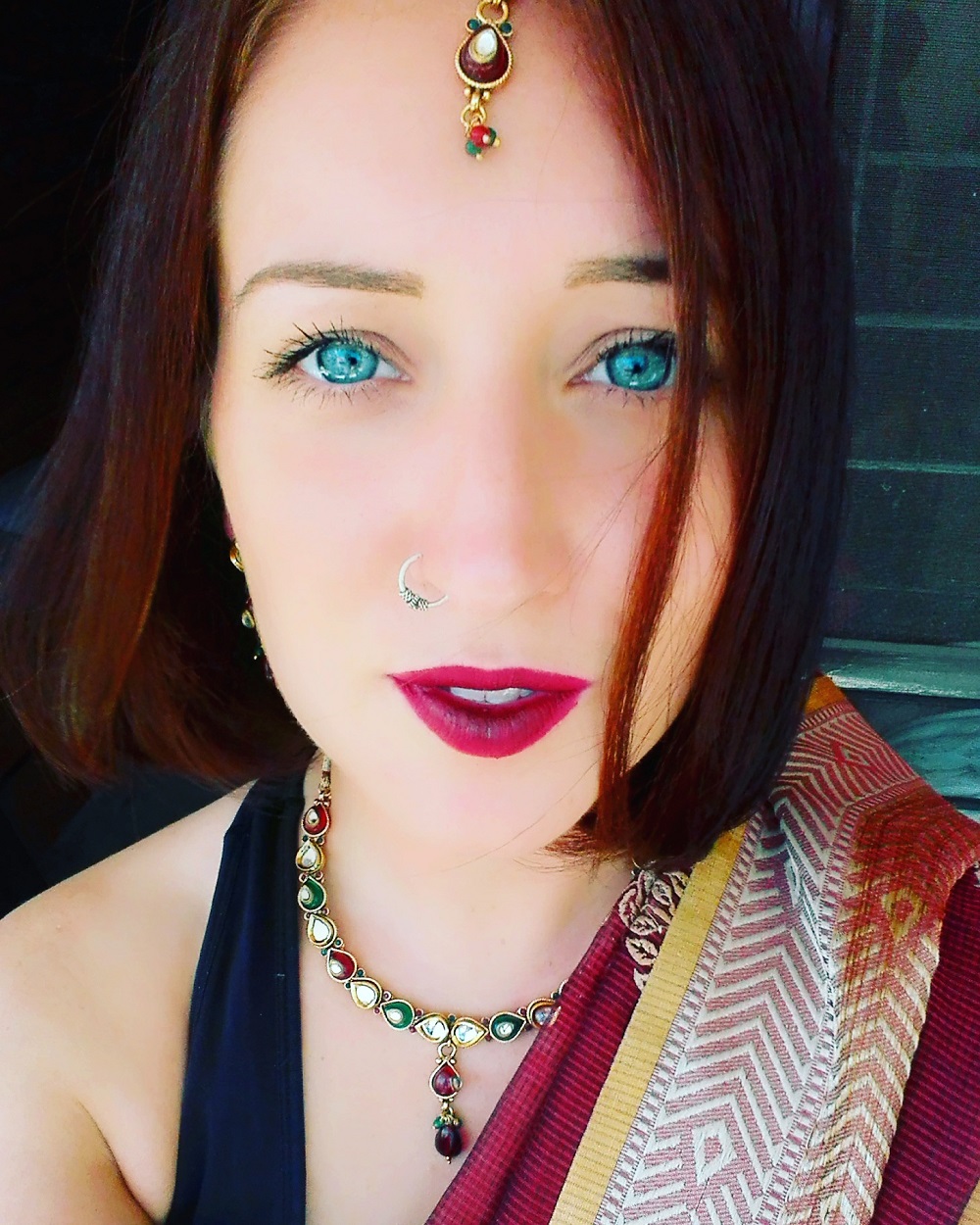 Once the bride was ready she was whisked off straight away (all the guests had been waiting on her for about two hours by now) and the pujas (prayers) began. I wasn't sure if photography was appropriate during the pujas, but once I saw everyone had their smartphones and cameras out eager not to miss a moment I quickly joined in.
I found all of the different traditions involving all different family members so fascinating. My favourite tradition didn't come until a bit later on though when I was told to 'steal the groom's shoes.' It was my good fortune to be on the bride's side and so in order for the groom to get his shoes back he had to offer me some money. I had not expected to be receiving any money that day, especially not from the person getting married, and so at first I felt uncomfortable with this. But with an audience watching me and egging me on, I had a lot of fun attempting to barter a fair price for the groom's shoes! I came away feeling proud of myself. (As well as a little richer!)
I had been pre-warned about the food at Indian weddings and was worried about how I was going to manage as my saree was already so tight.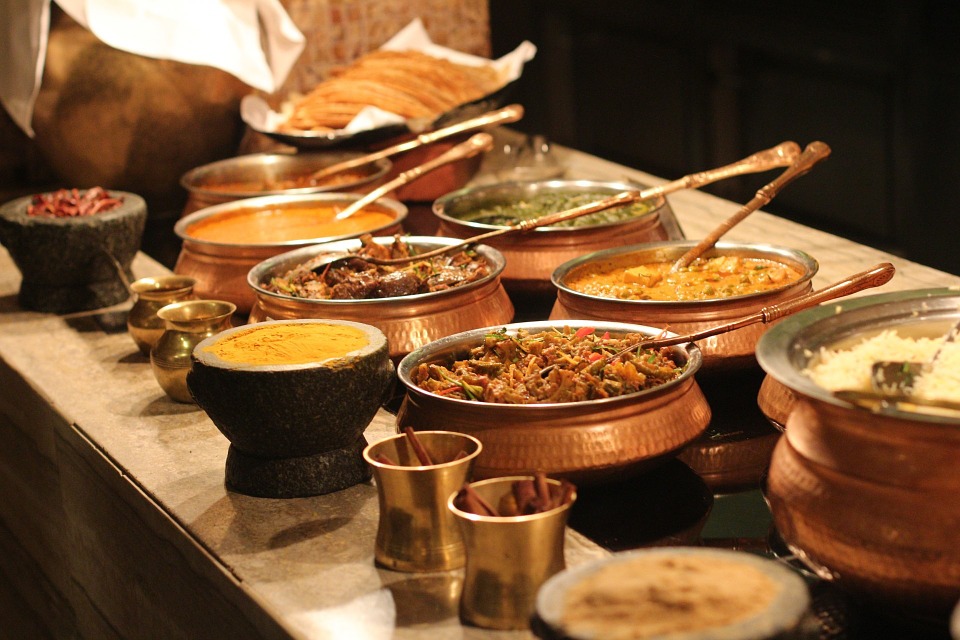 I was afraid that if I ate anything it would burst straight off me! Of course, that worry disappeared as soon as I caught sight of the lunch spread. To hell with my outfit woes! I thought. It all looked too amazing. The food was displayed buffet style with waiters at hand to serve you and it was an all-vegetarian affair. (Great for a veggie like me!)
When it comes to lines and queuing in India, I've become accustomed to the 'get in fast or miss out' general rule of thumb. I was relieved then to find that the line for a buffet seems to be the only line in Indian society that gets its due respect. Everyone took a plate and patiently waited whilst the diner in front got their fill. It was oddly satisfying to experience, like a breath of fresh air. I never thought I would appreciate waiting in a line!
Satisfied with my choices I sat down, set my plate on my lap and peered down at the mound of food before me. Usually I wouldn't hesitate to eat with my hands, but the sheer scale of my portion daunted me. I was also aware that I was at a nice function and so I thought I had better show some courtesy and get a spoon at least or I could risk making a big mess.
I was about to get up in search of some weaponry to attack this 'Mt. Everest' of food when I realised that I had a dozen or so pair of eyes, eagerly watching me with baited breath for my next move. I could almost read what was burning in their eyes, what is she going to do? Is she going to use her hands? I knew I had two choices. I could get some cutlery, or I could just get stuck in. So I took off my ring, tied my hair back and got stuck in. I looked up to catch a breath to see all of those eyes relax into friendly smiles and enthusiastic head bobbles. Phew, I had made a good choice!
The other thing I liked about this wedding experience was that it was a dry wedding. No alcohol. I know that this is not how all Indian weddings are. Alcohol at weddings is not forbidden, it just depends on which state the families are from. Most weddings that I've been too in the UK have a free, open bar, which everyone takes full advantage of. It means, however, that the night usually ends with a member of one side of the family having too much to drink and starting an argument with someone from the other side. Basically, it's not a wedding in the UK without some kind of family drama erupting. Coming with this experience of weddings, I was very relieved that alcohol was off the menu.
One of the highlights of the day was the dancing. Before my Indian wedding experience I considered myself to be a pretty decent dancer who was able to hold my own on any dance floor. It was the one aspect of the wedding that I wasn't worried about. I was pretty confident that I'd easily pick up the moves and be fine.
Oh how wrong was I! The shaking of the shoulders, the winding of the hips, the flicking of the wrists, I just couldn't keep up! I was well and truly out of my depth. My saving grace, however, was that not only did the family not laugh at me, but they were all so happy to teach me some new moves and rescue me in my time of need. Taking me under their wing, the self-consciousness I was feeling soon disappeared and I lost myself in the hypnotizing beats and rhythms of the pumping music.
I did learn another important lesson, however. No matter how good you think you can dance you will never be able to compete with Indians.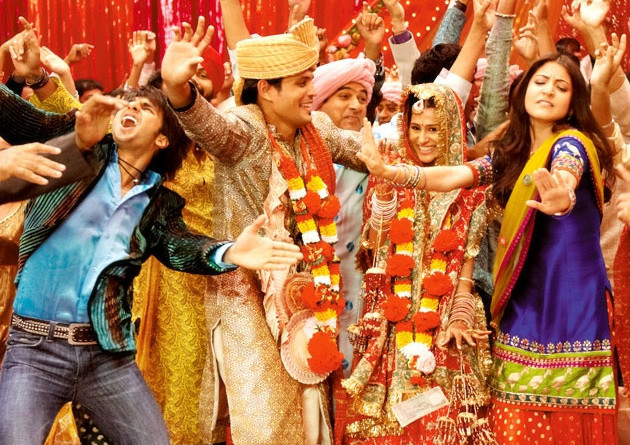 I think it's a worldwide issue for younger generations in a family to be quizzed by the older generations at weddings about their marital status. Being an 'outsider' and not part of the family, I thought that at this wedding I would at least be safe from the questioning.
Once again I was wrong. Aunties in attendance were particularly interested in my marital status. Most seemed to be rather concerned for me that at almost 27 I had yet to be made a wife. I tried to explain that marriage had never really interested me personally and that in my country it's very normal to be this age and unmarried. All of that, however, was lost in the language barrier and so I just had to accept the looks of sympathy and words of hope that they offered me and act like being unmarried upset me.
What I learnt from my first Indian wedding experience was that all my initial worries and fears were a complete waste of time. I was so well-looked after by everyone and guided through each stage of the wedding that it didn't matter that for the most part I didn't understand what was going on. I was made to feel at ease and free to enjoy the day.
What was also nice was that my attendance at the wedding seemed to be enjoyed by the family as much as I enjoyed it! I got the impression that the family were not only happy to have me as their guest, but they saw it as an honour to host me. Also, my presence seemed to add another level of entertainment to the day as I was totally unaware about the culture. I was so eager to get completely involved in every part and so the family had a lot of fun showing me how to do things and teaching me about their culture.
I can't wait for my next Indian wedding experience. I'm silently wishing for it to be a Punjabi one as I'm told they are the biggest parties of them all!
Like this story? Or have something to share? Write to us: contact@thebetterindia.com, or connect with us on Facebook and Twitter. NEW: Click here to get positive news on WhatsApp!
We bring stories straight from the heart of India, to inspire millions and create a wave of impact. Our positive movement is growing bigger everyday, and we would love for you to join it.
Please contribute whatever you can, every little penny helps our team in bringing you more stories that support dreams and spread hope.