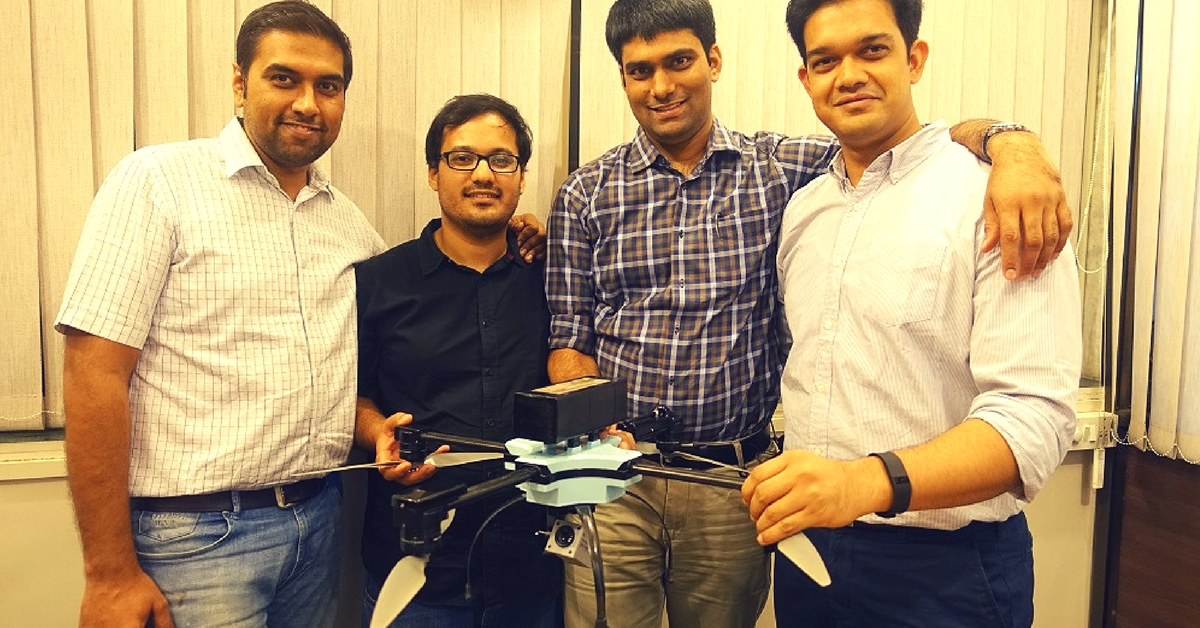 From disaster management to urgent military operations – Unmanned Aerial Vehicles developed by this team of IIT Bombay alumni is being used by Indian defence establishments for a wide range of reasons.
From disaster management to urgent military operations – Unmanned Aerial Vehicles developed by this team of IIT Bombay alumni is being used by Indian defence establishments for a wide range of reasons.
Remember that drone from the Hindi movie 3 Idiots? Yes, the same one that Aamir Khan's character Rancho was seen flying. A group of students developed it when they were studying at IIT Bombay.
Today, that team of four IIT alumni is the driving force behind ideaForge – a startup focused on developing Unmanned Aerial Vehicles (UAVs), which are currently being used by Indian defence establishments and other government organisations for intelligence and surveillance projects.
Defence operations, product delivery, disaster management, and more – the many uses of drones are being discussed and implemented in different parts of the world as technology advances with every passing day.
ideaForge, which claims to be the pioneer in the field of UAV development in India, was founded in 2007 by Ankit Mehta, Rahul Singh, Ashish Bhat, and Vipul Joshi.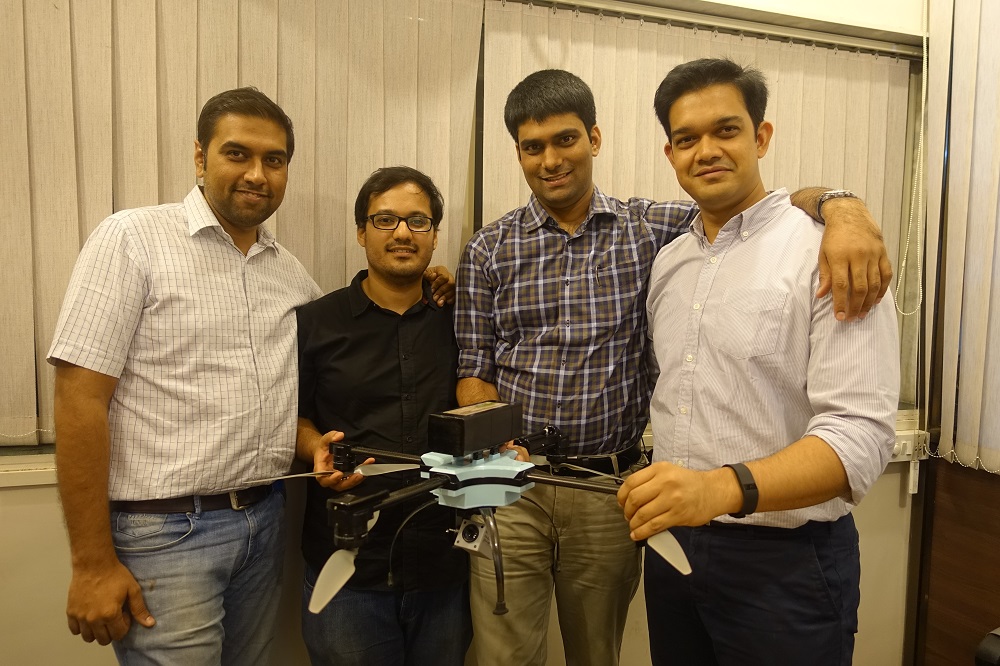 Talking about the motivation behind starting up, Ankit says that the team had already worked on several technologies when they were in college. By the time they were graduating, they had many ideas that they wanted to convert into products. "We generally enjoy developing technological solutions that are cutting edge, and that is our core passion," he says.
---
Also read: These Two Techies From Bengaluru Are Busting Fake News and Exposing Spam on the Internet
---
In 2008, the team won a Micro Aerial Vehicle competition alongside Massachusetts Institute of Technology, USA, in the hovering category. This was when Indian defence organizations and the government noticed their work and approached them for different projects.
One of the ideaForge's products is NETRA – a vertical takeoff and landing UAV built on quadrotor configuration that the team developed in collaboration with Defence Research and Development Organisation (DRDO).
This UAV can take off from a small clearing by the roadside and can fly over an area up to a height of 400m, all the while sending continuous real time videos of movements on ground. It was an early prototype of NETRA that was used during the shoot of 3 Idiots. This happened after an article about the drone was published in a newspaper and it caught the attention of the movie's director.
In 2009, ideaForge developed the world's smallest and lightest autopilot UAV and later came up with India's first fully autonomous vertical takeoff and landing UAV. In this, a user feeds the GPS location of the required destination, which is then converted into command and instructions and the UAV reaches the location autonomously.
Keeping in mind the sensitive operations that defence-related UAVs are used for, ideaForge works on machines that have high performance and safety standards. When using NETRA, one can zoom in to get a closer look at the activities happening about 500m away.
Explaining the technology behind any UAV, Ankit says that it is an amalgamation of 10 specialized fields of study like electronics, communication, materials, aerospace, mechanical engineering, power electronics, image processing, and embedded systems, etc. that come together to create a compact system.
An aerial platform, also referred to as the bird, carries a payload with thermal sensors, along with cameras that help send the video feedback to the host station.
The company also provides training to users. Ankit says that the products are easy-to-operate and even a school kid can use them – making it easier and quicker for anyone to use the UAVs in case of emergencies.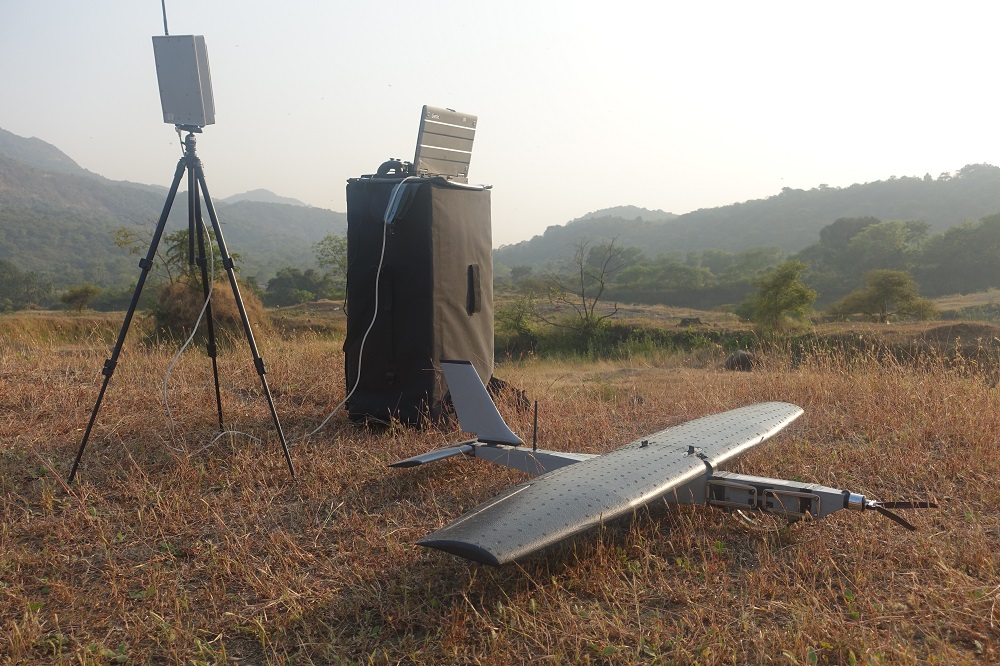 IdeaForge UAVs were used by the Indian Army to look for survivors after the Uttarakhand floods in 2013, to collect positions of militants during defence operations, for disaster management during the Nepal earthquake, and to manage crowds during the Kumbh mela. One of ideaForge's drones also helped in tracking a man-eating tigress in Uttarakhand.
---
Also read: How 65,000 Underprivileged Persons Learnt to Speak English, Work on Computers & Hold Steady Jobs
---
Looking back, Ankit has a lot to thank his college and education for. "We were able to work on technological innovations right in college because of our alma mater. We used to come up with project ideas and the institute would find ways to fund us. It was a really privileged environment that we were set up in. And we wanted to do something of the privileges we were given," he concludes.
Know more about ideaForge here and contact the team here.
Like this story? Or have something to share? Write to us: contact@thebetterindia.com, or connect with us on Facebook and Twitter.
NEW: Click here to get positive news on WhatsApp!