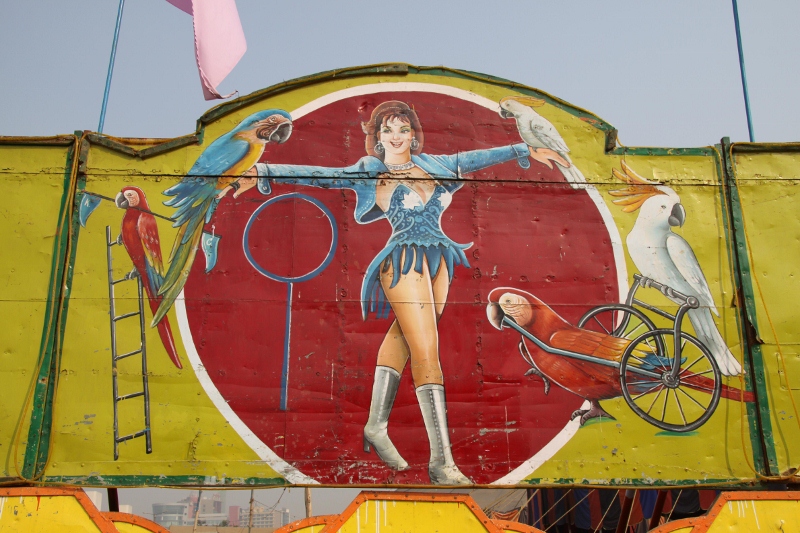 The children have holidays and what better place to go for a bout of innocent entertainment than the Circus? Well, at least that used to be the case for most of us growing up, when the circus came to town! And many of us retain fond memories of those days. Here Gangadharan Menon relives those memories by visiting the renowned Kohinoor Circus not just to watch a show but to meet the colourful characters and talented performers behind the scenes.
The children have holidays and what better place to go for a bout of innocent entertainment than the Circus? Well, at least that used to be the case for most of us growing up, when the circus came to town! And many of us retain fond memories of those days. Here Gangadharan Menon relives those memories by visiting the renowned Kohinoor Circus not just to watch a show but to meet the colourful characters and talented performers behind the scenes.
Circus has changed dramatically. During my childhood (and that was a very long time ago), a circus was a grand spectacle that paraded a plethora of wild animals tamed by the whip of the Ringmaster: tigers, lions, seals and hippopotamus. I still remember the palpitations of my tiny heart as the lion opened its mouth wide and the ringmaster in a valiant gesture stuck his head into the lion's gaping mouth. But to my teenaged wonder, the lion did not snap its mouth shut.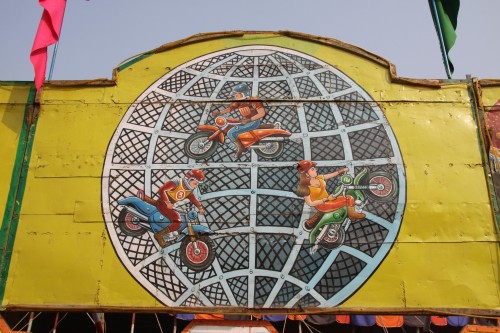 Thankfully, the ban on making wild animals perform has brought down their long list to just elephants. On the reasoning that elephants are tamed to perform menial tasks and in temple festivals, they continue to be found in circuses. In Kohinoor Circus they were found playing cricket and even performing an elaborate pooja of Lord Shiva.
Probably the ban on animals was a blessing in disguise. Because, the focus of the circus then inevitably shifted to the exhibition of incredible human feats, created with imagination and executed with supreme skill.
The circus continues to fascinate me. Inside that imposing tent there still exists a heady mix of magic, music, dance, jugglery, acting and showmanship. They roll out in clockwork precision, relentlessly for a breathtaking 150 minutes.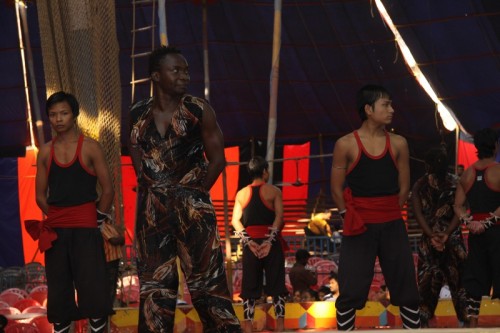 Of all the circus feats that I had witnessed in my childhood, a few vestiges still remain in today's circus: the well of death where a motorcyclist rides a bike in vertical circles; the drunken clown who performs immaculate feats on a galloping horse; the cycle that breaks into innumerable pieces when the clown mounts it; and the fire-eater who performs with amazing dexterity. And even today, people continue to applaud the same feats with the same child-like exuberance and innocent joy. Proving that despite the overt changes that have happened around us, human beings haven't changed at heart. We still laugh at the same things, cry at the same things, and of course worry about the same things.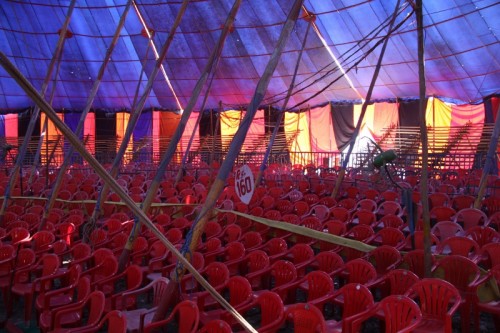 My rekindled curiosity took me to meet Raja Hussain, the young manager of Kohinoor Circus, now tented on the outskirts of Navi Mumbai.
He told me how difficult it has become for a circus to survive. Three decades ago, there were over 900 circus troupes in the country. Today, there are less than a 100 left. Just like the animals that once used to grace these circuses, the circus too has become an endangered species.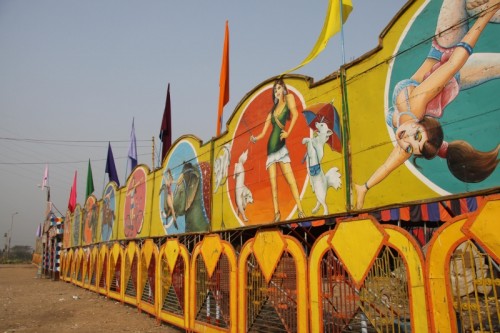 As I was speaking to Raja, I realized the sheer logistical nightmare of running a circus. In a single troupe, there are over 250 people living in the tents that dot the periphery of the Performing Tent. This includes artistes, carpenters, masons, electricians, tailors, cooks, managers and innumerable helping hands. A mini township of sorts. Apart from managing their inter-personal relationships, their daily needs like food, water and basic amenities have to be taken care of. And since the circus is a 365-day affair, there is not even a break to set things right, in case something goes wrong. The circus equipment itself is so humongous that it takes over 30 massive trucks to transport them to the next location.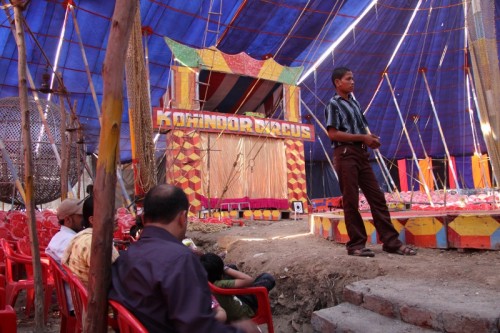 There are over 25 families staying in this joint-family of Kohinoor. Many of them are husband-and-wife duos. With both the parents being performers, the children pick up the ropes of circus from their infancy. Nay, from the time they are in their mothers' wombs.
The owner Amjad is a true patriarch who dotes on his family members, taking care of their every little need. To entertain these master entertainers, he has even installed a direct-to-tent television connection!
There were two gigantic goats moving around the circus tent, who I mistook as circus performers gone astray. But Raja had an interesting story to tell. Those two goats were bought by Amjad to be sacrificed on the day of Bakri Id. But during the entire week that these animals spent with him, Amjad had become so attached to them that he refused to sacrifice them on the appointed day. Now they go wherever the circus goes, as a constant reminder of Amjad's compassion.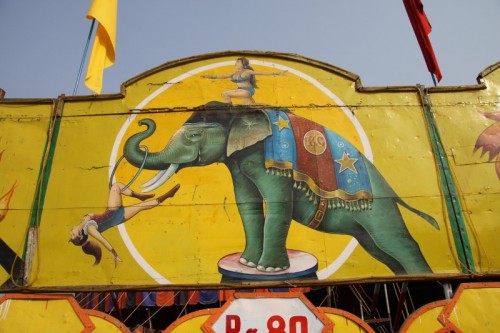 With Raja's help, I met Pinki Khan, the multi-faceted star of the troupe. She in fact personified all that this amazing performing art stands for. She was charming and had tremendous presence; she had the svelte figure of an athlete; and she was a consummate performer. In short, she was the quintessential circus girl.
Pinki grew up watching her parents perform; and today, she has taken over the mantle from them. She is equally adept at handling a slew of African parrots, or executing fabulous stunts on the bicycle, or performing the most breathtaking feat of them all: the flying trapeze. Her brother too is part of the troupe; he plays the keyboards in the circus band. Her husband has also been a part of the troupe for over seven years, and is today an accomplished trapeze artiste and an ace shooter. In short, they could easily be called the First Family of Kohinoor.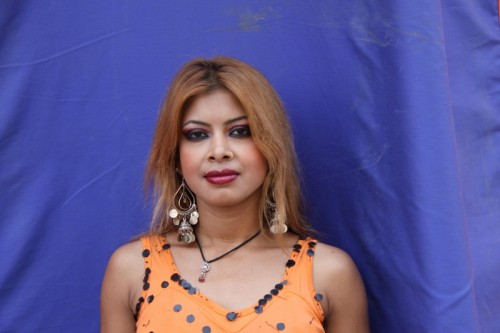 Pinki gets up 5 in the morning every day and practices for five hours, just to be perfect. Because she believes that in a circus, you only get one chance. There is no retake.
Even today, after performing for more than a decade, she confessed that she has an irrational fear running through her veins as she waits 100 feet above the ground, waiting for the most awaited event of the show to begin: the trapeze. And every time, her father, who's now the master trainer, encourages her to take that all-important leap into the unknown.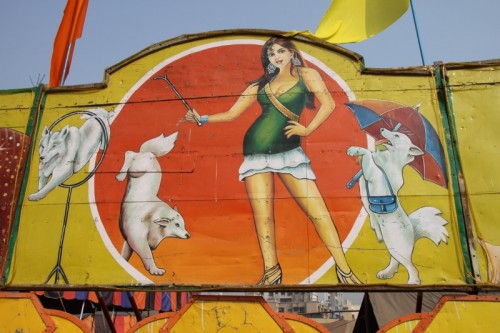 Then I met Sagar Singh, a man who has been a clown for over 50 years. He's 70 now and still performs. Born in Purulia in West Bengal, he ran away from home when he was 12 to join the circus. The first job he got was to distribute pamphlets. Then he became an announcer going around on a cycle, announcing the arrival of the circus. He was then taken as an extra in a minor item called the Rope Dance. He then graduated to become a motorcycle artiste, then a trapeze artiste, and then a trainer. But when there was a vacancy for a clown, he decided to take up that role permanently as that was what he loved the most. Make people laugh.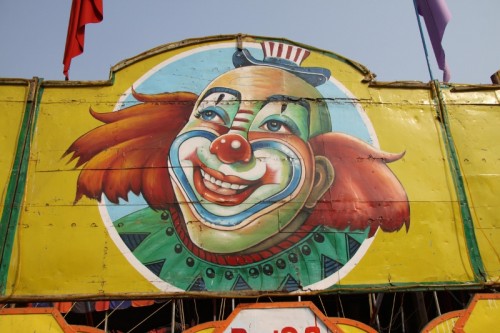 Once it so happened that, just as he was in the midst of a show, he got a telegram. Since he was illiterate, he couldn't figure out what it said. He asked the manager to read it out to him. Just as he was informed that his son had died in a bus accident, the bell rang announcing his entry on the stage. In a daze he entered the ring, and made people laugh with his antics, profusely crying under the thick make-up of a circus clown. After the show, he trudged back to the green room, accompanied by a deafening applause, and then he fainted. This story travelled far and wide. So much so that Raj Kapoor, the film-maker, came to meet him to hear this story. And inspired by it, he made the famous film, 'Mera Naam Joker'. To this day, Sagar Singh is peeved at the fact that there was no mention of him, or his son, even at the end of the long list of credits that came rolling down at the end of the film.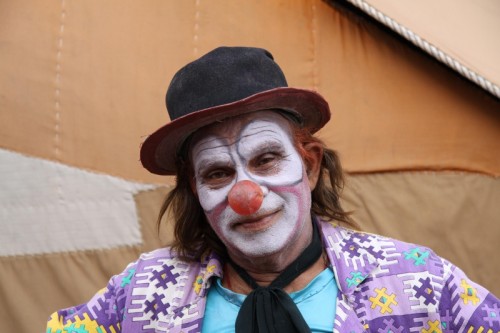 As I watched the finale of the circus, I saw Pinki's middle-aged mother perform on the swinging trapeze with consummate ease. And her father, the master trainer, kept an eagle eye on the proceedings to detect even a tiny flaw that could later prove fatal. And then came the climactic act of the flying trapeze. Perched high above mere mortals was Pinki, the lone girl among five other trapeze artistes.
My heart skipped a beat as she went flying on the trapeze, left it in mid air, and went gliding into the waiting hands of her partner.
That act for me symbolized the dying art of the circus. Here was a troupe of 250 hardworking and dedicated people, who, to keep the oldest performing art of India alive, have left the trapeze in mid air. With the fond hope that their outstretched hands will fondly and firmly be held by a discerning audience. Lest they fall into the bottomless pit of oblivion.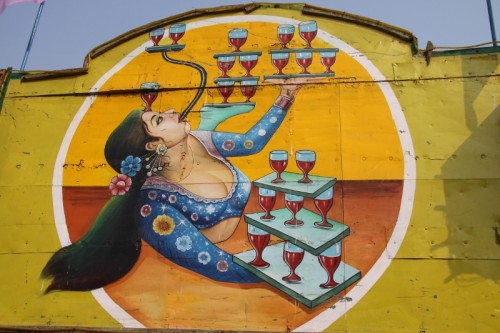 P.S. Just as the ink was drying on this page, I read a newspaper report about the artistes from Rambo Circus having performed in the renowned Prithvi Theatre of Mumbai on World Circus Day. This indoor show could well be the sign of things to come. And innovation may be the last hope for this performing art, which has been slowly dying in this country in the last three decades. But I hope both versions continue to exist: the one in gigantic, magical tents and the one in small, discerning theatres.
All photographs by: Gangadharan Menon
After 28 years in advertising as a writer and creative director, Gangadharan Menon quit the profession to take up his first and second love: teaching and travel. He has over 90 published articles that recount the joy of travelling in this amazing country. A member of Bombay Natural History Society, he is an avid wildlife photographer too. Currently he is working on his first collection of travel writings titled Evergreen Leaves. He can be contacted on wildganges[at]gmail.com
We bring stories straight from the heart of India, to inspire millions and create a wave of impact. Our positive movement is growing bigger everyday, and we would love for you to join it.
Please contribute whatever you can, every little penny helps our team in bringing you more stories that support dreams and spread hope.