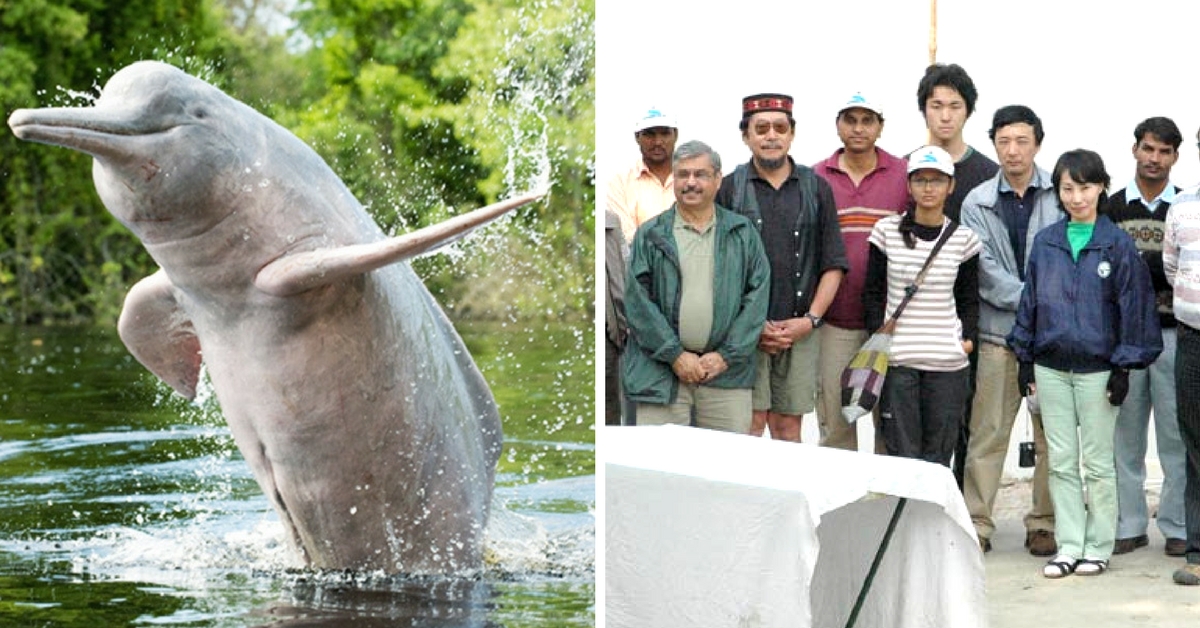 Started by a hardworking team of Japanese and Indian sonar engineers, this unique initiative is helping in the conservation of River Ganga's most elusive inhabitant and India's national aquatic animal, the Gangetic Dolphin.
A beautiful 67 km stretch of River Ganga in Bihar's Bhagalpur district is home to Vikramshila Gangetic Dolphin Sanctuary, the only reserve in India dedicated to the country's national aquatic animal: the blind, side-swimming, endangered Gangetic river dolphin or Platanista gangetica.
The most ancient of all cetaceans, Gangetic dolphins are fascinating animals.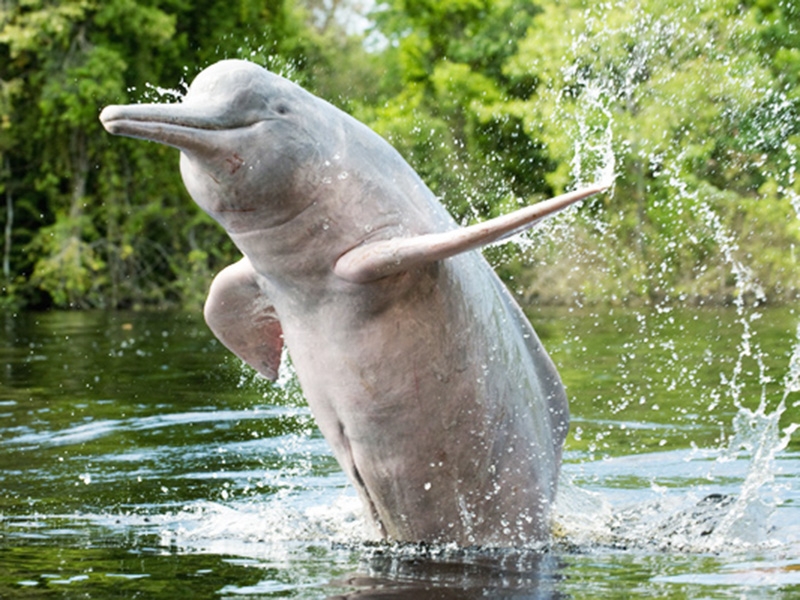 Some 30 million years ago, they diverged from other toothed whales, making them one of the oldest species of aquatic mammals that use echolocation. In echolocation, the animal sends out sound waves that bounce off underwater obstacles and darting fish, helping them navigate and find food. These gentle freshwater creatures are also known for swimming at an angle, nodding their head rhythmically and trailing a flipper along the riverbed to dislodge potential prey.
Gangetic dolphins were once found in the thousands in river Ganga, one of the world's most densely populated areas, but decades of hunting, destructive fishing practices, hydro-projects, increasing boat traffic, and pollution has pushed this shy, long-snouted species into the endangered list of the International Union for Conservation of Nature (IUCN).
The threats to the Gangetic dolphin are identical to the ones faced by another freshwater cetacean in China not so long ago, the Yangtze river dolphin or Baiji, which was declared functionally extinct by IUCN in 2007. The good news is several conservation organisations and communities in India are working to try to prevent the same fate for the most elusive inhabitant of the river Ganga.
In an innovative approach, a team of Japanese and Indian sonar engineers have come together to build and deploy a custom-built sonar system that can track these reclusive creatures by the high-frequency clicks they use to navigate and hunt.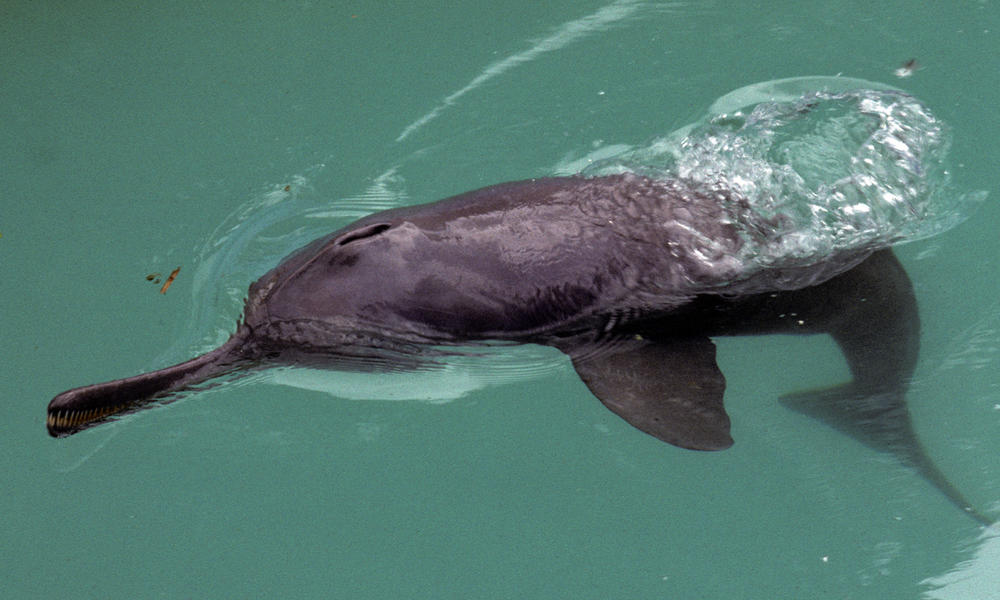 This unique conservation initiative is led by Harumi Sugimatsu, an acoustical engineer from the University of Tokyo's Institute of Industrial Science, and Rajendar Bahl, a professor at the Center for Applied Research in Electronics at the Indian Institute of Technology, Delhi. The duo created the blueprint for this experimental project while they were studying and tracking the migration of humpback whales around the islands of Japan in the early 2000s.
Sugimatsu and Bahl's sonar-monitoring project brought together a team of dolphin experts and sonar engineers from both Japan and India. This team had two main objectives: one, to reveal little-known details about the dolphins' activities, and two, to provide better and more reliable tallies of dolphin population.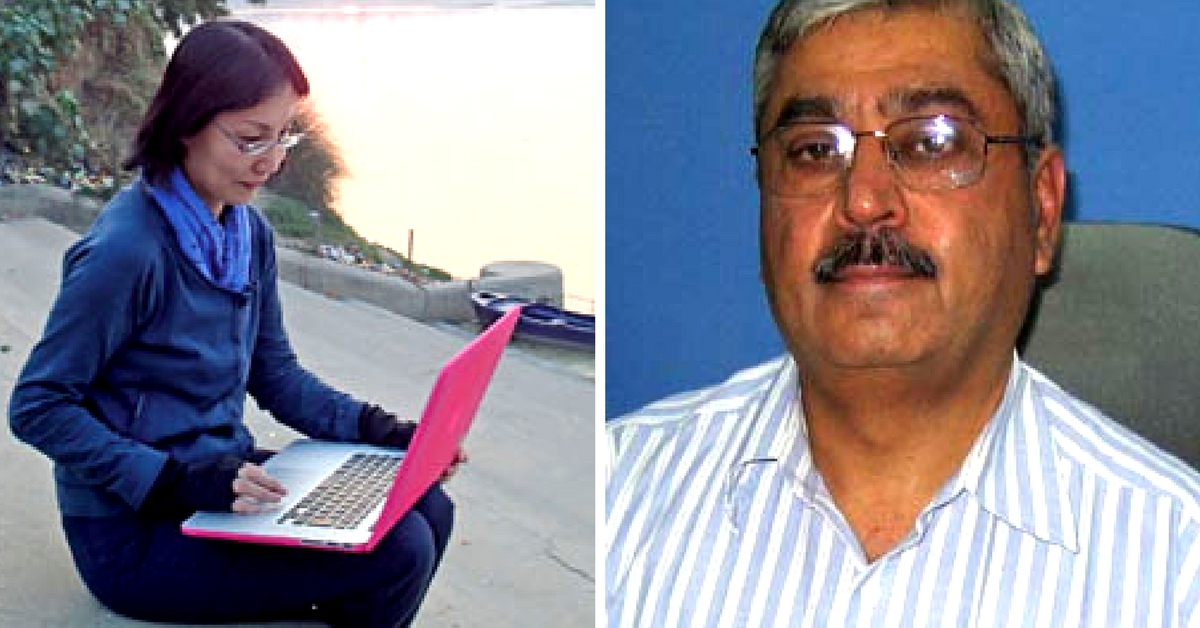 Harumi Sugimatsu and Rajendar Bahl
Thanks to the plummeting numbers of these aquatic mammals and the vastness of their habitat, researchers and conservationists generally struggle to keep tabs on these dolphins. By eavesdropping on their underwater lives, the team believes it can gather data about their daily routine, behaviour and geographical range (i.e. locations where they hunt, play, and nurse young calves), they will be able to focus protective efforts in the right areas.
Also, the present system of estimating dolphin population depends heavily on visual surveys. For instance, in a government census, four men in a boat look in different directions, keeping a watch for surfacing dolphins (they surface to breathe about once every 4 minutes). This method can lead to a single dolphin being counted multiple times as it surfaces in different spots. So, sonar-monitoring can definitely result in a huge improvement on the reliability of the survey data.
The team members first started work in 2006 when they heard about a solitary Gangetic dolphin that had somehow ended up in the Budhabalanga River in Odisha. Cut off from all known populations of his species, it was an unlucky situation for the male dolphin, but his predicament also provided an opportunity for researchers to study how an individual dolphin, isolated within the confines of a narrow river habitat, used his echolocation system in the wild.
To do this, the Indo-Japanese team installed hydrophones in the muddy shallows of the Budhabalanga river. By triangulating the incoming signals, they were able to chart the solitary dolphin's movements and learn more about his bio-sonar abilities.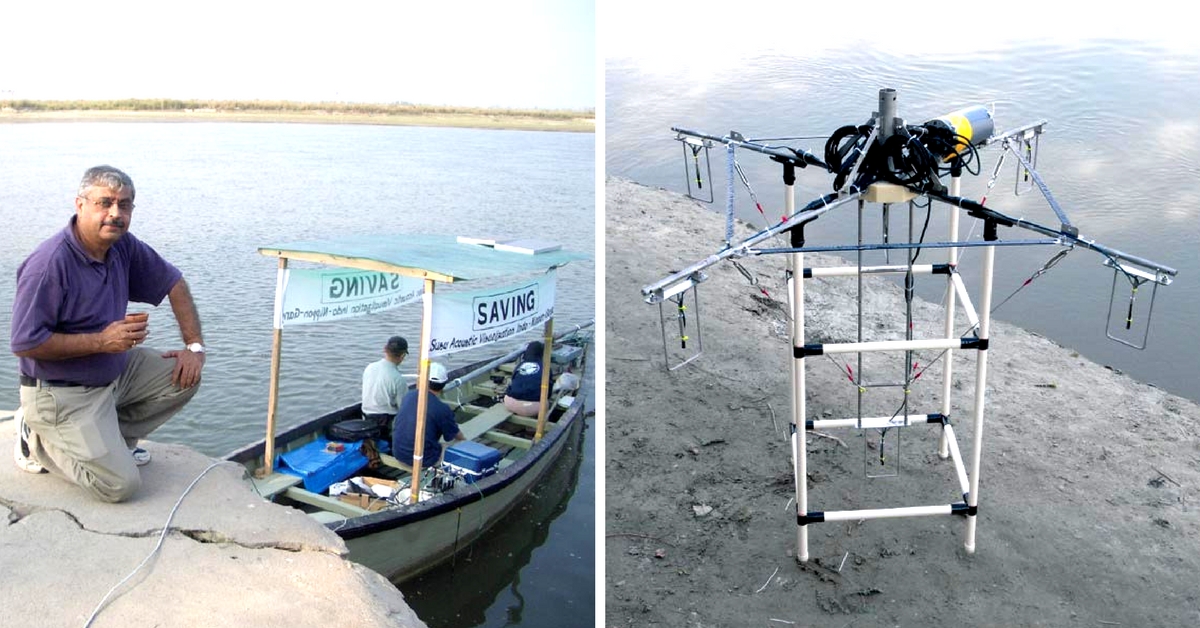 For instance, they learnt that the Gangetic dolphin produces a narrow sonar beam that it sweeps back and forth, like a swinging flashlight used to illuminate a large area.
The engineers used information such as this to build a better dolphin detector which was then placed in a peaceful 12-km stretch of river between two dams about 150 km south of New Delhi. For the next six years, the team used the data they gathered here to refine their technique and sonar equipment for long-term monitoring.
Finally, the solar-powered dolphin detector was placed in a polluted stretch of river Ganga near the industrial city of Kanpur in Uttar Pradesh. Fixed securely to a steel pole, the hydrophone's underwater monitor sends its raw data to a signal processor that analyses, stores, and uploads data to a server in real time. Much of the sophisticated signal processing is a result of Bahl's expertise in submarines; he used to track them for the Indian Navy.
The team's first placement of the dolphin detector was a success, with several episodes of sonar activity in its vicinity lighting up their laptops' screens with blue streaks. Each of these streaks represented a Gangetic dolphin gliding through its underwater world – unseen by human eye, but now accounted for.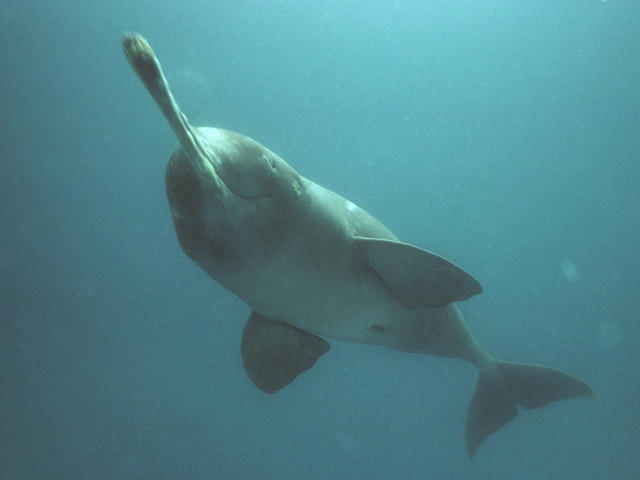 In the months after the successful deployment of their first dolphin detector, the team worked with local conservationists to find locations suitable for long-term sonar monitoring of dolphins. Awareness campaigns for the local fishermen of 'dolphin hot spots,' pinpointed by deployed sonar systems, were also put in to action.
In the future, Sugimatsu, Bahl and their hardworking team members hope that series of stationary sonar monitors along the river Ganga will help record the migration pattern of these endangered animals, provide an accurate estimate of their numbers and help marine biologists learn more about this little-known species.
For those who would like to do their bit to protect India's national aquatic animals, there are two other organisations working to conserve the Gangetic dolphin.
Society for Conservation of Nature (SCoN) is working with Sugimatsu and Bahl's team to conduct sonar-monitored surveys, assess threats to the dolphins in the river and help plan improvements in its habitat. To contact them, click here.
Aaranyak's Gangetic Dolphin Research and Conservation Division (GDRCD) works for long term conservation of the endangered Gangetic dolphin in the Brahmaputra river system. Other than conducting dolphin counts, this NGO has also launched a dedicated research-cum-education boat for dolphin conservation in India. To increase community engagement in the project, this survey boat travels along the Brahmaputra to stage "dolphin dramas" and other educational events in riverside villages. To contact them, click here.
---
Also Read: TBI BLOGS: How a Padma Shri Awardee is Fighting to Save the Gangetic Dolphins from Extinction
---
Like this story? Or have something to share? Write to us: contact@thebetterindia.com, or connect with us on Facebook and Twitter.
NEW: Click here to get positive news on WhatsApp!
Tell Us More
We bring stories straight from the heart of India, to inspire millions and create a wave of impact. Our positive movement is growing bigger everyday, and we would love for you to join it.
Please contribute whatever you can, every little penny helps our team in bringing you more stories that support dreams and spread hope.