Open defecation continues to be a prevalent issue in many parts of rural India. Community members from a village in an Uttar Pradesh district are coming together to resolve the problem in their own areas.
A young woman goes to the fields to relieve herself every morning. A man takes note every morning. One day, he attacks her. The woman was thankfully saved, but the man is unapologetic. "After all, these are my fields," he said, "She's the one who's been using them all this while, and it must be because she wants me to approach her." There you go. Yet another version of 'it's her fault', this time centred around answering nature's call.
But this is not just a rural problem. The rape of two minor girls in Rohini, who had stepped out of their homes for the same reason the young woman had, is a clear indicator of the larger issue at hand. Apart from this, we'll resist the urge to cite statistics on the very clear link between open defecation and the spread of disease.
In an India riddled with gender, caste, and class inequalities, we have a very basic problem that refuses to go away—the lack of toilets inside peoples' own homes.
For all the chatter this election season in UP about development and technology, it's almost absurd that this isn't on anyone's agenda. What use are laptops, when we don't have toilets?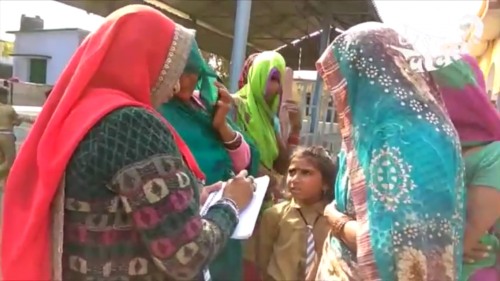 Amidst all this, Atrapta village, in the Jaitpur block of Mahoba, has taken matters into their own hands. "Free us from open defecation," says Mira, a sweeper who has been running a movement against open defecation since July under the larger campaign of the Swachh Bharat Abhiyan (Clean India Mission).
Along with other cleaners of Atrapta, and some of the villagers themselves, Mira has been spreading awareness and educating people about sanitation in the village. Under the campaign, they are informing villagers of the harmful effects of open defecation, and how they can avoid dirt. Mira, impassioned about her work, tells us that they have cleaned 30 villages within the Jaitpur block so far, "We start work from 4 AM, and go house to house, explaining to people the effects of open defecation."
She says that people have become more aware about the mission, and are more or less receptive to its message.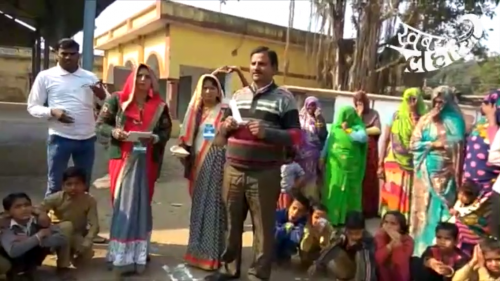 She explains to them about how harmful dirt can be, how it can spread through particles that fly from the soil or from our feet and from the wheels of cars, and how it can also lead to many diseases. "I tell them that the money they will spend for treating such diseases can be used to build toilets. Prevention is better than cure," she likes to say.
Kumari, the village Education Minister, finds the campaign extremely useful, "This campaign has already made a difference, and many people have been following it. Cleanliness will make the village look beautiful and also keep the diseases away. Our school's children also support this campaign, taking out rallies to raise awareness in the people."
Nawab Singh, the village Pradhan (Head), said, "The village has consistently needed toilets earlier as well. I am sure the politicians will take it up again in the elections. I hope so."
Surveys have confirmed that violence against women, like rape and molestation, increases during open defecation, since it leaves women vulnerable. The Mahoba movement, authorities hope, will be the first of many in ensuring public health and women's safety.
For more updates from Khabar Lahariya, connect with us on Facebook, Twitter, and YouTube.
Like this story? Or have something to share? Write to us: contact@thebetterindia.com, or connect with us on Facebook and Twitter.
NEW: Click here to get positive news on WhatsApp!