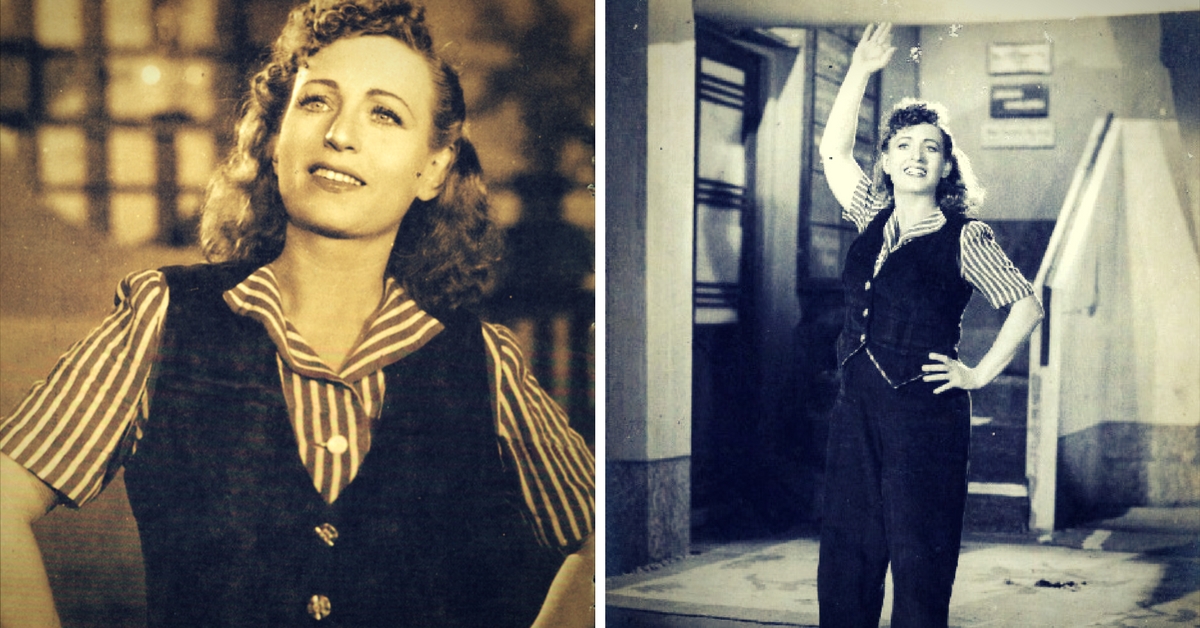 One of India's earliest action stars, Mary Anne Evans – or Fearless Nadia, as she was more famously known – swashbuckled her way through gender and cultural barriers in the late 1930s.
During the late 1930s, the world was reeling under the ripples of the upcoming war, and fictional rescue rangers, superheroes in particular, provided the public an escape into a fantasy world where all the ills of the world were righted by these larger-than-life heroes.
The names of the caped crusaders who emerged in this era — Superman (debuted in 1938), Batman (debuted in 1939), and Wonder Woman (debuted in 1941) — have become legends and are still with us today.
It was at this time in India that a woman burst onto the screen, first as a princess, then as a masked vigilante, juggling whips, swords, guns, and even pummelling villains with her bare hands.
The year was 1935 and the woman was India's original stunt queen, Fearless Nadia.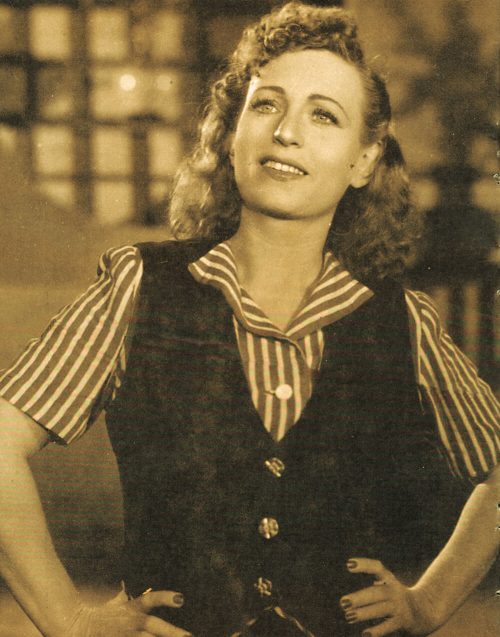 Fearless Nadia
A blonde, blue-eyed beauty, Nadia was a hit with the audience from her first film and reigned Bollywood throughout the 1940s. Largely ignored by cinema historians as she performed mainly in the stunt genre, the story of this swashbuckling heroine is something few Indians know.
Born on January 8, 1908, as Mary Ann Evans to a Scottish father and a Greek mother in Perth in Australia, Nadia came to India as a little girl. Her father, Herbert Evans was a volunteer with the British Army and little Mary grew up in India's North-West Frontier Province.
From a young age, she wanted to be a singer and dancer and learned Scottish dances from her father and Greek songs from her mother. She went on to sing in church choirs in school but even as a young girl, she was different. While her classmates played with fluffy soft toys, she spent most of her time with a pony that became her best friend. She also spent time learning fishing, hunting, horse riding and everything normally considered audacious for girls of her age at the time.
When her father passed away during World War I, Mary moved back with her mother to Bombay. Here, she joined a ballet dance school run by Madame Astrova, a Russian dancer, who recognised the young girl's innate talent, and selected her to be part of her travelling troupe.
During her days with the troupe, Mary met an Armenian fortune teller who suggested that she change her name to one beginning with the letter N. She chose Nadia because she like the "exotic sound" of it!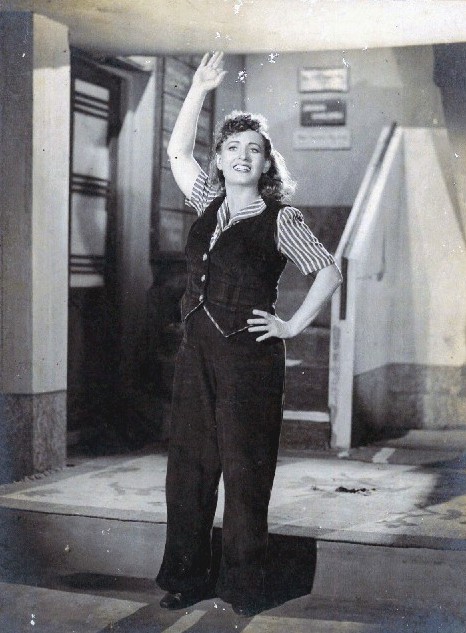 Nadia was originally born Mary Ann Evans
Other than dancing with the travelling troupe, Nadia also tried her hand at several other jobs. From working in a secretarial position, travelling as a theatre artist to performing as a trapeze artist at a circus, she did it all. She also worked hard to train herself as a gymnast and her graceful cartwheels, daredevil stunts and charming presence soon won her a lot of fans.
Eventually, Nadia left her job at the Zarco Circus and returned to full-time dancing, this time performing to Bollywood songs. Eruch Kanga, a cinema owner from Lahore, spotted her in a performance and suggested her name to J. B. H. Wadia and Homi Wadia, the brothers who owned a major production house called Wadia Movietone.
A meeting was set, and impressed by her striking looks and fearless attitude, the Wadias decided to put Nadia to test. She was asked to learn Hindi and given a small role in two of their upcoming movies, Desh Deepak and Noor-e-Yaman. Her cameos as a slave girl in the former and as a princess in the latter were well-liked by the audience.
Then came the most important moment in Nadia's career. In 1935, the Wadias decided to launch Nadia as a lead heroine in Hunterwali.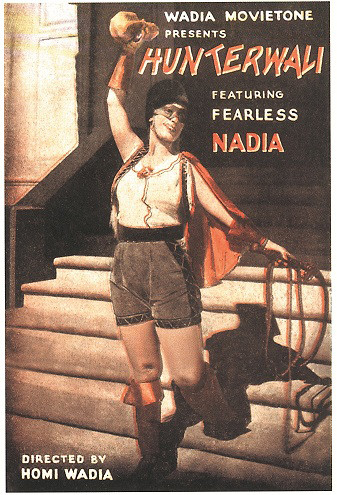 A cracker of a film, this movie was the first one to showcase Nadia's fearlessness, her athletic prowess, and her affinity for the stunt genre. The audience loved her – perhaps the fact that as a European, she was fighting on the right side was doubly appealing at a time when India's freedom struggle was foremost in the minds of most Indians.
Over the next decade, Nadia went on to star in over 50 films, performing her own stunts in every single one of them. From swinging from the chandelier and jumping off cliffs to fighting atop a speeding train and befriending lions, she did it all with an ease even men found difficult to achieve. Her fierce yell at wild animals, bandits, and bad boys in general, as she cycled down the road on her way to new adventures, became her signature.
She also risked her life in the line of duty a number of times. Once, while shooting for a fight scene, she fell flat on her face from a great height and another time, she almost got swept away in powerful currents of Bhandardara Falls in Maharashtra.
A champion of truth and justice in almost all her roles, most of Nadia's films were runaway hits, with the Indian audience revelling in her daring stunts and exotic costumes.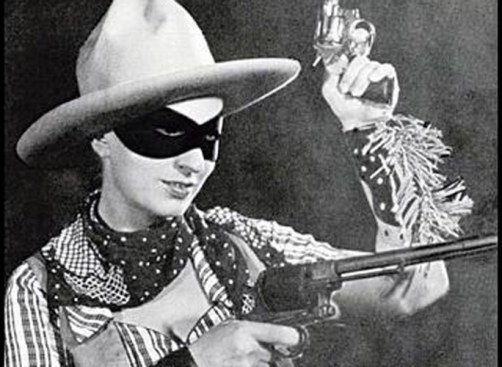 She went on to achieve great stardom and became one of the highest paid actresses in the Indian film industry during this period. Such was the adulation she received from public that her moniker 'Hunterwali' was affixed by many brands of belts, bags, shoes and clothes in the country.
At a time when Indian women were slowly warming up to the idea of acting as a profession, Nadia also emerged a feminist icon, challenging male dominance with rousing lines such as: "Don't be under the assumption that you can lord over today's women. If the nation is to be free, women have to be freed first."
In 1961, Nadia married Homi Wadia (he gave her the name Fearless Nadia after she sportingly jumped off the roof of a studio set during a shoot) but Indian cinema hadn't seen the last of her.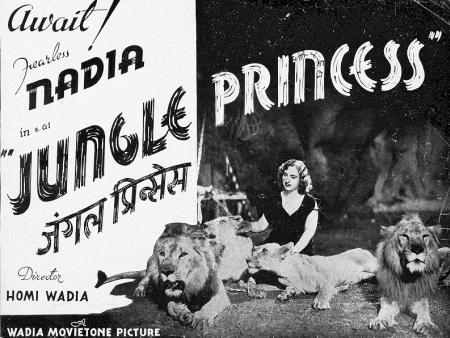 In 1968, at the age of 60, the fiery actress made a final comeback as a sassy secret agent in Homi Wadia's movie, Khiladi. As time passed, her legacy was gradually forgotten, only to be rediscovered in the 1993 documentary Fearless: The Hunterwali Story.
Made by JBH Wadia's grandson and Roy Wadia's brother, Riyad, the documentary was screened at various international film festivals, bringing her to the attention of India and the world, including Australia, the country where she was born.
In a review by Radio Adelaide just after the release of the documentary, Australian journalist Michelle Smith said that Nadia's films bear "a 1930s-esque innocence, juxtaposed with incredible stunts and spiels about women's rights."
Today, while her legacy is little-remembered by the Indian film industry, Nadia's works are being studied by cinema experts in many countries, including at UK's School of Oriental and African Studies.
---
Also Read: The First Indian Woman to Go to Antarctica has Visited 180 Countries in 50 Years
---
Like this story? Or have something to share? Write to us: contact@thebetterindia.com, or connect with us on Facebook and Twitter.
NEW: Click here to get positive news on WhatsApp!