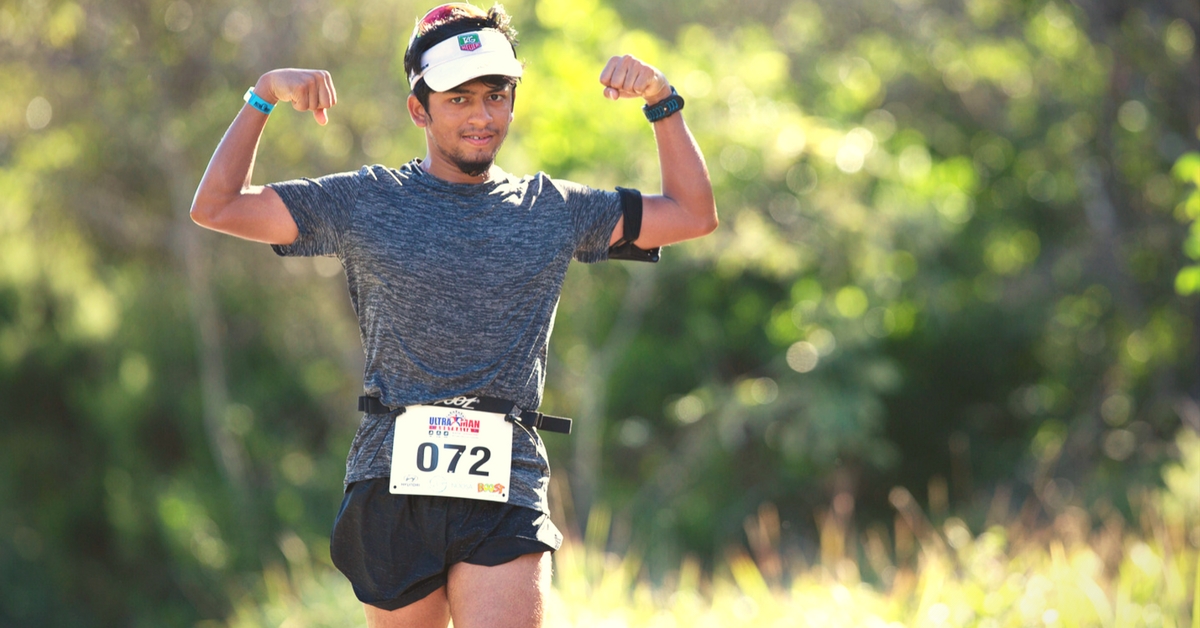 Arunaabh Shah writes about his journey - from the first day of training to the last day of Ultraman
Arunaabh Shah writes about his journey – from the first day of training to the last day of Ultraman
We triathletes aren't accused of being very smart. I mean running, cycling and swimming are all equally, if not more, exhausting.
But for us, one isn't enough. And this drive for infidelity drives us to go ramping up of from one sport to another.
I have done quite a few myself, seven back to back 70.3s in seven days (1.9-km swim, 90.1-km bike and 21.1-km run), a 70.3 in Taiwan, an Ironman in Mallorca (3.8-km swim, 180.2-km bike and 42.2-km run) and an Ultraman in Australia (a three-day triathlon with a 10-km swim, 421.1 km on the bike and then a 84.3-km run) and now am training for another Ironman in Zurich.
This Ultraman thing was quite rare actually. After the recently concluded Ultraman Florida, only 964 people since 1984 have finished this distance.
And I have the dubious distinction of being the 1st Indian male among those 964.
The Training: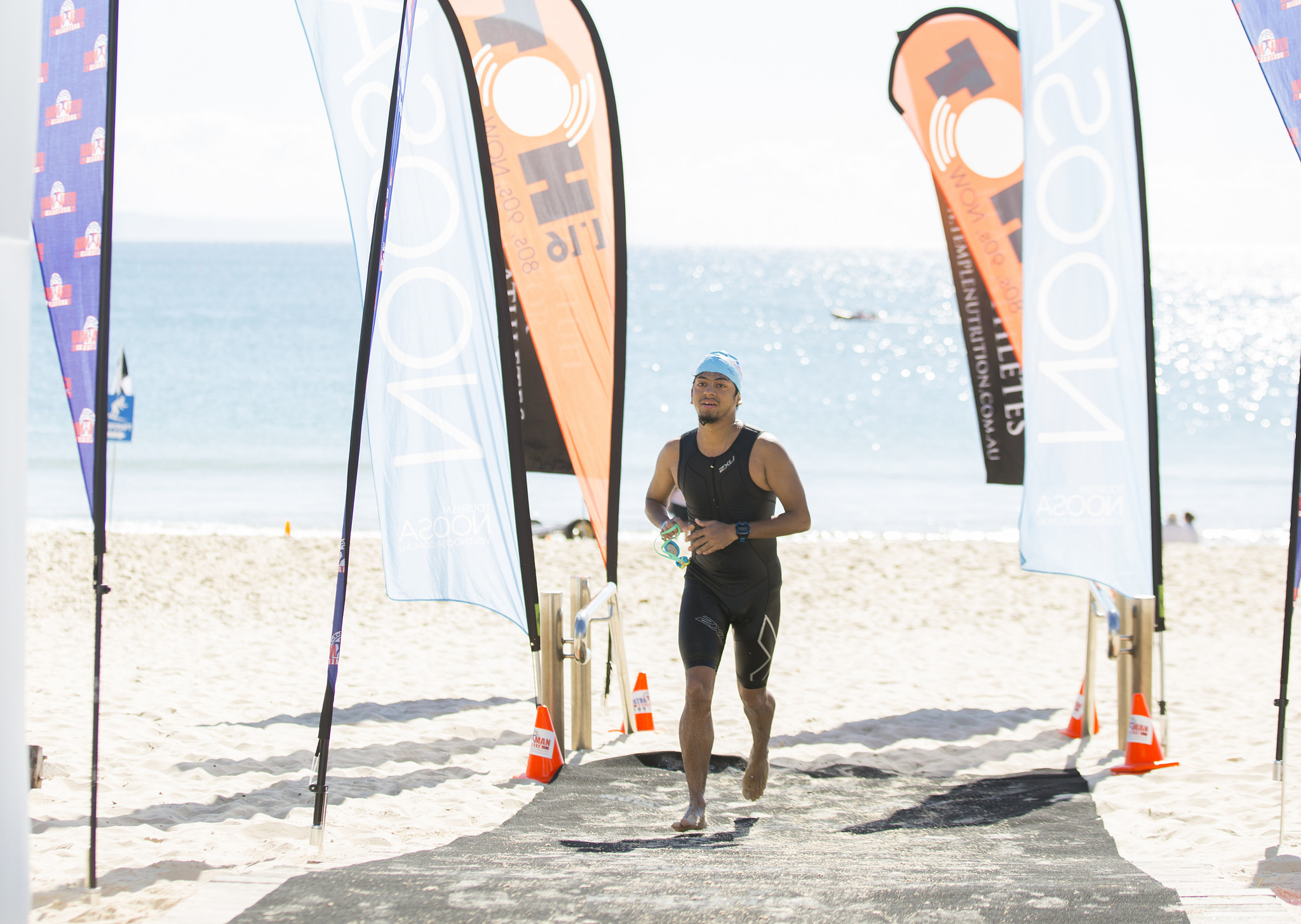 Training for such a distance is exhaustive. Like with any other event, the race result is decided during training. I had my triathlon background to back me up, but the buildup to my event in May 2016, in Noosa Australia, was far from ideal.
I lost a crucial three months from January to March with a knee injury and the only thing I gained from it was weight. Given the time was nigh and tensions were high, I focused on the part which comprised 81% of the distance, biking. And as road safety and air pollution aren't what Delhi advertises proudly, I decided to stay indoors.
The swimming pools were either under repair or closed and so I could only get in three (4 km +4 km+ 2 km) swims before I went out and did a 10 km in the Noosa Sea.
Biking and running, I could control, and I did control. From being a racer, I went into grinder mode. All runs became increasingly in endurance zone (read: SLOW). Double run days, morning and evening were common. And days of back-to-back high mileage were regular.
As for the bike, the bike trainer became the one place you would find me. I had my lunch, my dinner, my breakfast on the bike trainer. That poor Minoura B-60 trainer got ground to no limit. The max I went in a day was eight hours, the max I went in a week was 30 hours. And this thing went on for weeks.
Sleep didn't come that easy though. All my racing career, I have been the one to go into races well prepared and in good shape and then decimate the goals.
But a) This race was very long. b) I was very fat. c) I wasn't SWIMMING!
Add to that my sense of patriotism and the fact that I was the only one and the 1st among Indian men to carry the Indian flag into battle.
The Race: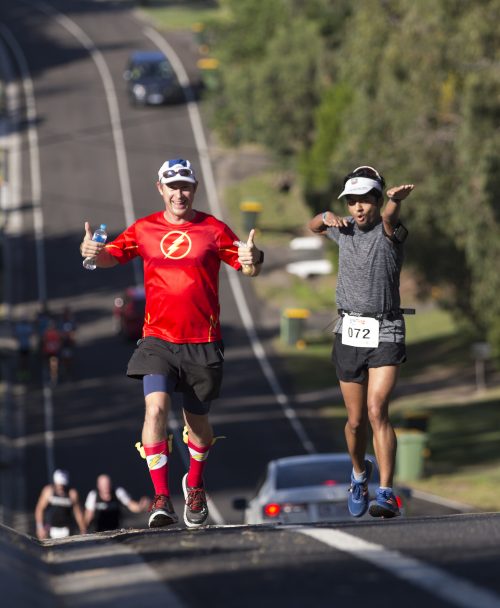 With a big bunch of grey hair, I arrived in Noosa.
What goes unnoticed in Ultraman is the effort others put in: Your crew, the race organizers, the people around you. I was the athlete who had to do three big days: 10 km swim and 145 km bike ride on Day 1, 276.1 km bike ride on Day 2 and 84.3 km run on Day 3.
The people who had to carry my stuff around, give me food to eat and water to drink and then at the end of the day lift me and put me in the bed so that I can do this all over again the next day were the real heroes.
The Ultraman has three main virtues: Aloha (meaning Love), Ohana (meaning Family) and Kokua (meaning Help).
And on the three days you are competing there are multiple occasions when you see these virtues come alive.
Day 1 swim was a struggle and I had a big, deep cut on my neck because of my triathlon suit. I did come out of the water in 4 hours and 13 minutes, after practicing for just 9 km, which wasn't too shabby.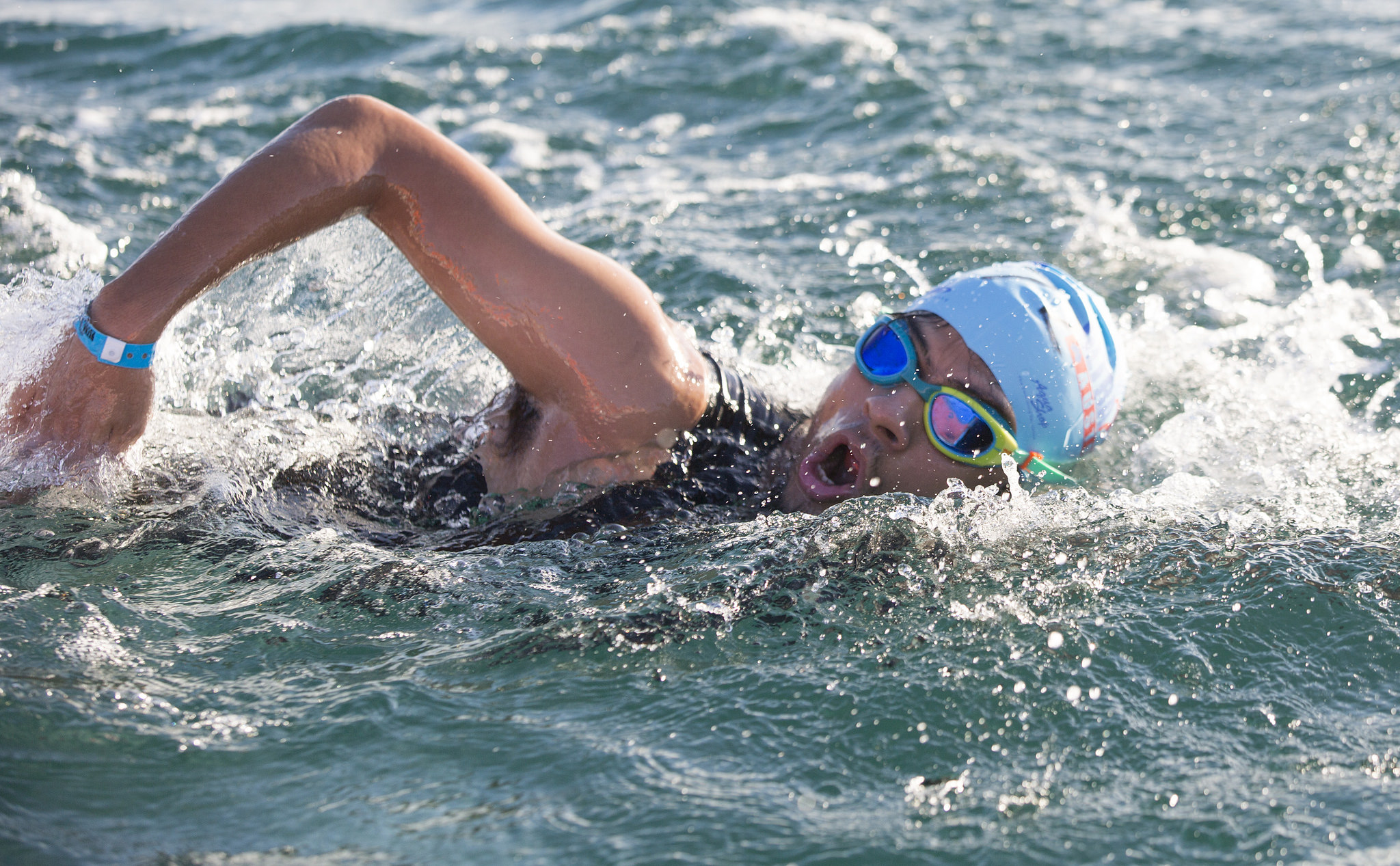 On to the bike, the day was even more uphill. The gears stuck together and didn't shift down properly, so I had to dismount and change my gear every time there was a hill (of which there were many). My bottle kept falling off the bike and my chain kept coming off, which resulted in numerous breaks in momentum.
Day 1 ended in 11 hours and 6 minutes, and it was scary. I had a bad bike leg and if it happened the next day, I wouldn't make the 12-hour cutoff for the 276 km bike leg. My crew put me to bed and then worked on my bike, which worked like a charm on Day 2.
Day 2 was one of the biggest challenges of my life. The first two hours of Day 2 yielded 60 km, and then 20 km later, I was ready to dismount and bid adieu to race. My body was tired from the previous day, my eyes refused to stay open and even a 25mg caffeine pill with two cans of Red bull didn't help. At 80 km, my thoughts were: "You came this far, you are the first Indian male to participate and this is where it ends."
And then came in Matthew McIntrye, who was doing his second Ultraman. He put an arm on my shoulder and told me, "Buddy, we'll get you to the finish line. Hang in there."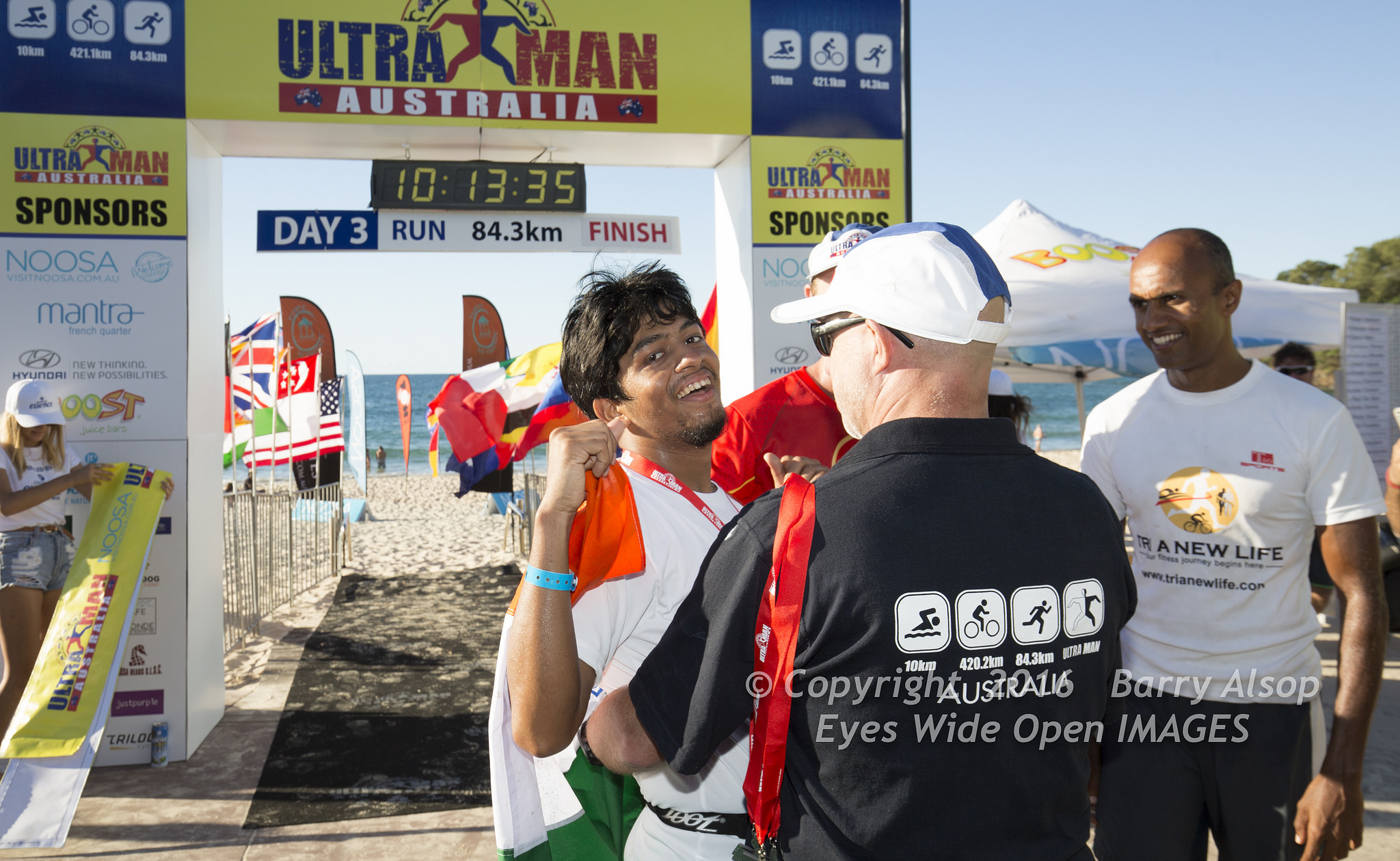 At that moment, I felt as if the weight of the world had been lifted, the rotten year that I had been having was over and I was suddenly awake.
All day on Day 2, I had Krista Page in my sight, who was also doing her second Ultraman. She had taken a tumble like me on Day 1 off the bike, but unlike me her injuries were a little more severe. And so, as the strong woman soldiered on her bike, I followed the suit and kept going. We played a game of cat and mouse all day long.
At around 230 km, I was confident about my abilities and so I thanked Ms. Page and went on my own. By 260 km, I was cursing everyone in this world for putting hills at the end of that long day and at 265 km, I was laughing because I saw the race leader, Arnaud Selukov, and his crew car go past me after finishing the day while I still was on my bike.
And then I was in tears at 276 km when I saw my coach at the finish line. Ten hours and 57 minutes for Day 2, exactly what he had plotted and I had executed.
All that was left was a Double Marathon on Day 3.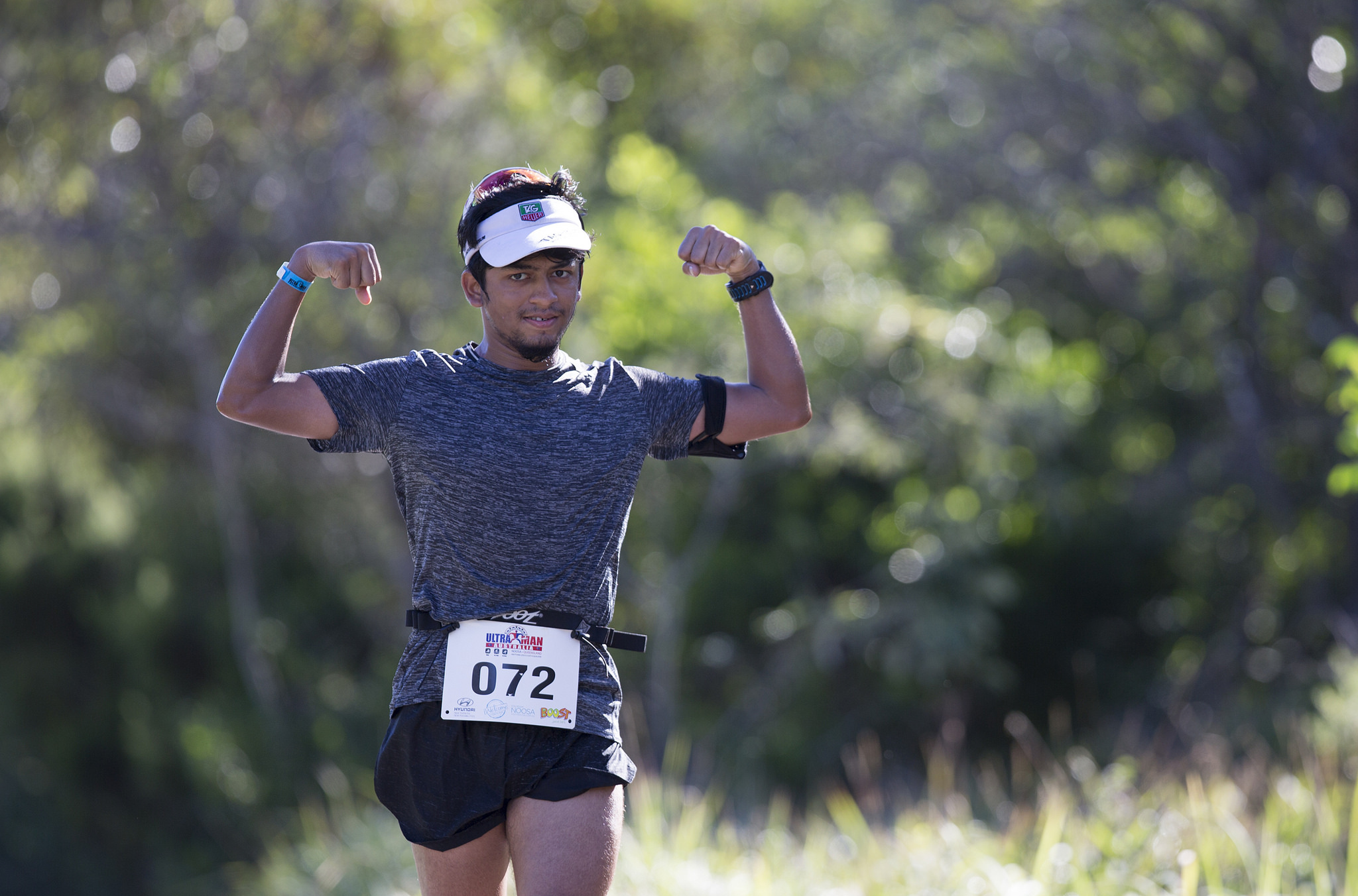 Day 3, was the day when a lot of dreams came true. The first one was in the form of meeting and running with a GOD, the three-time Ironman World Champion and my idol, Craig "Crowie" Alexander, who was there to crew for another athlete, Ricky Jeffs. My strategy for Day 3 was to run 50 km in 5 hours and then take my time to do the remaining 34.3 km.
After 50 km, I took a quick washroom break and decided to carry on running, which didn't go quite per plan. Short walking breaks ensued, which soon became long walking breaks.
And then at 63 km I told my coach (who was running 42.2 km on the way back with me), we will run till 75 km, and so we did.
With 9.3 km to go, my legs wanted to go a different route than mind. And then I met the 2012 Ironman World Champion Pete Jacobs, who asked me "How do you do this?"
I mean, I know he was being nice and all, but when a World Champion throws some adulation at you and you are in a delusional state of exhaustion mixed with anxiety, you fly.
At the end, with 1 km to go, I changed up (big photo op coming up!), got the Indian Flag and charged! Right into sand. Yes, that's right. To finish the race, we all had to take our already battered bodies through a beach for 1 km.
After a few curses, my mind did go quiet. As I reached the final stretch, the months of self-doubt and depression, the years of dreaming, all came true. Day 3 gave life to my biggest dream yet, carrying the Indian flag over the finish line while being a pioneer.
I went to Australia, with one goal in mind: "Change the perspective of the world towards Indians."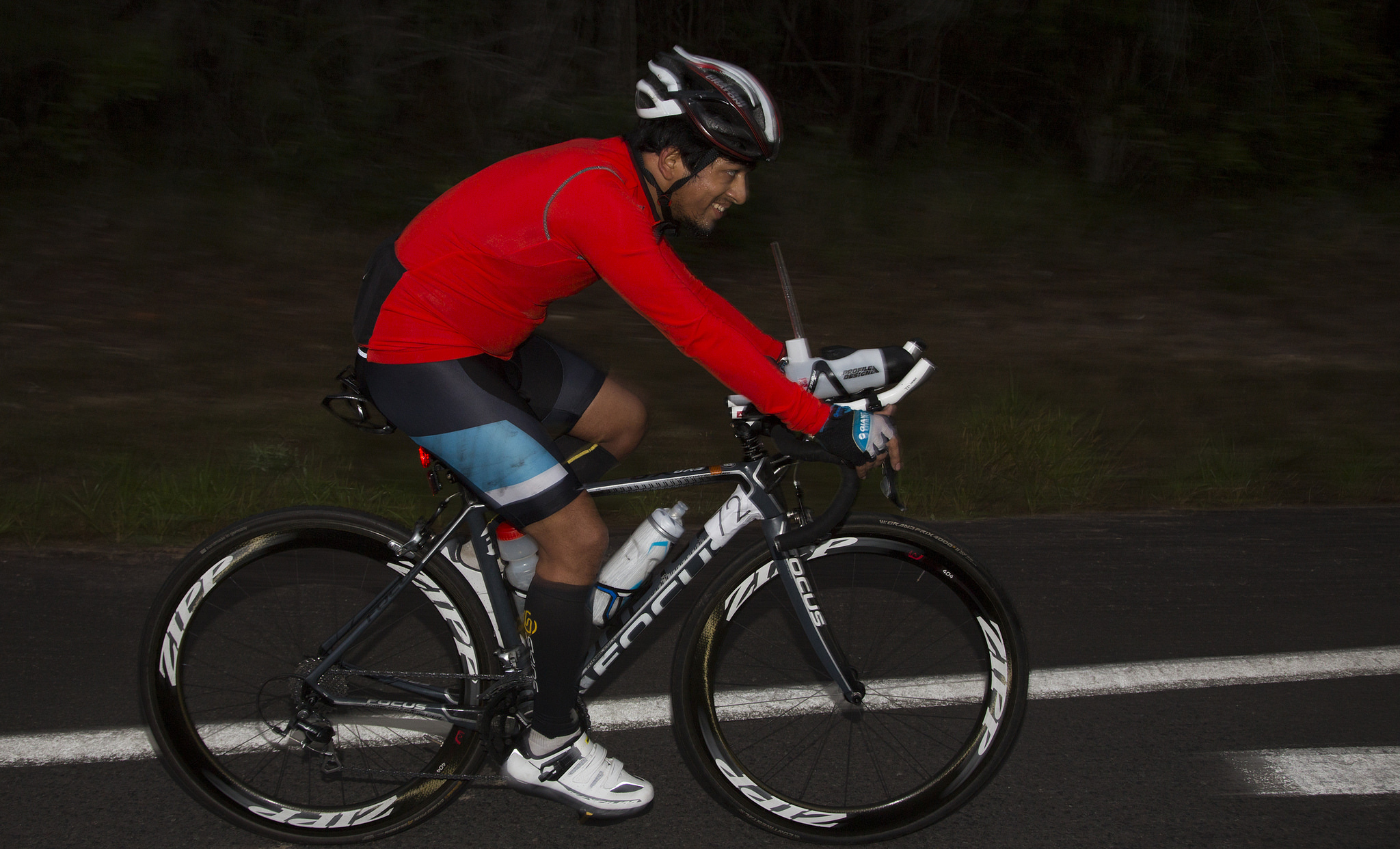 And 3 three days of machoismmachismo later, I did succeed in doing that. Whatever little coverage I got when I came back, I hope helped light a spark in this country about the existence of this event.
And with Ultraman Florida: , Kaustubh Radakar, Prithviraj Patil, Milind Soman and Abhishek Mishra added to this lonely number.
We are now Ocean's 6 (Anu Vaidyanathan being Mr. Danny Ocean here). And with 2 two more about to participate in Ultraman Australia this year, this number will swell up to 8.
I guess, working hard payed paid off.
The gang of loonies is growing!
(By Arunaabh Shah)
Like this story? Or have something to share? Write to us: contact@thebetterindia.com, or connect with us on Facebook and Twitter.
NEW: Click here to get positive news on WhatsApp!
We bring stories straight from the heart of India, to inspire millions and create a wave of impact. Our positive movement is growing bigger everyday, and we would love for you to join it.
Please contribute whatever you can, every little penny helps our team in bringing you more stories that support dreams and spread hope.