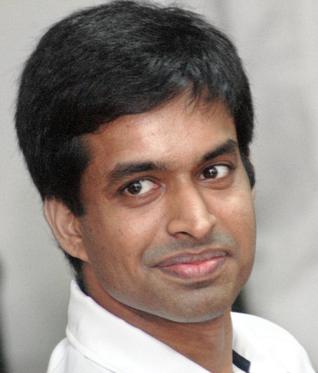 We profile the incredible life of Badminton superstar Pullela Gopichand, who has endured several hardships in his career but emerged strong through them all due to his remarkable dedication and sense of values, to win medals at several prestigious championships including the Olympics in his capacity as athlete and coach.
We have been urged to publish more articles on Sports. And from now on, we intend to do just that – hunt for exceptional stories related to sports and sports personalities and put them up for our readers! Today, our sports correspondent Manish Kalra profiles the incredible life of Badminton superstar Pullela Gopichand, who has endured several hardships in his career but emerged strong through them all due to his remarkable dedication and sense of values, to win medals at several prestigious championships including the Olympics in his capacity as athlete and coach.
An Olympic Medal at last
It happened a bit too fast. Saina Nehwal had just started imposing herself in the bronze medal match by engaging her opponent in long rallies. Before you could completely sense it, her opponent had to pull out due to a knee injury.
It is perhaps ironical as well as fitting that India's first badminton medal in Olympics was won because an Indian player turned out to be fitter than her counterpart from China.
In that moment Saina's coach, known for being a hard task master especially when it came to physical fitness, shed tears of joy. Saina had just fulfilled the incomplete dreams of her coach by winning an Olympic Medal.
This coach of the Indian badminton team, Pullela Gopi Chand could easily be mistaken for a gentle, soft spoken and dignified Hyderabadi software engineer. During a felicitation ceremony for Saina, a well-meaning Indian Sports Minister had once inquired about the credentials of the gentleman who had accompanied her. As is typical of Gopi Chand, he went ahead and ensured Olympic and World Medals for India leading to many more felicitation ceremonies.
Not just Sports Ministers but sporting history will now remember him for posterity.
But let us start at the beginning to tell the story of a man whose sports career is an example of rare fortitude and commitment.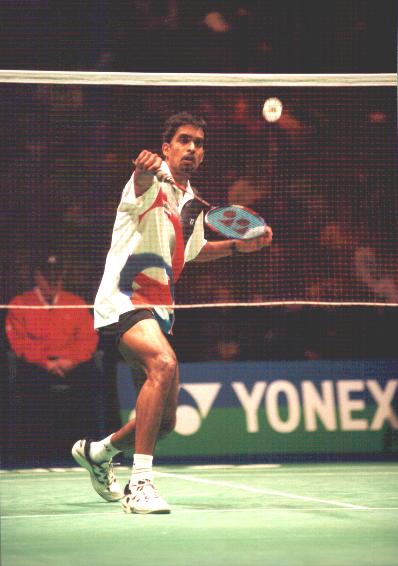 Playful childhood with limited shuttlecocks but unlimited ambition
Pullela Gopichand was born in a family that had modest means but placed a premium on values and discipline. Like a lot of kids, all his waking hours were spent either playing or thinking about exceling at his chosen sport, badminton.
But what stood out even at that early age of 11 was his passion to win and his ability to work extremely hard at his craft.
The strict discipline and regular sleeping habits at home ensured that Gopi was the first to hit the practise courts at 5:30 AM. This was a half hour earlier than his team mates, ensuring he got some more court time. Likewise when practice would get over, his eagerness to excel would lead to him to ask for and then do more physical exercises.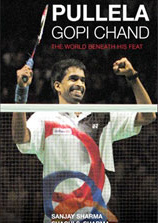 In his developing years, Gopi would struggle to have enough shuttlecocks to play and often he would have to control or curtail hitting his favourite jump smash.
Gopi's mother would walk for miles and avoid public transport to save money that was used to buy her son a shuttle cock. As Gopi started his climb to the top echelons of the Indian badminton scene, his family smilingly endured a lot of hard ship and sacrifice.
The biography of Gopichand touchingly depicts how the simple family chose to forego movies and restaurants and even all social and family outings for over a decade. This was done to save enough money for the travel, kit and shuttlecocks that their son would need at an increasing rate as Gopi's game and his smashing took on a more effective and aggressive form.
During those days there was a practise of permitting Indian sports persons to represent the nation but "at no cost" to Government. This meant that his family would have to sell their jewellery to fund his travel and stay while he played for the country.
During these International tournaments, Gopi would play fearlessly and attack uninhibitedly even against top ranked players. Yet Gopi would also plan for future conquests after the matches were over. This planning would include collecting used shuttlecocks during the tournament, and he would return home with a huge set of used shuttlecocks, much to the amazement of Custom officials.
Fate brought Gopi to his knees, but hard work and belief made him fulfil his destiny
As Gopi was on the threshold of dominating the national badminton scene, he suffered a severe knee injury in 1994. While playing a doubles match, his doubles partner collided with him and landed heavily on Gopi's knee. In an attempt to continue playing so that his team did not default the match, Gopi further injured himself.
Gopi spent a difficult and testing year recovering from a complex knee surgery that required over 30 stitches. He was backed throughout this difficult treatment by a knee surgeon, Dr Ashok Rajgopal.
Dr Rajgopal overheard Gopi's mother talking about the financial constraints in paying the operation fees. This good doctor then refused to take money and asked for his payment to be the All England badminton title for the country.
Gopi spent months without walking but not without practising as he would continue to do wall practise even from a stationary position. He also picked up a reading habit and devoted time on yoga to further improve his concentration.
With extreme determination and unflinching faith, Gopi doggedly continued his rehabilitation for over a year and was eventually able to return to his past form.
By 1995 Gopi was not only representing India again in the All England Badminton championship but he also went on to beat the current Olympic champion Alan Budikusuma. It is a different matter that his family had to still borrow money to enable him to make the trip. Further he had to walk for over an hour after that victory to reach a modest bed and breakfast hotel that was selected purely to save money.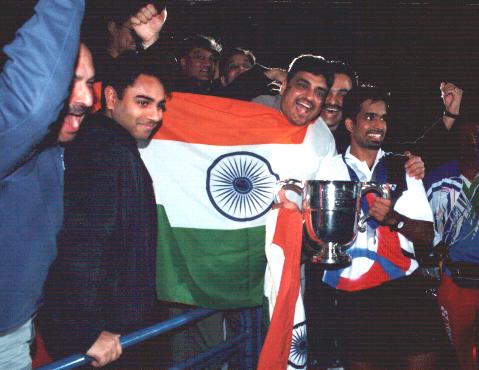 By the turn of the century, Gopi had established himself as a multiple national champion and had brought laurels to the country in team events like Thomas Cup and the Commonwealth Games. And it is a testament to the values of his family, that Gopi often donated his prize money for winning the nationals, initially for Gujarat Earthquake relief and then for the Kargil martyrs fund.
Gopi continued to hone his craft and practised with monastic discipline for the Olympics in 2000. However players from the other countries were already wary of Gopi and he would rarely get to practise with top international players. His Olympic dreams were shattered in 2000 when he lost to the eventual silver medallist. Perhaps the cement court and the lack of practise partners affected his chances but yet again Gopi would come back stronger.
Paying the doctor his dues
In spite of the setback in the Olympics, Gopi established himself as a world beater by 2001 with victories over all the top 10 players in the world as well as a ranking in the top ten.
And in 2001, it all came together beautifully for Gopi as he went on to win the All England Badminton Championship without losing a single game. Gopi had finally paid the doctor his dues.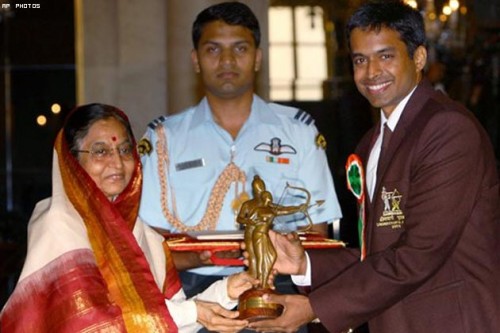 Paying the Country its dues
Gopi's biography depicts a fascinating passage of play during the 2001 championships where Gopi's match play temperament and analysis of the game came to the fore to help him win the semi-final.
The book has Gopi depicting how he out thought the top seed Peter Gade during the final points of his match by placing his serves and strokes where the opponent least expected them. This was a defining moment where Gopi the player and Gopi the future coach came together as one.
And it would be as a Coach that Gopichand would fulfil his next set of dreams.
From a Star Athlete to a Top Coach
By the very nature of their craft and their constant dedication to themselves it is extremely tough for any star athlete to become a good coach. It is here that Gopichand has transcended his brief.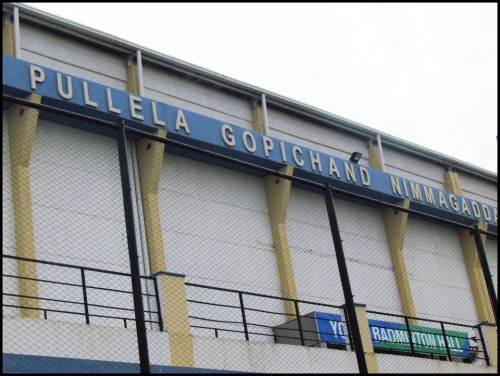 Due to his exploits on the court, Gopi was awarded land by the Andhra government to build a badminton academy. By mortgaging his family property and with help from an industrialist, Nimmagada Prasad, Gopi somehow put together the required funds to build a state of the art sports academy.
As was typical of his career, the academy was built brick by brick with complete support from his family with his father often spending the entire night at the construction site.
But brick and mortar and a glowing career alone do not automatically lead to coaching success.
The success of Gopi as a Coach was seeded by 3 unique aspects that came together:
1. His own path breaking efforts to improve fitness levels and change the ways of Indian badminton. During the 80's, Indian badminton players were known for their stroke play and stylish wrist work. Conventional coaching in India also emphasized constructing a point rather than overpowering your opponents. However to counter the immense speed, strength and stamina of top international players, Gopi developed his own aggressive and energetic playing style and training regimen. If this meant that he had to move out of the top national badminton academy, Gopi had the courage and conviction to take the path less travelled.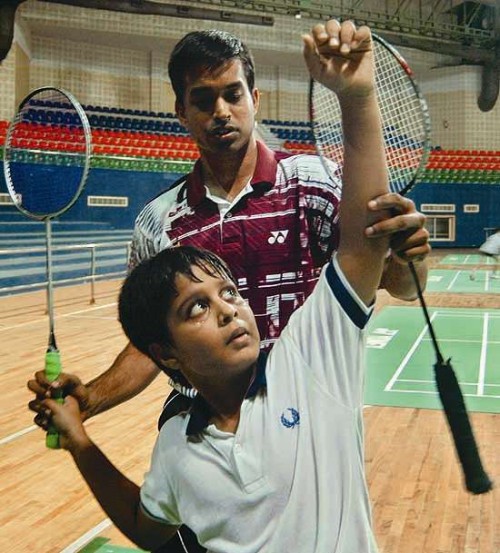 Gopi then sought out his own coach (Ganguly Prasad) and training facility at SAI Bangalore. He experimented with differing training routines as well as meditation and visualization techniques with increasingly better results. He also embarked on a gruelling and physically strenuous training regimen, eventually leading to a top five ranking in the world.
It was this ability to take personal responsibility that Gopi has instilled in his trainees. As a coach, Gopi has stressed on physical fitness and demanded complete dedication from his trainees. This focus has eventually moulded a supremely fit generation of players.
Gopi's wards have benefited from years of his own experiments in training methods. As a coach, Gopi had the requisite varied experience to ensure his wards got the right guidance. Gopi was able to tune his coaching techniques to suit the natural strengths of his wards.
2. The relevance of being a recent champion and an active coach. His early retirement at the age of 30 in 2003, meant that Gopi was still fresh enough mentally and agile enough physically to put his heart and soul into coaching.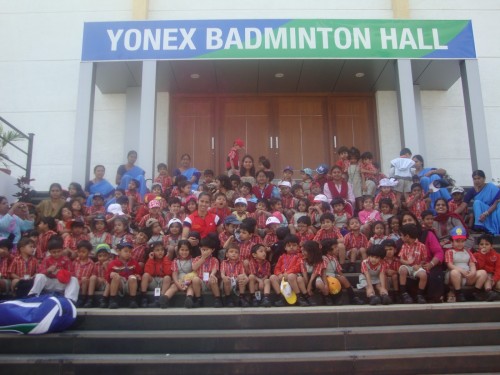 As Gopi could relate to the game as well as the generation that he was coaching, he was able to help his trainees prepare for match play. Gopi's inputs during the match would often help Indian players turn the tide. And in this way there was a coach who had not only won recently at the highest level but was also ready to practise and hone the skills of his wards from dawn till dusk.
3. The coach who could "Walk the Talk". Finally Gopi is the right Role Model for a generation that looks for actions to speak rather than words. Gopi's passion to win for India aligned to his dedication for badminton, were a perfect template for hard working youngsters like Saina and Sindhu.
But a coach has to walk the talk at all times for his students to throw their lot alongside him. This ability to set a personal example is illustrated by one final anecdote:
After the all England Championship and the ensuing popular acclaim, Gopi was offered a lucrative contract with a soft drink major. He declined the contract as he felt that this would send the wrong message. Gopi reasoned that an impressionable audience would start opting for the soft drink in the belief that it is a health food based on its endorsement by a sports star.
It is this ability to live and lead life by such principled ideas that have provided Gopi Chand with the moral compass to push and yet inspire youngsters to achieve their potential.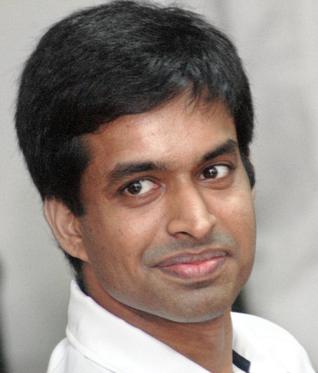 A Role model who is building a better India
The achievements of Gopichand speak for themselves. An Olympic medal in badminton, 2 medals in the world Championships, 2 women players in the World Top 10 and 7 Indians in all in the World Top 30 in singles.
Ultimately in his own distinctive way, Pullela Gopichand is building a better India, every morning, starting sharp at 4:30 AM.
For being the human being he is , I cannot find a better role model than Gopi for my child. Thank you Sir! May your tribe grow.
Manish is a passionate sports lover and has been one for as long as he can remember. Almost every day his family has to hear different stories related to sports that at least he feels are inspiring. He is looking forward to inspiring a larger audience with writing for The Better India. And if the audience tires of these stories like his family does sometimes, he will understand but come back to tell another story. He is a blogger and holds a Management degree from the Indian Institute of Management, Bangalore. His day job is at a a leading IT MNC but his views here are his own.
We bring stories straight from the heart of India, to inspire millions and create a wave of impact. Our positive movement is growing bigger everyday, and we would love for you to join it.
Please contribute whatever you can, every little penny helps our team in bringing you more stories that support dreams and spread hope.