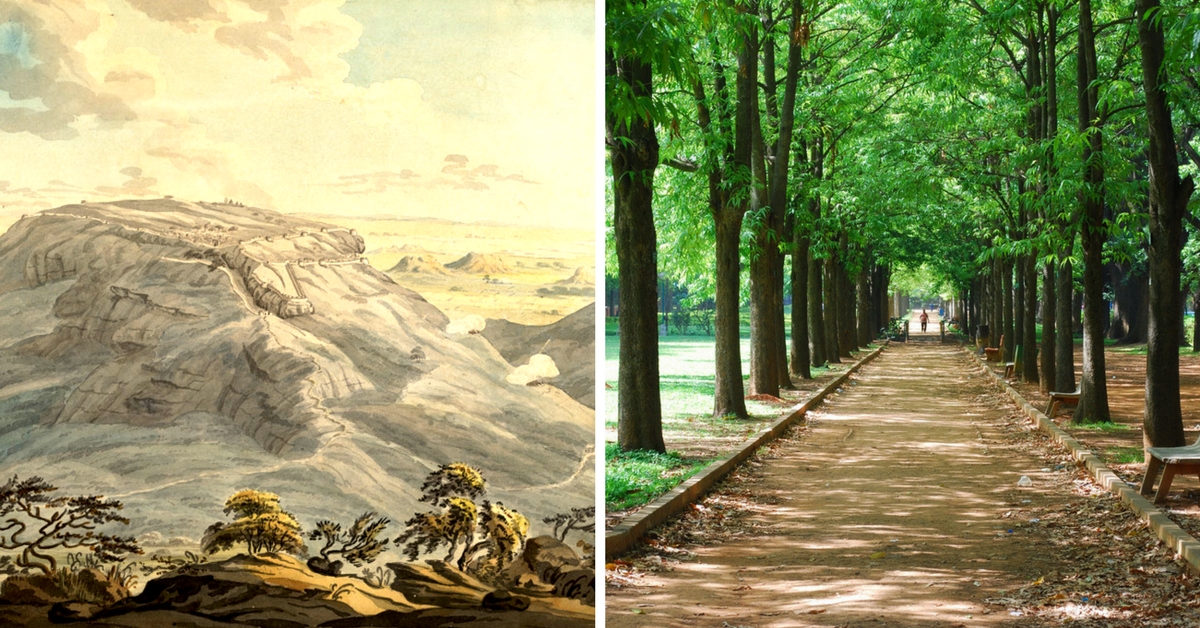 A local historian and passionate naturalist, Vijay Thiruvady traces the fascinating arboreal history of Bengaluru over the last few centuries.
Can you believe that Bengaluru was a rocky, barren plateau just 250 years ago? Since then, thanks to the efforts of first the Tigers of Mysore, and then botanists and horticulture authorities, Bengaluru has managed to become home to one of the greatest collection of trees from around the world.
This is the story Vijay Thiruvady, a Koramangala-resident and Trustee at the Bangalore Environment Trust (BET), tells in his beautiful book, Heritage Trees: In and around Bangalore. An engineer-turned-naturalist, Thiruvady has become better known in recent years for leading the Lal Bagh Green Heritage Walks. To say that he is a walking encyclopedia on trees in and around Bengaluru would definitely not be far from the truth!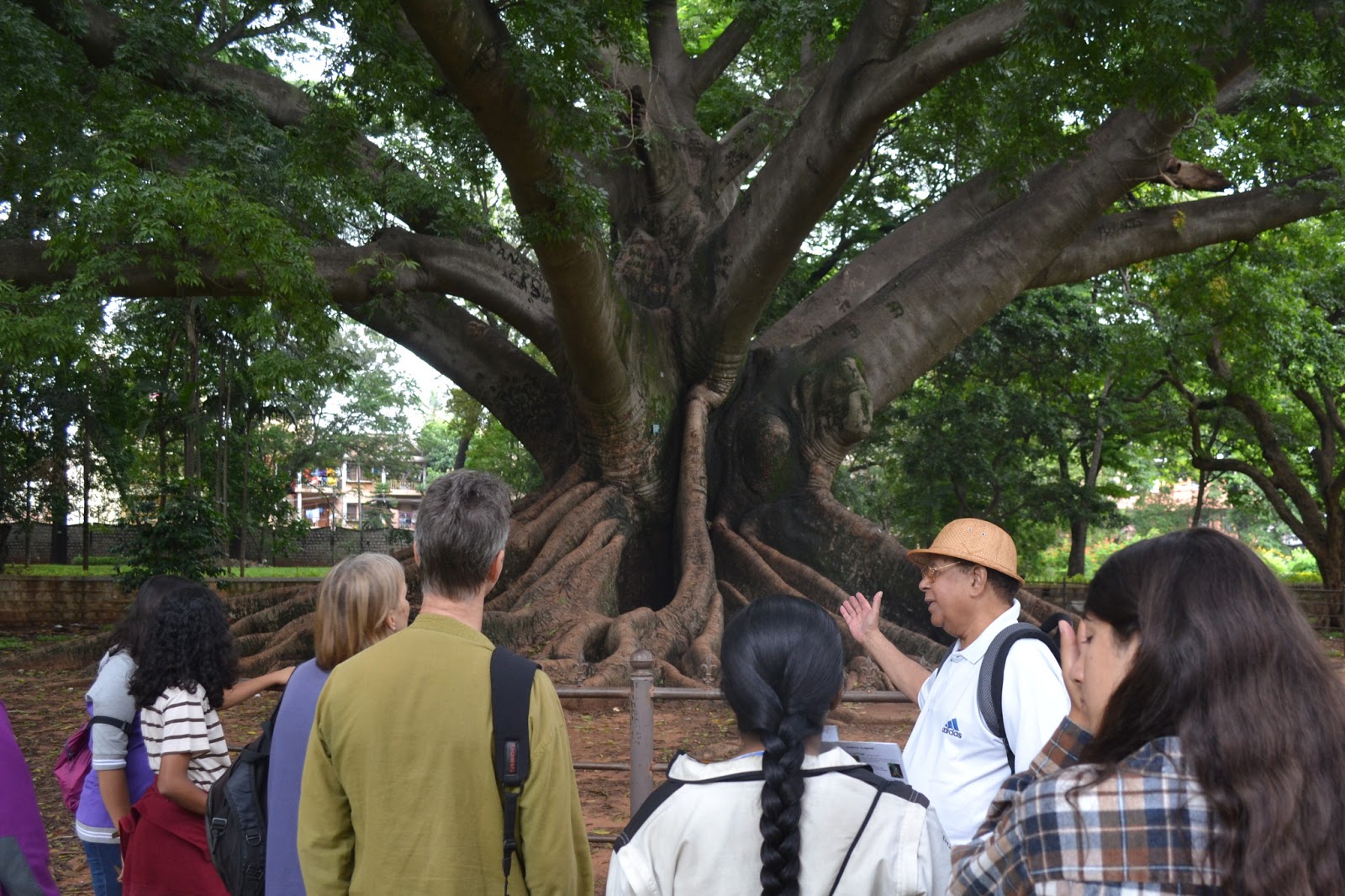 Vijay Thiruvady (in cap) has become better known in recent years for leading the Lal Bagh Green Heritage Walks.
A local historian as much as he is a passionate naturalist, Thiruvady has often touched upon the origins of Bengaluru's rich horticultural diversity. The city, which till almost 250 years ago had been a barren plateau, owes much of its flora to Hyder Ali and the British rule.
Old works by British painters that date back to the 1800s show the city and its environs as a 'naked and barren land'.
In fact, the Nandi Hills was a totally bald granite rock, devoid of any trees, and the city was a barren stretch of land along a ridge on the Deccan Plateau.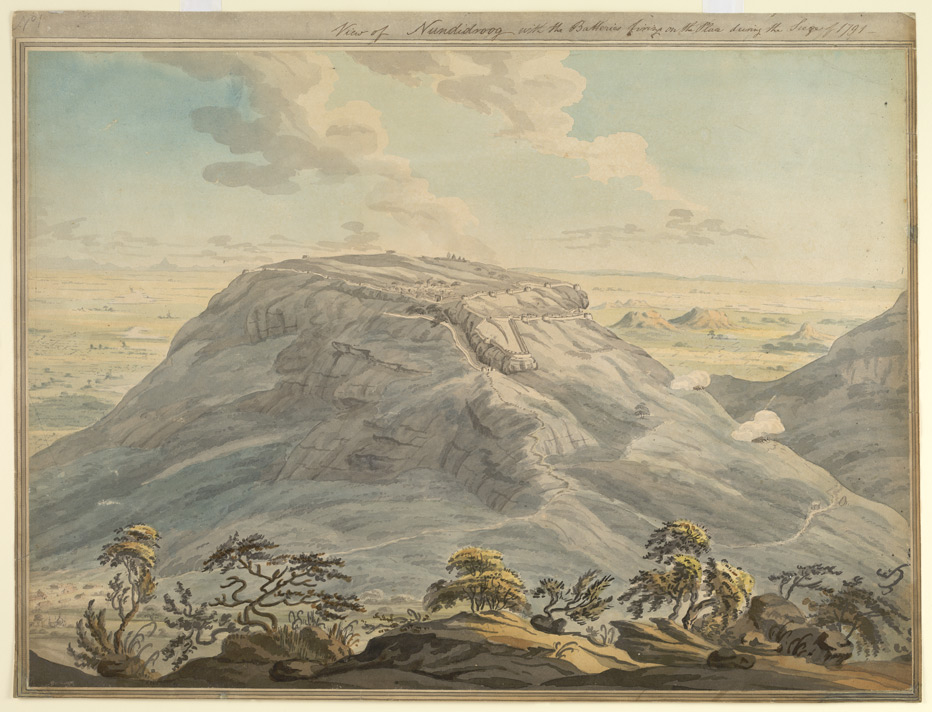 The barren Bangalore plateau represented by this woodcut of Nandidurg/Nandi Hills in the 1800s.
The only notable patch of greenery was a 40 acre 'rose and cypress garden' set up in 1760 by Haider Ali. Inspired by the legendary gardens of Persia, the 18th century rulers of Mysore, Hyder Ali and Tipu Sultan, laid the foundation for this layered garden which was later named Lal Bagh.
Plants came in to Lal Bagh from all over the world. While Hyder Ali got plants from existing Islamic gardens in Lahore, Multan, Delhi and Arcot, his son Tipu got plants from Africa, South America, Central Asia, East Asia, Australia and Canary Islands. The father-son duo also pioneered the concept of organised tree planting in and around Bengaluru and Mysuru.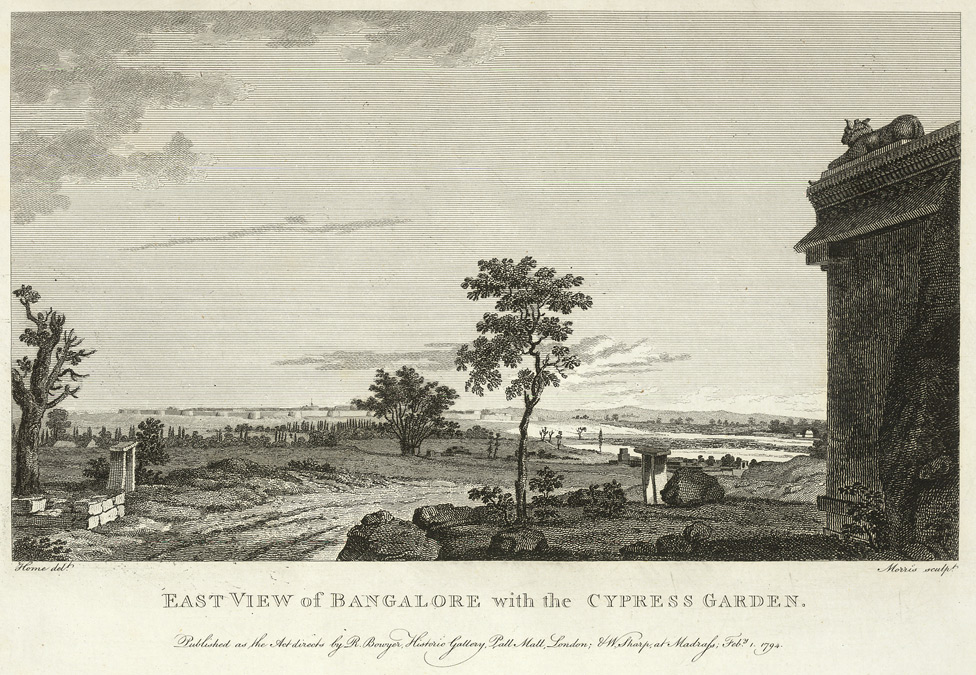 A painting of Hyder Ali's Rose and Cypress Garden.
Prior to them, tree clusters existed in devarakadus (sacred groves) and gundutopus (village wood lots) that were deeply revered by the communities that lived in their vicinity. These communities nurtured them for their spiritual and medicinal value. Rest for weary travellers, grazing ground for cattle, honey from bee hives and a home for a multitude of birds came as additional benefits.
The earliest such sacred groves in Bengaluru were planted around the Arkavati river and the old lakes in the region. As such, these were largely located near habitations around Bengaluru rather than in the main city itself. For instance, at Nallur Amaroy Topu near Devanahalli, there is a sacred grove that goes back a thousand years!
This gundotopu survives today as a 45-acre monoculture of 500- to 800-year-old tamarind trees, an area that has been held for centuries by dynasties like the Gangas, Cholas, Hoysalas and Wodiyars of Mysore. There is another excellent example of a gundotopu at Shivagange, where in an area of about 20 acres is one of the finest collection of ippe or mahua trees.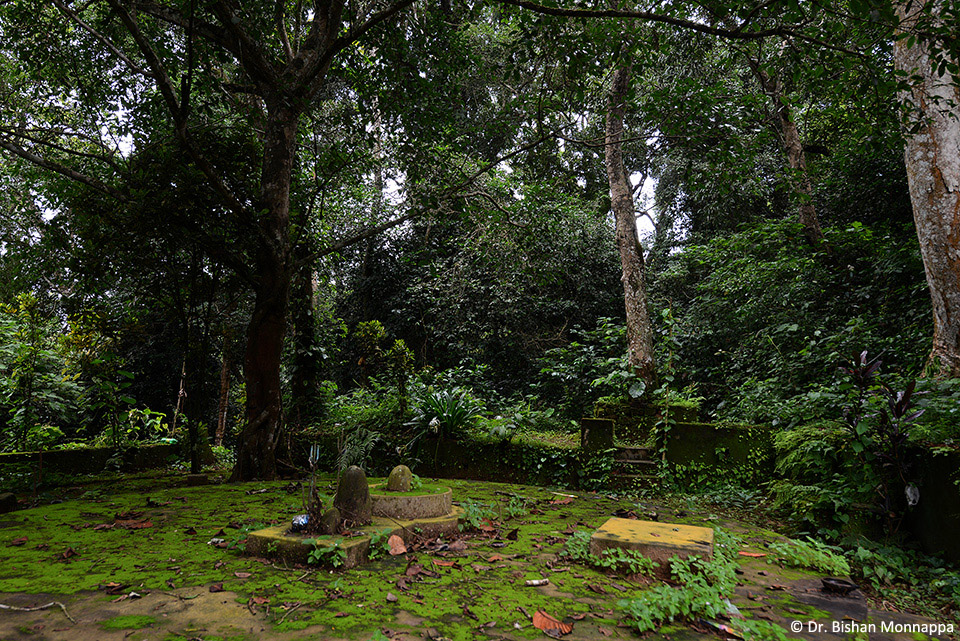 A devarakadu or sacred grove.
Interestingly, while sacred groves are found all over Karnataka, the state's Kodagu district is special because it has a devarakadu in every village. Even today, in areas in Kodagu where patches of forest stand out among coffee plantations and paddy fields, ancients shrines comprising solitary stones, terracotta totems and miniature tridents can be found under canarium or garcinia trees.
However, it was only after the British annexation of Bengaluru in 1799 that a considerable number of trees were planted. By this time, Lal Bagh had become one of the most lavish and beautiful gardens in the world, so much so that it was one of the major reasons for colonial interest in the region.
The colonial administration saw a series of horticulturists descending upon Bengaluru. Major Waugh, Nathaniel Wallich, Sir Mark Cubbon, High Cleghorn, William New, A. Black and John Cameron introduced a wide variety of exotic trees from around the world.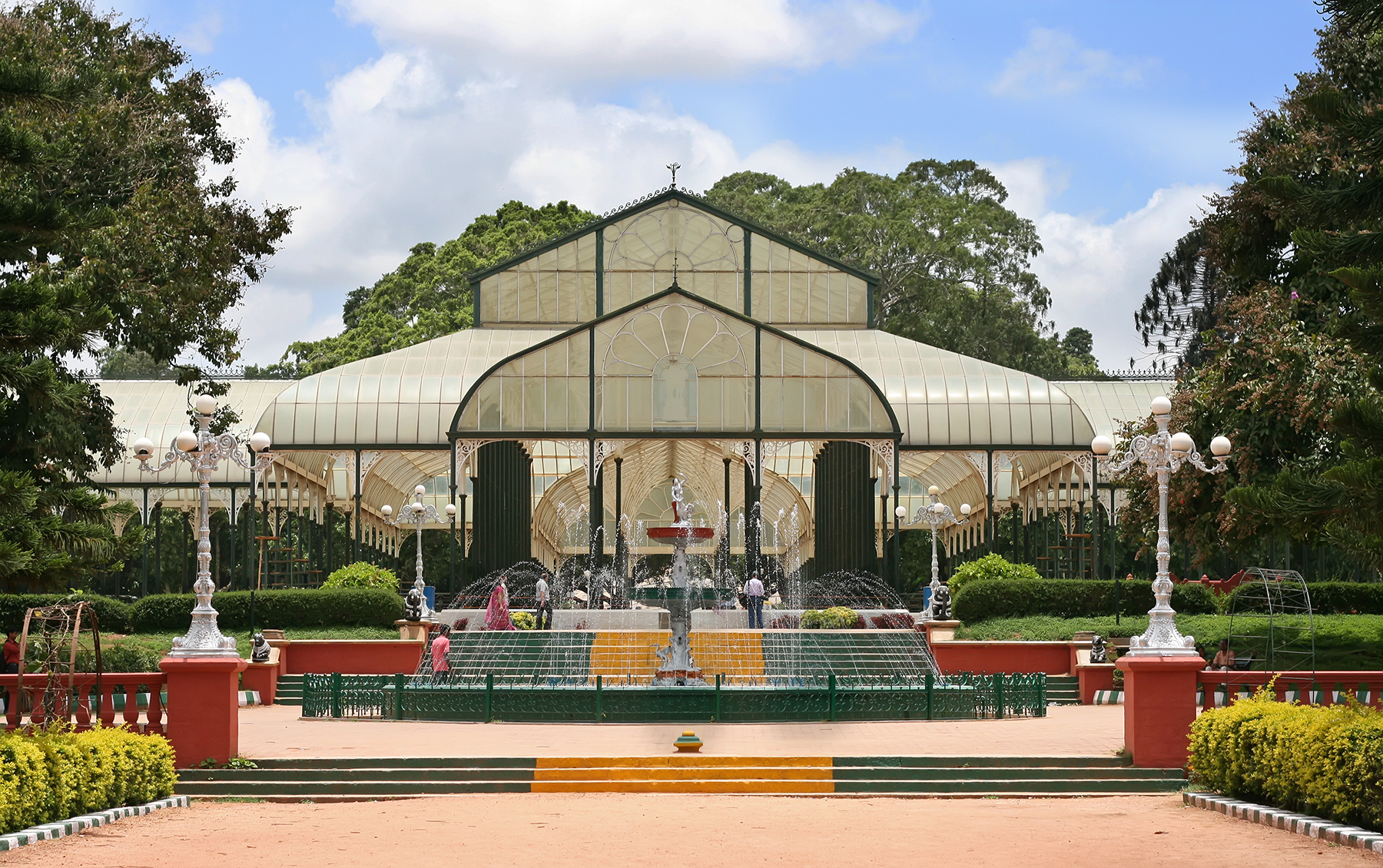 Lalbagh's iconic glass house.
Parks and gardens in Bengaluru were populated with exotic trees such as Araucaria cookii (commonly called Christmas Trees) from New Caledonia, silver oak from Australia, bougainvillea and frangipani from South America and gulmohur from Madagascar. These plants were often initially planted in London's famed Kew Gardens and then found their way to the major botanical gardens in India, but mainly into Lal Bagh.
Apart from Lal Bagh and Cubbon Park, trees were planted on the roadside to provide shade to travellers. This later resulted in Bengaluru having avenues of tabebuias, mahogany, and rain trees, among other serially flowering trees. Thanks to this, the city has always had some or the other flowering canopy adorning its streets from December till the arrival of monsoons in June.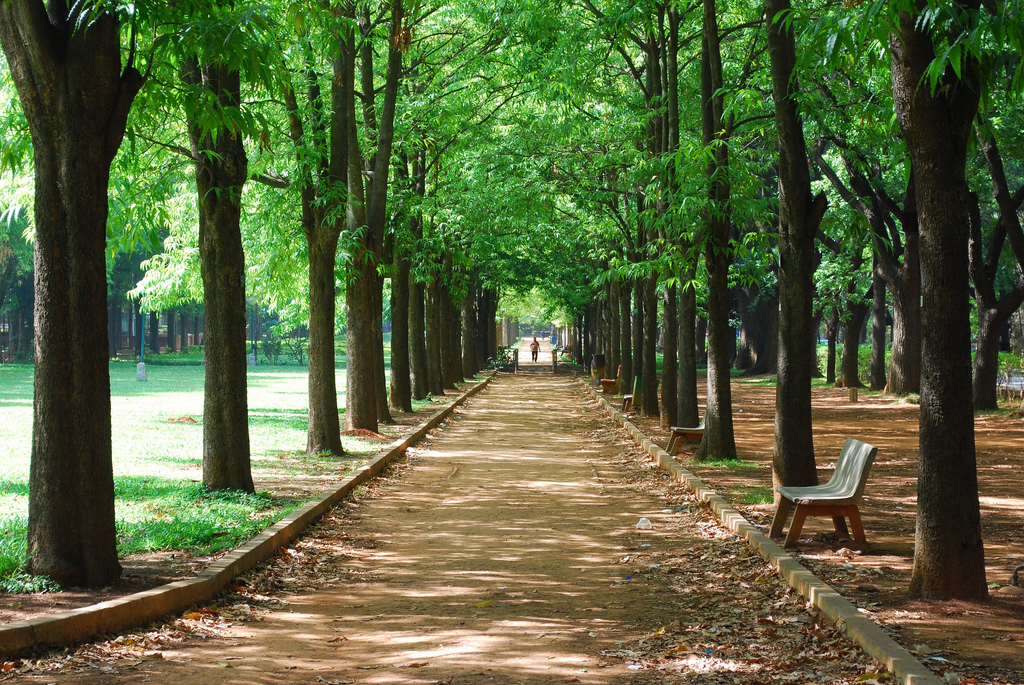 Cubbon Park.
These botanists also enriched the horticultural wealth of the city immensely by bringing new varieties of seeds, plants and saplings from Kew Gardens. 'Chow-chow', or what has come to be known as Bangalore Brinjal, was brought from South America and it became an iconic vegetable for the city.
The first authenticated horticultural exhibition was held in Lal Bagh in 1838 when it was under the care of William Munroe, Secretary of the Agri-Horticultural Society of Bangalore. In 1857, Lal Bagh was declared as the Government Botanical Garden on the recommendation of Hugh Cleghorn.
---
Also Read: How a 2 Hectare Forest in Bangalore's Heart Has Lowered Temperatures and Raised Its Water Table
---
Celebrated horticulturist and landscape architect Gustav Hermann Krumbeigel took over in 1908 and imparted the Lal Bagh the most aesthetic touch. He meticulously designed each of the Lal Bagh's pathways, glades, fountains, urns, balustrades, staircases, and all that lends it the current shape.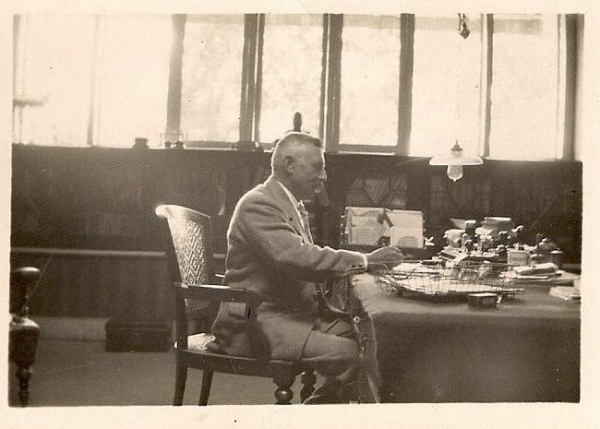 Gustav Hermann Krumbiegel, the man behind Lal Bagh's stunning aesthetics.
A noteworthy fact is that till the 1960s there were over 300 acres under apple orchard cultivation in Bengaluru that have now disappeared without a trace. Glen Hickey, a British traveller, wrote in 1929: "Locally grown apples are sold in Bangalore in heaps". According to studies, introduction of the railways brought in apples from Kashmir and Himachal Pradesh which were cheaper and ruined the prospects of the local growers.
After independence, a number of exotic and indigenous trees were planted by the Forest Department in the new extensions of the city such as Indiranagar and Koramangala, with considerable care taken in the selection of tree species. Cultivation of urban forests in defence cantonments, schools, Palace Grounds and IISc also played a major part in greening the city.
IISc's avenues are lined by gulmohars, large, raintree-shaded bowers, and colourful bursts of laburnum, jacaranda, and tabebuia.
A large number of water bodies, along with its verdant green cover, gave Bengaluru a unique character and a salubrious climate. The 1980s marked the peak of Bengaluru's greening as well as the beginning of change in the sylvan setting. Stately old trees were felled to make room for new roads, flyovers, high-rise buildings, offices, shops and markets.
Over the years, Bengaluru's famous green cover has eroded quickly, a price the city has paid for its rapid 'development'. And that's precisely why in Bengaluru, a group of concerned citizens have come together to honour trees through a unique festival called Neralu.
The third edition of this citizen-driven urban tree festival will be held on February 18 and 19 at Cubbon Park, National Gallery of Modern Art (NGMA) and other venues across the city. Naturalists, ecologists, artists, authors, photographers and homemakers have come together to plan the two-day event which is crowd-funded; there's no entry fee. Know more here.
Let's acquaint ourselves with Bengaluru's trees and stand up for them so the city does not go back to becoming a 'naked and barren land' again.
---
You May Like: Barking Up The Right Tree: The Fascinating History of Tree Conservation Movements in India
---
We bring stories straight from the heart of India, to inspire millions and create a wave of impact. Our positive movement is growing bigger everyday, and we would love for you to join it.
Please contribute whatever you can, every little penny helps our team in bringing you more stories that support dreams and spread hope.