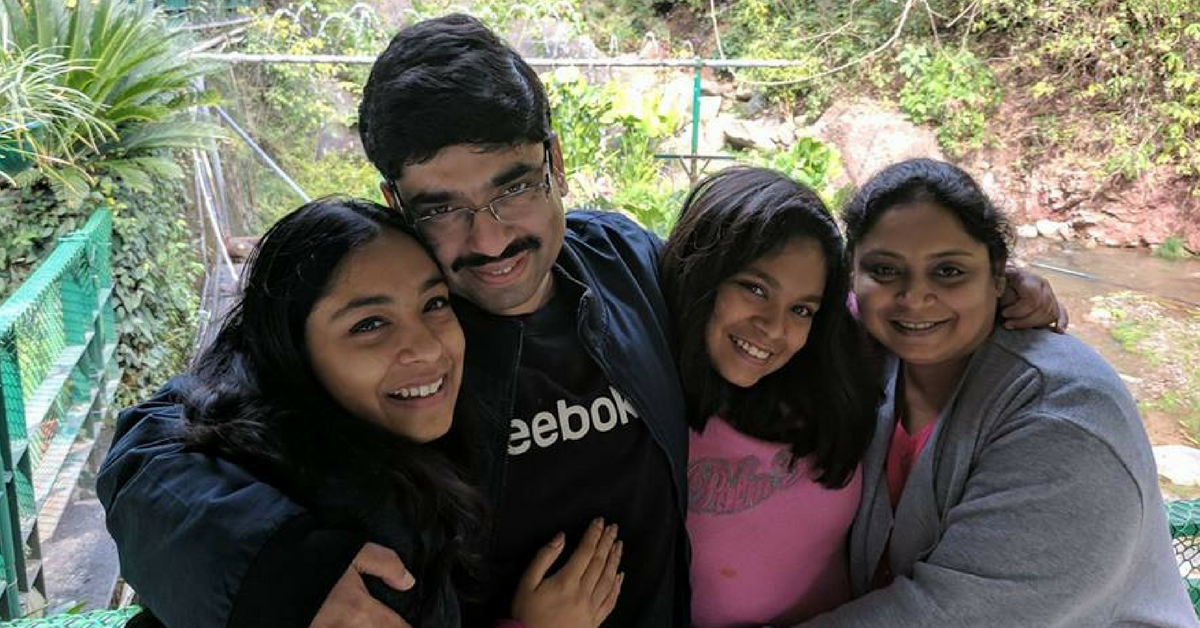 Breast cancer is currently the most common cancer detected among Indian women. It is also the leading cause of cancer deaths in women all over the world.
Breast cancer is currently the most common cancer detected among Indian women. It is also the leading cause of cancer deaths in women all over the world — accounting for more than 1.6% of cancer deaths.
The survival rates fall even lower in developing countries with low resources to fight the cancer menace. And survivors are often not aware of the various products and resources available to ease their lives after cancer.
One such product for cancer survivors who have undergone mastectomy is a prosthetic bra.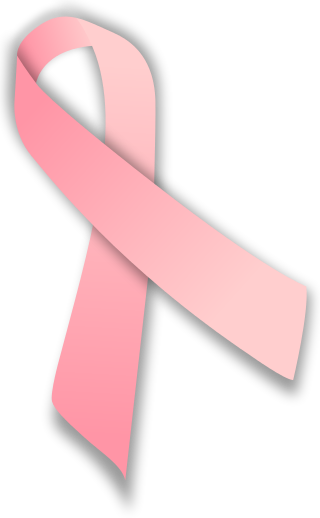 Source: MesserWoland – own work, Wikimedia 
Although the doctors highly recommend a prosthetic bra to patients, most don't end up using it as the commonly available silicon-based prostheses cost more than ₹ 8,500.
With cancer patients already overburdened by costly treatment, many avoid spending even more on a prosthetic bra and think it is recommended only for cosmetic purposes.
However, a prosthetic bra is highly recommended for medical reasons. Women who've had a lumpectomy or single mastectomy have to deal with balance and alignment issues that can negatively affect the spine, shoulder and neck. Women not wearing prostheses go through severe back and neck pain. Quite often, this post-mastectomy side effect can be avoided simply by wearing a prosthetic bra.
To help such patients who end up suffering the pain due to lack of money to buy a prostheses, Kavita Gupta, co-founder of Win Over Cancer, has designed a prosthetic bra that is skin-friendly and medically approved by All India Institute of Medical Sciences(AIIMS).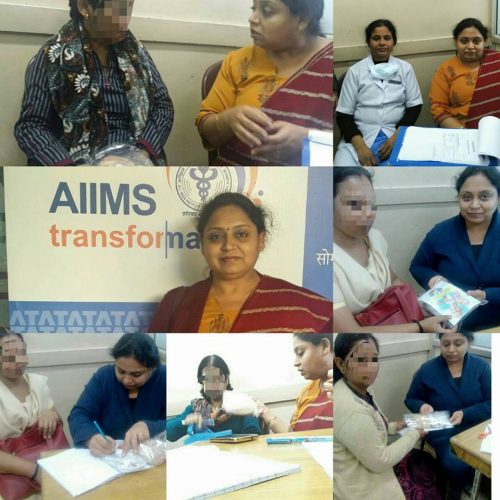 The good thing about it is it costs way less to make than the silicon-based prosthetic bras. And the best thing? Kavita distributes them for free to the cancer survivors.
Kavita and her husband, Arun, founded their NGO Win Over Cancer in 2011 while Arun was undergoing treatment for cancer himself.
It was April 2011, when Arun, a 41 year old chartered accountant, caught some infection and fever, the doctor asked him to do a routine blood test. During the check-up, Arun was diagnosed with Chronic lymphocytic leukemia (CLL), a type of cancer of the blood and bone marrow. The term "chronic" in chronic lymphocytic leukemia comes from the fact that it typically progresses more slowly than other types of leukemia.
"The doctors assured us that Arun doesn't need any treatment right now as this was a very slow-growing cancer and there was not much we could do about it at this stage. We still went to every possible hospital in Faridabad and Delhi. We took second opinions from Tata memorial hospital, Mumbai and even from the U.S. But every doctor gave us the same opinion," says Kavita.
Arun was kept under observation and had to go for routine blood tests and ultra sounds. The couple knew that there would be a time when these cancer cells would bother Arun's body, but were assured that the time was far.
In October 2015, Arun was told to start with chemotherapy. But right after the first chemo, Arun went through the Richter's transformation.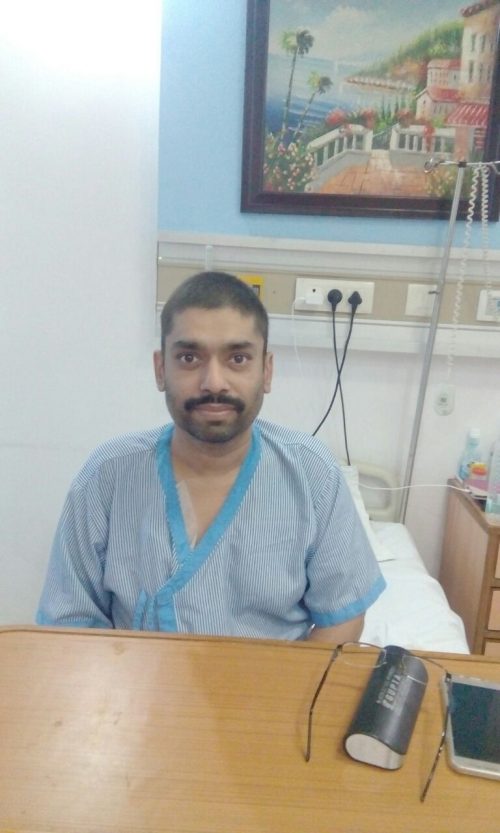 This is a transformation that occurs in about 5% of B-cell CLL into a fast-growing diffuse large B cell lymphoma, a variety of non-Hodgkin lymphoma which is tough to treat and carries bad prognosis. Richter's transformation affects only about 5% of CLL patients and unfortunately Arun was one of them.
"It is just like a time bomb ticking in your body. My daughters were just 13 and 7 when I was diagnosed in 2011. The doctor told me that there is 10% survival chance, if I go for chemo in 2016 and none of us decided not to. The side effects of chemo were supposed to be severe and likely to hamper my movements for at least for six months. I told him that there is no probability of survival in general, at least I have 10, so I would go for it for my family," says Arun.
These were the days that the couple spent mostly in hospitals. The first thing that hits a cancer patient is losing his/her job, it was the same for Arun. The cost of medicines, tests and chemos drained out all their savings. Arun and Kavita then started researching on how to reduce the cost of the treatment.
To their relief, it was Arun's s doctor, Dr. Sumant Gupta, who helped them access discounted medicines directly from the pharmaceutical companies. The couple also utilized their time in the hospital by brain storming about employment opportunities for cancer survivors, getting discounted medicines in bulk, making available free second opinions, looking out for the nearest hospitals for cancer treatment for far off places, etc.
They discussed the possible solutions of each and every problem they were facing during their turmoil-filled period. Thus coming up with the idea of starting some new programs in their NGO, Win Over Cancer.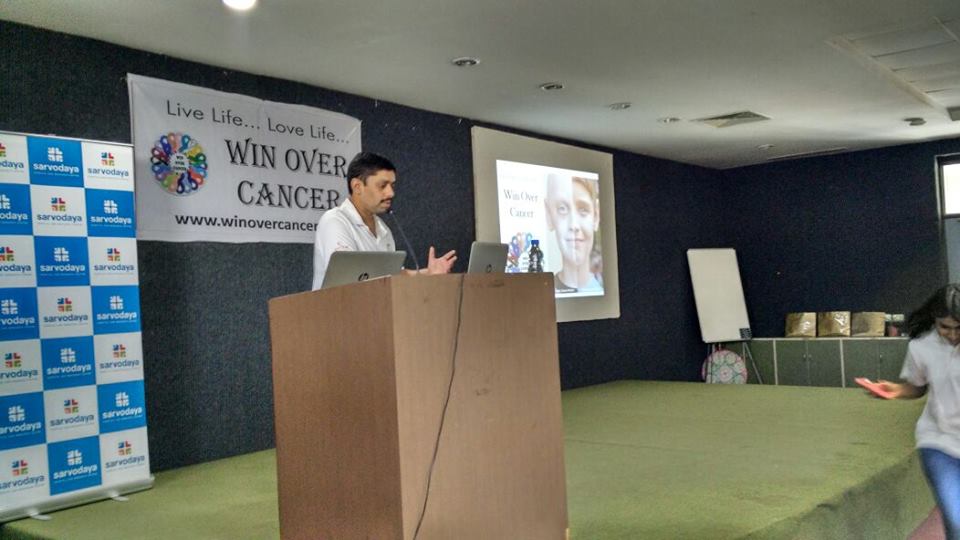 "Instead of just sitting and crying over what has happened to us, we channelized our time and energy to help others, which in return gave us the positivity and strength to fight against this deadly disease," says Kavita.
Win Over Cancer started with little things like helping the patients know that the disease is curable or where exactly one should go for a particular kind of treatment. Arun also started writing blogs with whatever experiences and knowledge he would gain.
"We started working on issues we faced during the treatment and they became the agenda for Win Over Cancer…We did not want others to suffer on same lines," says Arun
The Agenda of Win Over Cancer are –
Provide emotional support and professional counseling
 Increase awareness about cancer
Reduce cost of treatment
Make treatment available to distant geographies
Create sustainable earning opportunities for survivors and relatives of deceased patients
They started working on all these fronts and slowly got support for their NGO from all over.
Meanwhile, one day over a chat, Dr. Sumant asked Kavita if they could provide prosthetic bras to his patients through their NGO as no insurance company covered the cost of the bras and the patients ended up not wearing this mandatory piece of clothing post surgery.
However, no one wanted to sponsor such an expensive thing. After researching more about it, Kavita came up with the foam-based prosthetic bra, which was also a cheaper version. But the doctor suggested that the foam-based bras absorb sweat, leading to skin allergies in patients.
After almost six months of rigorous research and getting continuous suggestions from doctors, Kavita, a commerce graduate, finally designed a  low-cost prosthetic bra using indigenously available material at less than 20% the cost of the silicon-based product.
This bra has since been approved by AIIMS and distributed to 106 breast cancer survivors for free.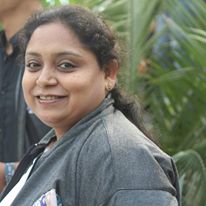 "Death is inevitable so let's live our life to the fullest. It has been medically proved that your positivity helps kill the cancer cells and when you give away anything you get a sense of satisfaction and positivity which is unmatchable," says Kavita.
Other than distributing free prosthetic bras at AIIMS, Sarvoday Hospital and other prominent hospitals, Win Over Cancer is also giving out subsidized medicines to all patients, providing subsidized pathology tests, giving free online second opinion and free online counseling from doctors.
It is also organizing cancer awareness and detection camps, arranging blood and platelet donors, giving entrepreneurship guidance to people who cannot be employed, and crowd funding for patients who need help. They also provide help to kin of cancer patients by providing skill development training for cancer survivors and family members as well as helping the family members to find a job.
Akriti, their brave daughter, now a second year commerce student, joined hands with her parents in this endeavor.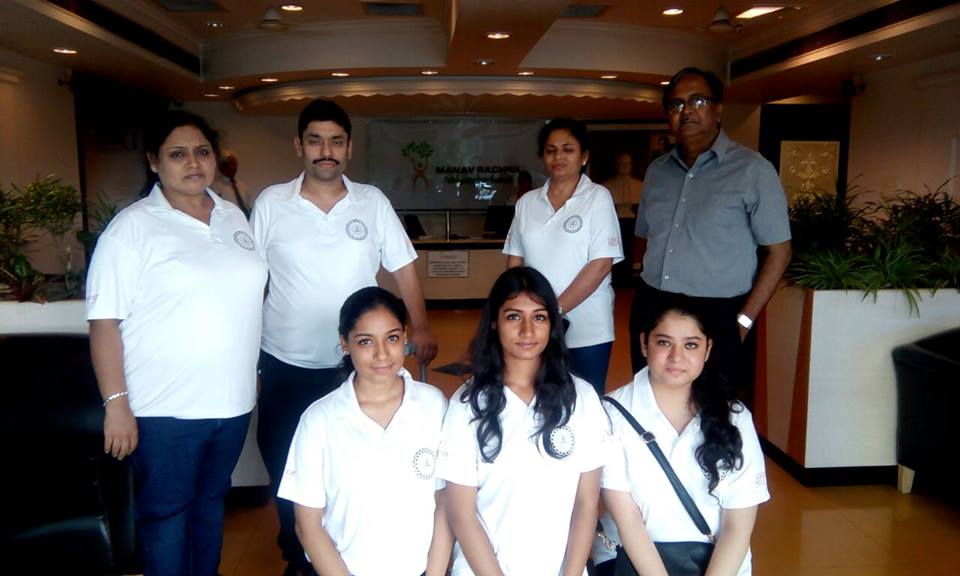 She has since channelized more than 140 students to this movement as volunteers, organizing awareness camps among college students in innovative ways and managing skill development programs for the NGO.
So far, patients have saved more than ₹9.20 lakh due to the services provided by Win Over Cancer.
Today, Arun has won over his own cancer and is helping thousands of others do the same.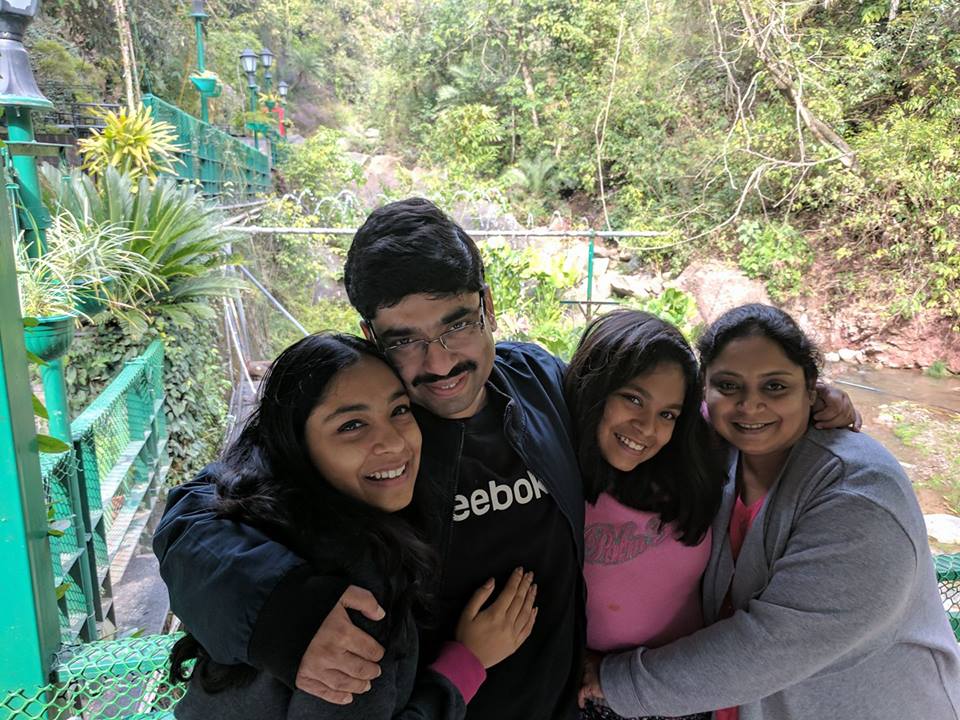 "I would say cancer is a beautiful disease and cancer survivors are the strongest people on this earth. A cancer survivor knows the value of life; he knows how to enjoy life. Cancer survives you to become a better person. You know who your true friends are. They are the people who stuck around you when you were going through this pain. I know I will be with them till the end of my life. It has given me lifelong friends. Cancer snatches your fear of uncertainty by taking away your means of survival which you won't give up in any other case. You know nothing worse can happen to you and you start enjoying your life as it comes thanking the fact that you have a life," says Arun.
To know more about Win Over Cancer please visit their website
To donate, please contact Arun Gupta here.
Bank Info:
Bank: HDFC Bank
IFSC Code: HDFC0000271
Current Bank Account No. 50200015500724
---
Like this story? Or have something to share? Write to us: contact@thebetterindia.com, or connect with us on Facebook and Twitter.
NEW: Click here to get positive news on WhatsApp!
We bring stories straight from the heart of India, to inspire millions and create a wave of impact. Our positive movement is growing bigger everyday, and we would love for you to join it.
Please contribute whatever you can, every little penny helps our team in bringing you more stories that support dreams and spread hope.