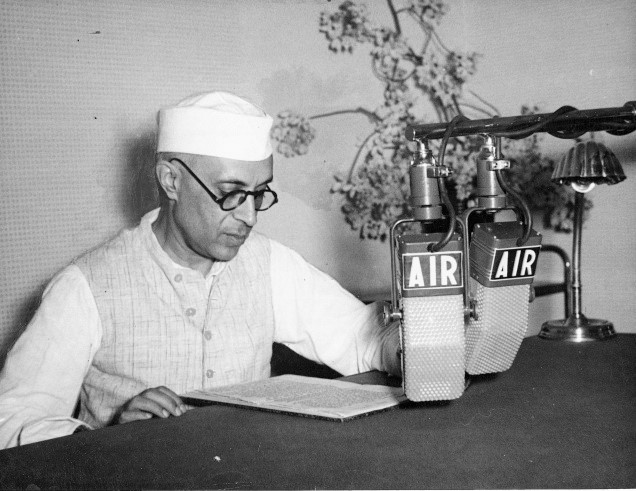 Arguably the largest library of music recordings in the country, All India Radio's sound archives also contain a rare and invaluable collection of historic speeches given by eminent Indians.
Outside a nondescript government building on Delhi's Sansad Marg road, netas swagger in in white suits and spotless Ambassadors flash red beacons as they hurry in and out of the city's bureaucratic complex. But a few floors away from this cacophony of state affairs lies a rich treasure trove that not many know of, and even fewer have access to. Here, the air is thick with echoes from the past.
Guarded by tightly wound red tape, rich notes of melody flow within these walls, living on in vinyl record, spool tapes, CDs and computer bytes. Arguably the largest library of music recordings in the country, All India Radio's sound archives contain a rare and invaluable collection of spoken word recordings.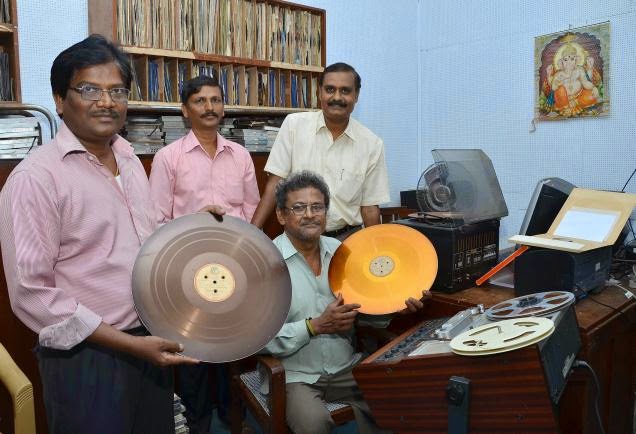 The AIR archives boast of interviews with eminent personalities, ranging from Pearl S Buck to George Harrison. It is also home to recordings of rousing speeches made by freedom fighters like Subhash Chandra Bose, or public addresses delivered by stalwarts like Mahatma Gandhi, Rabindranath Tagore, Dr B. R. Ambedkar, Sardar Patel, Sarojini Naidu and many others.
In many ways, AIR has been a chronicler and preserver of Indian history. On World Radio Day, here are some of the most historic broadcasts aired by AIR.
1. Excerpts from the speech of Netaji Subhash Chandra Bose during days of the freedom struggle in 1943.
"Give me blood and I will give you freedom." These words became the anthem for the youth during India's struggle for independence. One of India's most loved freedom fighters, Netaji Subhash Chandra Bose gave many memorable speeches during his lifetime. And of all the speeches he made on AIR, none is more famous than this broadcast that played a big role inspiring freedom fighters across the country.
2. Mahatma Gandhi's speech at Sodepur Ashram
Mahatma Gandhi visited Sodepur Asram near Kolkata — which he, in fact, called his second home — a number of times between 1938 and 1947, the most turbulent and decisive phase of the independence movement. In 1939, the ashram was witness to a historic meeting between Gandhi, Jawaharlal Nehru and Subhash Chandra Bose, after the March session of the Tripuri Congress. While the AIR Archives Library preserves a separate collection of Mahatma Gandhi's speeches, his speech from Sodepur on May 11, 1947, is unique as it is his first recorded prayer speech.
3. Maulana Abul Kalam Azad's speech on AIR
Abul Kalam Muhiyuddin Ahmed Azad was a freedom fighter, a scholar and a senior political leader of the Indian independence movement. Following India's independence, he also became the country's first minister of education. Profoundly wise as he was, Azad wanted to translate his idealism into action and this is reflected in his inspiring speech on the All India Radio.
4. Jawaharlal Nehru's speech on Mahatma Gandhi's assassination
Jawaharlal Nehru's extempore broadcast on All India Radio announcing the news of Mahatma Gandhi's assassination on January 30, 1948: "The light has gone out of our lives and there is darkness everywhere," is justifiably famous and well-known. As the country mourned the death of their beloved leader, India's first Prime Minister came out to address the huge crowd that had surrounded Birla House (where Gandhi's body had been kept). He broke down with grief more than once when he gave this deeply moving speech on AIR.
5. Sardar Vallabhbhai Patel's speech on AIR
A political and social leader who played a major role in India's struggle for independence, Sardar Patel subsequently guided the integration of nearly 550 princely states into a united, independent nation. Rightly called the Iron Man of India, the tenacious leader worked tirelessly throughout his life to build a strong and united India that would transcend the narrow divisions of caste and creed. The first home minister of India beautifully articulates this vision in his AIR speech.
6. Dr. Rajendra Prasad's speech on AIR
Independent India's first President, Dr Rajendra Prasad was a lawyer-turned-journalist who left his law practice to join India's freedom struggle along with Mahatma Gandhi and Jawaharlal Nehru. Known for his deep devotion to his nation and balanced judgement, Prasad was a true Gandhian, a brilliant scholar, and a great statesman who epitomized "simple living and high thinking".
7. Lal Bahadur Shastri's speech on AIR
Having succeeded Jawaharlal Nehru as Prime Minister of India in 1964, Lal Bahadur Shastri played a pivotal role in shaping India's future in external affairs. A leader whose enduring popularity cuts through all divides, he also introduced the iconic slogan "Jai Jawan Jai Kisan." The simple and soft-spoken leader surprised everybody by unleashing a slew of bold reforms that transformed the nation during his tenure as the Prime Minister. This courage and conviction is reflected in his inspiring speech on AIR.
8. Vadya Vrinda with sitar maestro Ravi Shankar, 1952
In 1952, a special Vadya Vrinda Unit was started in Delhi with sitar maestro Ravi Shankar as its first director. According to the All India Radio website, "The Vadya Vrinda units had a number of artistes playing on different instruments which not only was an effort towards keeping alive and showcasing many rare instruments for posterity but also to provide job opportunities to many artistes." This is the broadcast of the first rendition of India's national song, Vande Mataram by AIR's first Vadya Vrinda unit.
Here's some interesting trivia about All India Radio:
A subsection of the AIR's archive consists of three- to four-hour-long interviews of eminent Indians from all walks of life. After being recorded, these lengthy interviews are put away for the interviewee's lifetime, and only aired posthumously
Also, not many know that all AIR stations in the country sell rare recordings of luminaries who have graced the AIR studios, including greats like Bhimsen Joshi, MS Subbulakshmi, DV Paluskar and Begum Akhtar. Many of the CDs on sale contain performances that you'll be hard-pressed to find in a music store.
AIR's Kisan Vani programme strives to instill economic security and stability among farming community, particularly among small and marginal farmers by improving their access to information about holistic development of agriculture and rural sector. This community radio programme was started by Indian Society of Agribusiness Professionals, a network of agriculture and allied sector professionals in 2001. To know more, click here.
---
Also Read: The First Social Network: A Glimpse into the Fascinating World of India's Ham Radio Operators
---