Ageing comes with its own share of health problems and maladies, many of which are caused by an increasingly sedentary and inactive lifestyle. A Bangalore-based initiative is helping the elderly fight these issues through Active Ageing.
A group of young adults, aged 18 – 23, were asked for their idea of a post-retirement life. Not surprisingly, the answers that were received were slow or late mornings, aching muscles, and a house-bound life with less or no social activities.
On the contrary, meet the elders at the Nightingales Medical Trust's (NMT) Active Ageing Centres, and you will see that their post-retirement life is anything but slow or inactive. The Nightingales Trust – Bagchi Centre for Active Ageing (NBCAA), JP Nagar is India's first comprehensive active ageing facility.
The centre was initiated by Nightingales Medical Trust (NMT) with support from Mrs. Susmita and Mr. Subroto Bagchi, with the sole aim of promoting a healthy lifestyle in elders in a safe, friendly, and fun-filled environment.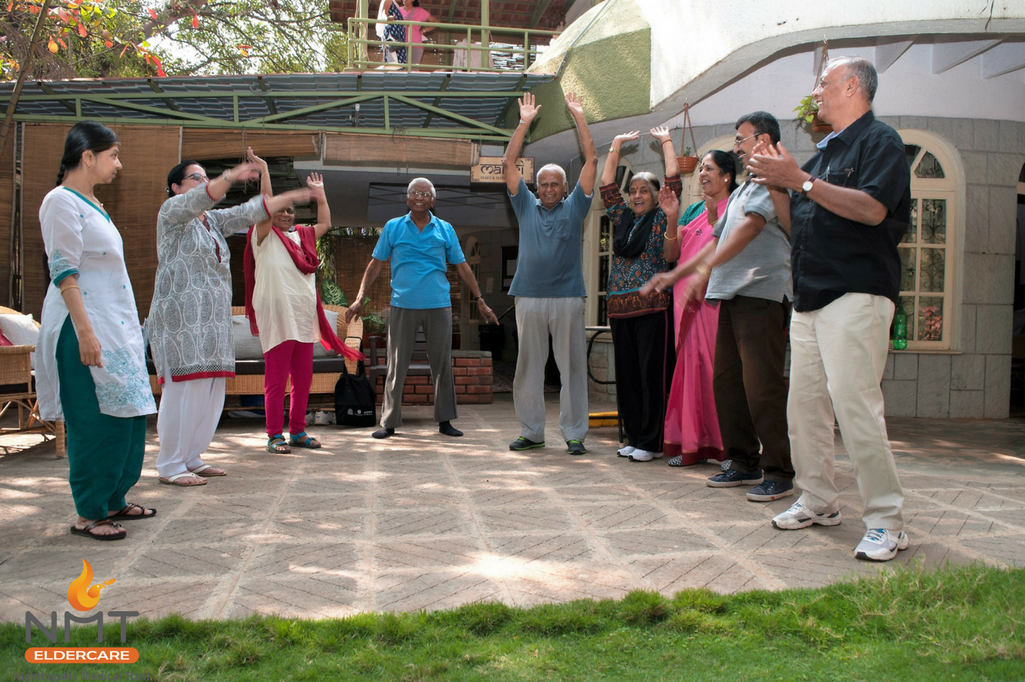 Studies conducted over the years have found that active people are healthier and happier. Mental stimulation, social engagement, and physical activities have a preventive effect on age-related conditions. Moreover, studies have associated an engaged lifestyle after the 60s with enhanced longevity.
"The Active Ageing programme has brought about an unquantifiable transformation in our lives. NMT has designed the programme scientifically, and it really enriches the lives of elders like us," says Mr. Sastry, who was one of the first members of the Nightingales Trust – Bagchi Centre for Active Ageing (NBCAA), JP Nagar.
The UK's Thinking Fit model is the basis on which the Active Ageing programme has been developed. A comprehensive and fun way to keep the elderly active, the programme requires a commitment of six hours a week, combining physical, cognitive (mental), and social activities.
It includes cardio-respiratory physical exercises, iPad and paper-pencil based cognitive activities, games, and regular group-based activities aimed at stimulating new connections in the brain and enhancing social relations.

Benefits of this Active Ageing programme include significant decrease in blood glucose levels; stabilized blood pressure, cholesterol, and weight; minimized risk of dementia and depression; and considerable improvement in cognitive skills. Overall, members have reported significant improvement in their quality of life, and reduction in various cardiovascular risk factors.
"My wife, a diabetic with hypertension and hypothyroidism, sincerely follows the NBCAA protocol. Since then, all the relevant parameters have come to be within the normal range. This has enabled her to sustain a healthy lifestyle and take part enthusiastically in social and cultural activities," adds Mr. Sastry, whose wife is also a beneficiary of NMT's Active Ageing program.
Ms. Ramani Sundaram, the Project Head for the Active Ageing programs notes, "Most people look for curative health options instead of preventive health options. The Active Ageing program prevents a number of health problems that we commonly see among the elderly. We have been able to bring a paradigm shift in the attitude towards preventive health. Moreover, for those who were looking for ways to control their ailments, we have seen significant improvement in their physical as well as mental health, which are monitored through regular assessments."
You can find NMT's Centres for Active Ageing at JP Nagar and Sanjay Nagar in Bangalore.
Find out more about the Centres for Active Ageing and their benefits on NMT's website.
Like this story? Or have something to share? Write to us: contact@thebetterindia.com, or connect with us on Facebook and Twitter.
NEW: Click here to get positive news on WhatsApp!