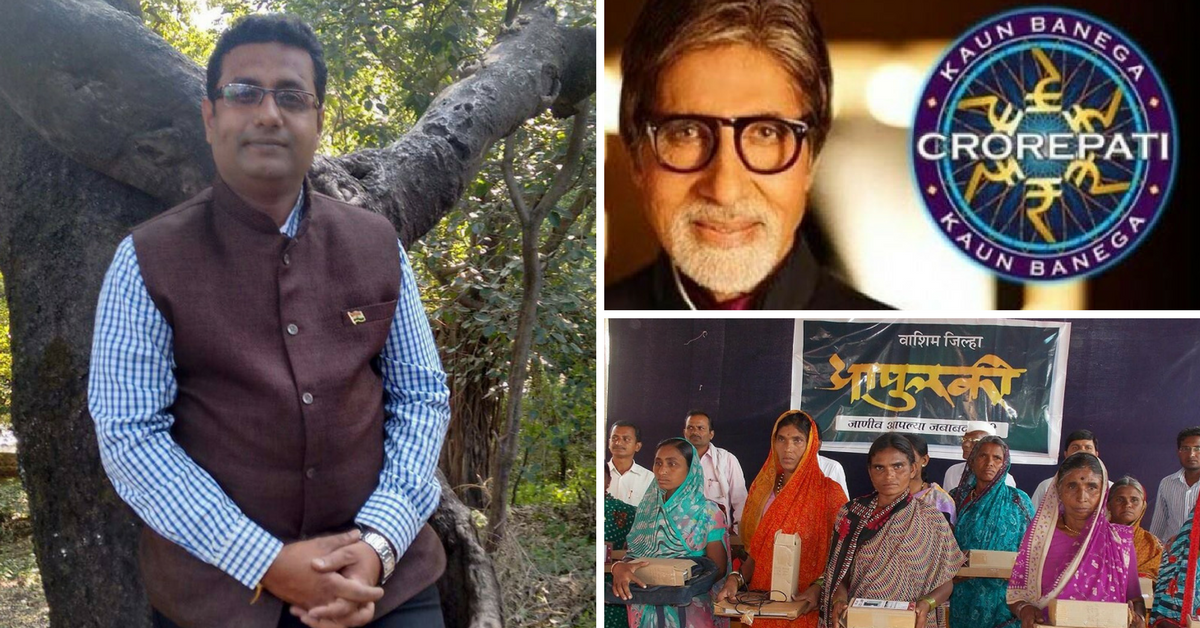 On September 11, 2011, Aparna Malikar, a farmer widow from Yavatmal district of Maharashtra, won Rs.6.40 lakh on the show Kaun Banega Crorepati hosted by Amitabh Bachchan. In the episode,
On September 11, 2011, Aparna Malikar, a farmer widow from Yavatmal district of Maharashtra, won Rs.6.40 lakh on the show Kaun Banega Crorepati hosted by Amitabh Bachchan.
In the episode, Aparna spoke about her ordeal: She lost her husband in 2008 when he consumed poison after he was unable repay a huge loan. Aparna was only 25 then and had no clue about the loan. After her husband's demise, her in-laws disowned her and she had to work as farm labour to take care of her two daughters.
Aparna's story moved thousands of Indians, and even Bachchan blogged about it later. Abhijeet Falke, a 30-year-old IT professional from Pune, also watched the episode and was deeply touched by the story.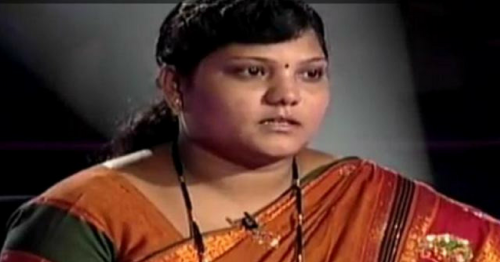 "I could not sleep that night. I belong to Vidarbha too and really wanted to do something for these farmers," says Abhijeet.
By the next morning, Abhijeet had a mission: to bring about a revolution in farming in Maharashtra.
"Aparna Malikar's story was an eye opener. The way she fought against all odds for her children after her husband committed suicide was really inspiring. I came to the conclusion that such families need a helping hand from the more privileged ones like us in the society. We need to empathize with them. Hence came the name of the NGO in my mind – Apulkee, which means sense of belonging in Marathi," says Abhijeet.
Abhijeet shared the thought with his wife and parents, who completely supported him. He then spoke to 15 to 20 of his IT professional friends who pitched in to help.
Apulkeee Samajik Sansthan, Pune, was founded in January 2012.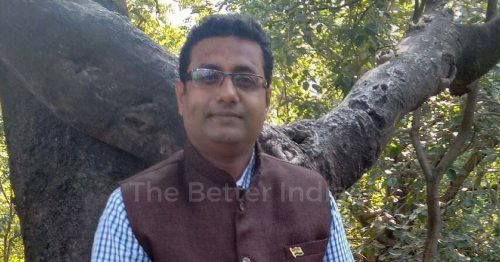 The first challenge for the group of these enthusiastic IT professionals, who were clueless about agriculture, was to identify the exact issues related to agriculture.The first threemonths were spentin collecting data and researching online the problems faced by farmers.
Finally, the team decided to start working on three issues:
Increase production with low production cost
Provide market link to farmers by introducing direct sale without middlemen.
Psychological support for the farmers
To drive their mission on the right track, these IT professionals designed an agriculture workshop after consulting agriculture experts all over Maharashtra. They named this agriculture workshop Udaan.
UDAAN – Apulkee's unique workshop for farmers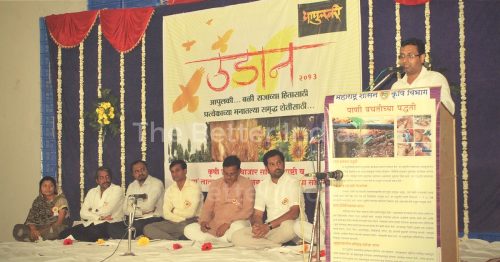 Udaan is a two-day residential workshop. Expert lectures on subjects like soil conservation, water management, use of advance techniques in organic farming, indigenous seed use, importance of marketing, government policies and schemes, as well as morale-boosting events are provided to farmers at this workshop.
Core & advisory committee members spend two days with farmers to understand their issues. The team identifies the villages that need their assistance and conducts this workshop there. During the workshop, the stay, food and lectures are absolutely free for farmers.
"We conducted our first workshop in Pimpri village of Wardha district of Maharashtra in March 2012. People warned us that farmers are never interested in such workshops and we should not have high hopes. But to our pleasant surprise our first workshop got an overwhelming response of around 650 farmers who stayed with us for two days," says Abhijeet.
All these farmers were given a form where they had to mention their problems, weaknesses and their strength. Thus, a database was created based on which the Apulkee team could work further.
So far, Apulkee has conducted nine agriculture workshops through which almost 6,900 farmers have been trained and databases created.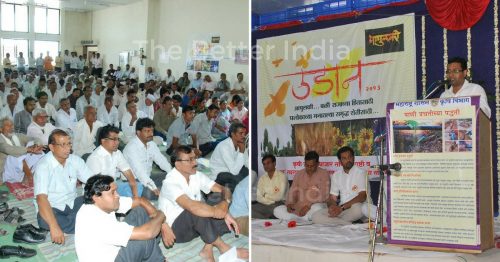 After further analysis, the team ascertained that the farmers viewed the availability of low-cost labor as one of the major issues in farming. However, when they did a ground reality check, it was found that automation was not sustainable for low land-holding farmers, making them dependent on labor. To solve this problem, Apulkee came up with "Agriculture Tool Bank" on no-loss and no-profit basis.
The first agriculture tool bank was set up at Arvi, in Maharashtra's Wardha district, on May 25, 2013. A sports journalist associated with the organization, Sunandan Lele, approached Sachin Tendulkar about this noble cause and got a positive response.
The entire funding for the bank was done by Sachin Tendulkar and Yuvraj Singh and a tractor for the bank was donated by Anand Mahindra.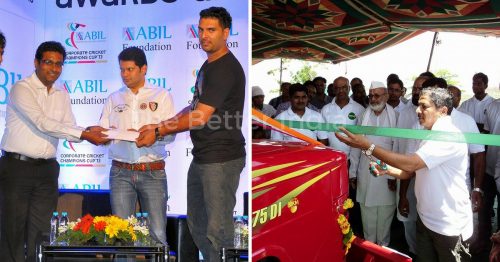 In IPL 2013, a "Sixer for cause" campaign was launched. In this campaign, Apulkee received Rs.6,000 for its agriculture tool bank for every six hit by the Pune Warriors IPL cricket team. This tool bank has reportedly saved almost Rs. 13 lakh, benefitting 500 farmers, and approximately 950 acres land was yielded by the tools in the past three years.
Apulkee Deshi Seed Bank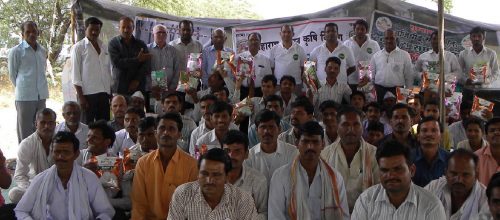 The next mission of Apulkee was to reduce the production cost. The team recognized some cost-effective and high-yielding indigenous seeds, and a seed band was established in the Katari Sawanga village of Nagpur district. The seed bank preserves around 300 varieties of indigenous seeds, which are provided to the farmers at a nominal cost.
The team also launched the "Deshi Seed Movement," under which they ran a month-long program in May 2015, visiting farmers and villagers to spread awareness about indigenous seeds and appealed to them to start growing their own seeds in small piece of their own land. These seeds were also added to the seed bank later on.
Eradicating the middle men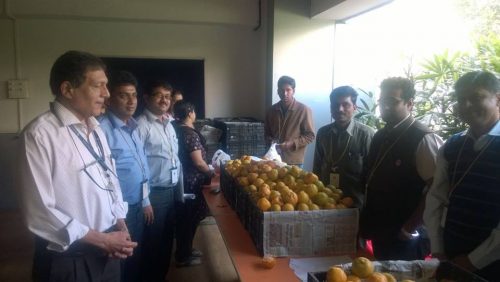 By end of 2013, Apulkee Samajik Sanstha had become a team of 200 IT professionals. The first initiative to eradicate middlemen was taken by these 200 members by buying their fresh produce directly from the farmers.
The next major breakthrough came when Ravindra Thakre, an official from government-run agency Kaim in Amravati approached Apulkee to sell their products in Pune.
"When Ravindra called me, he said they were buying oranges in Pune at the rate of Rs.60 per kg, and those were not even pure. Mostly the oranges were mixed with kinnow fruit. Our farmers in Amravati were selling them at the rate of Rs. 4 per kg to the dealers," says Abhijeet.
Apulkee then sent emails to all the IT companies in Pune, seeking permission to set up orange stalls by the farmers in their campuses. They received a go-ahead from 9 companies, including Wipro and Capgemini.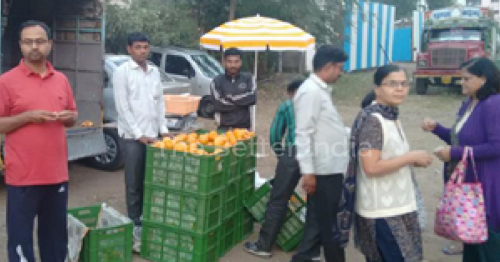 The farmers were overjoyed to sell their oranges directly to the consumers in Pune, sitting in the premises of these IT companies. These oranges were sold to customers at the rate of Rs.40 per kg and there was a total sale of Rs.44 lakh in just few days, giving a three-fold profit to the farmers and a Rs.20 per kg benefit to the consumer.
A similar campaign was held for Konkan mangoes and pomegranates.
Apulkee also exhibited the farmers' processed products abroad.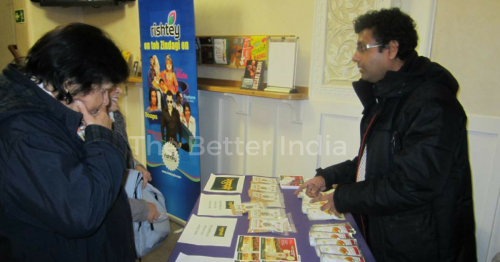 The products were exhibited in front of 800 NRIs in London, during Surmayi Sham, featuring well-known singer Suresh Wadkar on November17, 2012, at Cadogan Hall. The products included Waygav, Wardha farmers' organic turmeric, Yavatmal district farmers' turdal, and Konkan region farmers' mango pulp.
Farmers were able to get international exposure as well as market links thanks to Apulkee's events.
Psychological support for farmers and their family.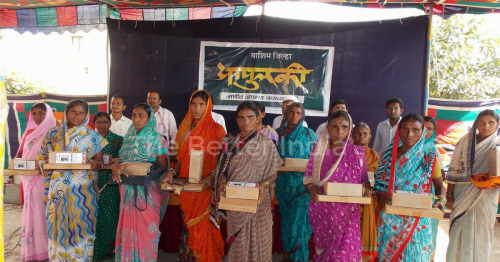 Apulkee is on a mission to stop farmer suicides but they did not want to overlook the problems of the family of the farmers who had committed suicide in the past.
Apulkee Samajik Sanstha launched Apulkee's Farmer Self-Confidence Campaign onAugust 15, 2015. The main objective of this campaign is to support a deceased farmers' family, by providing them means/tools to earn their livelihood on their own.
Instead of giving cash in hand the NGO provides tools like flour mills, sewing machines or goats to rear so that they can earn their livelihood.
As many as 139 farmers' widows have been provided flour mills and sewing machines to start a sustainable business by Apulkee.
The NGO has also paid off the loans of 29 farmers completely and helped them secure their land by completing all the paper work. Today, Apulkee has 7,000 registered members across the globe. Most of these members are IT professionals.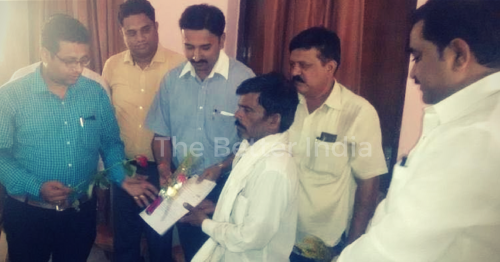 "We identify the farmers who are in need of help urgently and approach our members to crowd-fund for them. Thus IT comes to the rescue of agriculture and agriculture, of course, always comes to our rescue by providing us food," says Abhijeet.
"I think I belong to the youth so I would like to address them. I just want to say that rather than asking the government or the system what it is doing for them, one should ask what he/she is doing for the country. Just dedicate 10 minutes everyday to work for the betterment of the country and see the difference," he adds.
To know more about Apulkee Samajik Sansthan, Pune, you can visit their website or call Abhijeet Falke at 8983357559.
Account Details for Donation –
Account number : 6049939042
Name of Acount : APULKEE SAMAJIK SANSTHA
Bank Name : Indian bank
Branch Name : Karve nagar, Pune
IFSC code : IDIB000C137
---
Like this story? Or have something to share? Write to us: contact@thebetterindia.com, or connect with us on Facebook and Twitter.
NEW: Click here to get positive news on WhatsApp!