The Bastar district in Chattisgarh recently stood witness to a magnificent Science Fair, where 44,000 students from 637 government schools presented more than 35,000 scientific experiments. Here's how this feat was achieved!
In the formative years of a child, the teacher is one of the most influential people. Efforts that a teacher takes to make his students understand various concepts, is what makes a lasting impression on a child's mind. Quite understandably, a teacher who explores the boundaries of classroom teaching becomes successful in cultivating a thirst for knowledge in students.
Taking this into consideration, the Department of Education led a project in the Bastar district of Chattisgarh that recently culminated into a one-day science fair, where over 44,000 students from 637 government schools in the district showcased more than 35,000 experiments and working models at 119 cluster centres.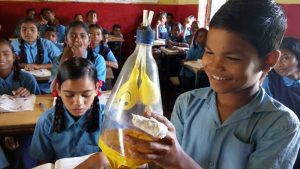 While the science fair was a one-day event, the Bastar Science Experiment that made the feat possible, was a long-term process which was carefully carried out by the hundreds of people involved in it.
"It all started in June 2015. A science fair was organised by the state education department at five divisional headquarters in the state. The fair focused on training teachers to make different scientific experiments and to use those while teaching. After the fair ended, the administration in Bastar decided to take the project forward and proceeded to make a long term plan," says Nikhilesh Hari, a PMRDF fellow, who has been working with the district authorities since June 2014.
---
You may also like: Transforming Education in Rural Bihar Using Animated Videos
---
A training programme was organised where teachers from across the district were mentored by Suresh Agrawal, secretary of the Association for Research and Training in Basic Science Education (ARTBSE), Nagpur. A team of 24 experienced and enthusiastic teachers was then selected by the district administration to spearhead the program. The team of these "Special 24" teachers, as they are referred to among their peers, monitored and supervised the training of teachers in the district in conducting hands-on science experiments in classroom bypassing the requirement of a well-built laboratory.
"A vast network of teachers was formed over email, social media and WhatsApp. In this digital space, they shared, debated and improved on their ideas and formed a peer review group. The idea was simple- to develop experiments using household or easily accessible materials to better explain the scientific and mathematical concepts from the curriculum. The teachers were enthusiastic and because of the networking, the ideas and experiments spread through the district quickly," says Nikhilesh.
During the Vigyan Mela (Science Fair) that took place in January, all the installations were either created out of household objects or were sourced from the local markets.
The event was organised simultaneously in 119 educational clusters that involved 697 teachers in the district.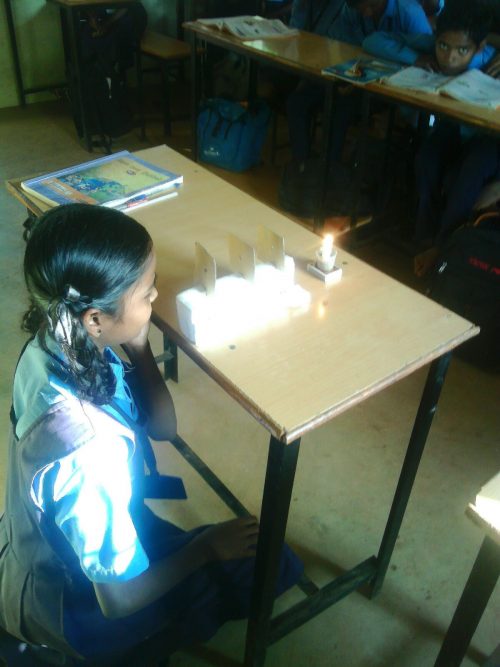 The experiments that were presented by the students cover different concepts like how the lightning is formed, the human physiology, working of windmills, identifying acids and bases, working of vacuum cleaner and many others from Physics, Chemistry, Biology and Mathematics.
The District Collector of Bastar Amit Kataria took to Facebook to share his joy after the event concluded. He shared the pictures of the event on his FB page and wrote, "Beyond anybody's expectations 637 upper primary schools and 160 higher secondary schools of Bastar district demonstrated more than 35,000 experiments and working models at 116 different locations to create a new record in the field of India's science education. This event will be registered in LIMCA book of records.  It was truly India's largest science exhibition."
---
You may also like: TBI Blogs: Here's How We Can Overhaul India's Education System to Ensure the Right to Education for Everyone
---
To know more about Sarva Shiksha Abhiyan Bastar, visit the Facebook page here.
Like this story? Or have something to share? Write to us: contact@thebetterindia.com, or connect with us on Facebook and Twitter.
NEW: Click here to get positive news on WhatsApp!