It can be seen from the examples below that when residents and stakeholders in a community come together to solve an issue, the results are not only positive, but also long-lasting. Here we learn of ordinary citizens and local NGOs who inspired people in their areas to keep their surroundings clean and free of diseases.
When a work is considered as one's own, then it sustains for a longer duration. This factor is also applicable in Health and Sanitation. The Gujarat state government has implemented 'Nirmal Gujarat' scheme. But for a long-term implication and effect, people have to take ownership of their environment. When people understand their roles and responsibilities towards a clean environment, only then any scheme becomes a success. In many places, people have come together to keep their lanes, villages or city clean.
A similar effort was made in Nehrunagar slum located opposite to Bus depot on Hatkeshwar Mahadev temple road at Amrawadi. There are around 2000 slum dwellings mainly occupied by migrants of Nadiya and Waghari community. People from Maharashtra and southern India are also staying here. The residents earn their income by collecting paper and waste which are kept outside homes. They separate the saleable paper from the waste and the rest stays there. Wind scatters the waste to nearby regions. The entire area becomes dirty and unhygienic, all this leads to skin problems, infections in eyes and other diseases. A lot of expense is borne for the treatment of these diseases. Malnutrition is common and excessive unhygienic condition leads to epidemics.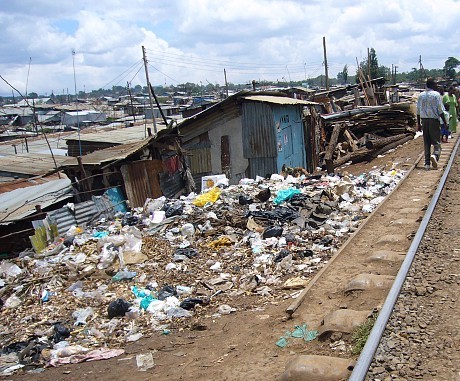 It becomes difficult to implement cleanliness drives in these regions. A local NGO made the residents understand the importance of cleanliness. Epidemics and diseases spread through such an environment, regular cleaning is the only way out. Men shrugged away from cleaning as they believed it's a woman's job. The volunteers of the NGO continued with the behavioral change communication activities. During that time the Municipal Corporation was also on a cleanliness drive. The volunteers were determined to make the impossible happen. On a fixed date they involved local youths, women and the elderly in the cleanliness drive. The staff of the Municipal Corporation also supported them in the cause. Within days the entire slum of Nehrunagar transformed into a new place. A truck full of waste was gathered from the slum. With a view to maintaining the hygiene of the place, two dustbins were put up. Local residents are demanding more dustbins now, as they say "We don't feel shame in cleaning up the place. Clean environment makes one healthy, and we are protecting our health."
In the Sabarmati area of Ahmedabad city, people have created a garden where a garbage dump used to be. Huge waste had accumulated near the vegetable market of Ramnagar. The vendors of the vegetable market and the residents of nearby areas were fed up of the waste. Hemant Vyas, a young man had returned from Canada after several years. He is working as a lecturer in a college at Judaal. His home is adjacent to the market. The waste from a nearby hospital was also dumped in the area. It became difficult to stay in those conditions. The learnings from staying in a clean environment at Canada were instilled strongly. He decided to take up the issue and started meeting government officials at the Municipal Corporation.
Hemant and his group of friends who were doctors by profession also took up the issue and their efforts showed results. The officers at the corporation helped in removing the waste from the vegetable market. The cleanliness drive started and Hemant led from the front. The drive saw participation of doctors, vegetable vendors and residents from the area. The entire area was cleaned and to prevent recurrence Hemant, along with his friends, developed a park and built a public toilet. The garden was developed by people planting small and big plants. Today it is known as 'Sai Garden' and is a favourite place for the kids of the locality.
The video below ( by RedFM in Ahmedabad) tells the story of how Hemant went about converting the garbage dump near his house to a green spot. (Note: The video is in Gujarati)
Like Hemant, if all citizens are determined for a clean and hygienic environment, the lanes, villages and entire cities will become clean. Some time earlier, Municipal Commissioner of Surat Mr. Rao, with his vision for a clean city, changed the entire landscape and appearance of Surat. The villages have also now taken up the cause of a cleaner and healthier environment.
In Vasada Village of Surendranagar, there was only one water tank and no bathing ghats for women. A WASMO (Water and Sanitation Management Organization) programme started in the village, and with the support of SWATI (Society for Women's Action and Training Initiatives) organization, bathing ghats for women were made and the water problem was resolved.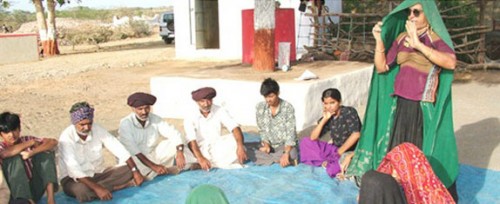 The drive for clean environment still needs to be propagated widely. Organizations like WASMO and SWATI conduct regular meetings with women in the villages to generate awareness about a better environment. They are asked questions like who will maintain places like tanks, stand posts and bathrooms. They are taught that if the village is kept clean then people will not feel sick, work can be done properly and money spent on medicines can be saved.
Three women volunteered to take up the issue. In every lane dustbins were installed on posts. Proper collection and disposal of waste is put to place. Women took the responsibility for each task. The cleanliness drive began from one's house and lane. Drainage system has been implemented for waste water disposal. This way Vasada village is on the path to a clean environment.
We at The Better India want to showcase everything that is working in this country. By using the power of constructive journalism, we want to change India – one story at a time. If you read us, like us and want this positive movement to grow, then do consider supporting us via the following buttons.
Please read these FAQs before contributing.