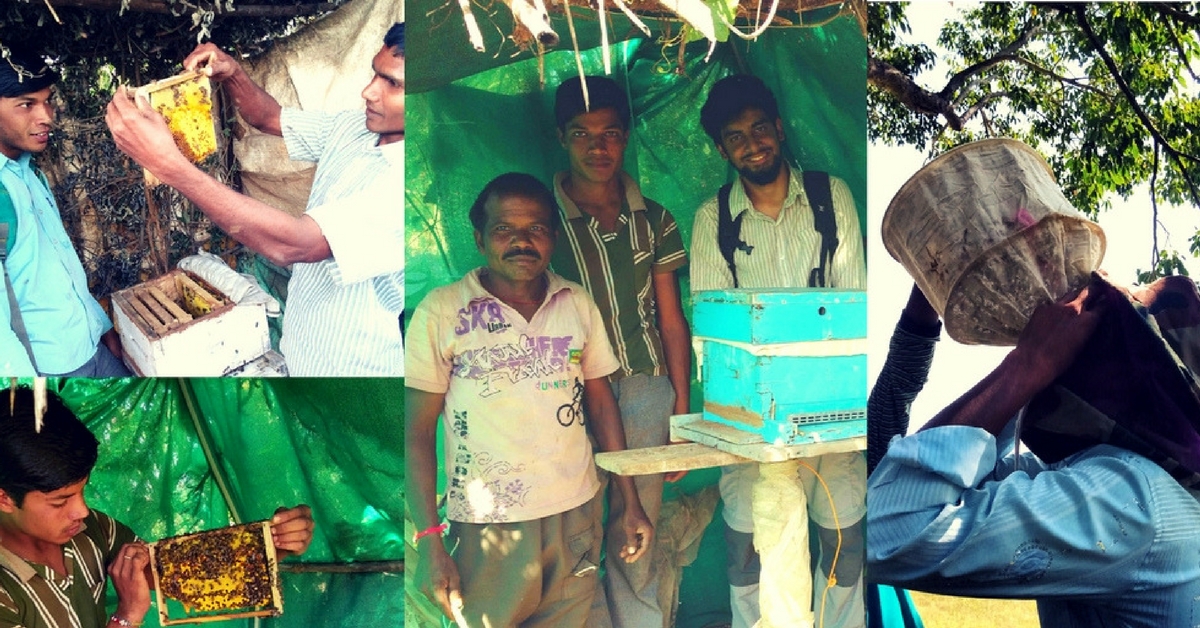 Beekeeping, apart from helping improve crop produce and sustainability, can also provide a viable source of income for many in rural India. India Fellow Simant talks about how the practice has helped a high-school dropout rediscover his purpose in life, thanks to proper training and guidance.
Beekeeping, apart from helping improve crop produce and sustainability, can also provide a viable source of income for many in rural India. India Fellow Simant talks about how the practice has helped a high-school dropout rediscover his purpose in life, thanks to proper training and guidance.
Sanju Yaduvanshi, a Class VIII dropout, was 19 when he began helping his father in various farming activities. Now 20, Sanju's usual day comprises of transferring honeybees from the wild into bee boxes, checking other such boxes for any signs of growth or enemies, and ensuring that the bees are comfortable in their homes.
Under The Mango Tree (UTMT), a non-profit which trains small and marginal farmers in modern techniques of beekeeping, saw great potential in Sanju's village (Jamai block, Chhindwara district) and the surrounding areas. They held a training session for a few farmers in their villages in October 2015, which was attended by Sanju's father, Sahablal. Sanju, being a traditional honey hunter, did not think beekeeping was possible. "Bees can't stay in boxes, they stay in tree trunks and boulders," he said. In the subsequent months, a couple of bee boxes were installed at Sanju's house. Everyday, while working on his farm, he used to marvel at the speed and efficiency of the bees.
A month later, his tomatoes started ripening, and were ready to be sold. He took them to the market, only to realize that his produce was of better quality and shape than most of the others in his village. As a result, Sanju was offered a higher price. On his way back home from the market, he started to playback in his mind the whole cycle of his crops, to see whether he had done anything different this time. Perhaps it was a different pesticide? But oh, he didn't have to use any pesticide this time. Why was that?
Why didn't any pest attack his crops?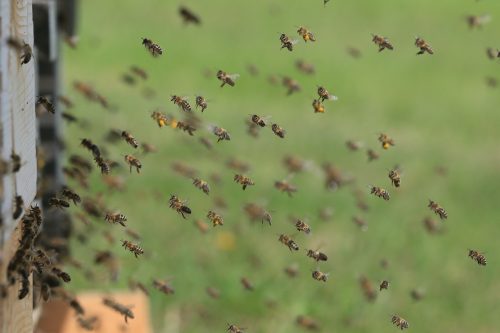 A few months ago, after his excited father returned home from the beekeeping training, he started telling Sanju about how pollination helps in increasing crop yields by as much as 50 %. They probably wouldn't even have to use pesticides, since the bees would keep sucking the nectar which is basically the food for pests. All this without any major investments! For Sanju, it all seemed too good to be true, and inflamed his curiosity. At the same time, shopkeepers started coming directly to his house to buy his vegetables. They all knew his crops were of far better quality than most of the other farmers. He was now also saving money on transporting his produce to the marketplace.
By now Sanju had realized that those small little beings in his farm were much more important than he had thought. From then on, he started paying more attention to the bee box.
Every morning, Sanju observed the movement of bees flying in and out of the bee box, the crops they were pollinating, and the time of day when they were most active.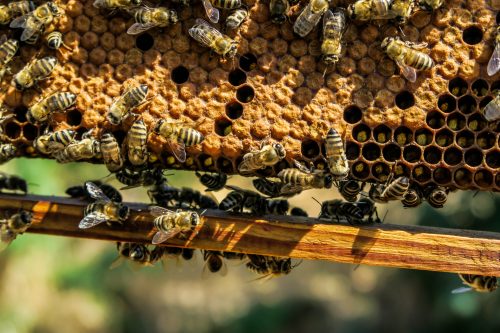 One of the most important functions performed by bees is of pollination, which is needed by plants for reproduction. Several species of plants depend on insects that are called pollinators. For example, bees, wasps, ants, flies, butterflies, etc. are all pollinators. When a bee collects nectar and pollen from the flower of a plant, some pollen from the stamens – the male reproductive organ of the flower – sticks to the hair of its body. At the next flower, some of this pollen is rubbed off onto the stigma, the female reproductive organ of the flower. When this happens, fertilization is possible, and a fruit, carrying seeds, can develop.
Gauging his interest, UTMT offered to train Sanju in the advanced aspects of beekeeping. He is now learning about the different types of bees in a colony, distribution of labour, how they work, their life cycle, the importance of a queen bee, etc. Interestingly, after realizing that he wasn't afraid of being around bees, Sanju also sought training in "natural colony transfers", the process by which bees are transferred from the wild into bee boxes.
With the changing seasons, Sanju trained in performing divisions, the process of multiplying one box into several others. He started spending hours at stretch searching for bee colonies in forests, filling them in boxes, and preventing them from absconding. As more time passed, Sanju learned more tricks of the trade, and started understanding the mating pattern of the queen bee and checking the box for fresh eggs.
A couple of months ago, Sanju also sought help from one of UTMT's technical assistants to build his very own mud hive, which can act as a natural home for the bees.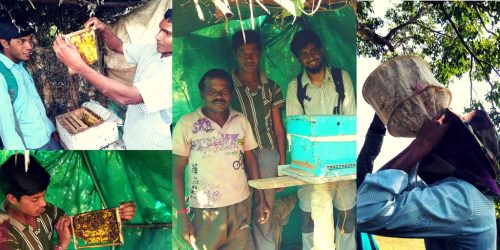 As a youth in one of the umpteen villages of the country, it can be really demoralizing to know that your work life is either taking up your father's occupation as it is, or migrating to greener pastures. As much as we think the urbane are in need of diversity, this aspiration is growing exponentially in communities that have been restricted to very limited opportunities. Even if one is to overlook the benefits of pollination and bee keeping etc., the fact that it is something that adds more spark to the existing drudgery of sustenance farming is a great value-add in itself. Sanju has transitioned, or at least is at the cusp of it. His hope is amplified because he is very young, and that gives him those many extra years to work passionately towards this cause and engage other youth from his community, becoming a role model for them.
Sanju is now one of UTMT's key employees. He manages all bee boxes in and around his village, and is now being trained to be able to provide bee-keeping training to farmers in other districts.
(The author is working alongside Sanju in Jamai, Madhya Pradesh, and is an India Fellow from the 2016-17 batch, involved in bee-keeping with the local community.)
You can contribute to UTMT's efforts to train and nurture more people like Sanju on their website. To know more about India Fellow and its Fellowship, visit them online.
Like this story? Or have something to share? Write to us: contact@thebetterindia.com, or connect with us on Facebook and Twitter.
NEW: Click here to get positive news on WhatsApp!
We bring stories straight from the heart of India, to inspire millions and create a wave of impact. Our positive movement is growing bigger everyday, and we would love for you to join it.
Please contribute whatever you can, every little penny helps our team in bringing you more stories that support dreams and spread hope.
Tell Us More