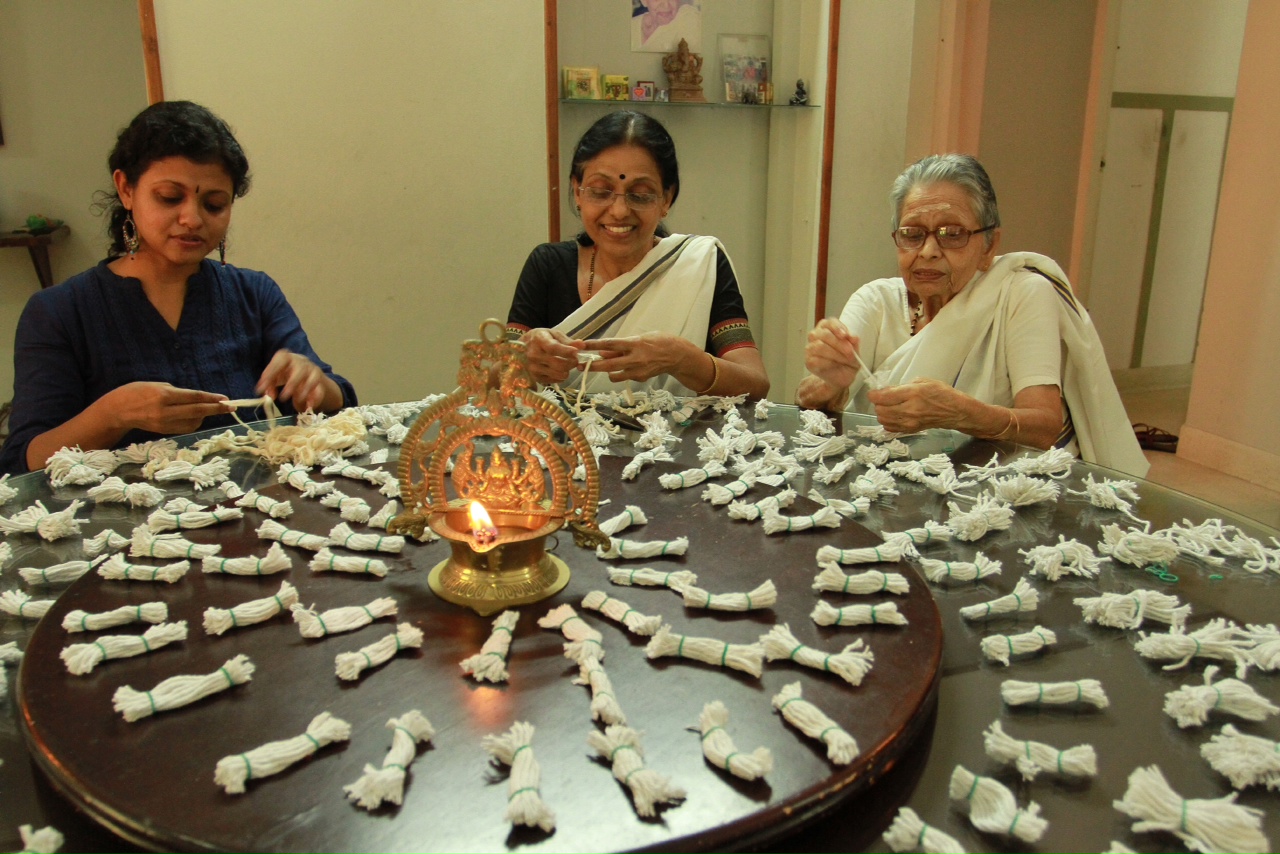 Old age is revered here. Granny wisdom and the art of making wicks is celebrated at Wicksdom (Grandma Wicks). It is a passion that the Wicksdom project has tapped in order to not only provide a means of survival, but also to help the aged people live a life resplendent with dignity and happiness. Read about the bright idea here.
Old age is revered here. Granny wisdom and the art of making wicks is celebrated at Wicksdom (Grandma Wicks). It is a passion that the Wicksdom project has tapped in order to not only provide a means of survival, but also to help the aged people live a life resplendent with dignity and happiness. As we celebrate the festival of lights, let us also celebrate a wonderful initiative that is lighting up old eyes.
A wall and windows of her room are the only things that Janakiamma, can see from her bed on which she lies in her old age home at Thiruvananthapuram in Kerala. A screen separates her from the rest of the inmates and the world. Bedridden, yet, she is able to visit temples, churches and thousands of people in several homes in India and abroad. How is this miracle achieved? Through the wicks she creates for 'Ammoommatthiri' or Grandma Wicks.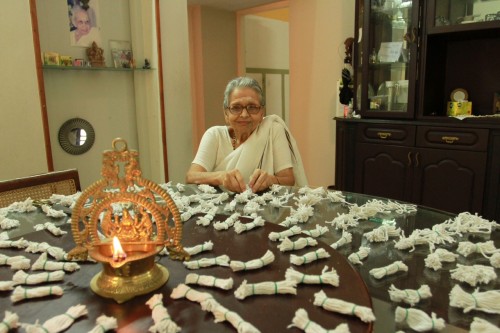 In spite of poor eyesight and her physical ailments, she cuts the thread with precision. Age hasn't tired her nimble fingers. Instead, they work with child-like enthusiasm and produce marvelous wicks for candles. Janakiamma's wicks travel miles and reach varied destinations. The other residents approach her and seek her help in getting the wicks made. The Wicksdom project, an initiative of Lakshmi Menon in Kerala, has ensured that the lives of several more grannies like Janakiamma are no longer lonely or boring.
They do so by engaging the elderly ladies living in poor homes in something they are passionate about, making oil wicks. It's one of those activities that has been cultivated among the earlier generations right since their childhood. Today, in the old age homes, one of their favourite activities from the yester-years is helping them earn a livelihood while keeping their heads held up high. Says Lakshmi Menon:
We engage them to make wicks for oil lamps used in temples, churches and homes. Good Karma Foundation, our family trust, supplies them the raw material (cotton yarn) for free. In addition to the money they earn, this activity keeps them active and more lively. The happiness and pride in contributing to the society even at this age is priceless.
The idea brightened Ms Lakshmi's mind like a lit candle that the wick supported in October 2012, when she saw her 89 year old grandma Bhavaniamma making wicks. From an activity to keep her granny occupied, it soon became something 'more' to satiate an inner child in her granny, as she started making extra wicks. One, it gave her immense delight to gift her handmade wicks to other children and relatives, feeling worthy that she was still able to do something for others. Two, thanks to the wicks she made she was able to reach the faraway temples in spirit that had physically been inaccessible.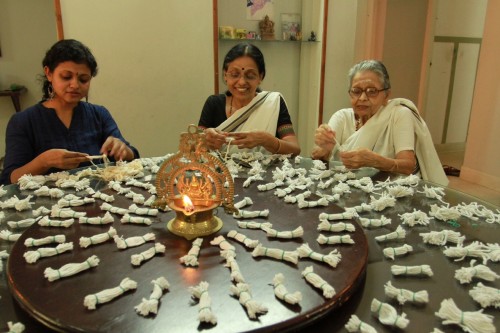 Making of the wicks
Lakshmi describes how the wicks are made:
Each long thick strand of thread can be separated into several thinner strands. It is cut to desired length. Those are then twisted gently with the fingers. 30 such wicks make one bunch. You will get up to 80 wicks from one long strand of thread.
The whole wick making process apart from having a socially and emotionally stimulating effect, also has a physical therapeutic effect on the health of the grannies. The thread twisting procedure lends an acupressure effect to the fingertips.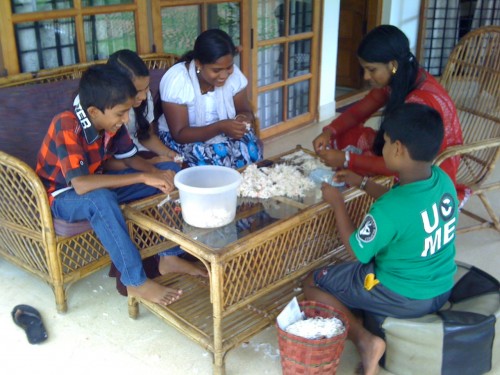 Helping the grannies help themselves and others
The Grandma Wicks team comprises of Lakshmi's grandmother, mother, grandmas from four different old-age homes and Lakshmi herself. In fact, Lakshmi herself approached the old-age homes, some of which were run by the social welfare department of the Government of Kerala to enlist the support of the ladies. Lakshmi's mother, Sreedevi is the one who contributes most towards the fulfillment of the project. She takes care of the nitty-gritties of sorting and packing with special attention on quality control. The packing, counting and labeling are done by her and Lakshmi's grandma at home. And the fun, interest and togetherness is infectious as Lakshmi's cousins and friends happily join the bandwagon of making the wicks whenever extra helping hands are required.
The power ladies comprising the Wicksdom team earn a decent amount to keep their heads held up high, doing what they love to do. Lakshmi explains the cost dynamics:
They make Rs.3 for 30 wicks. The process is so simple that they make 30 such bunches daily. But it is not a daily affair since marketing is not yet fully in place. We sell it at Rs. 5 which includes the cost of raw materials, packing materials, distribution and other related expenses. This is totally a non-profit initiative.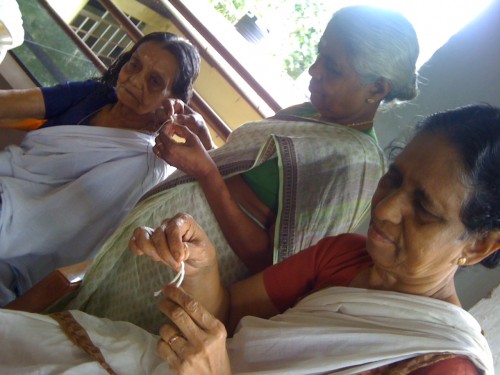 Although the total amount that the grandmas make may not boast of large digits, but it's not just about the valuable paper notes for them. It's about keeping themselves engaged in something fun everyday, working in groups, chatting, laughing and helping each other. They earn more than just money. Lakshmi recalls:
The manager of the old-age home (working with Wicksdom) called me up and said that the total atmosphere of that place has changed and the inmates are making plans to visit their relatives and even expressed their desire to carry gifts which they buy with their earnings, something which was totally unthinkable for them earlier. They had to borrow money from the staff earlier if they had to make any such visits.
The concept of old age homes is to provide assistance to the senior citizens and provide a shelter to them. Wicksdom goes a step further. Wicksdom respects their seniority and experience, and uses their own talent and skills to maintain a sense of self-respect and dignity – moving away from the concept of being dependent members of the society to becoming contributing members. The grannies by making the wicks are not just helping themselves financially and physically, but socially and psychologically they feel one with the society as contributing and needed members and no more as just dependent and helpless. End result, they are happy and smiling.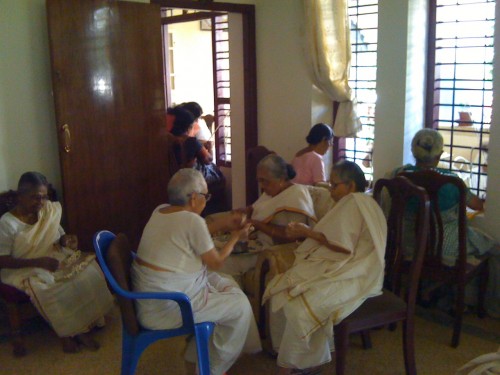 Support and Funds
Help and support has come from all quarters in the most varied and unusual ways. For instance, Ravi D.C. of DC Books, a leading book publisher in Kerala purchased 3 lakh wicks from the Wicksdom initiative. They inserted the wicks as packs of 30 in each of the 10,000 copies of the epic Ramayana series that they published and sold in July 2013.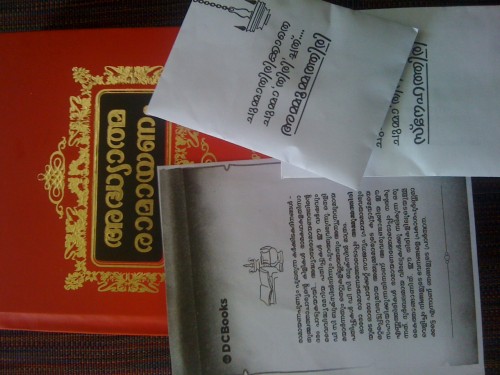 For better mileage and marketing, they approached the famous veteran actor and Southern superstar Mohanlal who unhesitatingly and wholeheartedly provided voice over for a documentary film on 'Wicksdom'. The film is currently under production.
Snehatthiri
Apart from Wicksdom, Lakshmi has come up with an inspired variant called 'Snehatthiri' that literally translates into "wicks of love and care". The concept of Snehatthiri is that they provide the raw material for free to not just the elderly but anyone and everyone who volunteers to make the wicks. The money made from this process goes for the welfare of the cancer patients.
The response from the initiative has been tremendous. Lakshmi cites:
Approximately 130 employees of RapidValue, an IT firm located at Infopark in Kochi volunteered and made 10,000 wicks (330 bunches) in an hour. Several groups of friends, neighbors and relatives joined in rolling the wicks. Several schools have expressed their interest to have their students participate in this activity.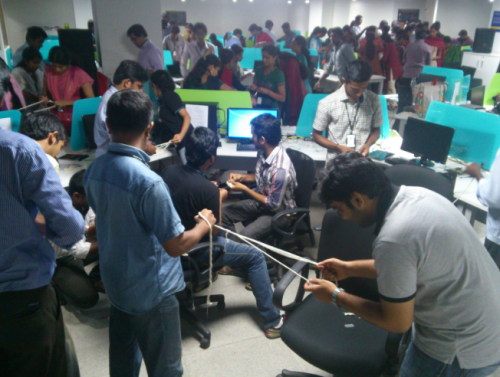 Wicksdom is spreading its wings abroad as well. A group of well wishers are spreading the word in UAE where it is enjoying several buyers. A website, www.mamadeva.com, which is owned by NRIs in the US and that offers online pooja service at temples has expressed their willingness to promote the Grandma Wicks through their online forum. Kerala Hindus of North America (KHNA) association also has stood in support to promote Wicksdom in US. The brand and concept is simultaneously being popularized by Good Karma Foundation started by Lakshmi's brother Vasudev Narayanan in US.
Future Plans
Presently, awareness about the Wicksdom initiative is being spread at religious gatherings, clubs, schools, etc. The Grandma Wicks team is actively trying to introduce the wicks in temples where these can be included in the list of pooja offerings. They soon plan to get a stable market in Kerala and replicate the Wicksdom model in neighboring states and ultimately make these available all across the country in a sustainable manner.
The Wicksdom journey has just begun. It is a journey consisting of small and simple, yet magnificent steps. The little steps can be seen as giant leaps towards happiness and satisfaction. As Lakshmi says it in Napolean Hill's words, "If you cannot do great things, do small things in a great way."
Ipsita Sarkar is a freelance writer.
We bring stories straight from the heart of India, to inspire millions and create a wave of impact. Our positive movement is growing bigger everyday, and we would love for you to join it.
Please contribute whatever you can, every little penny helps our team in bringing you more stories that support dreams and spread hope.