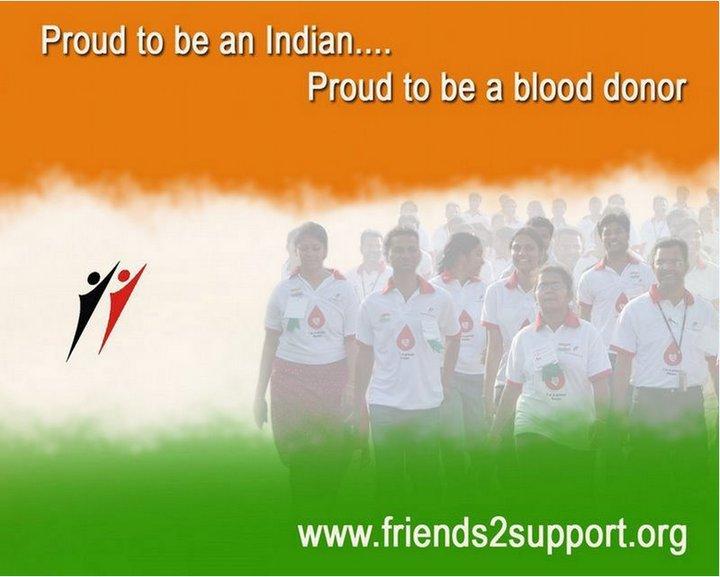 How many times have we thought of donating blood but held back due to some wrong notions we might harbour? Or heard about people in dire need of blood, but not getting it in time? Now, such constraints can be a thing of the past, with an initiative that makes it extremely easy and efficient to both donate blood and find a relevant donor. Read about Friends2Support, and how they are making this possible.
How many times have we thought of donating blood but held back due to some wrong notions we might harbour? Or heard about people in dire need of blood, but not getting it in time? Now, such constraints can be a thing of the past, with an initiative that makes it extremely easy and efficient to both donate blood and find a relevant donor. Read about Friends2Support, and how they are making this possible.
Although blood contributes only 7% of the human body weight, it is the most important body fluid. In brief, blood supplies oxygen, nutrients to tissues, removes CO2, Urea, and other toxic elements, regulates body pH and temperature, and so on. Every hour, hundreds of people across the world require blood for a transfusion, a surgery or some medical procedure. In simple economics term, the demand of blood is huge compared to the supply from donors. So, the solution lies in educating people on blood donation, connecting blood donors with those in need and above all saving lives. Here comes 'Friends2support', popularly known as F2S, to address these needs.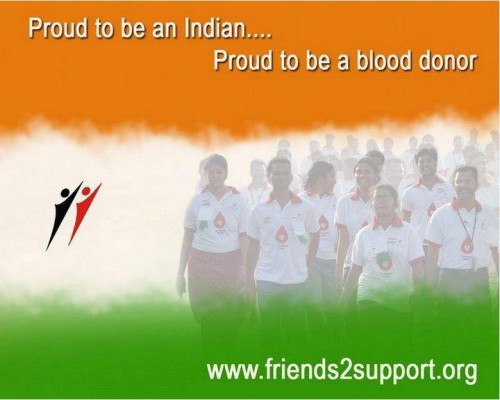 What is Friends2Support?
F2S is an organization that brings voluntary blood donors and those in need of blood on to a common platform, through its website – http://www.friends2support.org. A person in need can visit the website to search for a suitable donor based on the blood group, city or town. Five friends – Sheikh Shareef, Naveen Reddy, S. Koteshwara Rao, Phani Kethamakka and Murali Krishna – hailing from Narsaraopet, Guntur District in Andhra Pradesh, launched Friends2Support on November 14, 2005 in Hyderabad. The founders are all software engineers. So what made these IT professionals take up these bloody problems? In their own words, they ask us few questions back:
Have you at any time witnessed a relative of yours or a close friend searching frantically for a blood donor, when blood banks say out of stock, the donors in mind are out of reach and the time keeps ticking? Have you witnessed the loss of a life for the only reason that a donor was not available at the most needed hour? Is it something that we as a society can do nothing to prevent? This thought laid the foundation of F2S.
Friends2Support's mission is to fulfill every blood request in the country with a helpful web portal and motivated individuals who are willing to donate blood. The vision of these friends is to be "The hope of every Indian in search of a voluntary blood donor" and the motto driving them – 'Donate blood to save the most precious human life.'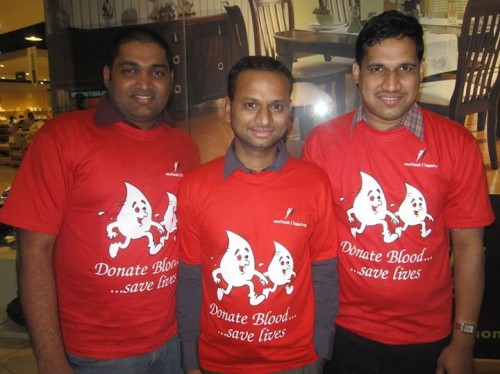 How does F2S work?
F2S is providing a nexus between good and kind-hearted people. At the inception there were only 200 donors, but now the count has risen to 100,000 donors, and is increasing. F2S is now India's largest blood donor database. They have launched free SMS facility to blood donors –
Registered users will get SMS along with their user name and password when they registered as blood donors or request for forgotten password
They will get thank you SMS when they donate blood
They will get reminder SMS when they have completed 3 months from their last blood donation
The user-friendly F2S website enables blood donation requests in a date-wise format. It hosts a transparent database of blood donors, which can be accessed by anyone. It contains details like donor name, location, blood group and mobile number. If one finds any donor unavailable for donation or cannot be reached on the phone number, one can utilise the "Report" option beside every donor name. F2S has compiled a comprehensive 'State-District-Location' database in the Country (almost 8000+ locations in India). Everyone can get a voluntary blood donor within hours at zero cost. F2S reports that approximately 300 people are donating blood every day through this website. After donating blood, donor name will be hidden till next 90 days to avoid calls to him. On 91st day his name will be automatically visible in the search results.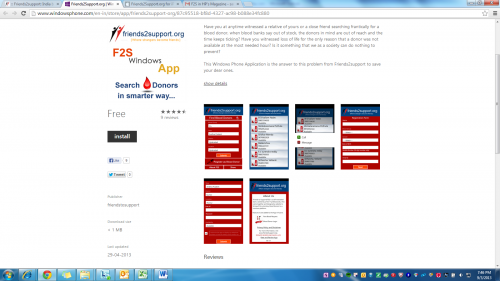 Future Plans
Leveraging technology and adding mobility to the platform, F2S has launched several mobile apps to provide smart solutions for finding and/or registering as blood donors. Development of these apps has certainly driven efficiency and penetration among the people. In the future, F2S plans to set up a Global Positioning System (GPS) tracker, which will automatically detect the location of the caller, and send details of available blood donors along with the status of the availability of the donor to the caller, through voluntary call analysts, having sound regional knowledge, in every single state.
Reaching Out
F2S does understand the taboos on blood donation and has focused extensively on raising awareness of people on this front. To reach out to people across villages and cities it has partnered with several social organizations/associations and government hospitals. To catch attention it has conducted bike and cycle rallies in Tier-2 cities and several towns. To reach out to office-goers and their families it has conducted camps and sessions with multiple corporates in different parts of India. It also participated in Joy of Giving Week last October. F2S members and supporters have used social media extensively and the top focus always remains to help the rural masses and poor people. Owing to the above monstrous efforts, they have seen people seeking help from Vadodara to Jabalpur and donors from Punjab to Kerala.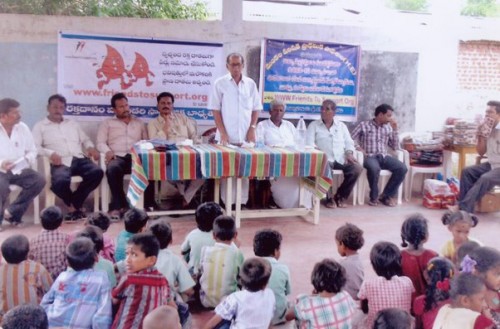 Friends2support also works to provide educational support to brilliant students who have discontinued their studies because of unfortunate circumstances. Read about its notable work with the marginalised families of the society in rural Andhra Pradesh here.
Support
F2S does not encourage any donations; it runs with its own funds. What it really requires is your helping hand – lower your arm and give the gift of life by donating blood. Throw away the taboos and spread the wonderful message of blood donation. In fact, a lot of facts, misconceptions and questions related to blood donations are documented in the F2S website here. You can also join their app development team, currently Shareef and his friends are looking out for volunteers to develop F2S Blackberry app.
Recognition
Owing to this tremendous effort by F2S in the last 7 years, it has been recognised by Limca Book of Records, mBillionth South Asia Award in 2013, UN Millennium development goals Award, Manthan award and also Nominated for Nasscom Social Innovation Honours. Awards do bring gratification, but the F2S founding team feels inspired when they look back and find 1,50,000 lives saved so far. This goes above all human awards – it is a godly act.
Install 'friends2suppot.org' app in your Android, windows and iOS phones to assist people around you when they require blood. You could also join F2S on Facebook or Twitter.
Saunak resides in Chennai and is a business consultant with an IT company. He has around seven years experience of volunteering work with rural orphanages, down-syndrome NGO's and corporate volunteering teams. Saunak is also a happy social investor with various community development funds aimed at poor women entrepreneurs. Lastly, he is a student of development economics who likes to learn the psychology, finance, risks, policies & use of technology associated with the lives of the poor and marginalized of the society.
Tell Us More
We bring stories straight from the heart of India, to inspire millions and create a wave of impact. Our positive movement is growing bigger everyday, and we would love for you to join it.
Please contribute whatever you can, every little penny helps our team in bringing you more stories that support dreams and spread hope.