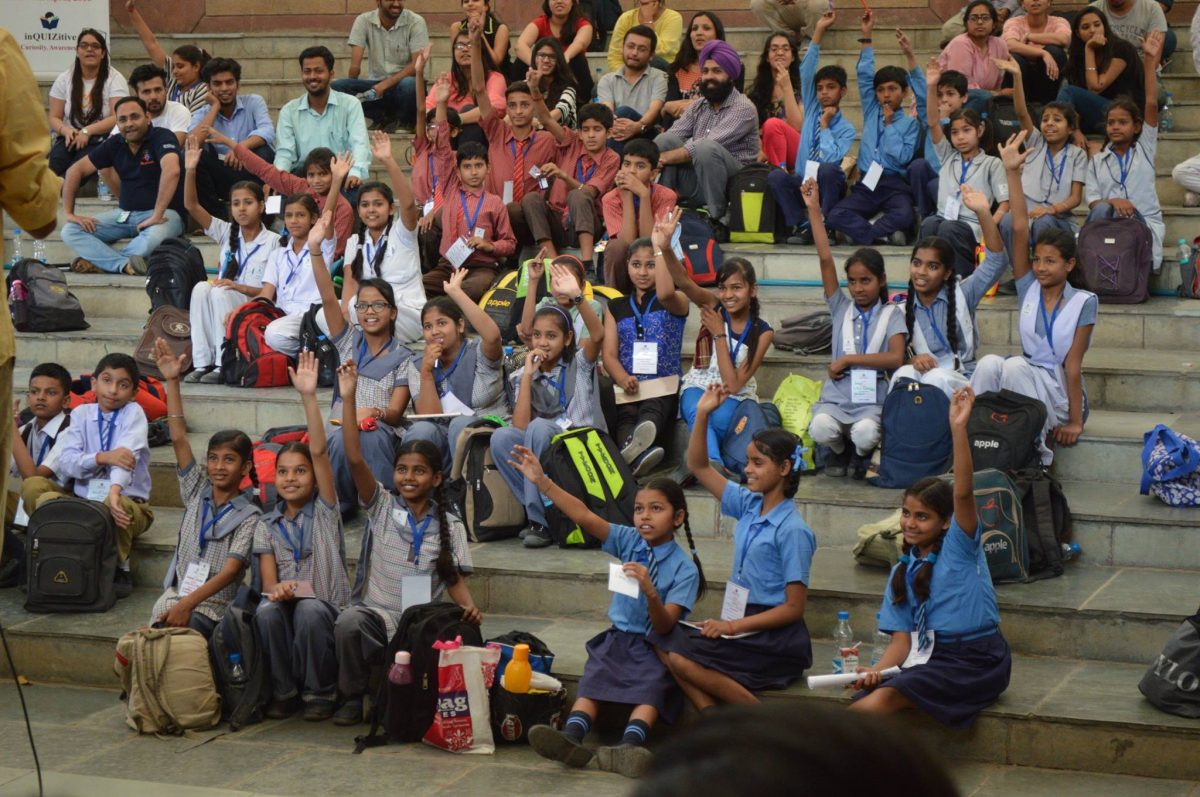 Quizzing culture is an integral part of many schools and students' lives. However, many underprivileged children are unable to experience the same. A new initiative is bringing the joy of quizzing to these children, and making education more fun in the process. Sneha Kalaivanan explores further.
Quizzing culture is an integral part of many schools and students' lives. However, many underprivileged children are unable to experience the same. A new initiative is bringing the joy of quizzing to these children, and making education more fun in the process. Sneha Kalaivanan explores further.
Most of us reading this can recall evenings in front of the television, watching kids battle each others' intellects on Bournvita Quiz contests. Many of us participated in similar competitions in school ourselves. For most of us – children who are privileged enough – the world of quizzing isn't foreign.
However, a great education with a fun and competitive quizzing component is beyond reach for most of India's 320 million children. This gap instantly struck Sahil Gandhi, a 2015 Teach For India Fellow, when he began teaching at a low-income private school in New Usmanpur in New Delhi.
"As a child, I did a lot of quizzing, and even started a quizzing pool in my college. I always had a habit of reading, which helped me with basic academics, but with quizzing I got to learn about things I didn't know, and then showcase my knowledge. I loved that," says Sahil, a Bachelors of Technology graduate from IIT – Banaras Hindu University. "At Teach For India, we talk a lot about making the students aware of themselves and their surroundings, but I realized my kids didn't know much about the elections or the country. Some of them did manage to read the papers, but I wanted all of them to become curious."
He credits Nikhil, a bright student in his class who can "answer any quiz question", with pushing him to create a quizzing culture in his classroom. The 11-year-old boy – one of the 24 children in his class – said, "Bhaiyya, teaching only doesn't do the work. You should start asking us questions about what you share!"
Sahil then spoke to another Fellow at the Teach For India Delhi City Conference in 2015 to brainstorm ways to bring underprivileged kids like his across the city together to experience competitive quizzing.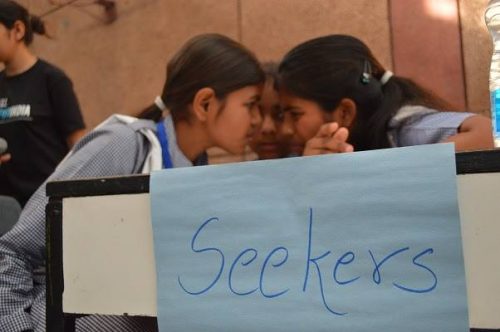 Meanwhile, Sahil set up structured quiz "competitions" in class. Each competition involved different rounds every week – usually four – of various question formats, including jeopardy and multiple choice. The kids work in groups to select and answer questions. "An example of a question we had recently is: Who was the CM of Uttar Pradesh from 2004-2009 who led the delegation for the party that went to Kashmir for bilateral talks? They had to identify the person—it was Arnav Singh," says Sahil.
Designing quizzes is a collaborative process that begins while speaking to the kids. "They might say, 'Bhaiyya, you have a phone, how does it work?' or 'How does the fan work?'," says Sahil. "I sense a theme and decide on one topic – for example, technology. We then study it and how it impacts our daily life, before I build questions."
One of the topics was Olympics sports and led to a variety of questions, including identifying sports with photos – shotput, long jump, and javelin – and naming the sports India has medalled in.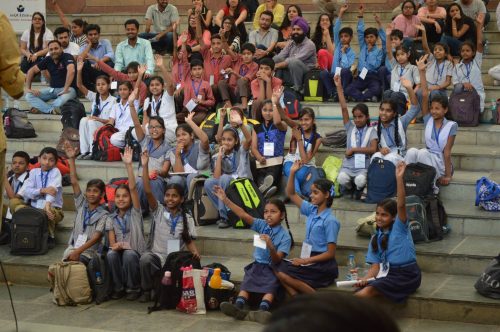 His young student Nikhil effectively catalyzed the formation of inQUIZitive, the organization Sahil formed with three other Teach For India Fellows in Delhi to manage a quizzing league for underprivileged students. On April 9th, 2016, four months after their first meeting, the organization held its inaugural competition at Vasant Valley School. The event drew participation from 2,800 kids from 57 classrooms across the city. The inQUIZitive team created "booklets" of information on the quiz topics and distributed them at schools across the city so students could study before the quiz. On the day of the event, 30 teams competed to mark the end of inQUIZitive's first official quizzing season. They also recruited renowned quiz-master Kedar Sastry to ask the questions, and he kept the kids enthralled!
Participating student Khushi, said, "I learnt more things about the world. This was the first time I saw what a quiz looks like—how the questions come on the screen, how to write, and tell answers!"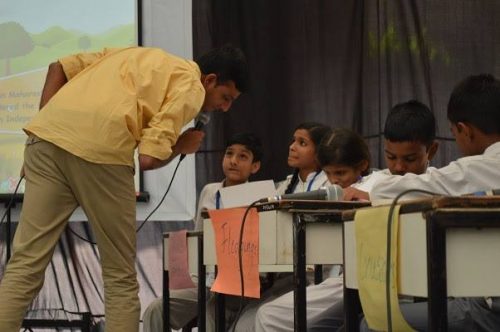 For inQUIZitive, the event was a huge success, and they're gearing up for this year's competition. The group also recently partnered with Quizcraft Global Knowledge Solutions, a national company that manages live competitions and online contests, creates books, runs walkabout quizzes at exhibitions, and much more. It's one of the strongest brands in the Indian knowledge industry through the 2000s.
While Sahil is excited by the success, he's aware there is so much room for his students to improve.
"We recently participated in the Tata Consultancy Services IT quiz, which had three rounds. Our students are at par with the average kids there, but not at the level of kids from schools that have dedicated societies for quizzing. We may just have four students at that level," he says.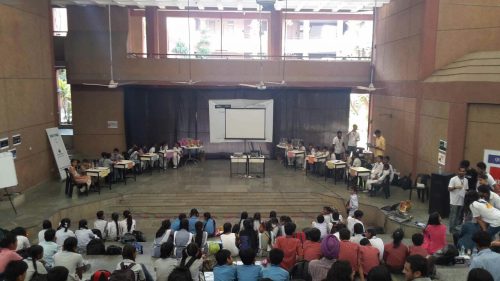 One key barrier is technology and its ability to give children access to knowledge. As inQUIZitive looks ahead, it's working to build a robust research culture among its students, aided by net-based tools. Students are learning to design research queries to expand on the knowledge they're provided in class, or through the booklets created and shared by their Fellows.
"We prepare booklets on specific topics. For example, on film and television, we provided information on genres of movies and history. Initially they couldn't answer anything beyond what was in those books. Over time they've learned to research topics they're curious about. Now we also have newspaper-reading time, where a volunteer helps the class read at least once a week. We also prepare questions based on what's going on," says Sahil.
The impact of inQUIZitive is immense, and more than Sahil could have anticipated. He says, "The students were more into a bookish style of teaching before, and now I run quizzes while teaching. Now they're more research oriented—they find a topic and research it. They use PowerPoint, and design presentations!"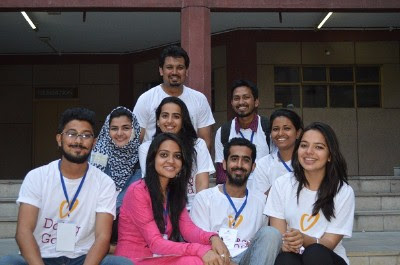 In a few months, Sahil's Fellowship will draw to a close. When his two years in the classroom come to an end, he's hoping to land a job in corporate social responsibility before pursuing his Masters. He insists that he's grown so much more than he imagined by taking the opportunity to become a Fellow and by driving inQUIZitive. "When I was an undergrad, I worked with an organization to teach underprivileged kids. One of my seniors was working for Teach For India and I found it appealing. I really wanted to understand this sector and what it means to work for a cause. I've since learned the kinds of things that someone who started a startup would probably know. I have learned to raise money, increase participation, build a team, find venues, create materials, and most importantly, managerial skills," he reflects. "I've experienced so many fields!"
For inQUIZitive, the next few years are about reaching more children and expanding the network beyond Teach For India schools. Their goal is to instill a lifelong curiosity about the world in every student, one trivia question at a time!
(The author is an Associate with Teach For India Communications.)
Applications to the Teach For India 2017-19 Fellowship program are now open. Click here to submit your application before the final deadline, 7th February, 2017. To learn more about Teach For India, visit the website.
Like this story? Or have something to share? Write to us: contact@thebetterindia.com, or connect with us on Facebook and Twitter.
NEW: Click here to get positive news on WhatsApp!
We bring stories straight from the heart of India, to inspire millions and create a wave of impact. Our positive movement is growing bigger everyday, and we would love for you to join it.
Please contribute whatever you can, every little penny helps our team in bringing you more stories that support dreams and spread hope.