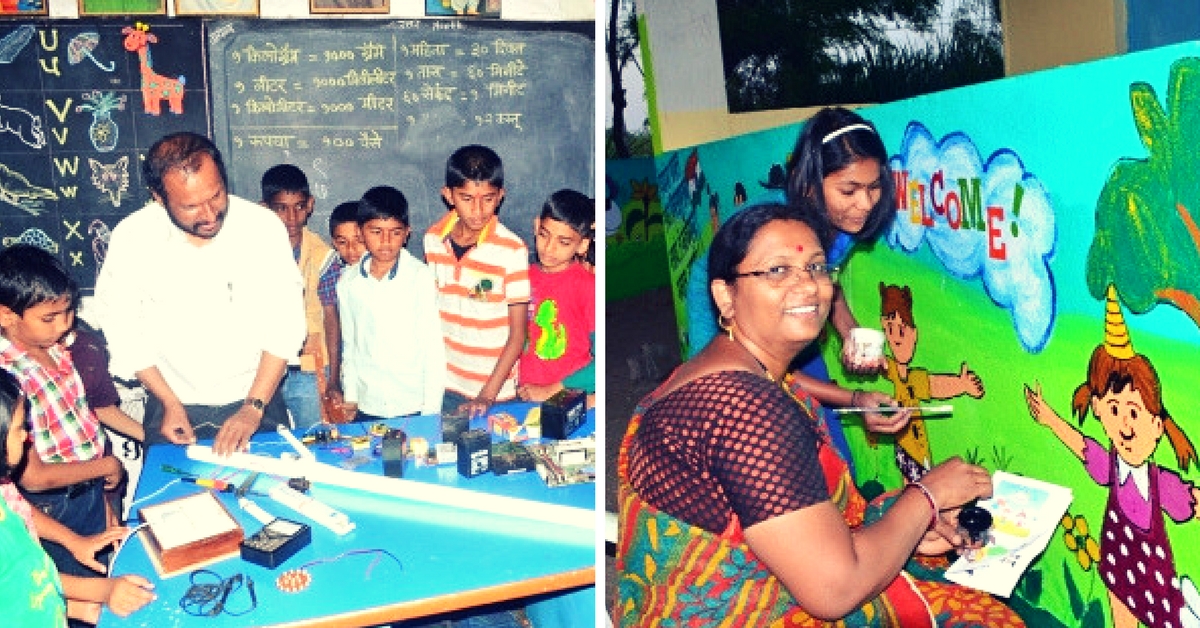 With no holidays, no fixed periods and a flexible curriculum, Dattatrya and Bebinanda Sakat's 365-day school in Kardelwadi village is a unique one!
In this era of overt commercialisation of education in the private sector and apathy at the government level, a teacher couple from Kardelwadi in Shirur taluka of Maharashtra could well set an example that the state at large could follow.
Passing up promotions on two occasions, Dattatrya Sakat and his wife Bebinanda, both Zilla Parishad primary school teachers, have been working on a unique model of primary education for the last 16 years. With no holidays, no fixed periods and a flexible curriculum, their 365-day school model aims to free students from conventional textbook education and focuses on their holistic development by combining academics and co-curricular activities.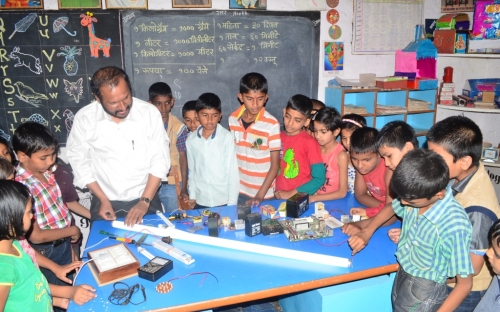 Kardelwadi village, with a population of 1,200, is situated 5 km off the Pune-Nagar highway, some 55 km from Pune city. The village may not have good roads, but it has a school that kids from other villages aspire to study in. Thanks to the Sakats, Kardelwadi's Zilla Parishad school has gained a reputation for excellence, so much so that parents from other villages have started pulling their wards out of private schools and admitting them to this school.
In 2001, after 12 years of service as a teacher in a ZP school in Babusar Budruk village, Dattatrya Sakat joined the Kardelwadi school. Distressed to see it in a neglected condition, he decided to do something for the children of the village.
Normally, in a government schools, there is no separation of children into lower and upper KG. They are all together till they go to Class I. As a teacher, Dattatrya knew that kids of that age needed to be handled differently and so he used his experience as a teacher to design a curriculum that spotted and nurtured the individual talent of each child. Next, he started using creative learning practices to help retain children in school as well as bring in those not attending school.
He gave students the freedom to wander around the school premises freely, instead of being confined to classrooms, as is usually the case with schools in general. However, they are also taught the importance of self-discipline.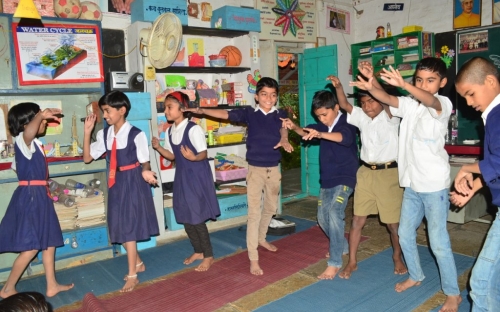 He also introduced yoga and meditation sessions but that's not the only unusual aspect of this unique school. When Dattatrya noticed that children enjoyed dropping by on weekends as well, he moulded the school into a one-of-its-kind 365-day activity centre.
The core philosophy of his vision was to build a learning institution that encouraged a sense of ownership and inculcated a sense of responsibility in its students.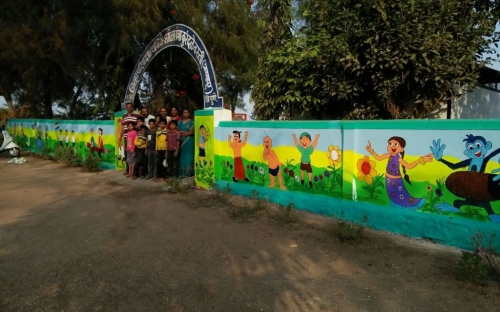 A bright green and yellow building, the walls and doors of the Kardelwadi school are adorned by vibrant nature-inspired paintings made by children. Such is the vibe of the well-maintained place that it could be easily be mistaken for a home, not a government school.
Every day, the school starts at 7 am and closes for the day at 6 pm, with regular classes being conducted in the small canopied courtyard between 10.30 am to 5 pm.
Before the commencement of the classes, the kids sweep the compound, the courtyard and the classrooms. They then water the plants and fill drinking water from the purifier before getting down to some largely-unsupervised revision and self-study.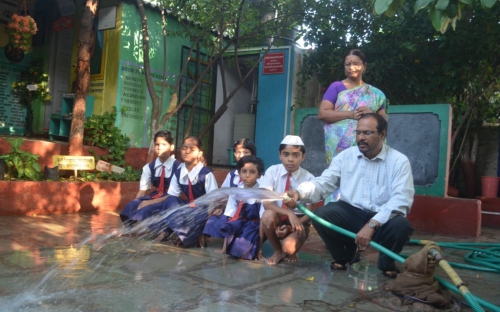 Around 70 students of Class I-IV attend regularly, including 40 children in the junior and senior KG — classes that are not usually part of Zilla Parishad schools. The children who attend the primary school from outside the village come here by a taxi, which, on its return trip, takes the older children of Kardelwadi to the secondary schools further away.
---
Also Read: This Delhi Youth Went for an Internship to a Rajasthan Village. Today, He Runs a School There.
---
Today, the school runs all seven days of the week, working on co-curricular activities for a half day on Saturday and all of Sunday that comprises their weekend. The teachers come and so do the students, to learn singing, dancing, gardening, painting, clay modelling, outdoor games and more. The weekend activities are entirely managed by students and they are not charged any fees for it.
"We allow them to indulge in everything — from sports and watching films to plays. The best part is, while we guide them in every activity, most things are managed by students themselves. In the process they become disciplined," says Bebinanda.
The fun-and-games atmosphere of the school does not take away from the academics. On the contrary, it fuels academic excellence. In the last few years around 50% students have managed to clear state scholarship exams, an otherwise difficult exam to crack.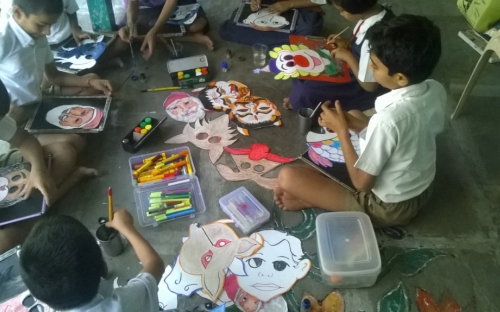 Over the years, with the laptops and LCDs donated by parents and successful alumni, the Sakats have turned one of the four rooms into a laboratory. Today, this village school also has all modern audio-visual teaching aids, including TV with cable connection, LCD projector and a computer.
Kardelwadi school's only teachers are the Sakats. While Dattatrya continues to draw a salary as a government employee, Bebinanda assists him voluntarily. While Dattatrya manages the overall show, Bebinanda looks after the academic affairs.
However, their dedication to duty has ensured that all the students of the school get personalised attention and guidance. In fact, when the Divisional Commissioner of the district offered Dattatrya the post of State Coordinator for Education, he politely refused as he wanted to continue teaching in Kardelwadi!
It's little wonder that the Sakats and their school have won many awards in the field of education. In 2010, the school won the State Quality Improvement Award. On Teacher's Day 2015, Bebinanda was honoured with the President's National Teacher Award.  That's not all. Several students from the school have been selected in the Primary Scholarship Examination conducted every year.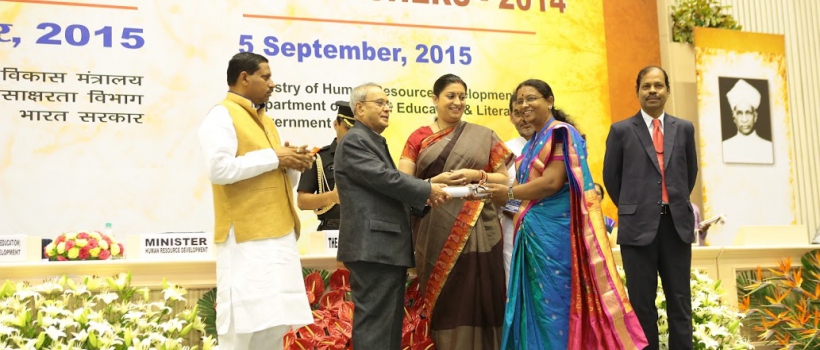 Their hard work has also been acknowledged by educationists and civil society activists. Thousands of people working in the field of education, including teachers from other schools, have visited Kardelwadi. In fact, the Pune Zilla Parishad has started sending its teachers for training at Kardelwadi's school.
As the sarpanch of Kardelwadi's gram panchayat says, "In the early days, we didn't give much importance to Sakat's efforts. Later, we realised that not only the school, but our village too is getting benefits in terms of cleanliness and education."
Impressed with the Sakats' efforts, many people have also started donating in kind to the school. For instance, Raghunath S. Kardile (an alumnus of the school) is the Sakats' go-to person when they need any help for the school. They don't approach the government, the Zilla Parishad or the Gram Panchayat (village council). All they need to do is ask Kardile, who is happy to do his part in keeping the school running efficiently.
By introducing a unique system of activity-based learning, the Sakats have not just set an example for government schools to follow, they have wonderfully highlighted the important role teaches can play in encouraging and empowering children in rural India.
Thanks to the tireless efforts of the Sakats, Kardelwadi's Zilla Parishad school has become the stuff of local folklore. But most importantly, the school has become a home away for home for the children of the village. What award can compare with that?
For contact details, click here.
---
We bring stories straight from the heart of India, to inspire millions and create a wave of impact. Our positive movement is growing bigger everyday, and we would love for you to join it.
Please contribute whatever you can, every little penny helps our team in bringing you more stories that support dreams and spread hope.