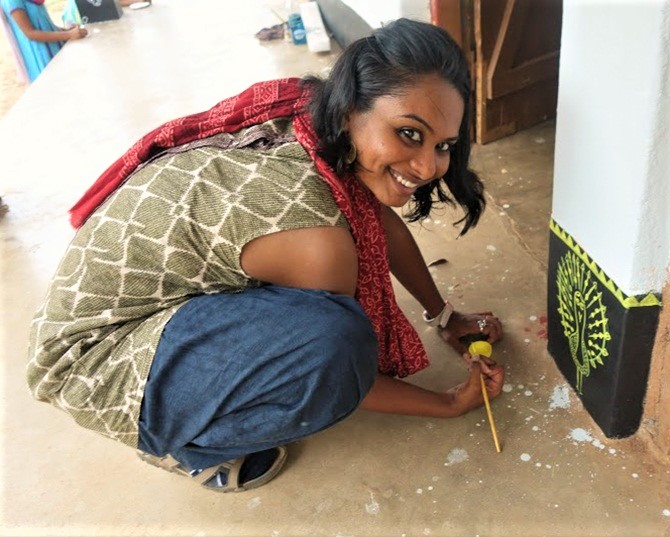 Shalini Krishnan left her fancy job in the city and shifted base to a remote village in Odisha to help tribal kids realize their true potential, dream big and design their own solutions for local problems.
"Go to the people. Live with them. Learn from them. Start with what they know. Build with what they have. But with the best leaders, when the work is done, the task accomplished, the people will say "We have done this ourselves." – Lao-Tsu
Real life heroes are not born, they are made by their own grit and determination. Giving up on a comfortable life for life in a village with hardly any basic resources is by no means an easy decision. Shalini Krishnan is one such woman who had the courage to take the road less travelled.
An alumnus of the National Institute of Design (Ahmedabad), a computer science graduate, a trained Bharatanatyam dancer and a yoga enthusiast; Shalini dons many hats. However, what makes this talented lady's profile truly remarkable is her passion and resolve to transform the destiny of tribal children in the remote village of Kankia in Odisha.
Having grown up in metro cities, Shalini has always been drawn towards the simplicity and warmth of life in villages. Also, she had always been interested in taking up social causes and had been contributing in small ways since her college days.
After a busy 7 years working as a user experience designer in MNCs like Adobe, Cisco and Honeywell, she realised that it was time for her to give back to society. However, when she told her family about her decision to do so, they were not supportive. They felt that she should think about contributing to the society only after she had become financially stable.
Nonetheless, Shalini's husband encouraged her to take the plunge and it was thanks to his constant support that she finally joined State Bank of India's 13-month fellowship for youngsters who wish to work for the upliftment of rural India. She had come across the video of Shuvajit Payne, an SBI Fellow who quit his job to teach spoken English to children in a remote village, and had been deeply inspired by it. Also, she liked the fact that the fellowship gave her the freedom to formulate her own project.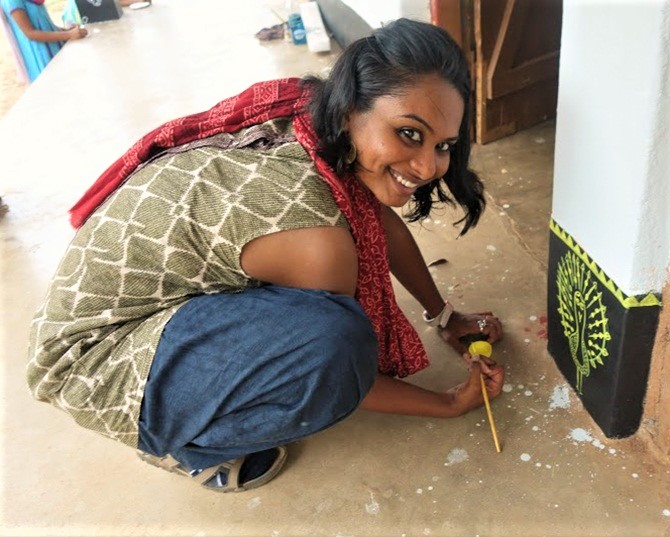 For Shalini, it was the fulfillment of a long cherished dream when she finally reached the remote Kankia village in Ganjam district of Odisha. She remembers how, on her first night at the village, she experienced the breathtaking brilliance of a starry night sky, a sight that is no longer a given when you step outside in a city.
Shalini's assignment in Kankia was to volunteer at a residential school run for 469 tribal children by an NGO, Gram Vikas. Most of these students belong to really poor families of the Saura, Kondha and Paraja tribes from across Odisha, many of whom are unable to afford quality school education for all their children.
Determined to help these kids in every way possible, Shalini started work at the school. While interacting with them, she was amazed to see the artistic abilities of the students, whom she found to be among the brightest in the country.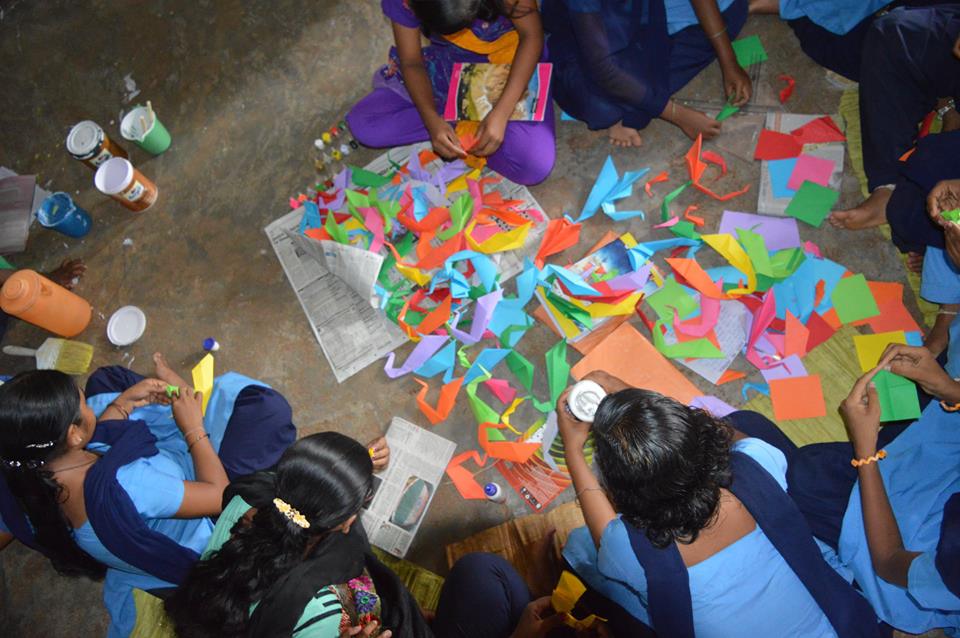 For instance, she gives the example of 12-year-old Jasman Gomango. A class 5 student, he recently made a mock-up model of a Nokia mobile phone, which looked like an exact replica with a sliding back and slots for a battery, sim card and memory card, all by himself. It even has a set of ear plugs with a socket pin made with strings and a ball point pen nib.
Unfortunately, there were no regular classes or training sessions to nurture their innate creativity despite them being so talented. Shalini realised that if their artistic and analytical capabilities were channelised in the right direction, these tribal kids had the potential to become great artists and designers. It was then that she decided to start a design and creativity studio for tribal children that would ensure that their talent would not go unnoticed.
Called Kalpanadham, which literally means "house of imagination," this studio stood for freedom of expression and experimentation. Shalini wanted it to be a place that would inspire kids to think out-of-the-box and encourage them to explore, innovate and improvise.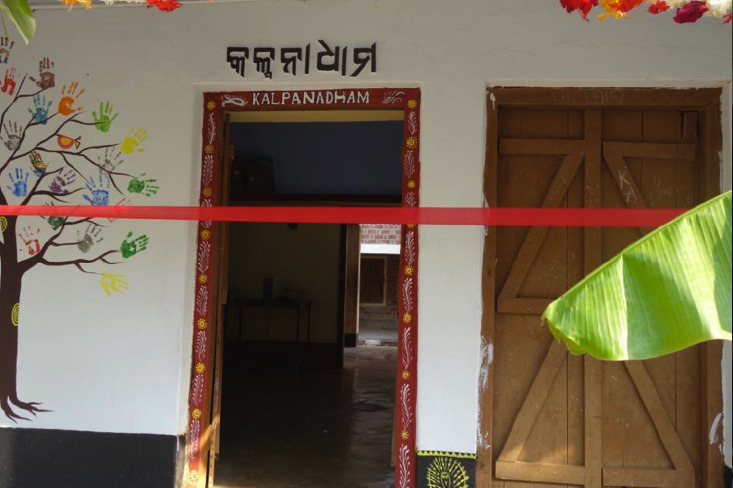 So she designed a learning framework based on the principles of IEA – Imagine, Explore, Act – to bring out their true potential. This curriculum also included elements of visual arts, like painting and drawing, as well as performing arts, like theatre, singing and dancing.
Located a little away from the hustle and bustle of the main school, Kalpadhanam is a vibrant space that has been painted by the children themselves. The studio currently runs on solar power and plans to get a dedicated laptop, camera, printer scanner and multimedia tablets to help children explore, learn and search for answers by tapping into online resources. Not only would this improve children's comprehension and research skills, it would also enable them to draw rational and logical conclusions.
---
Also Read: How an Engineer Transformed a Tribal Hamlet in Odisha into a Unique Eco-Tourism Destination
---
While Shalini has already succeeded in convincing well-known artists and educationists to come to the village and conduct workshops for the kids, work is underway to transform the studio into a fully functional state-of-the-art centre for design.
She also plans to connect Kalpadhanam with prestigious art, design and engineering institutes of Odisha and India so as to provide periodic mentorship and guidance to promising students.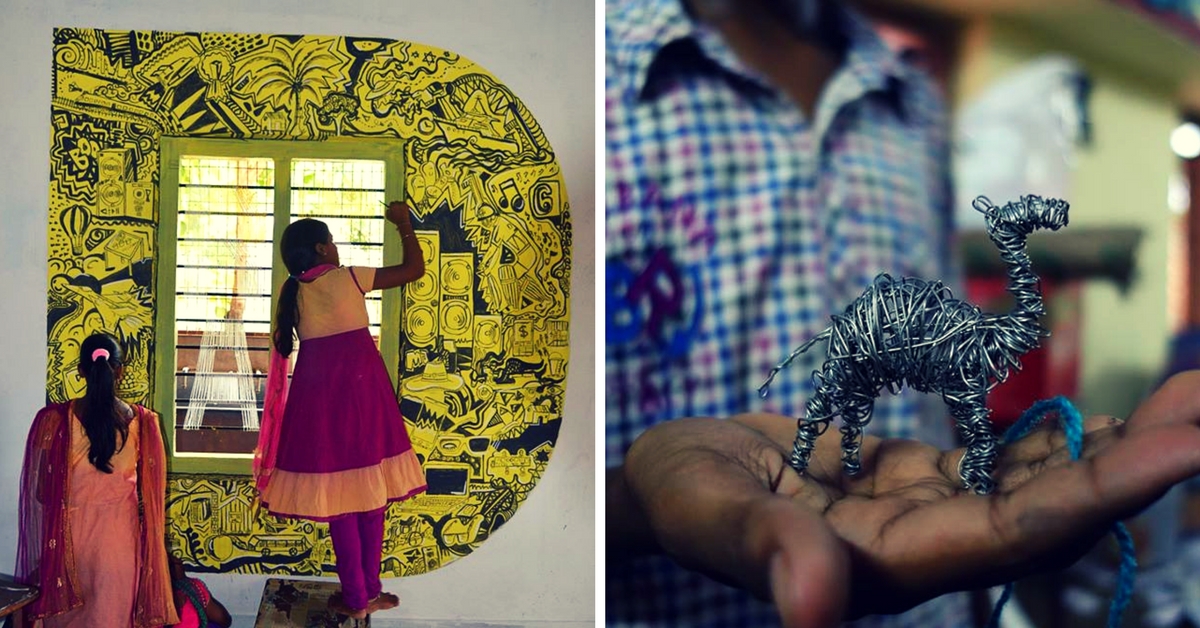 Shalini's efforts are already bearing fruit with the children starting to think big and hope about someday making a name for themselves. Motivated by curiosity and peer interest, these children are teaching themselves and each other. Many of the students, who have realised the value of empowerment through education, are now determined to ensure that their younger siblings study up to graduation at the very least.
Also, several individuals have come forward to help the initiative and are playing an important role in taking Kalpanadham forward after its establishment. Ms. Satyabhama Majhi, a renowned contemporary artist based out of Bhubaneswar, works closely with Kalpanadham, taking care of regular creativity workshops for the students. Through her, the initiative has been able to tap into a network of Arts and Performing Arts students who volunteer with Kalpadhanam on a regular basis.
Mr. Siddharth Vashist, the Manager Creative Capacity Building / Co-curricular of Gram Vikas Residential Schools, has also been instrumental in expansion of Kalpanadham and its establishment in the other schools run by Gram Vikas. Gram Vikas itself has been highly supportive and encouraging in strengthening the initiative.
However, Shalini knows that there is still much more to be done. The next challenge she plans to tackle is the language barrier – most of the students drop out of school after 10th grade as the higher secondary syllabus is in English medium. After that, she hopes to improve the education infrastructure in other villages too.
By enabling local communities to realize their potential and design their own local solutions, Kalpadhanam is playing an active role in improving lives and livelihoods in tribal Odisha. With this, Shalini has taken another step towards fulfilling her dream of encouraging and supporting children all over rural India to tap into their innate sense of wonder.
"I dream of a day when talented kids from the remote tribal villages realise their true potential and become out-of-the-box thinkers – engineers, designers, artists, doctors, sportspersons, who are not afraid to explore, are confident to take the path less travelled, bring a positive impact to the communities they come from and most of all have the freedom to make a choice about their lives," concludes Shalini.
For more information on Kalpadhanam, click here.
---
Also Read: Meet 87-Year-Old 'Tauji', the Force Behind Tribal Girls' Education in Naxal-Infested Bastar
---
We bring stories straight from the heart of India, to inspire millions and create a wave of impact. Our positive movement is growing bigger everyday, and we would love for you to join it.
Please contribute whatever you can, every little penny helps our team in bringing you more stories that support dreams and spread hope.
Tell Us More