R and R, as described in its very own words "is a new centre for artistic and intellectual activity located amid the "Resettlement and Rehabilitation" colonies of Lallubhai Compound in Mumbai.
R and R, as described in its very own words "is a new centre for artistic and intellectual activity located amid the Resettlement and Rehabilitation" colonies of Lallubhai Compound in Mumbai.
Centres for artistic and intellectual activity have been the norm in the southern parts of Mumbai and this trend has also caught on in the central and western suburbs of the city.
However, Lallubhai Compound located in Mankhurd seems an unlikely address for the initiative.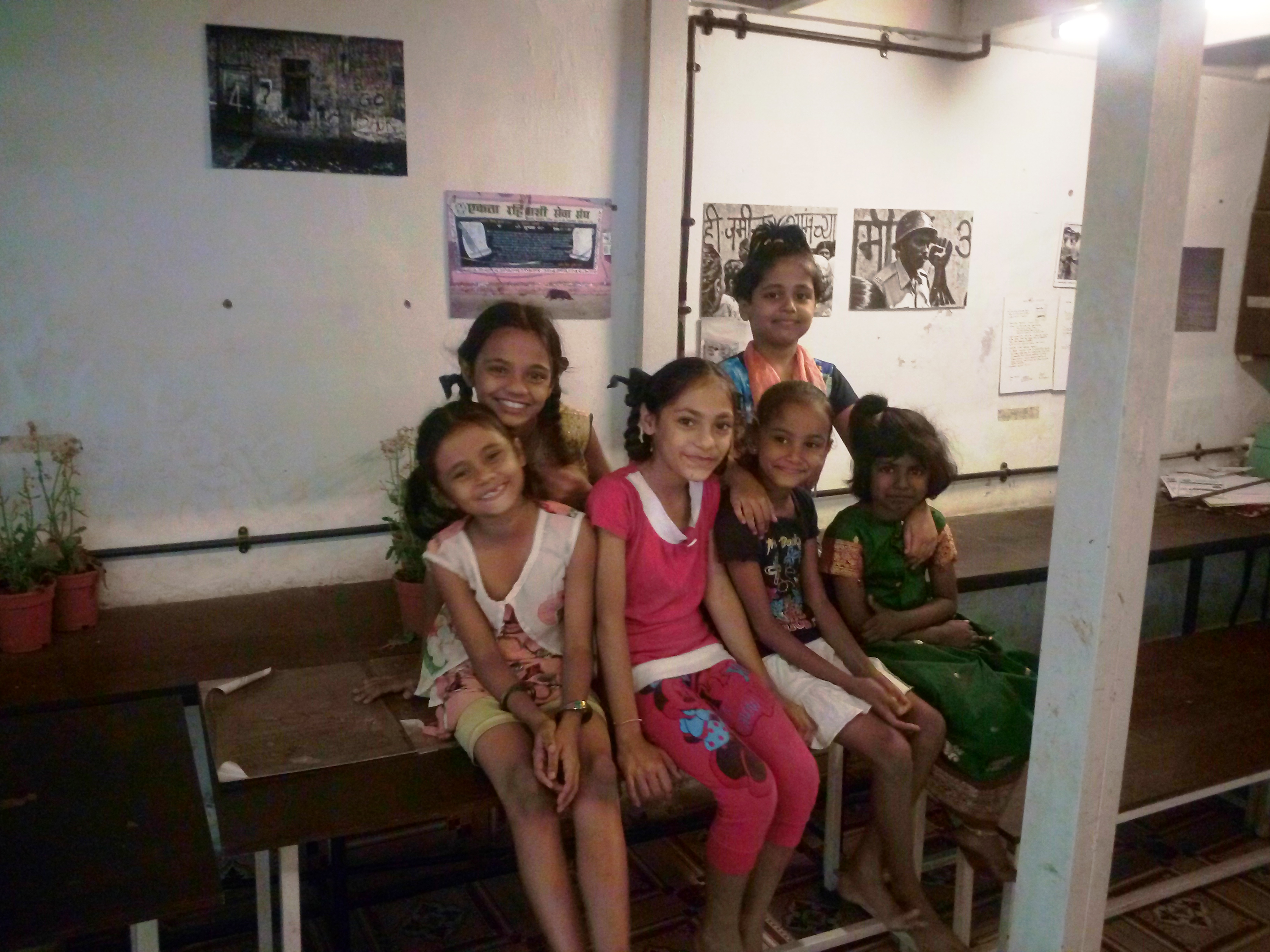 The centre here has been in existence for less than a year and has managed to convert an even less likely space (a shed used for various purposes within the community, ranging from a church to a balwadi) into one that houses a library, and plays host to a series of open discussions, exhibitions, and screenings for the public.
While the outcome and engagement is both encouraging and refreshing, what is even more novel is the genesis of this initiative. R and R is the collaborative effort of a group of artists, architects, activists, programmers, writers and curators – studio CAMP (Shaina Anand, Simpreet Singh, Zinnia Ambapardiwala and Ashok Sukumaran) arts lab Khanabadosh (Gitanjali Dang), Prasad Shetty, Rupali Gupte and Sindhu Housing Society (Building no. 21) where R and R is situated.
The starting point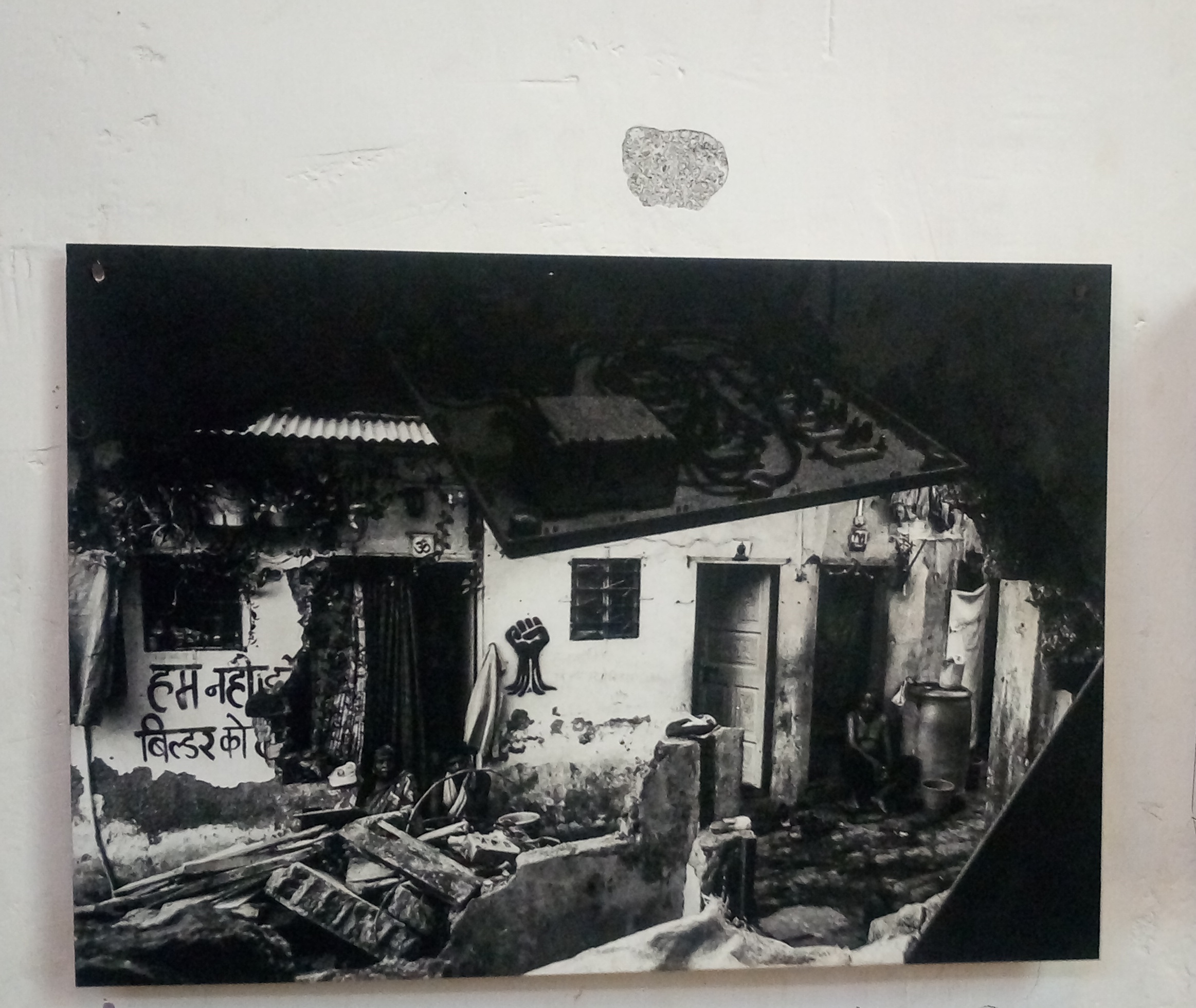 The Draft project co-conceived by Khanabadosh and Zurich University of the Arts is where it all began. Its purpose being the investigation and promotion of new and interesting public art projects that trigger public debate. "So instead of doing a sculpture or a film or an event, we took the money for the arts commission and decided to do a space with a long-term presence in a neighbourhood of Mumbai. The idea was a new kind of cultural space with an old style library, in which different kinds of communities could meet, and have access to a free space to work together on cultural projects," describes Ashok Sukumaran, an architect turned artist and one of the project initiators.
"We are interested in the idea of a people's culture which is not limited to the formal, upper-class world of galleries and museums that has dominated the cultural landscape of the city for years," Ashok adds.
The landing point
"In 2016 while we were looking out for a place for the project, Simpreet (an activist, an engineer, R and R initiator) who is familiar with Mankhurd from his prior work, introduced us to the Sindhu Housing Society (Building no. 21) in Lallubhai Compound. Project-affected people from all over Mumbai who have been evicted from slums and settlements were pushed around from here to there. They had to vacate and move into transit camps, where they waited for 10 years before being moved into Mankhurd at the end of a whole generation of struggles. Each rehabilitation case received a 225 sq ft. flat in Lallubhai Compound and finally became a resident of Mumbai. It is the landing point and in a sense the future of the slum problem within the city," explains Ashok.
Part of the community, yet outside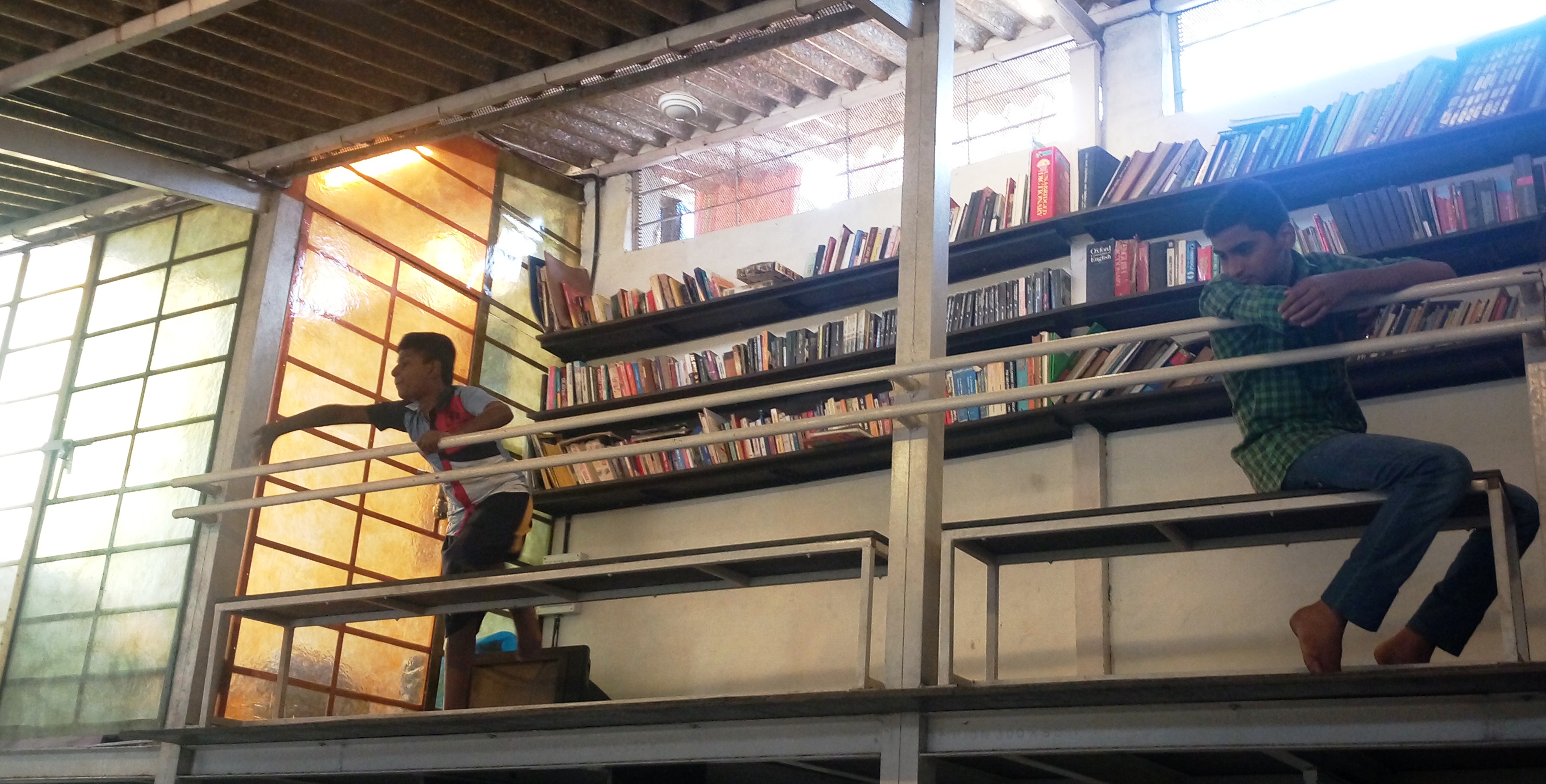 The group decided to experiment with the idea of a cultural unit in a small make-shift shed in the society, which was in bad shape.
The initiators spent most of their budget to build the structure on the inside, which is made of steel and serves some functions. "It was built with the idea that it wouldn't be easy to undo. We had the advantage and expertise of architects on board and so we spent quite a lot of effort in designing the space nicely with minimum material. This form of construction is very different and challenging because everything was required to be negotiated with the neighbours who are living in tight spaces and near the area," adds Ashok.
Specific, long-term intervention
The R and R community centre houses a library and doubles up as an arts and events space for people from all over the city "who haven't necessarily seen Lallubhai in the flesh," quips Ashok. "The events are frequented by people from the Tata Institute of Social Sciences (TISS) namely professors and students who have worked in the region. There have also been talks and debates conducted by speakers, scholars, and historians, discussing topics ranging from demonetisation to the limit extension. It is a place to somehow reconnect and give back some of this dialogue to the people in the community."
"We are not trying to just create a venue. We are trying to create an atmosphere and a tone around the place which is both open and intellectually stimulating. It has a different challenge.
"To keep this initiative going we have decided to fund this project for the next 2 to 3 years using different collaborative funding models. We are doing things within the space that stem from our own interests instead of charity which will not survive," concludes Ashok.
Voices from within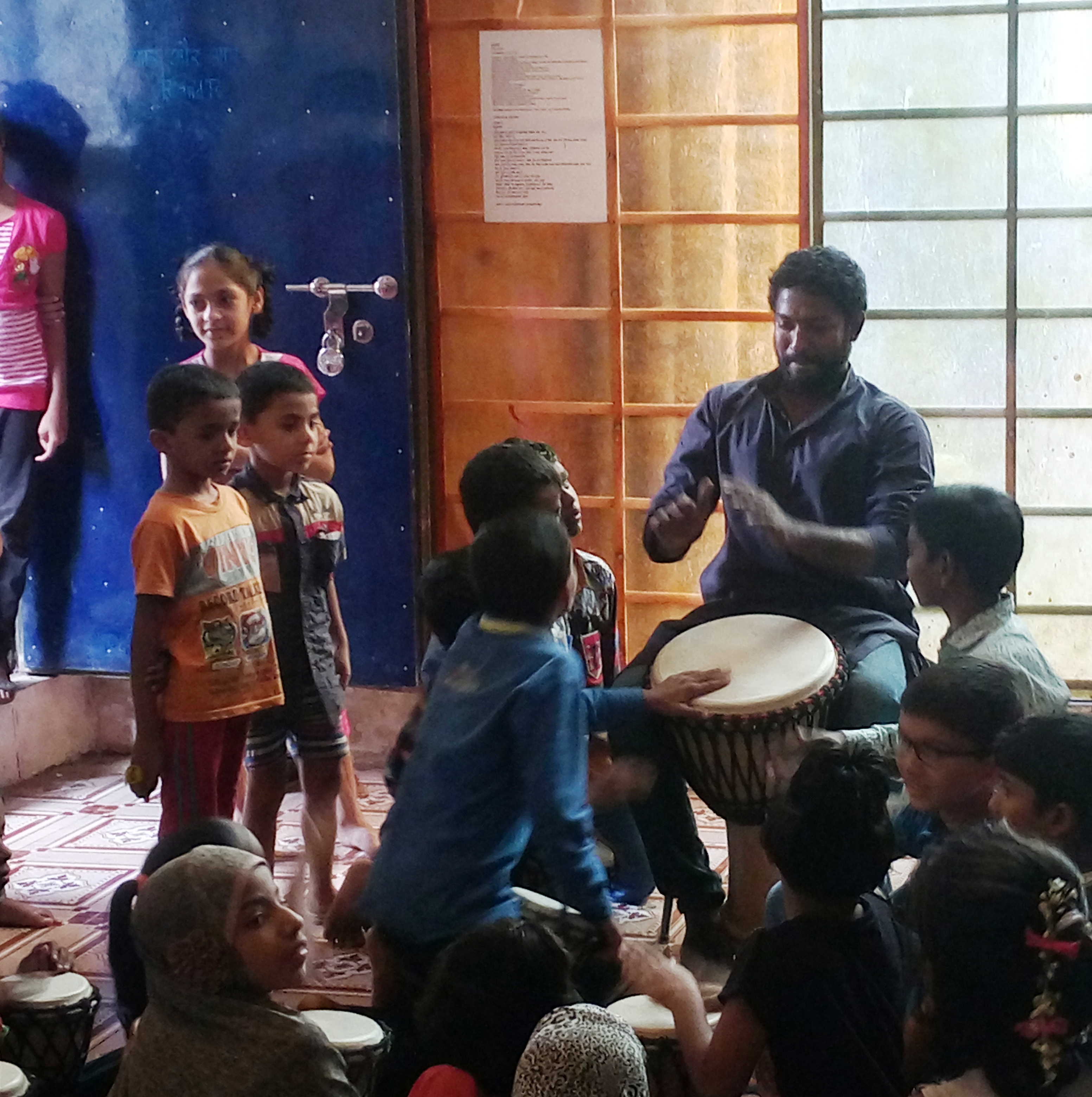 The day I visited the centre, I was greeted by the delightful squeals of a group of children trying their hand at playing the djembe, an African drum. A music class was in session. It was organised by the team of Khula Aasmaan, an NGO that has been working in Lallubhai Compound for the past two years. They had requested to use the space at the community centre to conduct music and drama sessions for the children over the forthcoming weekends.
These collaborative activities and the smooth running of the centre are overlooked by Arif Shaikh. He is a student and a member of Theatre Arts Performance Open for Rahivasi Interaction (TAPORI), a group of street theatre performers. A resident of a Bandra slum himself, Arif is well-tuned into what the children need once they step into the centre. "They like comic books with superheroes; we screened the movie Katha for them which they enjoyed and have requested a screening of Dangal; we work on DIY projects using tutorials on YouTube; we look up Wikipedia for information they may need in school; we are working on clearing and prepping the backyard for a garden; they want to learn how to dance."
Arif fondly referred to the children as 'my kids' in all that he narrated to me. He has been with them from the time the centre began, guiding, and encouraging them in all their adventures.
I also spoke to some of the children to know how they felt about the centre and if they wanted anything specific in terms of activities or facilities to be introduced. Even though the smiles and laughter of the children clearly showed how thrilled they were to get away from the grime and slime of their external surroundings to the clean and cheerful confines of R and R, an answer from an 11-year-old girl sealed the deal. She smiled and replied: "Sab kuch to hai."
For details about the R and R community centre, click here. The centre could do with some toys, books, and garden expertise. Feel free to reach out to them here.
(Written by Urvashi Bachani)
Like this story? Or have something to share? Write to us: contact@thebetterindia.com, or connect with us on Facebook and Twitter.
NEW: Click here to get positive news on WhatsApp!