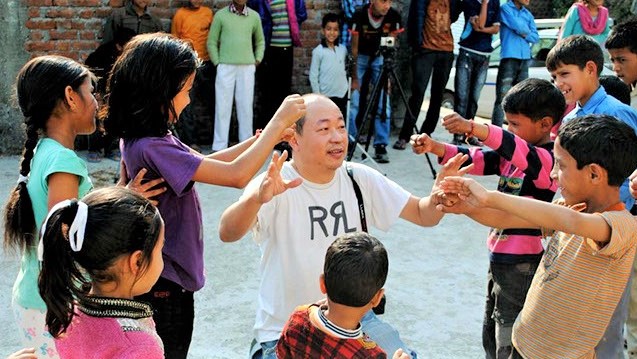 From miniature painters and graffiti artists to documentary makers and ceramic designers, artists from all over the world are partnering with the villagers of Gunehar to transform the remote Himachal village into an art destination.
"The future of India lies in its villages." – Mahatma Gandhi
There is nothing extraordinary about Gunehar, a tiny hamlet nestled snugly in the Kangra Valley of Himachal Pradesh (a five-hour drive from Chandigarh). Little brick houses, box-like shops, wandering cattle and a tiny village square make up most of it. However, the village is undergoing a renovation, but of a different kind.
From miniature painters and graffiti artists to documentary makers and ceramic designers, artists from all over the world are partnering with the villagers of Gunehar to transform the remote village into a thriving art hub.  Shuttered shops have been converted into little art galleries, empty bottles donated by villagers have become a part of art installations and chirpy village kids have starred in a short film or two of their own.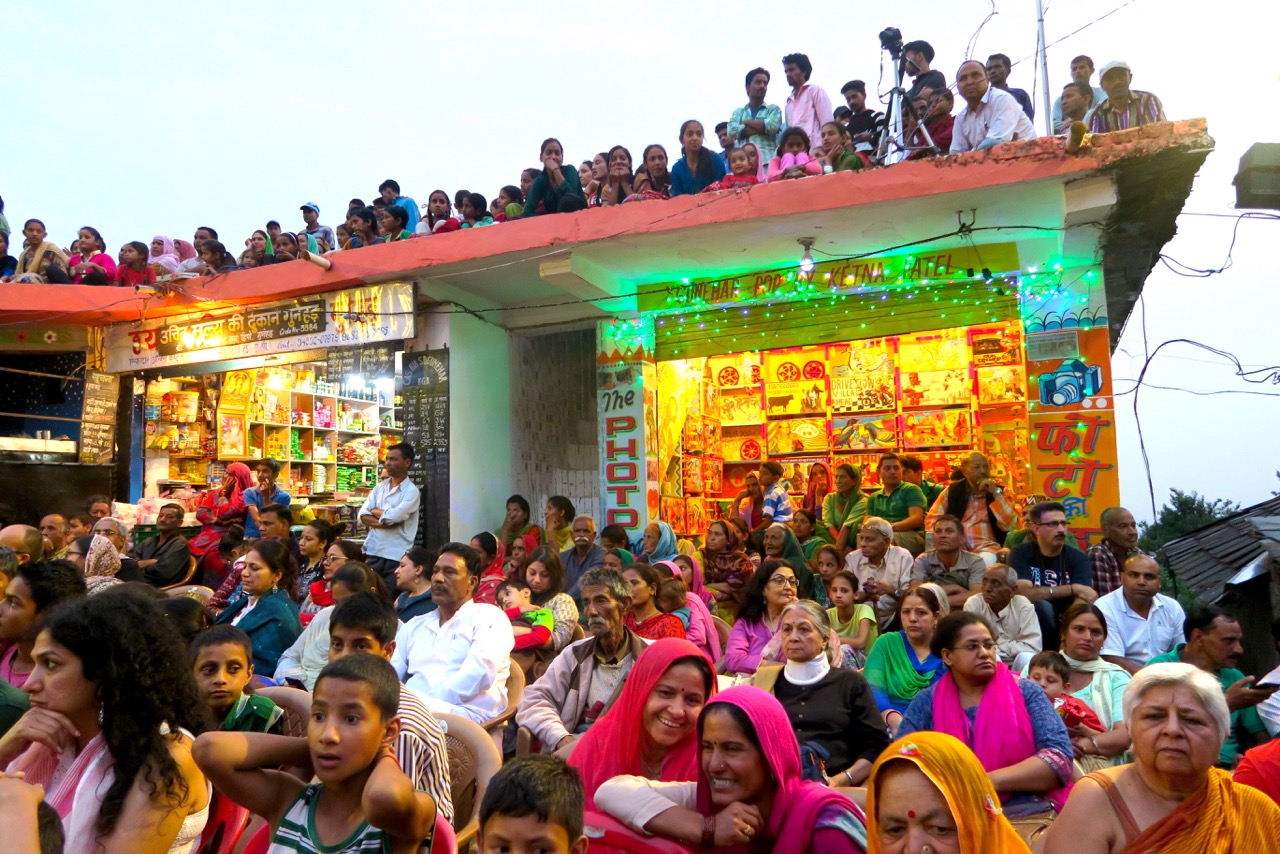 The Founder
All this is thanks to an ongoing art project founded by Frank Schlichtmann, a German-Indian art impresario who lives in Gunehar. Schlichtmann, who was born in Hamburg in Germany to a Bengali mother and German father, came to India for the first time when he was barely four.
Nearly nine years ago, he started the '4Tables Project' (a small gallery and boutique cafe) in Gunehar, with the aim of creating a space for alternative and meaningful living. Asked why he chose the village, Schlichtmann (who has worked and lived in three continents – Europe, Asia and America) says that he liked Gunehar because it was relatively untouched and also because he believed that, in a truly globalized and interconnected world, a small village could be as valuable as any other place.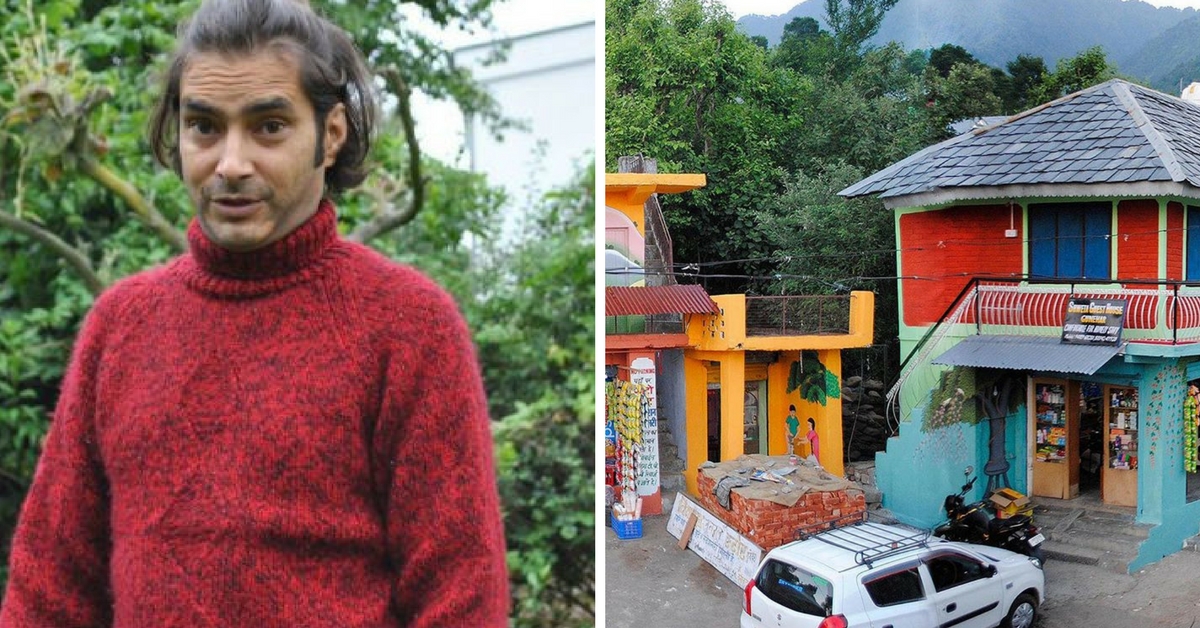 In 2012, Schlichtmann was walking through the village when he noticed that several shops built along the streets in anticipation of future business were lying shuttered. A keen observer of international art installations, he wondered if these spaces could be filled by more than the sacks of rice or flour that they were perhaps intended for.
With this idea in mind, in 2013, he invited 13 emerging artists to live in Gunehar for a month (paid entirely by him) and turn deserted shops into art projects with the involvement of the villagers. Christened "Shop Art/Art Shop" (SA/AS), the initiative got a great response from both the villagers as well as the visitors. In its inaugural year, SA/AS drew nearly 6,000 visitors!
---
You May Like: #TravelTales: Exploring Naya, Bengal's Village of Singing Painters
---
The Festival
Today, SA/AS has diversified into many smaller projects, including village beautification activities, restoration of traditional buildings and interactive village activities. Partially funded through crowd funding, the festival focuses on addressing the disconnect between the art world and the society at large. As such, the main challenge for the urban artists is to connect with rural sensibilities rather than talk down to the villagers.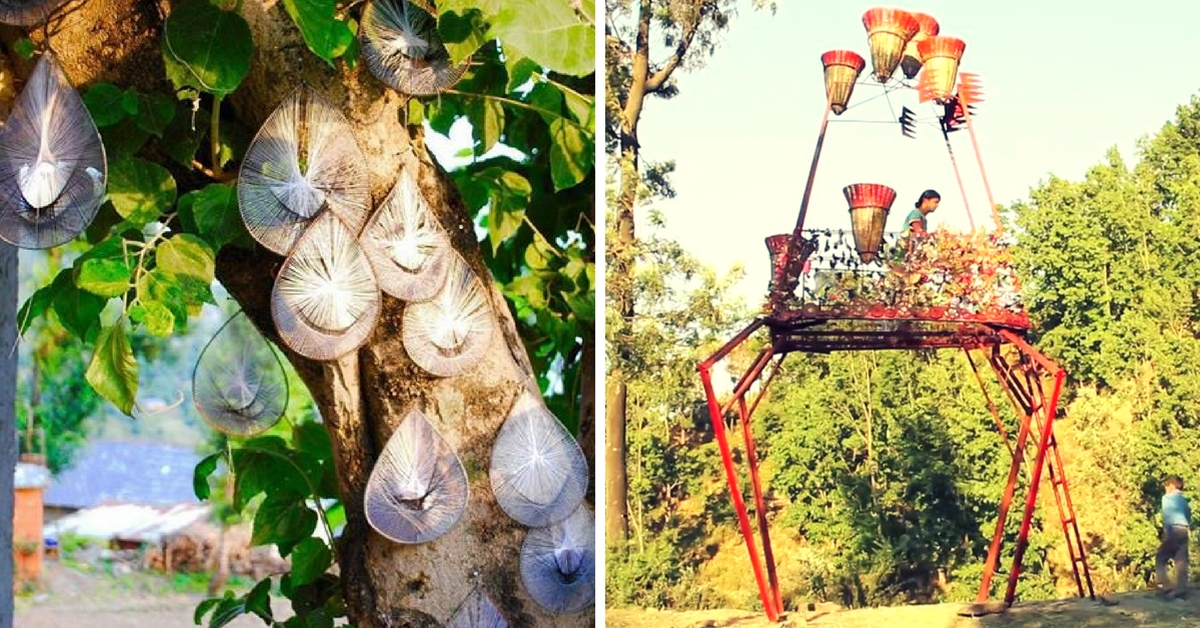 This is why the do's and don'ts for SA/AS artists include that they have to be aware of global contemporary art trends, uncompromising in their work, integrative with villagers and local themes in their work. They also have to incorporate local material and methods in their work and be able to transcend boundaries: rural-urban, traditional-modern and national-global.
Thanks to this "artivism" initiative, Gunehar now hosts an art gallery, an ecological boutique hotel, a fusion restaurant and other infrastructure. The final week of the event also hosts a grand fashion and musical show involving local residents. All these have been carefully planned and implemented in a manner so as to preserve the cultural fabric of the village while developing it into an alternative art destination.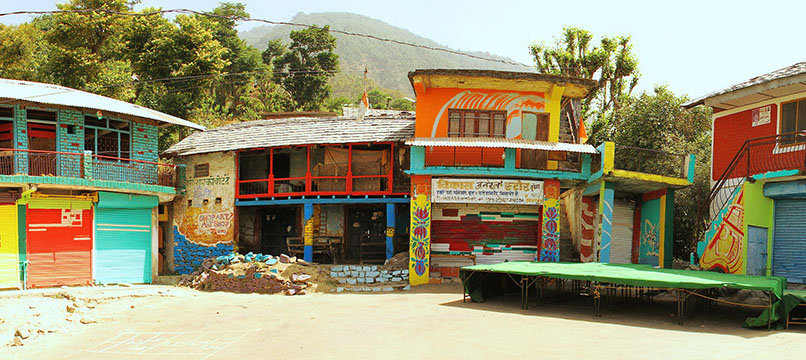 As for the visiting artists, SA/AS is an opportunity to experiment in the unique environment of the village, explore new methods, and receive the support and mentoring of seasoned practitioners. Ksenia Bosak, a young Russian web designer, lives in a village home and has designed, on a voluntary basis, a colourful "virtual village" as a fun way to explore the real one from anywhere in the world. Through this portal, one can virtually enter the art galleries, engage in conversations with the artists or buy unique stuff made by the artists as well as the villagers!
Photo Ki Dukan, founded by British-Indian pop artist Ketna Patel, invites local children, adults and families to paint, write or get photographed. A selection of these messages, writings and photographs of locals are then turned into material for digitally created pop art by Patel.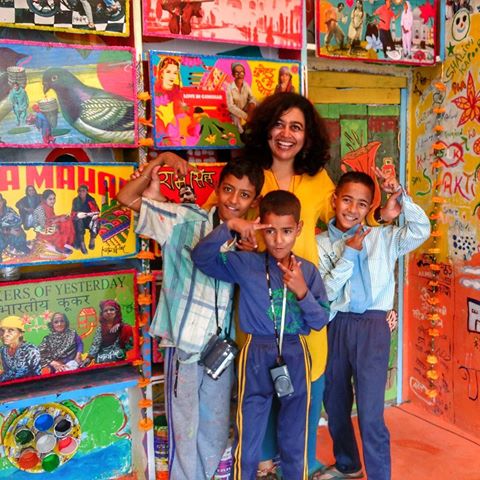 Rema Kumar's Gunehar Fashions and Gaddi Fashion Show is highly influenced by Gunehar lifestyle and explores the possibilities of local fabrics and designs. Tucked inside a former tea shop, the store employs Saroj, the only woman in Gunehar who can still stitch luanchadis (the traditional dress of the Gaddi tribe).
The graffiti works of Delhi artist Gargi Chandola and her team from the Kangra Miniature School is an amalgamation of traditional and modern artwork. Other than creating stunning miniature motifs on the walls of the village square, Chandola has also painted the walls of some of the shops on the request of villagers.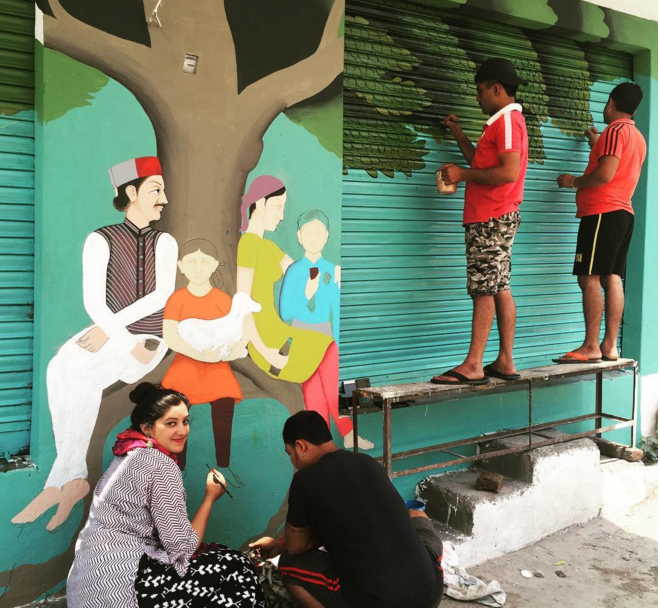 Delhi-based artists Meenakshi and Jey Sushil have already renovated Gunehar's community watershed with the help of village kids while Mudita Bhandari, a renowned ceramic artist from Indore, is transforming an entire wall with her architectural terracotta forms (created by mixing materials used in local homes).
Sheena Deviah from Bengaluru and Bianca Ballantyne from Goa have started the Hidden Spaces Collective, a project that uses materials discarded by local residents to create art installations in unused courtyards, stairs, terraces and construction sites.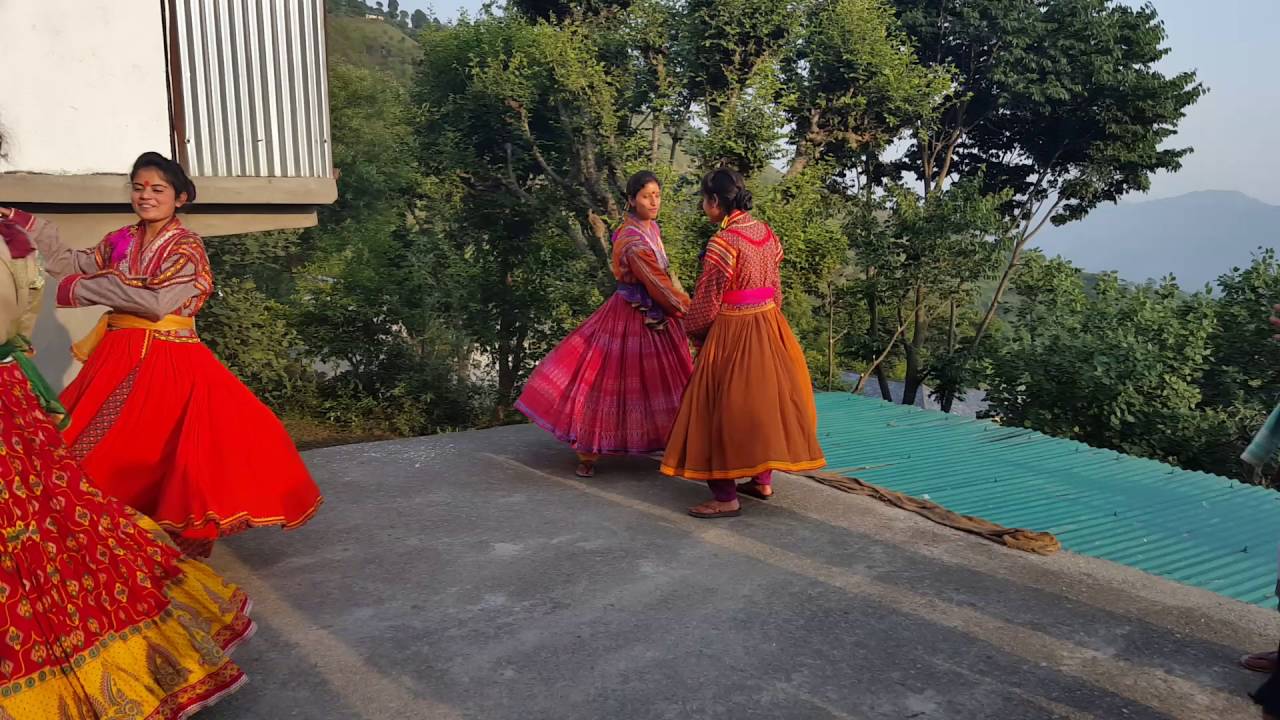 IITian Amrit Vatsa, a documentary filmmaker, maintains a stunning visual diary of the activities taking place in the village and is followed by art lovers across the globe. One of his films is based on Maniram, a nondescript village gardener who Amrit once found cleaning a gun. Screened during the festival, the short 3-minute film left the audience in splits.
However, the most popular (and undoubtedly the noisiest) shop in Gunehar is the low-budget Tuk Tuk Cinema set up by K. M. Lo, a Singapore-based filmmaker who holds workshops on cinema in Cambodia, China, the Philippines, Thailand and Laos. Lo, who has a tail of children trailing him wherever he goes, teaches them how to make cinema cost as little as one rupee. During the festival, the entire village turns up to watch their own Hamlet in the open theatre every Sunday.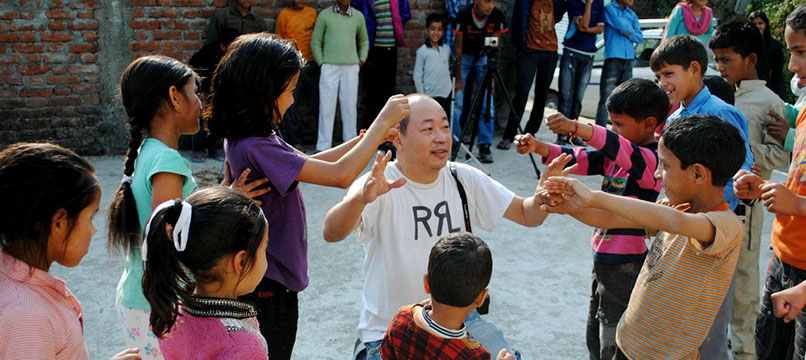 In 2016, SA/AS's second edition was hosted by Schlichtmann in collaboration with artists Ketna Patel and Puneet Kaushik, and involved 11 contemporary artists from around India and the world. A huge success, it attracted more than 10,000 visitors. The third edition of the triennial conceptual art exhibition will take place in 2019, but in the interim, visitors have much to admire in this bucolic and remote Himalayan hamlet.
The village of Gunehar is very close to the popular paragliding destination Bir-Billing. Yet, at one point of time, the village could not be even be located on the map. Today, thanks to SA/AS, it is gradually making its presence felt on the Himachal tourism map as a unique art destination. Other than being the village kids' window to the world, this wonderful initiative is also providing sustainable livelihood options to the locals while bridging the rural-urban divide in art.
For more details, contact
The 4tables Project, Gunehar Village, Kangra District
Phone No: +91 97 36580963
Email: shopartartshop@gmail.com
---
Also Read: In This Tiny Karnataka Village, Farmers and Shopkeepers Debate over Shakespeare and Kalidas
---
We bring stories straight from the heart of India, to inspire millions and create a wave of impact. Our positive movement is growing bigger everyday, and we would love for you to join it.
Please contribute whatever you can, every little penny helps our team in bringing you more stories that support dreams and spread hope.