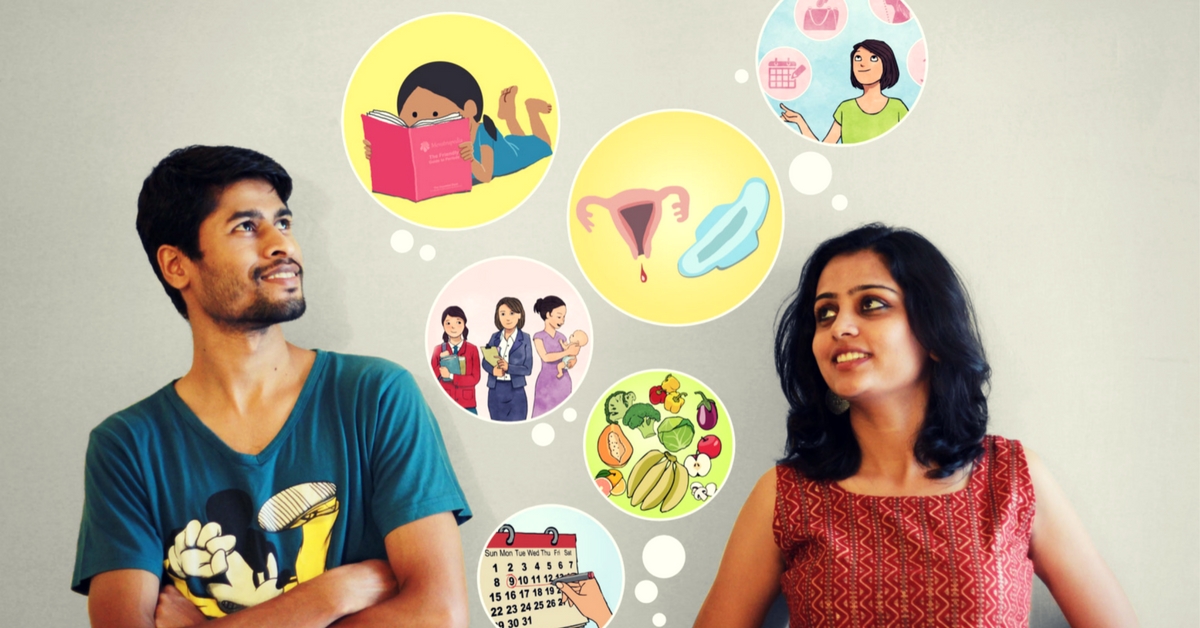 Aditi Gupta is the co-founder of Menstrupedia: a fun and engaging period guide for girls! Aimed at eradicating the taboo around menstruation in India, Menstrupedia is reaching out to the masses in different formats including a website and blog, printed and digital comic books as well as on-ground workshops.
Aditi Gupta is the co-founder of Menstrupedia: a fun and engaging period guide for girls! Aimed at eradicating the taboo around menstruation in India, Menstrupedia is reaching out to the masses in different formats including a website and blog, printed and digital comic books as well as on-ground workshops.
Menstruation. The stigma around this natural biological process that takes place inside a woman's body is so huge in India that one rarely even hears this word spoken out loud. Thousands of euphemisms used to address menstruation are proof enough of the taboo that surrounds periods and teaches girls to do their best to hide it. The lack of dialogue and shame surrounding menstruation leads to unawareness on a far larger scale.
Menstrupedia is one of the very few initiatives which are trying to change the picture.
Founded by Aditi Gupta, Tuhin Paul and Rajat Mittal, Menstrupedia is a friendly guide to periods which helps girls and women understand menstruation in a pure scientific light with the help of engaging cartoons.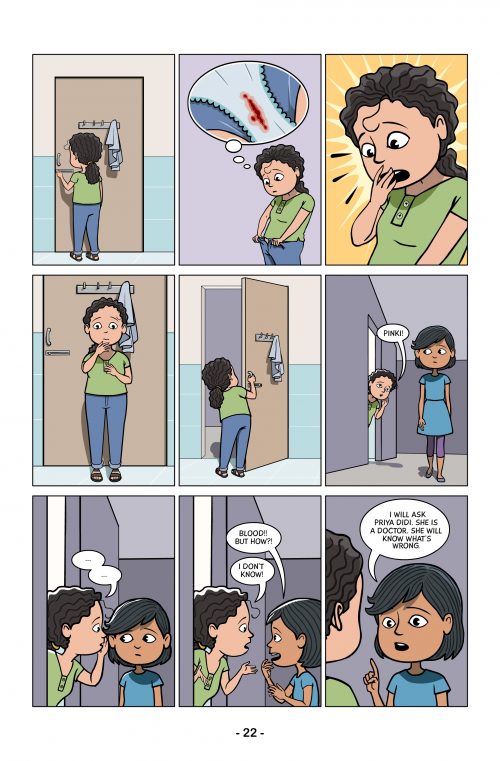 Menstrupedia is the brainchild of Aditi, a new media graduate from National Institute of Design (NID), for whom it was a way of helping every girl in India avoid the taboos she faced herself. Born and brought up in a small town of Gujarat, Aditi witnessed numerous taboos and misconceptions about menstruation in her home as well as in society. She gradually realised that the taboo was omnipresent, no matter where she went and whom she addressed. She decided to change the way we look at menstruation. Along with her then batch mate Tuhin, she developed a Hindi comic book to educate girls about menstruation as her final project at NID. She even won a Ford Foundation scholarship for the same.
Aditi and Tuhin decided to take the initiative forward  and today, the Menstrupedia website has over one lakh visitors every month. The Menstrupedia Comic: The Friendly Guide To Period For Girls that released in September, 2016, has been picked up by more than 75 schools and 25 NGOs across the country. The comic has now reached over 70,000 girls around India. It has also been translated in several Indian languages as well as foreign languages like Nepali and Spanish, and has been shipped as far as Nepal, South America and Philippines.
The Better India caught up with Aditi and talked to her about her inspirations, challenges she has faced and the big problem of sex education in India. Here are excerpts from the conversation:
On her inspiration: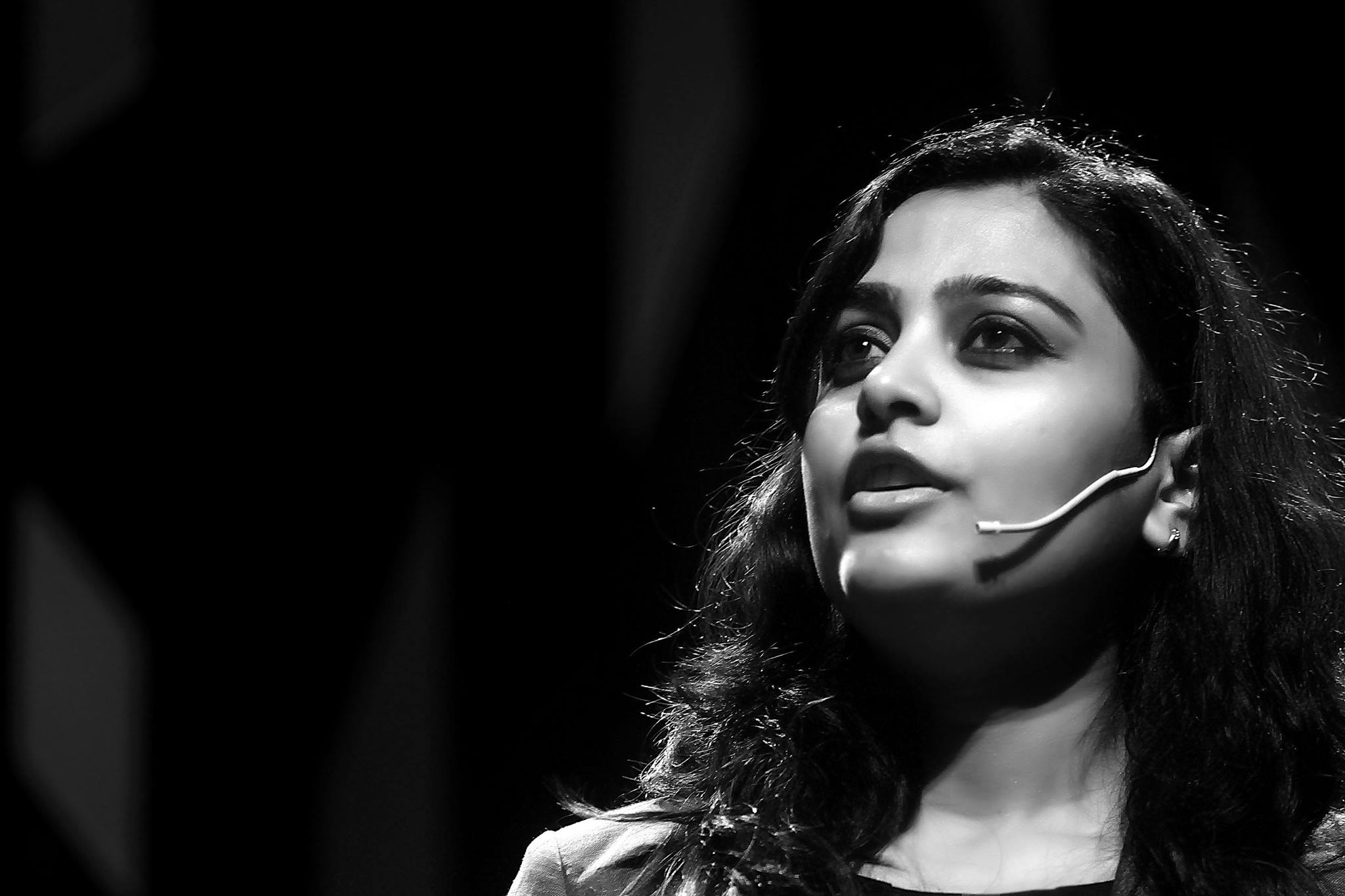 The people who are working to provide menstrual education are certainly an inspiration for me. Every single word, every single article that questions menstrual taboo inspires me. The hope that we are together, as a society, raising our girls right by educating them about menstruation. The hope that when these girls turn mothers, they will pass on that knowledge keeps me going. They won't be passing on the taboos to their daughters.
On the biggest challenge of promoting period education:
When we started Menstrupedia, we decided to address the biggest problem- the lack of education about periods and sex. The biggest challenge in the process is shame- people are ashamed of talking about periods and that's what we're trying to change. It has been our biggest win; we have enabled people to overcome the shame. When people use our website and comics, when they share these with their daughters, it helps them rise above the shame, the discomfort.
On why we need to stop using shame to sell sanitary napkins:
The whole narrative around periods and sanitary napkins could be flipped. For decades, sanitary napkin advertisements have used shame to sell menstruation which further propagates shame in the society. It's quite hypocritical, because if you see the same stain is sold in a very positive way in Surf excel ad. It says daag acche hain! But period stain is considered a huge taboo. The same stain is used in a shameful way by using a jingle like 'laaga chunri mein daag' to sell a sanitary napkin.
---
Also read: Of Stick Figures and Tongue-In-Cheek Humour – Meet the Creator of 'Sanitary Panels'
---
The narrative is slowly changing. There are some beautiful campaigns like Whisper's 'Touch the Pickle'. It talks about breaking the taboo. Whisper also brought leading actresses to talk about periods and it's encouraging to see these women shaking off the taboo around period talk.
However, the advertising industry has its limitations. They cannot show blood in the advertisements. Until a few years ago, sanitary napkin ads weren't even allowed to be aired during prime time on TV! So, it's not just the companies that are responsible; it's the overall attitude. What we have seen in our journey that now more and more people are talking about menstruation. And that helps the process of dialogue.
Why put all the blame on media? At our homes too, we need to talk openly on these issues. That's where the change starts. As long as we are going to get uncomfortable seeing period being discussed openly, commercial media isn't going to address these issues.
On the importance of promoting menstrual hygiene in rural areas: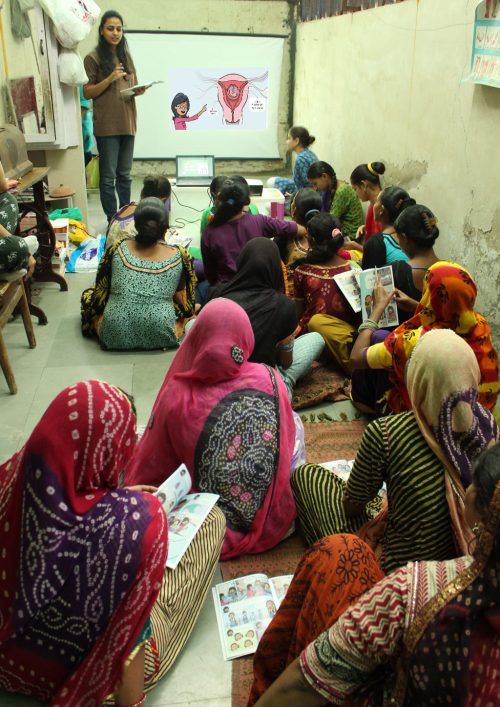 In our workshops, we do train girls about menstruation; we teach them about sanitary products and how to use them. We also install insinuators in the villages.
Accessibility to sanitary napkins or other hygienic methods is very important. My problem is not with using rags and cloths. It is hygienic and environment-friendly. However, it is treated in a very unhygienic manner due to misconceptions and lack of knowledge. They don't dry it in the sun and keep it hidden in dark rooms, which leads to germs and infections. There are more practices like this. Girls should know all the options that are out there
On one shocking similarity when it comes to menstruation in urban and rural India:
I have taken workshops in the most rural, remote areas in Gujarat, as well as in the most posh, urbane school in Mumbai. If one thing is common to both schools, it is the taboo surrounding menstruation. I find it easier to talk about these things in the rural areas, because I find that people are more open to listening to what we have got to say. In urban schools, they seem to feel like knowing everything (which isn't the case most of the times). Menstrual unawareness has nothing to do with whether people are educated or uneducated, urban or rural. Throughout the walk, I have observed that belief systems are the same. Menstruating women are considered impure and secluded even in the most modern families.
On the need to involve boys in the menstruation dialogue: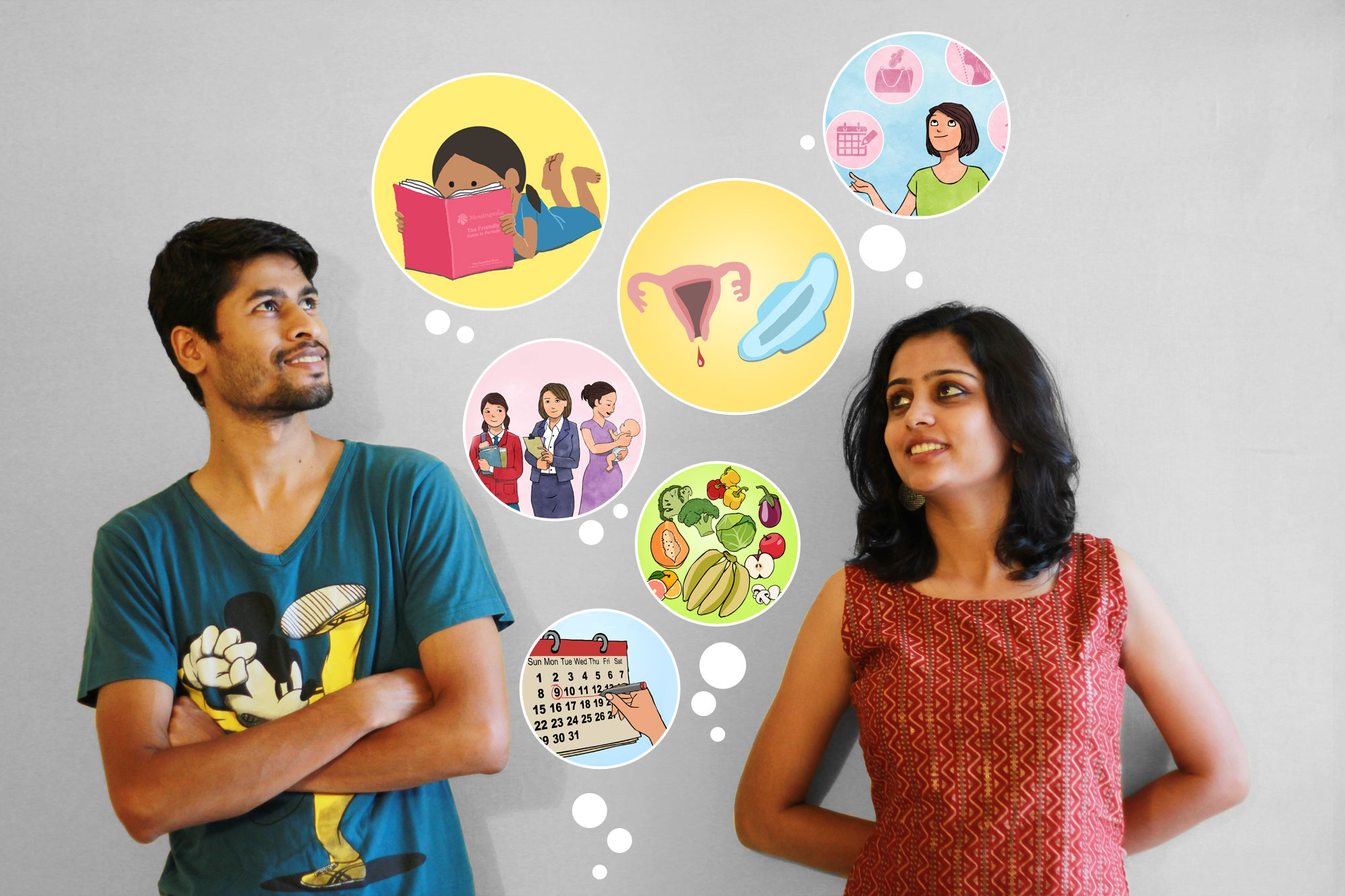 The first thing that we should do is to start involving men in our homes in the conversation about menstruation. We teach our girls to be ashamed of their period and we let our boys be ignorant about it. When girls get their periods, they are advised to hide it from her father and brother. If she has to hide it from her own father and brother, how is she supposed to share it with any other man? This is happening in every home.
---
Also read: This Woman Has Taught 6,000 Girls across 9 States That Menstruation Should Not Disempower Them
---
At a personal level, we shouldn't wait for any school, educational institute or organisation like Menstrupedia or Goonj or Eco Femme to initiate the dialogue! Just involve the men in your home. Our husbands, brothers and sons love us, they care about us, they are compassionate! They will be supportive and glad if we include them. Many men have approached Menstrupedia, and wanted to know about it. Menstrupedia's two co-founders are men; the comic is designed by Tuhin himself!
On the state of sex education in India and the response from schools:
Our sex education is a complete mess and everyone is suffering for it. The way menstruation is addressed in the textbook is purely academic. For example, they censor the term vagina. Students are taught about digestive system, respiratory system, but not about the reproductive system. A girl would know where her heart is, where her stomach is, but she wouldn't know where her uterus or ovaries are. It will take a lot of time to fix this.
Schools have been overwhelmingly acceptable to the Menstrupedia comic books. Because one thing we took care of while designing the books is that we have kept it culturally sensitive. We involved many parents, doctors, teachers and experts in the process and have ensured that there is no 'red flag' content. 75 schools across India have adopted our book, all through word of mouth as we don't have marketing outreach as such.
Schools give our books to students in bulk. So we are glad we are reaching many students.
---
Also read: How Swati Made Menstruation Not Only More Hygienic But Also More Profitable For Rural Women
---
On how she tackles period myths during workshops:
We do not hurt people's religious sentiments. We don't start with myth busting. We start by building on facts. When we teach we talk about biology. The questions are simple: if you don't consider passing one's stools as an impure thing, then why consider menstruation as a taboo?
We always establish the relationship between biology and periods. Usually, the belief in myths is caused by not knowing this process. Sometimes it so happens that the girls are taught about science in the class, but the situation at home is completely different. Mostly, it's not in the girls' hands to change the situation. But we try to build their confidence, make them believe in their heart that there's nothing wrong with their period.
We leave a copy of Menstrupedia Comic with every girl and ask her to go through it once more with her mother. So that way, even the mother is involved in the process.
On the best feedback she has ever received: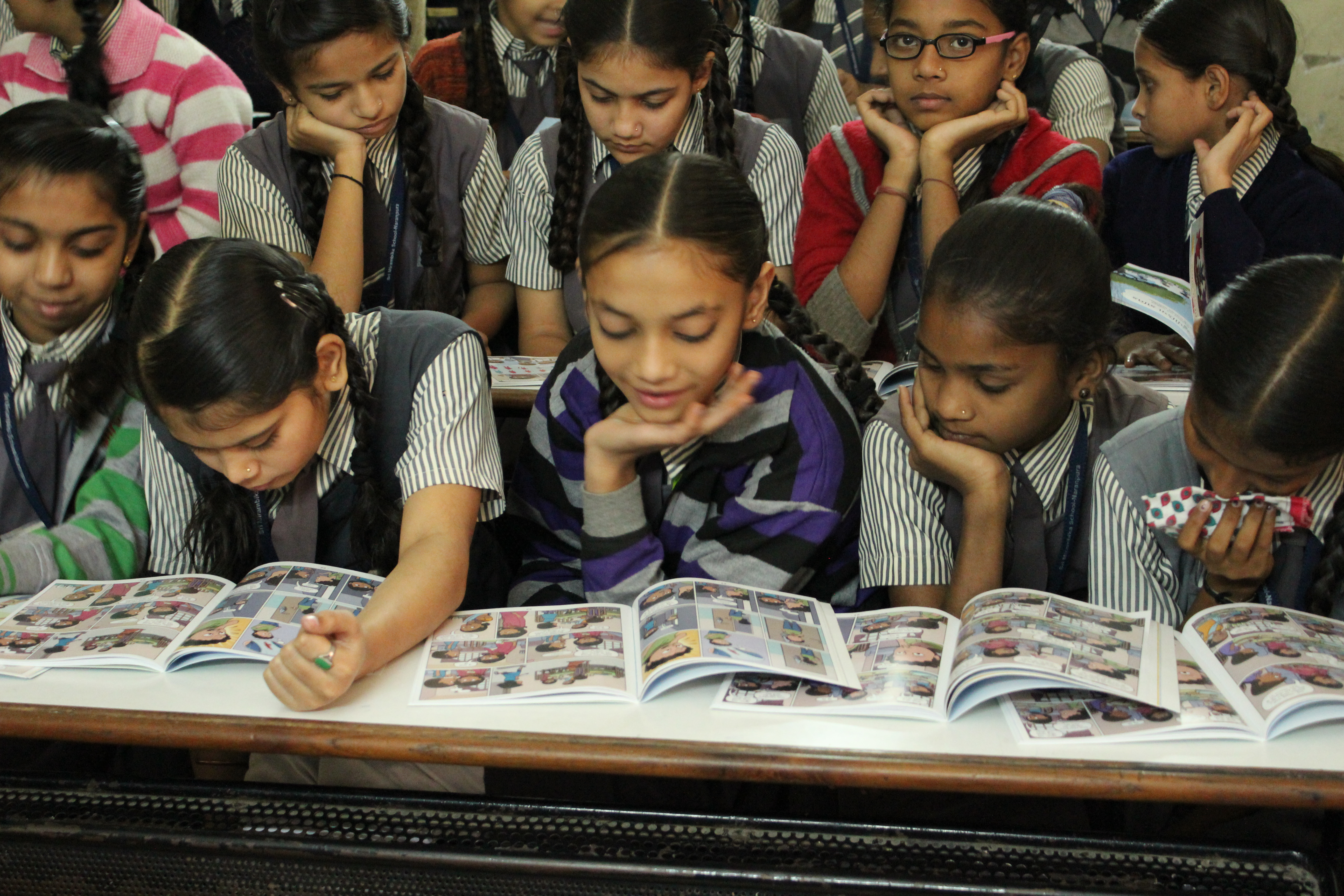 There are very beautiful reviews! One common feedback I get from the women of my generation is "Where was this book when I was growing up?" One review said that a mother ordered the book for her daughter before she started menstruating and read it with her to make her understand. And after a few months, when the girl got her period, she was so cool about it!
On her future plans for Menstrupedia:
At Menstrupedia, we try to build educational infrastructure for menstrual education. We are getting these books translated in many more languages so as to be able to include more and more girls. We are even printing and selling the books in Nepal. Our books are translated into Spanish as well and are reaching to South America as well. We only need to translate the books in eight more Indian languages and we will reach/would reach throughout India. We also have an audio-visual comic book, which is desktop compatible right now. We will soon make it mobile compatible. Our dream is that no girl should ever feel that menstruation is impure!
To know more about Menstrupedia, visit their official wesbite here, and Facebook page here.
Like this story? Or have something to share? Write to us: contact@thebetterindia.com, or connect with us on Facebook and Twitter.
NEW: Click here to get positive news on WhatsApp!
We bring stories straight from the heart of India, to inspire millions and create a wave of impact. Our positive movement is growing bigger everyday, and we would love for you to join it.
Please contribute whatever you can, every little penny helps our team in bringing you more stories that support dreams and spread hope.
Tell Us More