It has been three months since disaster struck Uttarakhand in June 2013, and the situation is still alarming. However, in Uttarakashi district where there has been widespread property destruction and loss of livelihood, the situation is worse, with not enough food supplies and no doctors to examine the sick. For a population of almost 3.5 lakh people in Uttarkashi, there is not one single woman doctor. The Mountaineering community is still reaching relief supplies such as medicines and food to the far-flung villages on foot as road connectivity is lost. Given this scenario, we here present two initiatives working towards rebuilding the lives of the locals.
SAHIL 'For Uttarakhand'
The adventure community across Uttarakhand has been on their feet since the day the tragedy struck the state of Uttarakhand. When the government was busy concentrating on rescuing the pilgrims and tourists safely out of the state, the adventure community reached out to the neglected local communities across the affected districts. Rafters from Rishikesh were helping villagers from Chandrapuri and other villages with food and medicine supplies. It is during this time that Aditya Shinde, a professional mountaineer sitting far away in Pune decided he wanted to do something for the people of Uttarakhand.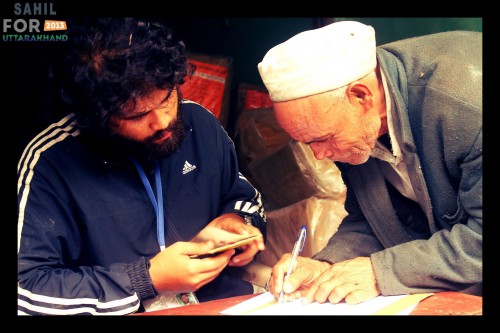 Aditya says:
Uttarakhand has always been second home for me, and while I am from Pune, I spent more time in the mountains. Therefore, it was only natural for me, when something of this magnitude happened in the mountains; it was time to give back to the people the joy and happiness the mountains have given me. And, so I initiated a plan to work on distributing relief and medical aid. There has been no looking back since then.
To begin with Shinde started a FB page called 'For Uttarkhand' and called out to fellow mountaineers who would be interested in volunteering relief operations in Uttarkashi district.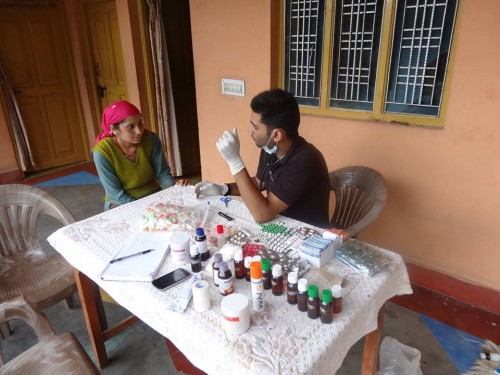 After having spread the word through social media, Shinde got in touch with Anjali Babbar Basu who runs SAHIL (Social Association of Humane Individuals for the Living). SAHIL has been doing projects in the education space and also has done rehabilitation projects during the Gujarat earthquake and other natural disasters in the country. After having discussed the plan with Basu, Shinde decided to be on ground and execute the project. That's how began the initiative SAHIL 'For Uttarakhand'.
"We are engaged in providing relief and medical aid to the villages constituted under divisional block 'Bhatwari' in district Uttarkashi," says Shinde.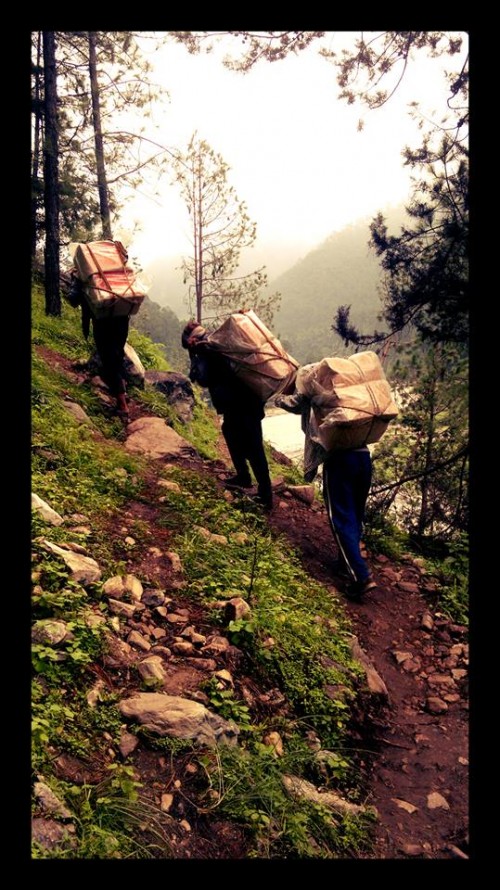 The road (100kms) from Uttarkashi to Gangotri, which connects all the villages under Bhatwari, is destroyed. For the last two months, the villagers here are cut-off from regular access to supplies and medical aid. For a villager, to buy even a kg of sugar or salt, they have to trek anywhere between 40-50 kms. Not every villager can do that. Informs Shinde:
This is where we come in. Our group that consists of a supply team, camp managers and administrative team, works cohesively on ensuring a continuous supply/distribution of ration and medical aid to the people of affected areas.
Currently, SAHIL 'For Uttrakhand' is the only organization that is providing relief and medical aid ahead of Uttarkashi to areas that are cut-off and inaccessible via road. The volunteers trek over a distance of 32 kms with loads of 20-40 kgs to deliver supplies at their advance base camp in Bhatwari. They have been able to do this successfully so far as they have also got support from Goonj, a Delhi-based NGO which has been forthcoming in reaching them with supplies from Rishikesh, as well as the district authorities who have supplied them with stock locally available in Uttarkashi.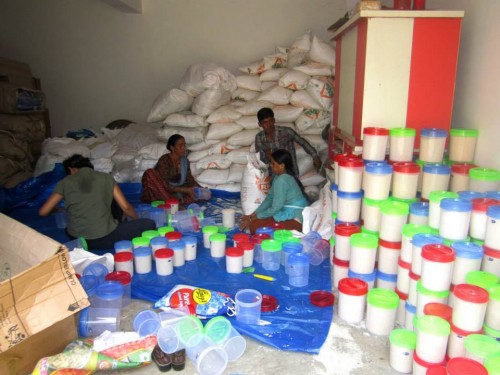 The core team of SAHIL 'For Uttarakahnd' consists of group of mountaineers including two Everesters – Krushna Patil and Arjun Vajpayi, although not for too long. Most volunteers stay for about 4 days to a week depending on their timelines. What has helped Shinde in undertaking such a task has been his experience of organizing and planning expeditions. He says:
Our experience in the mountains and especially from expeditions has helped us create a plan to distribute supplies in remote areas that are now cut off and inaccessible by road and other aid organizations.
Further, local porters who carry load up to 50kgs and trek across the mountains to reach these villages accompany the volunteers. In a day, on sheer manpower, the team ferries load up to 800 kgs from Uttarkashi to Bhatwari. "We ensure no wastage occurs in the stores, as the turnaround time for distribution of supplies is quick," explains Shinde. In a way, SAHIL 'For Uttarakhand' has provided livelihood to the porters, their families and other locals engaged in the store.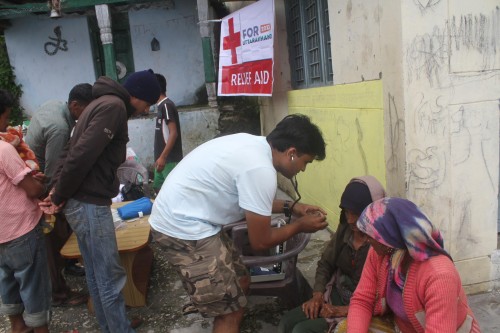 Battling bad weather conditions, continuous landslides and lack of roads, SAHIL 'For Uttarakhand' has managed to reach out to 1500 people across 14 villages in the district. Apart from these, they have also reached out to approximately 300 outsiders namely people who do not have ration cards – migrant labourers and the BRO and GREF workers. The organization has also conducted 3 medical camps so far with 3 doctors namely Dr. Aditya Banerjee, Dr Shankar Murthy and Dr. Bhavin Kodiyatar volunteering and treating 757 patients across 8 villages.
For the moment, our relief and medical aid work will continue till such time that the roads and connectivity for the villages between Uttarkashi and Gangotri is not re-established.
says Shinde. There is still a requirement for doctors.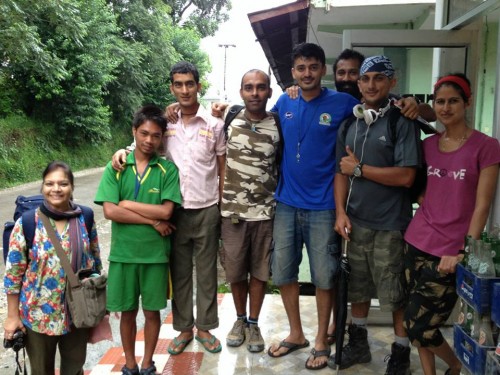 Going forward, SAHIL 'For Uttrakhand' intends to take up rehabilitation project in Uttarkashi district. Explains Shinde:
Rehabilitation is a broad spectrum work phase, and can include anything from rehabilitating an entire village into a new area, building homes or schools, or boosting the economy of the affected areas.
They are currently evaluating the situation for the same. SAHIL 'For Uttrakhand' has been raising funds from family, friend and corporate sponsors to keep continuing the work they have started.
Summiting4Hope
After having been on rescue and relief operations in Uttarkashi, Uttarakhand for almost 25 days in June 2013, Journalist and Mountaineer Anusha Subramanian decided to take up the cause of Uttarakhand as a bigger mission. She, along with a few mountaineer friends, decided to rehabilitate the people of Uttarkashi district, one of the worst affected districts after the disaster.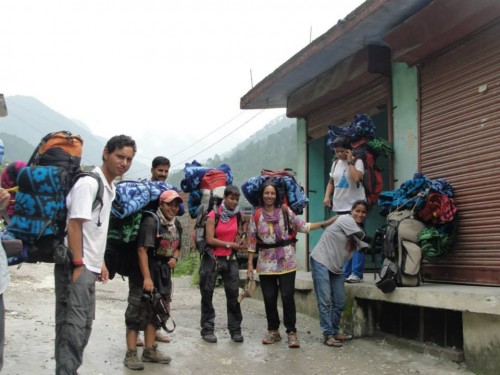 Subramanian's Summiting4Hope is an initiative wherein she and a few other mountaineers and adventurists are looking to raise funds for various identified causes through climbing and other adventure activities. The first project under Summiting4Hope is climbing and raising funds for rehabilitation and rebuilding of Uttarakhand. Says Subramanian:
We wanted to take the cause of the adventure community first and all those directly and indirectly associated with the business. Adventure companies here have lost all business for the year. As a result local porters, cooks and guides who help these companies in various trekking trips and expeditions have lost business. Therefore, I thought best would be to start with doing something for this community.
Adds Puri: "The conditions in the villages and on the roads after the disaster were so horrendous that even we who are mountaineers and trained in such conditions found them challenging. Thus, even though the task ahead is daunting we are determined to push through. Especially for me, as I am also from Uttarakhand and these are my own people, I feel that if we don't rise to help ourselves then finding a long lasting solution will not be possible."
The first Climbing Expedition in this endeavor is intended "In Uttarakhand, for Uttarakhand and by Uttarakhand". The climbing expedition is being organized by 3Point Adventure, a local Uttarkashi based adventure sport company owned by Yashwant Panwar and Jay Panwar.
The 12 member team of climbers from across India including a few local Uttarakhandi climbers will climb Rudugaira Peak (5819 mts) part of the Gangotri range of mountains in the Garhwal hills. The climb is scheduled from October 1 to October 14, 2013.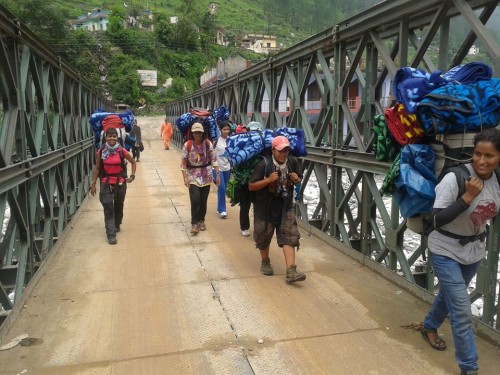 Recent Government statistics estimate that 464 villages have been affected across 4 blocks in Uttarkashi district alone. These include 14,353 affected families that amount to a population of close to 60,000. "Having seen the destruction in Uttarkashi and its upper reaches up close and personal, we intend to continue our work in this region for a longer duration," says Subramanian.
Summiting4Hope also has support from Dehradun-based Leap Foundation, which is working on rehabilitation projects in Uttarakhand. To make this noble endeavor a success, Summiting4Hope has raised funds from family, friends and even few corporate associates and small businesses. Going forward, Summitting4Hope will take up other fund raising activities such as a photography exhibition be able to continue the work in the long term.
Photo Credits: SAHIL 'For Uttarakhand' – Aditya Shinde; Summiting4Hope – Yashwant Panwar and Anusha Subramanian
Anusha Subramanian started her journalism career 17 years ago as a general news reporter with Mid-Day. She has worked in the past with The Observer of Business & Politics, now defunct, Business Standard, Hindustan Times and Business Today from where she recently quit as its Associate Editor. In 2012, she bagged the British Chevening Scholarship for the South Asia Journalism programme, and the Press Club's National Award for Excellence in journalism for her investigation into how environment clearances are given out for projects. She has been interviewed by CNN's South Asia bureau and BBC Radio 4, London as a media expert talking about the Indian M&E sector. Anusha is a trained mountaineer and when she is not writing she is climbing mountains.