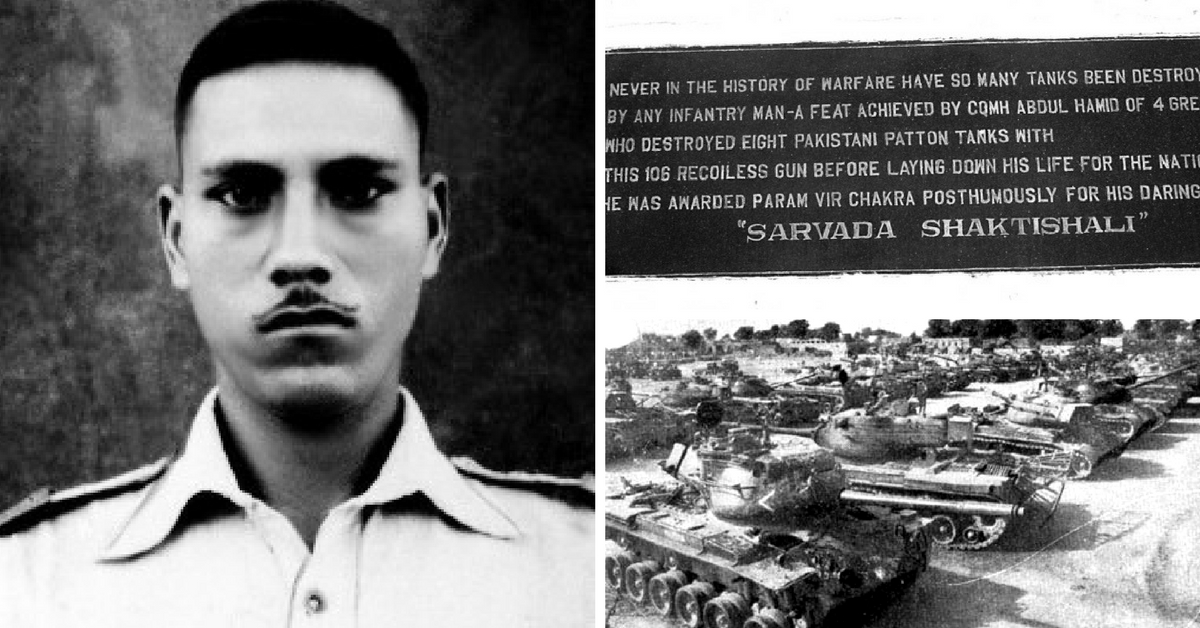 Here's the story of Havildar Abdul Hamid, a soldier whose act of extraordinary courage and sacrifice was responsible for giving the Indian army a crucial edge in the Indo-Pak War of 1965.
A mere 60 km separates the tiny village of Asal Uttar from Amritsar in Punjab. The village itself is as unremarkable as the flat plains abutting State Highway 21 that connects it to Amritsar. A couple of km short of it is a memorial to Havildar Abdul Hamid, arguably India's greatest military hero.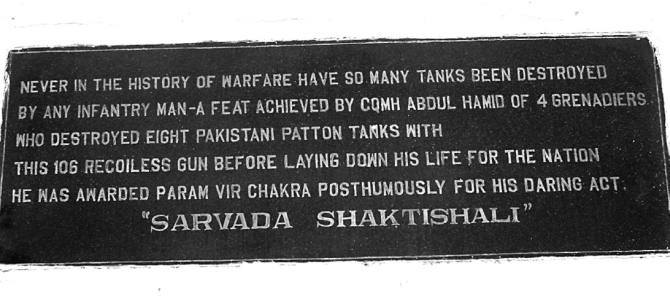 While Hamid's name is revered in India's military circles but, his legacy remains largely unsung. It's been over 50 years since this Param Vir Chakra Awardee died defending his country at Asal Uttar during the Indo-Pak war of 1965. However, few people know about this braveheart and his extraordinary acts in the battle field.
Here's the story of Havildar Abdul Hamid, a soldier whose act of extraordinary courage and sacrifice was responsible for giving the Indian army a crucial edge in the Indo-Pak War of 1965.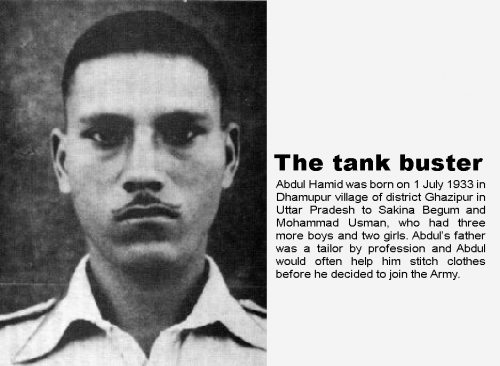 Abdul Hamid was born on 1 July 1933 in Dhamupur village of district Ghazipur in Uttar Pradesh to Sakina Begum and Mohammad Usman, who had three more boys and two girls. Abdul's father was a tailor by profession and Abdul would often help him stitch clothes before he decided to join the Army.
Hamid was 20 years old when he was recruited at Varanasi into the Army. After undergoing his training at the Grenadiers Regimental Centre at Nasirabad, he was posted to 4 Grenadiers in 1955. Initially, he served in a rifle company and was then posted to a recoilless platoon. He fought in the '62 war in Thang La, then in the North-East Frontier Province, as part of the 7 Mountain Brigade, 4 Mountain Division.
After ceasefire was declared his unit moved to Ambala where Abdul was appointed Company Quarter Master Havildar (CQMH) of an administration company. Nevertheless, being the best shot with the 106 mm recoilless rifle, the battalion commander wanted him back as NCO of the rifle platoon.
In 1965, when war broke out between India and Pakistan, Abdul Hamid had already completed ten years of service in the Indian army and was serving in the 4th Grenadiers. The news came that the enemy had attacked Aknoor in Jammu with the goal of cutting off communication and supply routes to the Indian forces on the border of Jammu and Kashmir.
As Hamid's battalion, the 4th Grenadiers occupied a vital area near Chima village on the road to Punjab's Khem Karan sector, they were given the job of holding the enemy near the village of Asal Uttar. Firm hold of this area was essential for the Indian plan of defence and so the 4th Grenadiers was ordered to move forward and to collect their 106 RCL guns from the nearest ordnance depot. Hamid was one of the non-commissioned instructors. Due to absence of anti-tank detachment commanders, he was told to take over an antitank detachment.
On September 8, the enemy made repeated attacks on the Grenadiers' position, but was repulsed each time. The most serious assault came when the enemy advanced with a regiment of Patton tanks. So intense was the attack that a shell littered every yard of ground occupied by the Indian battalion. Hamid was in command of a recoilless gun detachment. He moved out to a flank with his gun mounted on a jeep.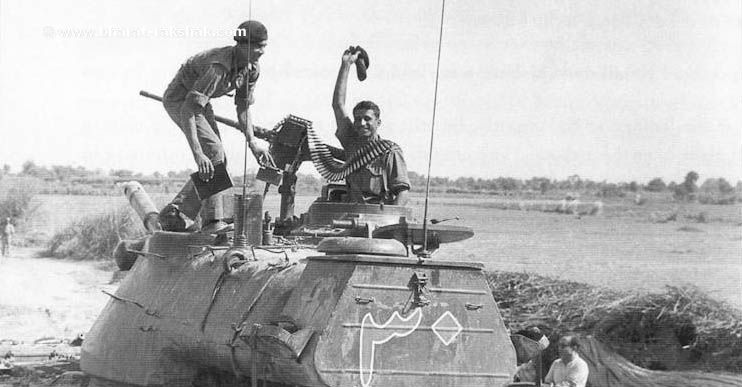 The moment the tanks came within shooting distance, Hamid fired and watched the trajectory of the shell as it hit its targets. The tank he hit went up in flames in front of his eyes while the remaining two are again abandoned by the enemy soldiers.
By the end of the day, Hamid had destroyed two tanks, while four had been abandoned. He then called army  engineers and asked them to immediately lay out anti-tank mines in the area. The next morning he was back at his recoilless gun, even as his battalion faced an air attack from Pakistani Sabre jets. By the end of the day, Hamid had shot down two more tanks.
---
You May Like: The Little Known Story of Major Somnath Sharma, India's First Param Vir Chakra Recipient
---
At 0800 hours on September 10, 1965, a battalion of Pakistani Patton tanks attacked the holding area of the 4th Grenadier positions. The Indian soldiers came under intense artillery bombardment but didn't respond. Within an hour, the Pakistanis had penetrated forward Indian positions. The situation grew grim. In the melee, Hamid spotted six Pakistani tanks heading towards his men. He didn't think twice, hopped on to his jeep which had a gun mounted on it and rushed towards the tanks to flank them.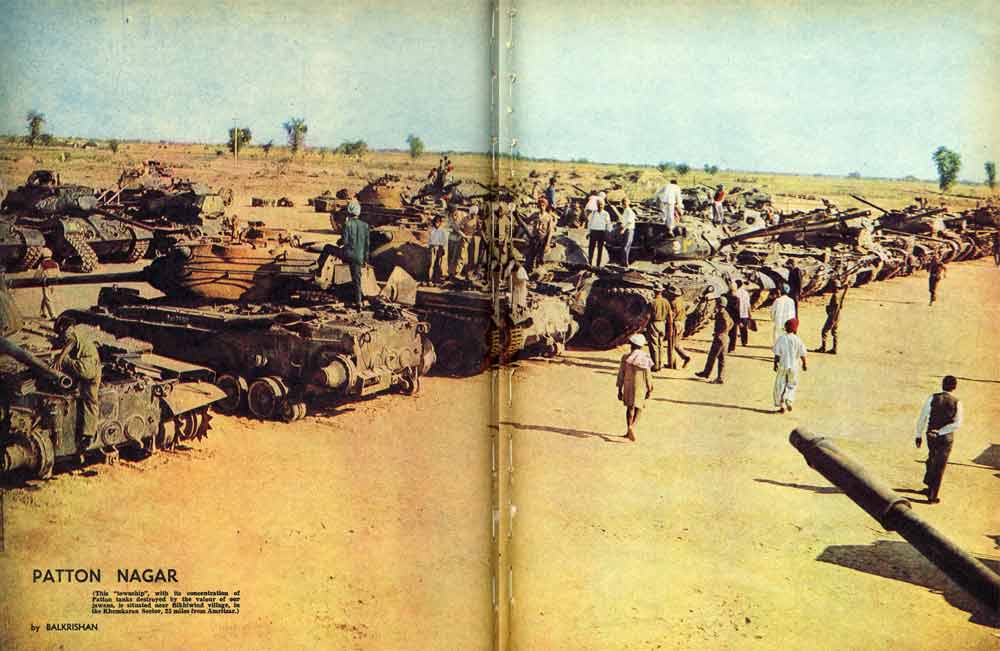 Intense enemy firing did nothing to deter him. Using the the tall cotton crop growing in the fields to camoufalge his position, Hamid knocked out the leading tank with accurate fire. Then changing position, he disabled two more. By now the enemy had spotted him and employed machine guns and explosives to bring him down. As he hit another enemy tank, he was mortally wounded by a high explosive shell.
Throughout this blistering attack, Hamid had singlehandedly managed to destroy a total of eight enemy tanks, many more than what an armoured formation could take on. His unparalleled bravery and determination inspired his comrades to put up a gallant fight and to beat back the heavy tank assault by the enemy. Approximately 97 Pakistani tanks were destroyed or abandoned during this battle. The enemy was routed and they never made it past Khem Karan.
Abdul Hamid did not live to see the next day or share in the joy of victory that came after three days of intense fighting. A citation had been sent on September 9, 1965, crediting him for destroying four tanks but nobody knew that Hamid would again blow up three more tanks the very next day. As the citation was already sent, it gives him credit for destroying four tanks. He had, in fact, destroyed eight. For his selflessness, dogged determination and raw courage in the face of the enemy, Hamid was posthumously awarded independent India's highest wartime gallantry award, Param Vir Chakra.
Buried at the battlefield, Hamid lies in a modest grave at Asal Uttar today. A brick-red roadside plaque with the words 'memorial of CQMH (Company Quarter Master Havildar) Abdul Hamid' announces its location. Inside a walled-in area of a little over an acre of land, a pathway lined by shrubs and trees leads to the actual memorial that houses his grave. An inscription on a tablet solemnly attests to his having given his life defending his motherland.
And so he lives on — in war trophies that stand in Army cantonments across India, in the sugarcane fields where he beat back intruders, in a memorial park in a village and in the proud reminiscences of a dearly-loved daughter. Interestingly, few  people know that the renown social activist Anna Hazare was a comrade of Abdul Hamid during the war. His assignment was to carry firearms and bombs to the border!
---
Also Read: #KargilHeroes: The Story of a Soldier who Climbed Kargil's Icy Slopes Barefoot to Defeat the Enemy
---
We bring stories straight from the heart of India, to inspire millions and create a wave of impact. Our positive movement is growing bigger everyday, and we would love for you to join it.
Please contribute whatever you can, every little penny helps our team in bringing you more stories that support dreams and spread hope.
Tell Us More