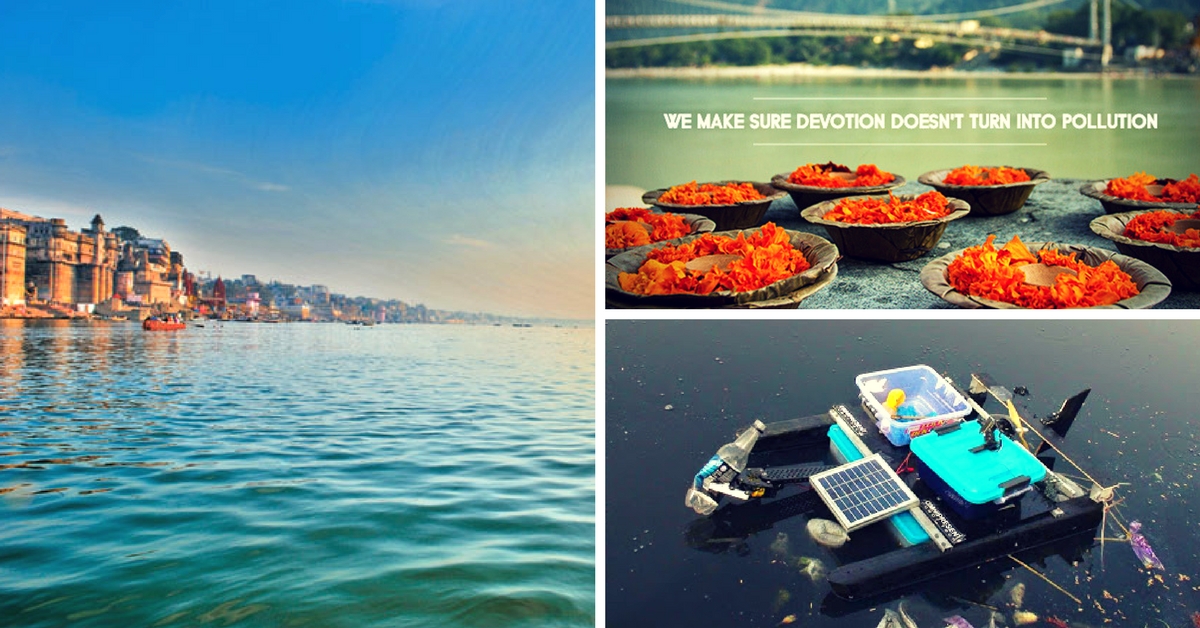 Cleaning river Ganga is no simple task and has been the objective of many activists, environmentalists and politicians. Amid various attempts and campaigns, here's how three upcoming startups founded by young innovative Indians are working to clean up India's national river.
The river Ganga originates in the Himalayas, roughly three hundred miles north of Delhi and five miles south of India's border with Tibet, where it emerges from an ice shrouded cave called Gaumukh and is known as the Bhagirathi. Eleven miles downstream, gray-blue with glacial silt, it reaches the small temple town of Gangotri. Below Gangotri, the river's path is one of increasing degradation.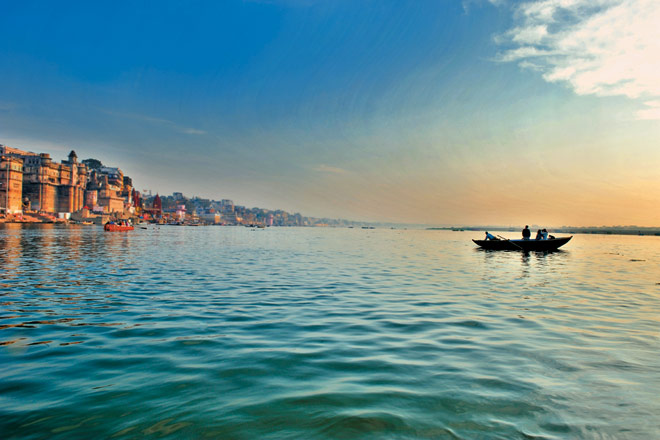 As Ganga enters the plains at the ancient pilgrimage city of Haridwar, it picks up the effluent from sugar refineries, distilleries, pulp and paper mills, and tanneries, as well as the chemical contaminated agricultural runoff from fields. By the time the river reaches the Bay of Bengal, more than fifteen hundred miles from its source, it has passed through Allahabad, Varanasi, Patna, Kolkata, a hundred smaller towns and cities, and thousands of riverside villages—all lacking sanitation.
Consequentially, Ganga absorbs more than a billion gallons of waste each day, three-quarters of it raw sewage and domestic waste while the rest industrial effluent, making it one of the ten most polluted rivers in the world. As such, cleaning India's national river is no simple task and has been the objective of many activists, environmentalists and politicians, including Prime Minister Narendra Modi.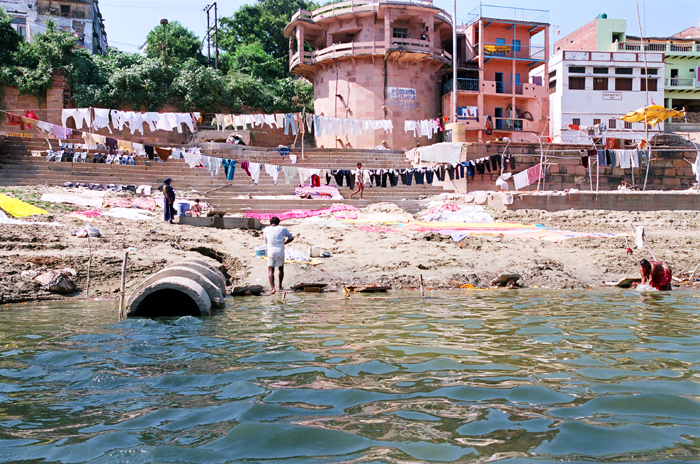 Amid various attempts and campaigns, three startups founded by young innovative Indians are trying to clean up the Ganga. Here's how they are doing it.
1. Omnipresent Robot Tech Pvt Ltd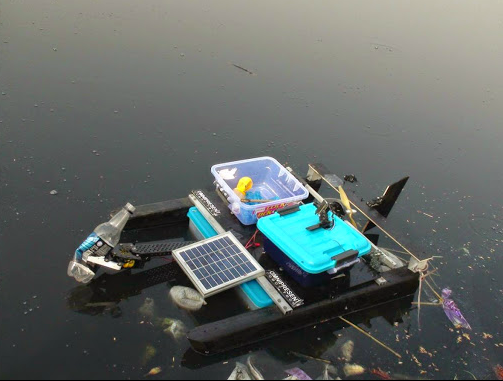 The polluted river may find its saviour in an unmanned water surface vehicle 'Ro-Boat' that is capable of detecting, collecting and eliminating all kind of trash including chemical effluents and floating waste from the surface of water.
The device, which has been piloted and successfully tested in the Yamuna and Ganga Rivers under the Union Water and Resources Ministry's Ganga Action Plan (GAP), has been developed by a Delhi-based tech company, Omnipresent Robot Tech Pvt Ltd. Aakash Sinha, CEO and founder of the company, says that the machine can be programmed to collect all kind of pollutants and sludge through its 'robotic arms' and then offload the waste.
The Ro-Boat can work autonomously with minimal human intervention and is equipped with fog lights and a pan-tilt zoom camera, making it capable of 24×7 operations in all weather conditions. It also has solar panels battery and twin propeller engine that helps it to navigate while consuming less power. The device has a unique ability to completely submerge in the river to pull out the pollutants settled on the riverbed. Erring on the side of practicality, with 12 hours of operation per day, the gadget can clean up 600 kg of waste a day, or nearly 200 tonnes of waste a year.
In addition, the company is also developing drones to assist the Ro-Boat in cleaning the rivers by collecting video evidence of pollution. The Ro-Boat technology has been recognized by Massachusetts Institute of Technology (MIT) as top 20 innovations of India in 2013. It was also recognized by US-AID as top 5 innovations of 2013 in the area of water and sanitation.
---
You May Like: MY STORY: In Varanasi, 3 Oar-Boys Surprised Me with Their Work for a Clean Ganga
---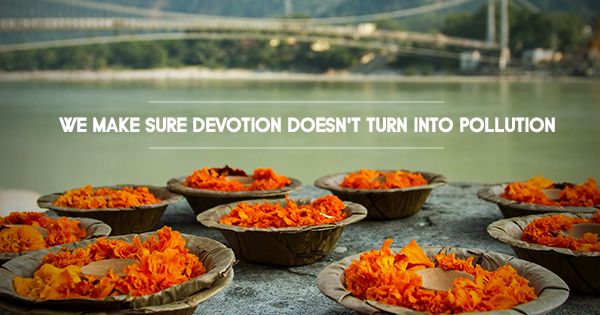 Flower pollution is often overlooked by in policy-making on cleaning the river, with the gaze fixed firmly on the industrial waste. Founded by two 26-year-olds – Ankit Agrawal and Karan Rastogi – in 2015,
Help Us Green
collects floral waste from temples, mosques, gurudwaras along the Ganges and converts it into natural and chemical-free lifestyle products like incense sticks and scents. Currently, the startup collects around 1.5 tonnes of floral waste from Kanpur and 8 tonnes from Varanasi.
The flowers are then mixed with organic cow dung and treated with about 17 natural components like coffee residue, corn cobs, etc. These help increase the nitrogen content in the end-product. After a few days, earthworms are added to the mix. These worms consume the mixture and lead to the formation of vermicompost ( a ready-to-use natural fertilizer) after 60 days.
While 80% of the flowers are used to make vermicompost, the rest are crushed and made into incense sticks and yajna/havan items. For manufacturing these items, the duo has employed 85 women from different self-help groups in villages around Kanpur, thus providing them with a source of income. Men, who were beggars earlier, have now been assigned the dignified job of collecting floral waste from places of worship.
Another great feature of Help US Green products is that they use recycled packaging, made from discarded cartons from a liquor factory in Kanpur. So, not only does this innovative idea keep the floral waste, often laden with chemical pesticides, from ending up in the river, it also generates employment opportunities for the local residents.
3. Detect Technologies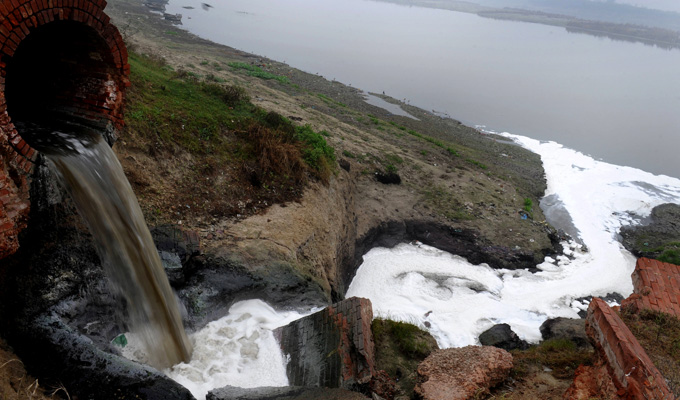 Daniel Raj David, a fourth-year mechanical engineering student and co-founder of Detect Technologies, and his team at IIT-Madras, have developed a system designed to detect pipeline leakages. The Guided Ultrasonic Monitoring of Pipe Systems (GUMPS), can detect oil leakages from oil pipelines which run on the river bed of the Ganga River.
With students at the helm of the startup, the journey has not been easy. According to the founders, the biggest challenge has been the transition from the system's technically-sound stage to its commercially viable industry-certified stage. This was crucial as oil and gas refineries have some very stringent certifications for electronics due to the risk of sparks.
By continuously monitoring a huge network of pipelines and alerting the plant for any impending leaks, GUMPS prevents loss of marine life and pollution due to oil leakages. It is also the first continuous real-time pipe monitoring
Ganga, often called India's lifeline, is the country's national river and has significant economic, environmental and cultural value attached to it. Thanks to the great work being done by these young startups, there is now a sense of optimism about restoring Ganga to its pristine state. We wish them all the best in their endeavour!
Here are ways that you can help:
Get Involved, Take Action
Sign the National Ganga River Rights Act petition and share it with others. The more signatures, the louder our voices will become.
Volunteer and organize local events and clean ups in your community. During your clean up, share photos of your experience on Facebook and encourage others to do the same in their areas.
Organize your business, school or group to help. All over India, small groups are giving their time to protect the Ganga. It's a great way to foster teamwork and give back at the same time.
What To Do (Or Not Do) While at Ganga or Any Water Body
Don't throw object from pujas or havans in the river. Instead, put biodegradable materials such as samagri or flowers in plant pots or composting piles, and recycle all paper and plastics.
When placing offerings in Ganga or any river, make sure your offerings are 100% natural and biodegradable (no plastics). If your offering is in a plastic bag, make sure to take the offering out of the bag and recycle the bag. Ganga is considered a great purifier, but plastics kill all life in its waters and along its banks.
Don't use Ganga or any river as a bathroom. Instead use a community toilet.
---
Also Read: From Cremating Dead Bodies to Tackling Sewage – Guddu Baba Did It All for a Clean Ganga
---
We bring stories straight from the heart of India, to inspire millions and create a wave of impact. Our positive movement is growing bigger everyday, and we would love for you to join it.
Please contribute whatever you can, every little penny helps our team in bringing you more stories that support dreams and spread hope.