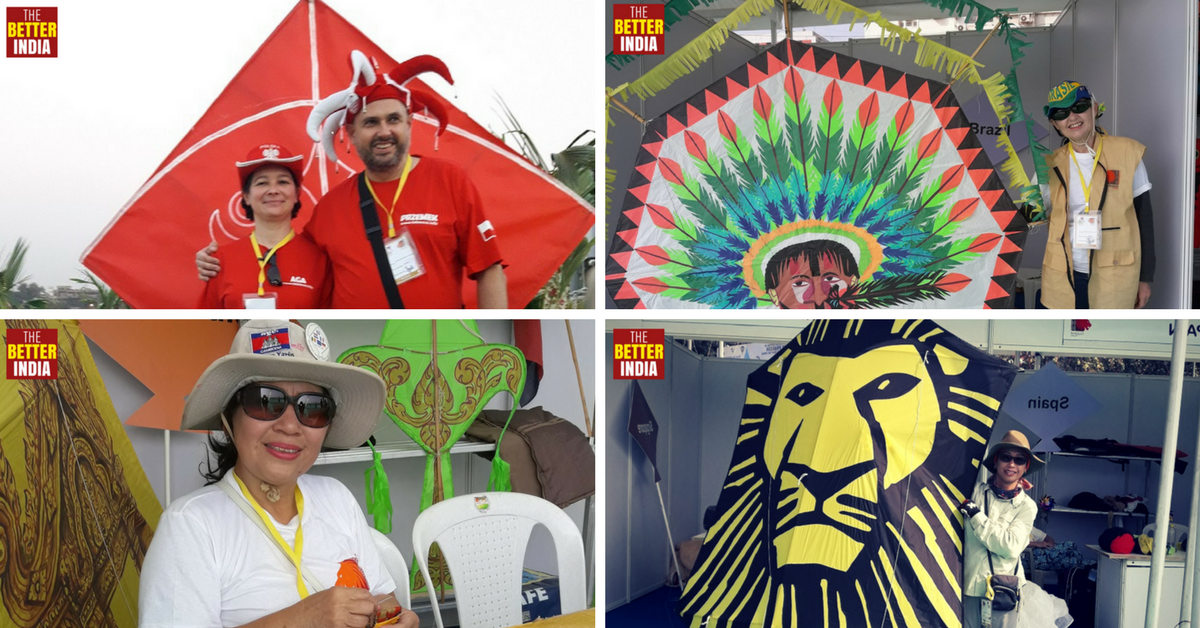 The Better India Team visited The International Kite Festival in Ahmedabad this year and spoke to international guest kite flyers, asking them what they thought the 'Better side of India' was. We turned up some amazing answers.
The word Uttarayan originates from two Sanskrit words: 'uttara' meaning North and 'ayana' meaning movement. In combination they refer to the movement of the earthon the celestial sphere. The festival that draws its namesake from the word marks the gradual end of the winter season and the beginning of summer.
To farmers, it is an auspicious sign, indicating the start of the harvest season. Known as Pongal in Tamil Nadu, Karnataka and Andhra Pradesh, Bihu in Assam and Maghi in Punjab and Haryana, the essence of this festival is the same throughout the country. In Gujarat, the festival is popularly celebrated by flying kites.
The International Kite Festival is one of the biggest festivals celebrated in the country.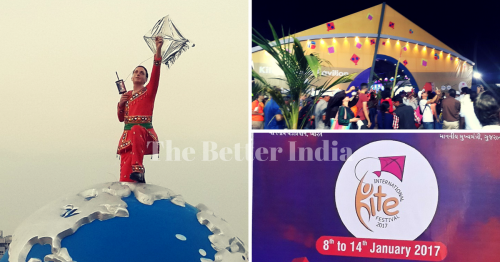 The state of Gujarat becomes a manufacturing hub months before the festival, giving a boost to the local economy.Each year the mega festival, organised by the Tourism Corporation of Gujarat Limited, grows bigger and better.
This year, the International Kite Festival is being celebrated between the 8th and 14th of January at the Sabarmati Riverfront in Ahmedabad.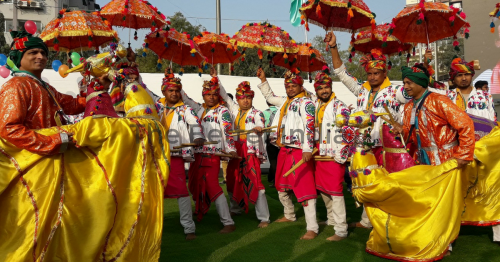 As many as 2000 students from schools run by the Ahmedabad Municipal Corporation performed the suryanamaskar on the morning of the inaugural day.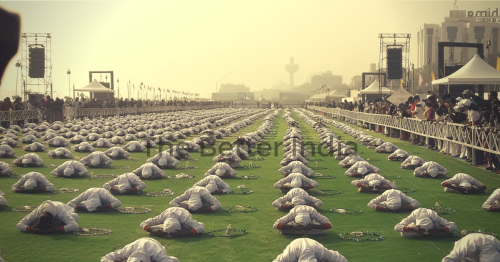 Special attractions at the IKF this year include a theme pavilion based on 'Tourist Destinations of Gujarat', a kite workshop, adventure games for kids, craft stalls to display local art and food stalls where visitors can sample local delicacies.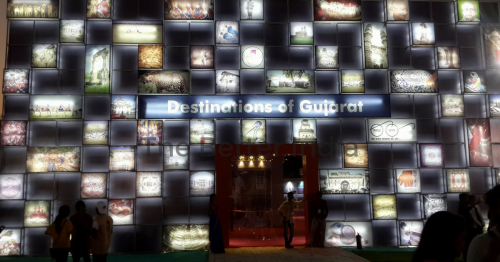 An estimated 186 kite fliers, including 51 from eight different states and more than 100 from over 31 countries, are participating this year. Participants from Argentina, Australia, France, Brazil, Belgium, Cambodia, Canada, Estonia, Germany, Indonesia, Israel, Italy, Korea, Macau, Malaysia, Netherlands, New-Zealand, Poland, Russia, Singapore, Spain, Sri Lanka, Switzerland, Thailand, Turkey, the U.K, the U.S.A and Vietnam are all part of this mega event.
People Speak
The Better India Team visited Uttarayan this year and spoke to international guest kite flyers, asking them what they thought the 'Better side of India' was. We turned up some amazing answers.
1. Team Poland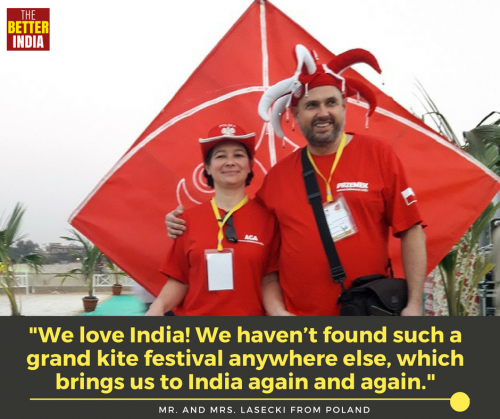 The first team that we met was team Poland.
Mr. and Mrs. Przemyslaw Lasecki owners of Poland's kite-manufacturing company IKAR told us they love coming for the festival every year.
"We love India! We haven't found such a grand kite festival anywhere else, which brings us to India again and again," said Mr. Lasecki
To know more about them you can log on to their website.
2. Team Vietnam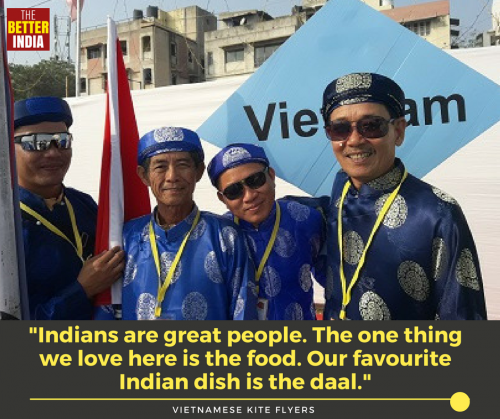 Team Vietnam comprised four enthusiastic people. 79-year-old Mr. Nguyen shared his excitement about the event. This is his second visit to India.
"Indians are very good people. One thing that we like about India is that they are vegan. We are vegan too. My favourite Indian dish is the daal. It is very tasty."
3. Switzerland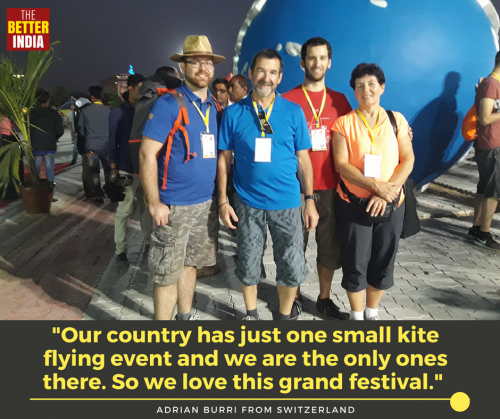 Marcel, Jeannine, Manuel, Simon and Adrian Burri from Long Valley Kite Flyers, Switzerland were happy with the weather in India. They said they often long for the sunshine, which they can see every day in India.
They are professional kite flyers and wish their homeland offered as huge an arrangement for kite flying.
"Our country has just one small kite flying event and we are the only ones there. So we love this grand festival. This is our first visit to India and we are enjoying the warm weather," said Adrian Burri.
4. Lithuania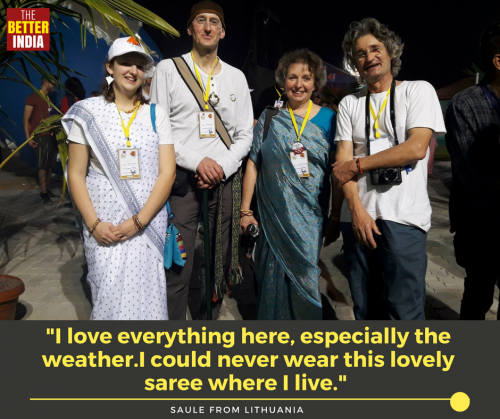 Saule Varskeviciute, Giedre Aleksandraviciute and Kasttis Prakapavicius joined the International Kite festival from Lithuania.
Saule and Giedre looked beautiful in sarees at the inaugural function, while Kasttis wore traditional Lithuanian attire.
"I love everything here, especially the weather. It's -14 degree right now where we live. We have to cover ourselves from head to toe but see we are wearing this lovely saree here," said Saule from Lithaunia.
5. Russia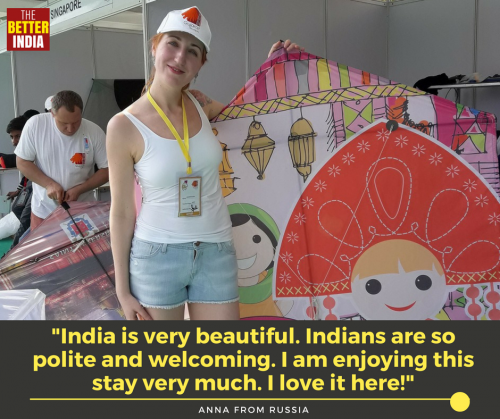 Anna from Russia is visiting India for the first time and is already in love with the people here. She has been to kite festivals in other countries as well, but loves the way the Uttarayan is organised in India.
"India is very beautiful. Indians are so polite and welcoming. I am enjoying this stay very much. I love the people of India," said Anna.
6. U.S.A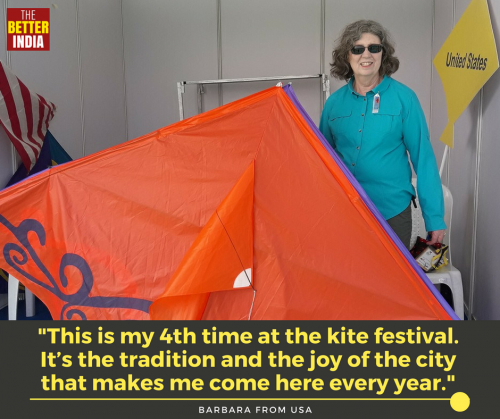 When we met Barbara at her kite counter she was already meeting her Indian friends. It was evident she was not new to the country.
"This is my fourth time in India. I have been to Kolkata, Sunderban, Goa and all over Gujarat but Ahmedabad is my favourite. It has been very interesting to see the city change over the years. The tradition is what we come to enjoy here. It's the joy of the city that makes me come here every year," said Barbara.
7. Sri Lanka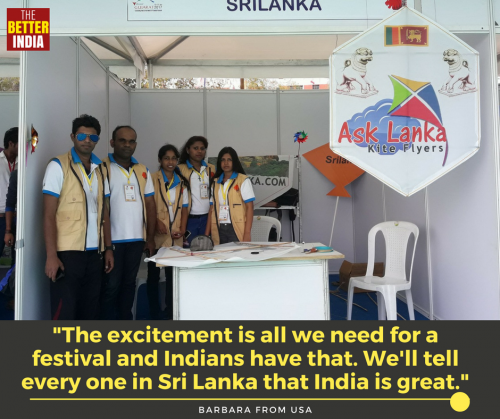 The Sri Lankan team was busy with their work when we reached their counter. But once we asked them what they felt about India, they had lots of good things to say.
"This is our first visit to Ahemdabad. And this is our first Asian event. We have been to Europe and America but this is the largest Asian event that we are attending. Here the community contribution is really high. We can see people right from the airport celebrating the event. The excitement is all we need for a festival and Indians have that. We will tell every one in Sri Lanka that India is a great country," said the Sri Lankan Team.
8. Singapore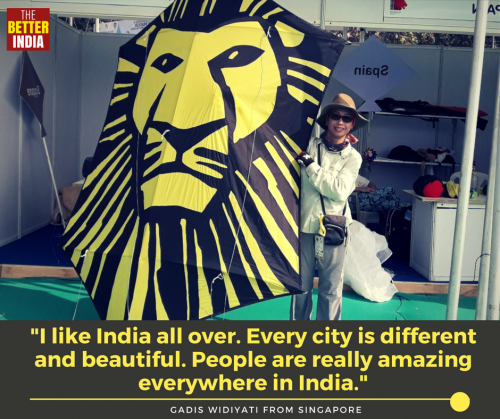 We met Gadis Widiyati from the Singapore team. Gadis conducts kite workshops around the world.
"This is the 14th time I am coming to India in the past 16 years. I come here every year only for the kite festival. I have been to Goa, Jaipur, Jodhpur, so many places in Rajasthan and Pune. I like India all over. Every city is different and beautiful. People are really amazing everywhere in India. We don't have a kite festival back in our country so this is like a wonderful event for kite lovers." said Gadis Widiyati.
9. Indonesia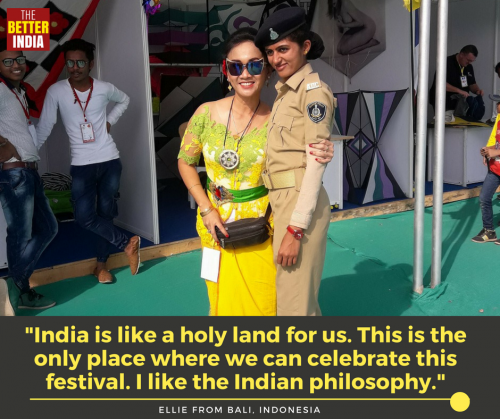 While Team Indonesia was busy trying to fly their huge kite in the little wind that the city of Ahmedabad was enjoying on a warm morning, Ellie from the team was enjoying a selfie session with local Indians.
"India is like a holy land for us. Only in India there is Makar Sakranti. In Indonesia, we worship the son of Lord Shiva and we fly kites to say thank you to son of lord Shiva after the harvest. But this is the only place where we can celebrate this festival. I like the Indian philosophy. The people are so friendly and loving," said Ellie from Bali, Indonesia.
10. Estonia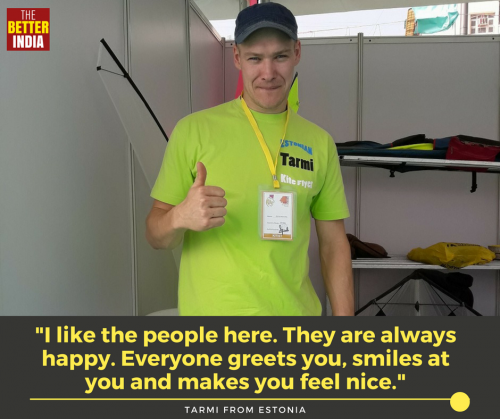 The Estonian team was super excited with their huge kite, when we requested Tarmi from the team to share his experiences.
Though he could speak little English, Tarmi managed to tell us how happy he was in India and what made him so happy.
"I like the people here. They are always happy. Everyone greets you, smiles at you and makes you feel nice. Estonia is a very small country but India is so big and this kite festival is so good. In Estonia we use lot of chilly or pepper in our food. Indian food is very healthy," said Tarmi
11. Curacao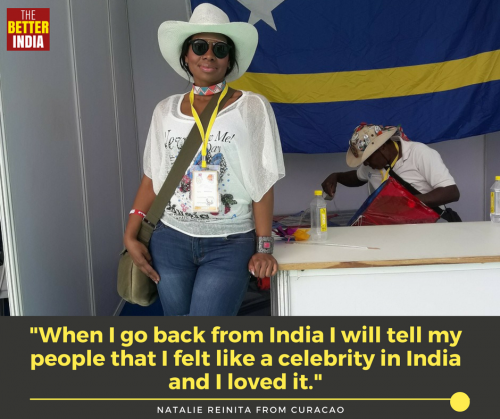 The kite flyers team from Curacao danced and enjoyed the local music on the inaugural function of the International Kite festival. They were also super excited to see 2000 children doing the suryanamaskar together at the beginning of the event.
"I like to work out and I loved the yoga here. I want to learn yoga. Whenever I come to India people treat me like a celebrity. Every one would come and greet, take selfies and help in all the ways possible. In my country, only if you are a celebrity you can get so much attention, but when I go back from India I tell my people that I felt like a celebrity in India and I love it. I want to come again and again to India and would like to indulge in some social work too," said Natalie Reinita.
12. Belgium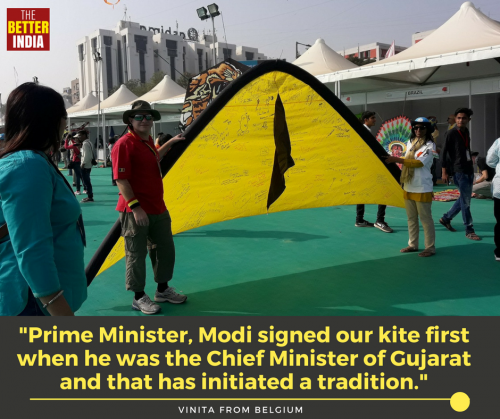 From team Belgium there were two people, totally in love with each other and the kites. Vinita Vij is an Indian married to a Belgian. The couple has a special kite which flies even if there is no wind. It has also been signed by the Prime Minister, Mr. Narendra Modi, while he was Chief Minister of Gujarat. Later it became a tradition to get the kite autographed wherever they attended kite-flying events. The kite is full of signatures from people all over the world.
"Prime Minister, Modi signed our kite first when he was the Chief Minister of Gujarat and that initiated a tradition of signing our kite wherever we go," said Vinita.
13. Cambodia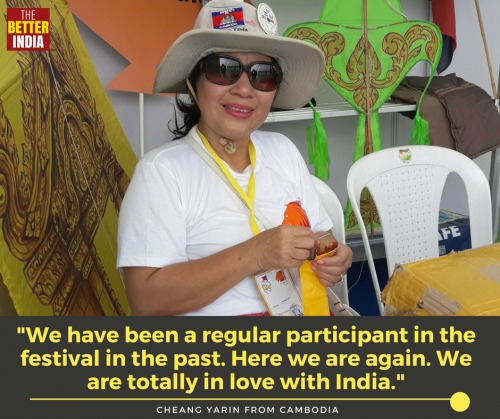 The Cambodian team had amazing sketches made on their kites. When we asked them about the beautiful kites, they said that kites are a part of Cambodian culture and hence they value them a lot.
"We have been a regular participant in the festival in the past but could not come for the last two years. But this year again we got an invitation from the Indian government and here we are. We are totally in love with your country," said Cheang Yarin.
14. Brazil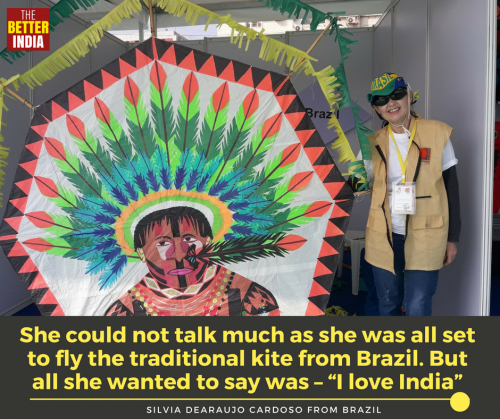 Silvia Dearaujo Cardoso could not talk much as she was all set to fly the traditional kite from Brazil. But all she wanted to say was –
"I love India!"
15. Australia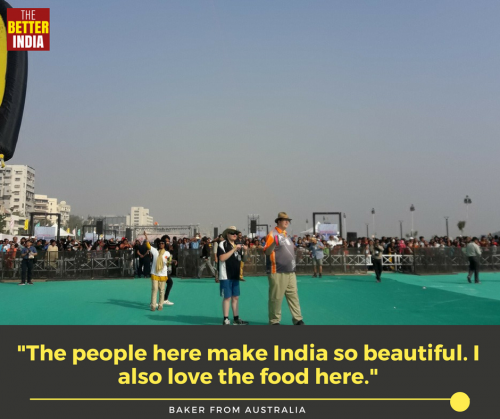 Baker Trent James from Australia who managed to speak to us while flying his kite loves the warmth of the people of India. He is amazed to see so much love among the people and so much courtesy towards foreigners.
"The people here make India so beautiful. I also love the food here," said Baker.
16. Korea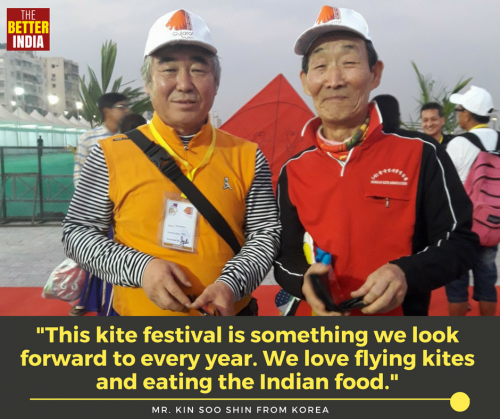 The Korean team belonged to the Korean Kite Association Festival. Mr. Kin Soo Shin spoke to The Better India about his experiences in India.
"This kite festival is something we look forward to every year. We love flying kites and eating Indian food," said Mr. Kin Soo Shin.
17. France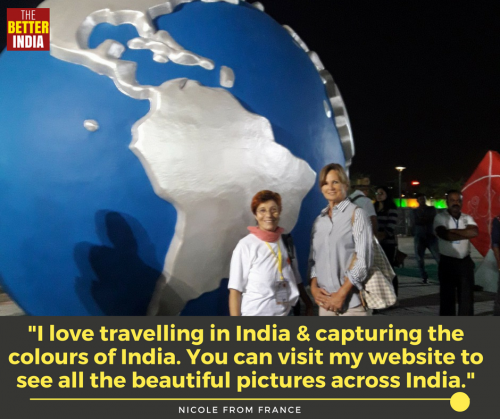 We met kite flyers from France but what amazed us was a photographer from France who was totally in love with India. Nicole, a French professional photographer, has been capturing the International kite festival in Ahmedabad for the past 10 years.
"I love travelling in India and capturing the colours of India. You can visit my website to see all the beautiful pictures across India," said Nicole.
You can log on to www.lovindia-pechoux.com to see Nicole's work.
Like this story? Or have something to share? Write to us: contact@thebetterindia.com, or connect with us on Facebook and Twitter.
NEW: Click here to get positive news on Whatsapp!
We bring stories straight from the heart of India, to inspire millions and create a wave of impact. Our positive movement is growing bigger everyday, and we would love for you to join it.
Please contribute whatever you can, every little penny helps our team in bringing you more stories that support dreams and spread hope.