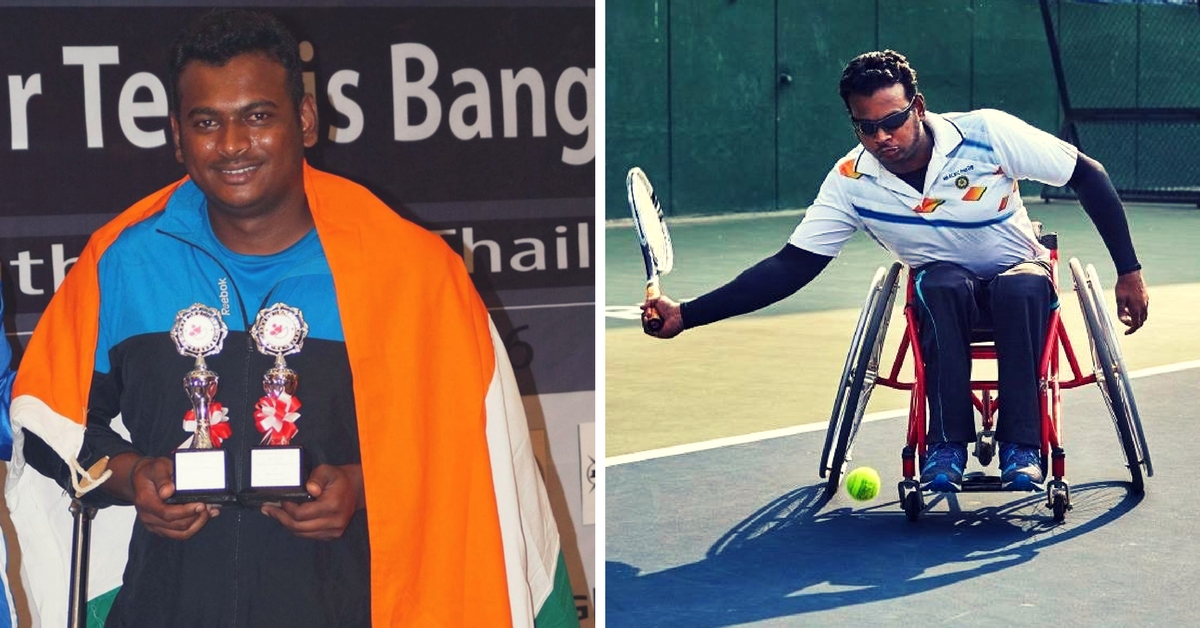 Polio took away two-year-old Shiva Prasad's ability to walk. Today, the 28-year-old plays wheelchair tennis and participates in national and international tournaments. It is his dream to participate in the Paralympics one day.
Polio took away two-year-old Shiva Prasad's ability to walk. Today, the 28-year-old plays wheelchair tennis and participates in national and international tournaments. It is his dream to one day participate in the Paralympics.
Like most nine-year-olds, Shiva Prasad was enthusiastic about sports and used to spend his days playing gully cricket and badminton with his friends. The only difference was that Shiva suffered from polio and could only stand and walk with the help of callipers. Over time, his teammates became stronger and faster, while his own physical movements were increasingly restricted. He had to give up sports.
It was only three years ago that Shiva found his silver lining.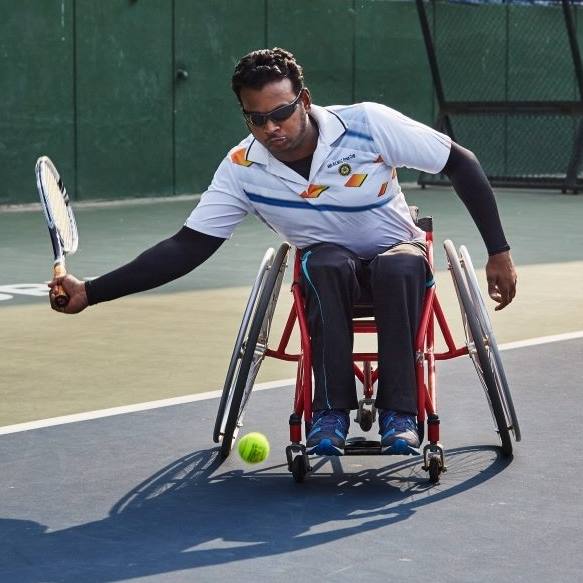 At a sports event, he happened to meet T. Seetharam, the General Secretary of the Paralympic Wheelchair Tennis Federation of India. Seetharam appreciated Shiva's fitness and suggested that he take up tennis.
"It was like a dream come true! I had always been so enthusiastic about sports, I would watch all these matches, would even go to the stadium to watch games live. And here was my very own chance to pursue my beloved sport. I agreed immediately and started training at Karnataka State Lawn Tennis Academy (KSLTA). It has been three years since I started playing and it has been simply great," says Shiva.
Today, he has participated in several national as well as international tournaments of wheelchair tennis.
In 2013 and 2015, Shiva was one of the finalists at the nationals organised by the Rotary Club of Madras Industrial City (RCMIC). He has recently moved up to the fifth position in the national ranking for wheelchair tennis players.
"The truth is that I don't get much time to practice as I am a working professional. I practice only on weekends for four or five hours. When there's a tournament coming up, I practice every day for the month leading up to it," he explains.
---
Also read: Inspiring Story of the Wheelchair Table Tennis Player Who Has Her Eyes Set on 2020 Paralympics!
---
Ideally, to be able to compete at the international level, one needs to practice every day for about five to six hours. If given the option, Shiva would have loved to be a full time sportsperson. Unfortunately, as the sole breadwinner for the family, the option doesn't present itself.
Shiva started working at the early age of 17, after his father had an accident that caused him to lose his job. He was bed-ridden for many years before being able to walk again. To compensate, Shiva was forced to give up school and take up two part-time jobs in order to make ends meet. Later, he completed his education and even earned a Master's degree, which got him his current job.
Having to work a full-time job hasn't stopped Shiva from pursuing tennis with full dedication. He is climbing the ladder slowly and recently represented India in the Malaysia Open as well as the Bangkok Cup 2016, where he entered the semi-finals in the Singles as well as the Doubles category.
He was the runner up in the Tabebuia Open Bangalore 2016 event, organised by the All India Tennis Association (AITA).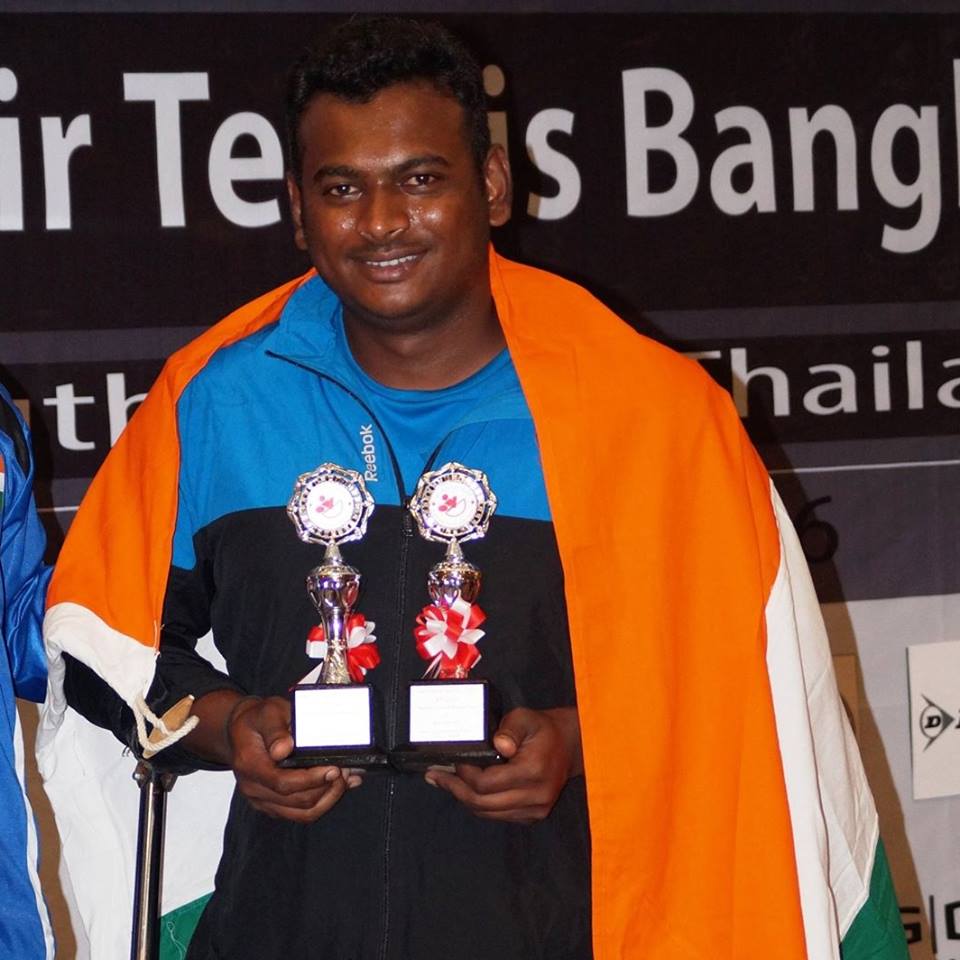 "I want to represent India internationally at the Paralympics and play with the best," Shiva says. "To do that I need to get an international rank that will give me private sponsorship."
Thanks to some donations and a sponsorship from his company, Shiva has managed to go to the Bangkok Open. He doesn't have a coach at present, but practices by watching games of world wheelchair tennis champions. When talking about the different challenges he faces, Shiva says that securing financial support for training and travelling to tournaments has been one of the biggest issues he's had to deal with from the start.
"It is an expensive affair. Enrolling in, and travelling to, international tournaments requires a lot of money and it is often difficult to manage by yourself. The government promises to reimburse the travel expense, but only up to Rs 30,000 and it doesn't always come through. Before every tournament, I run a new fundraiser and try to get sponsors."
Along with a few fellow athletes, Shiva has also founded an NGO called the Divyaang Myitri Sports Academy (DMSA) to encourage paralympic sports.
"It is founded by a team of para athletes to address the issues faced by para sportspersons while representing the country at an international level and to fulfil the lack of infrastructure for paralympic sports. It is still at a very nascent stage; we haven't actually started any work yet. We are in the planning stage and are determined to work towards providing beginner, intermediate and advanced level training in Wheelchair Tennis, Wheelchair Basketball, Cycling, and Para-Badminton," says Shiva.
---
Also read: MY STORY: How I Went from Attempting Suicide for my Extreme Disability to Running 115 KM in "The Impossible Race"
---
To know more about Shiva, contact him on his email id shivprasd1986@gmail.com. To contribute to his fundraising campaign, click here.
Like this story? Or have something to share? Write to us: contact@thebetterindia.com, or connect with us on Facebook and Twitter.
NEW: Click here to get positive news on WhatsApp!