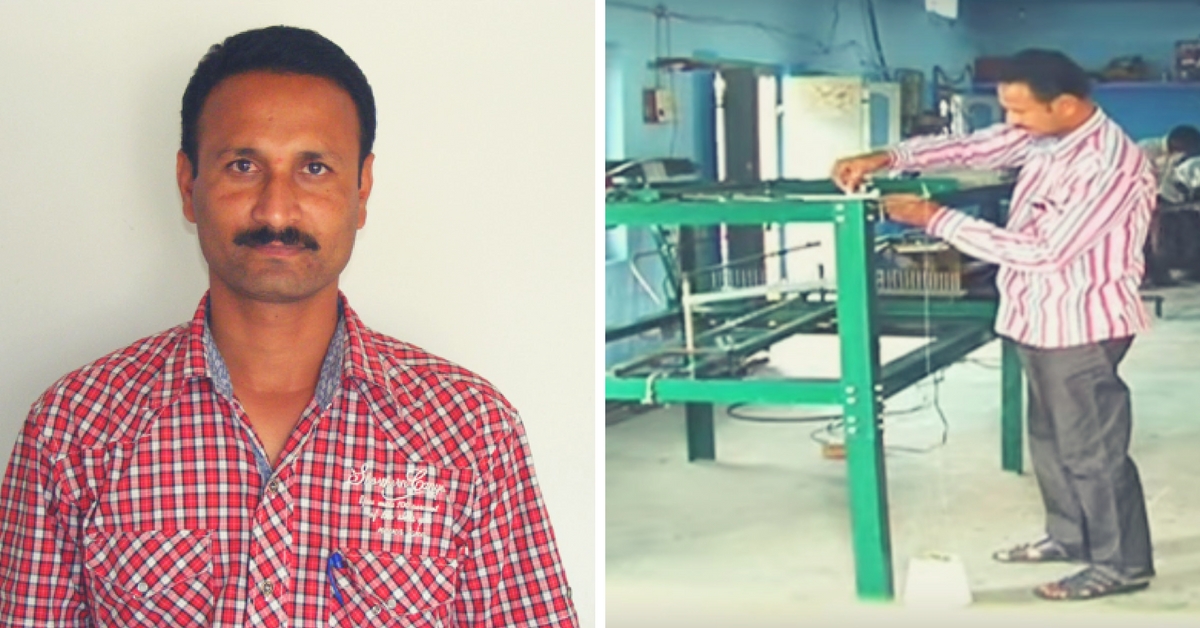 Chintakindi Mallesham, a Class 6 school dropout from Telangana, has invented the Laxmi Asu Machine easing the taxing manual process of weaving Pochampally saris and helping weavers increase their production without putting their health at risk.
Chintakindi Mallesham, a Class 6 school dropout from Telangana, has innovated the Laxmi Asu Machine easing the taxing manual process of weaving Pochampally saris and helping weavers increase their production without putting their health at risk.
India is proud of its handloom saris. They offer an unmatched mix of elegance and simplicity. Every region of the country has its own variety of handloom sari and many will agree that every type is to die for.
Most handloom saris are woven manually. Even today, patterns are woven thread by thread. Pochampally silk saris are no different. While one admires the intricate work put into these masterpieces, the process is often extremely taxing for weavers.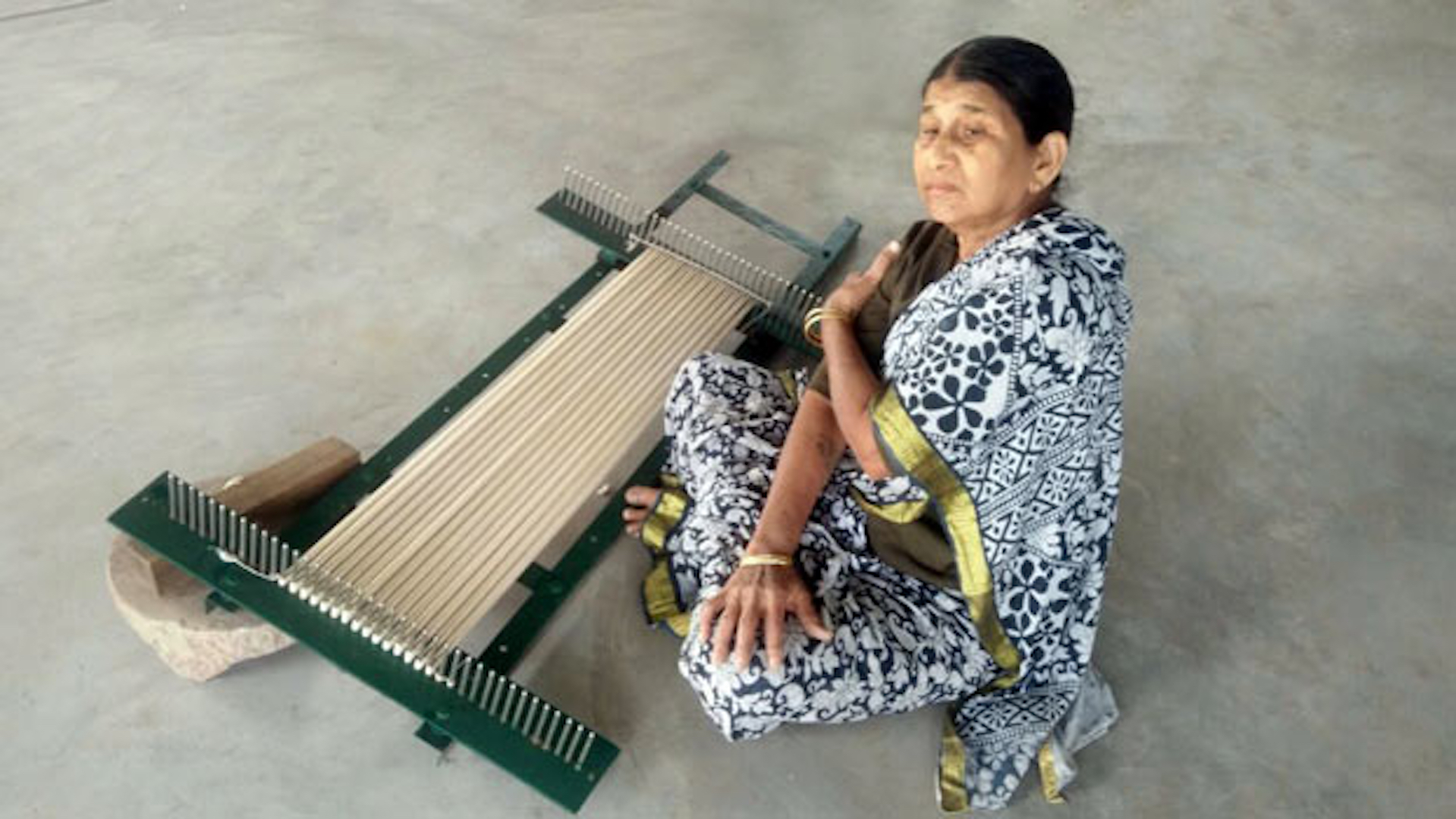 Chintakindi Mallesham was born in Sharjipet, a small village in Telangana, in a family of handloom weavers. He grew up witnessing his mother Laxmi go through unbearable pain while making saris and felt unable to help her. Since it was the family's traditional business, she had no option but to keep weaving saris, even if it meant sustaining a lot of pain.
A pride of the Telengana districts of Nalgonda and Warangal, Pochampally saris have been woven by over 10,000 families for generations using the traditional process of asu.
Asu is a pre-loom activity in the tie-dye fashion. The hand-winding process requires the weaver to move his or her hand up and down over a space of one meter around semi-circularly arranged pegs, a whopping 9,000 times per sari. It causes tremendous physical strain in the shoulders and elbow joints and takes over four or five hours for one sari to be completed using the manual method.
---
Also read: These 10 Transformative Inventions From 2016 Can Impact the Lives of Millions in India
---
When Mallesham was asked by his father to stop schooling and pursue the family tradition of weaving, his mother advised him against it. She explained the fact that working manually on asu for two looms will not be possible for her. Her agony made Mallesham determined to help. He decided to make a machine that would reduce her suffering.
"I questioned: why should we stop weaving sarees for the sake of  the asu process? Moreover, what other skills I would have to cultivate for other vocational activities? I felt that if I could find an automated method for the asu process, I can reduce my mother's pain, can continue the family tradition and might earn a better living. This thought became the genesis for the asu machine developed by me," says Mallesham.
Mallesham spent over eight years developing a machine that would automate the asu-making process. He set out to Hyderabad with determination and worked part time, while also learning about machines and their functioning.
After many failures, he was finally able to develop the perfect prototype, which he named after his mother. The Laxmi Asu machine was born.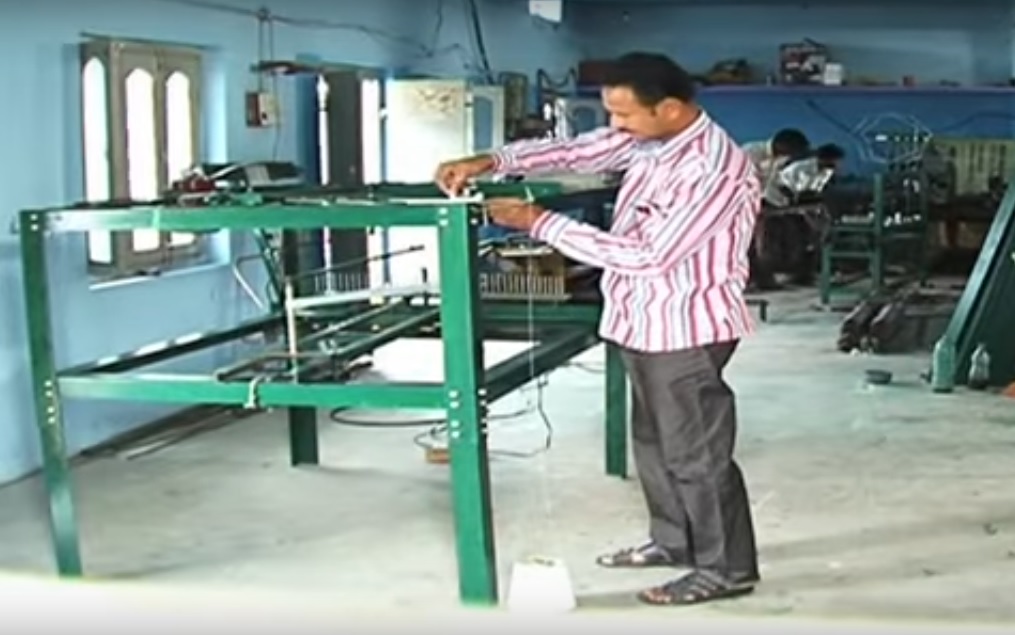 The first model was made in 1999, mounted on a wooden frame. As a test, one of his friends used the asu machine to make a sari and observed that the quality was even better than that yielded by the manual process. Soon, the material was changed to steel and many electronic components were added to increase the functionality and flexibility of the design.
Since it's entry into the market, the machine has helped reduce the pain of many who, like Mallesham'smother, used to undertake manual asu for Pochampally saris. It has reduced the time taken to weave one sari from five to six hours to just one and a half hours, consuming electricity of Rs 2 and without any attendant.
"A majority of the weavers giving up weaving do so because there are very few asu workers willing to take up the hard work of manual asu. Mallesham's asu machine brought a ray of hope to all these weavers. The weavers who were financially well off, bought the machine and it provided livelihood to many. Many increased their loom strength from four to 40 in three years," says Brigadier P Ganesham, Founder-President of the volunatary organisation Palle Srujana, and mentor to Mallesham.
---
Interested in supporting Chintakindi Mallesham? Here's the link to the crowdfunding campaign!'
Unable to view the above button? Click here
---
He goes on to tell about the change the asu machine has brought to women weavers' lives.
"Single women have set up 'Asu Machine Centers' and have started supplying asu to cotton sari weavers as well. One woman, Lingamma, set up such a centre in 2001 in her house and earns almost Rs 300 per day. She has now bought a house, cleared the loan for it and both her daughters studied enginnering over the last 15 years. The revival of sari production took place with the arrival of the asu machine. With the sale of over 750 asu machines, over 10,000 looms got work," informs Ganesham.
Mallesham has received many accolades for his innovation. The Laxmi Asu machine has been lauded on a national as well as an international level.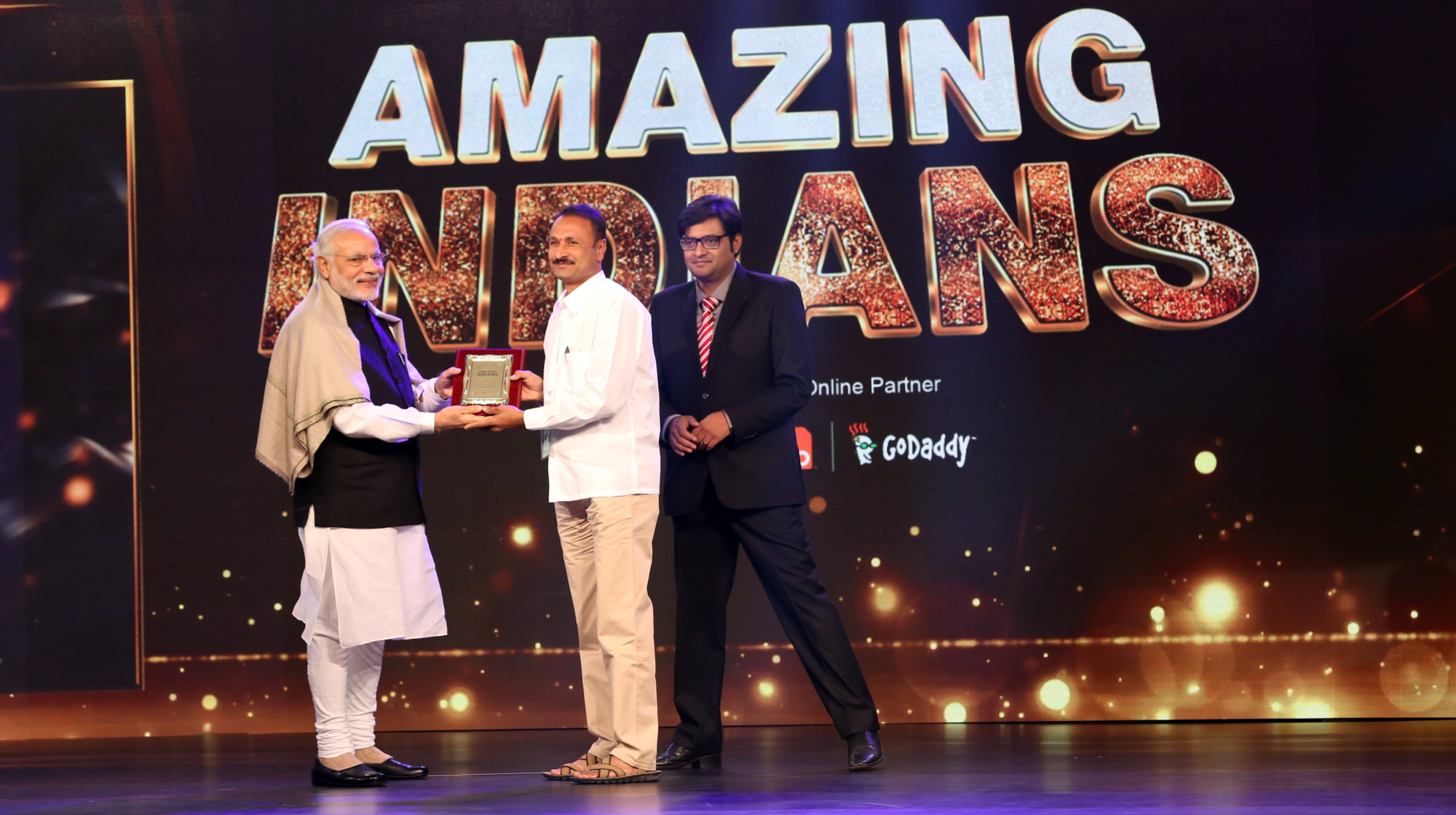 The machine has been recognised as the best grassroots innovation by The National Innovation Foundation (NIF), India and Mallesham was honoured by the President of India in 2009. Mallesham also made it to the Forbes' list of seven most powerful rural Indian entrepreneurs, whose 'inventions are changing lives' of the people across the country. Mallesham also received the Amazing Indians Award 2016 at the hands of the Indian Prime Minister Narendra Modi.
The 44-year-old grassroots innovator-turned-entrepreneur now lives in Aler, a town in Yadadri district, two hours from Hyderabad, where he has set up a manufacturing unit for the Laxmi Asu machines. So far, Mallesham has supplied 800 asu machines to weavers. The present cost of the machine is Rs 25,000.
The inventor-turned-entrepreneur has estimated that 1,000 more machines will be required to cover all the weaver families of the district.While the machines have been bought by the well-to-do families, there are many who cannot afford to buy them.
The NGO Palle Srujana has been extensively promoting asu machines in Telangana. Even the government became involved and provided assurances that asu machines would be given to weaver families as a part of the 12th Five Year Plan with a subsidy of 75 % (50% from the Central Government and 25% from the State Government). Unfortunately, although the announcement was made over two years ago, nothing has come of it thus far, according to Ganesham.
Tired of waiting for the government to make things happen, Palle Srujana and Mallesham have set up a crowd-funding campaign to subsidise the cost of the machine for poorer weaver families.
---
Also read: This 15-Year Old Genius Boy's Inventions Are So Good You'll Be Amazed At How He Thinks!
---
To know more about the fundraising campaign for the Laxmi Asu Machine and support the cause, click here.
Like this story? Or have something to share? Write to us: contact@thebetterindia.com, or connect with us on Facebook and Twitter.
NEW: Click here to get positive news on WhatsApp!
Tell Us More
We bring stories straight from the heart of India, to inspire millions and create a wave of impact. Our positive movement is growing bigger everyday, and we would love for you to join it.
Please contribute whatever you can, every little penny helps our team in bringing you more stories that support dreams and spread hope.