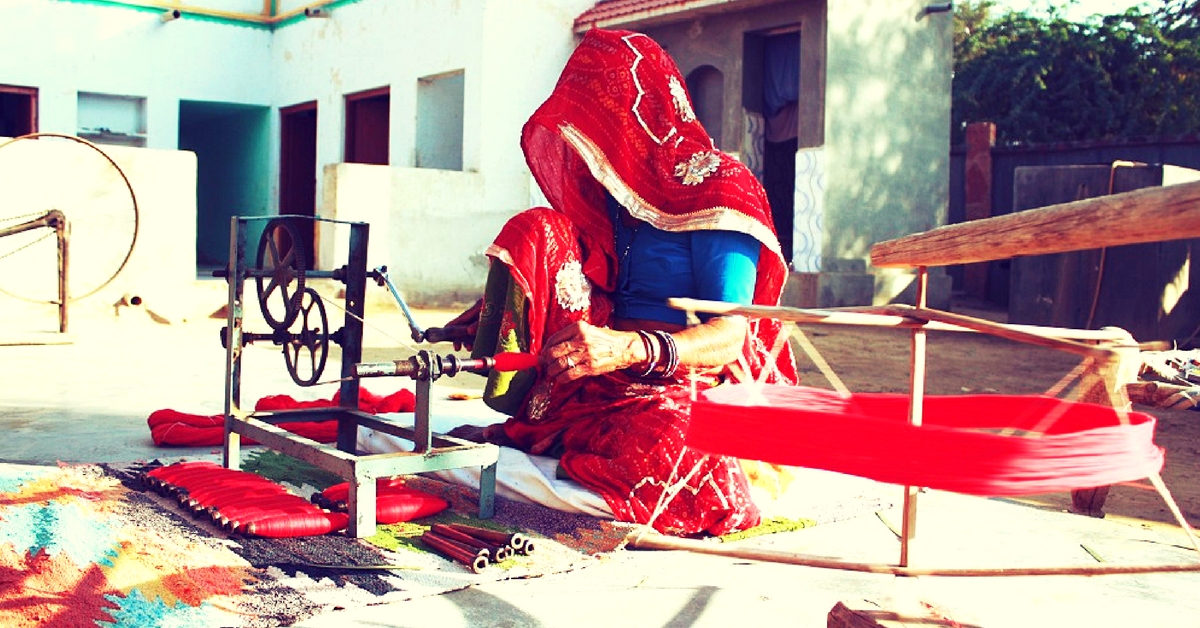 RangSutra is an artisan collective that has changed the lives of thousands of craftspeople across the country.
RangSutra is an artisan collective that has changed the lives of thousands of craftspeople across the country.
Ten years ago when Sumita Ghose decided to start her own company to help rural artisans, she needed capital. But no bank was willing to give her a loan because she had nothing to show by way of collateral.
Instead of abandoning the idea she turned to weavers and craftspeople and offered them equity. To become shareholders, 1000 artisans invested Rs. 1000 each, providing her with a seed fund of a respectable Rs. 10 lakh. With her own money and contributions from her family, friends and well-wishers, she began the company on a small scale.
Today, she is the founder and managing director of RangSutra, a community-owned business of 3,000 artisans from remote villages and regions across India. 2,200 artisans are direct shareholders and the company has an annual turnover of Rs. 10 crores.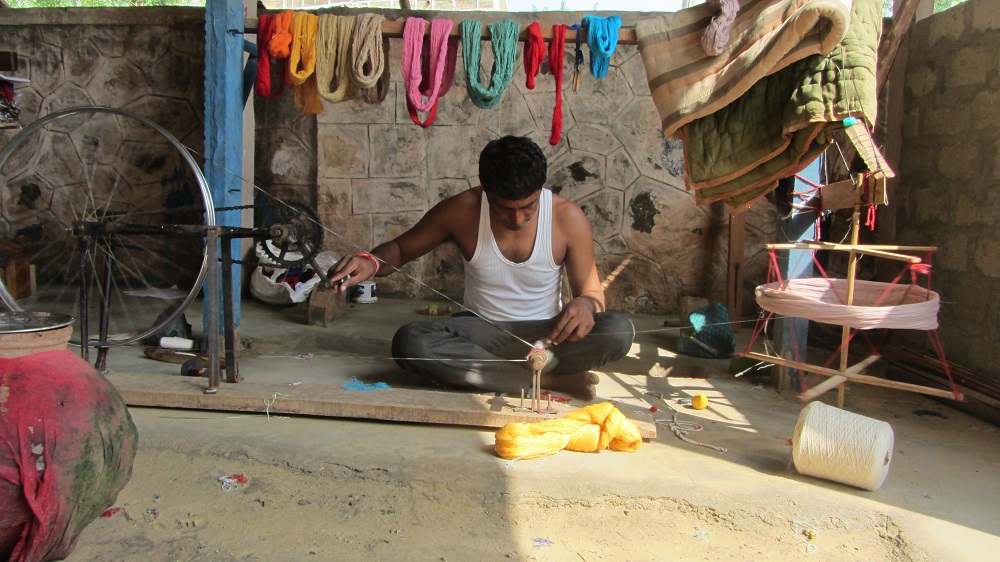 RangSutra sells a range of handcrafted products to Fab India, which has been a partner and promoter of village handlooms work and traditional crafts and skills. Its export partner is IKEA, a Swedish multi-national group of companies known for their designs, particularly in furniture.
Radha Bai, one of the first shareholders of the company, is proud of how far the venture has come. Her share certificate is framed and prominently displayed on the wall of her home in a Bikaner village. "This is the only punji (financial asset) in my name," she says. "The land as well the house on which it stands is in the name of my husband." The framed share certificate announces her arrival in the market place and her acceptance into a competitive world of business. The value of Radha Bai's share, which was Rs. 100 when she bought it, is now Rs. 600 and like other craftspeople of RangSutra by working four hours a day, she receives a monthly income of between Rs. 3,000 to Rs. 5,000 from it. If embroidery work can be combined with the tailoring of outfits, the artisan's earnings go up to Rs. 12,000. Prior to the company's intervention in the market and the efforts it made to re-hone and upgrade artisans' skills, the artisans earned just between Rs. 500 to Rs. 1000 per month.
At present, skilled artisans working full-time earn Rs. 15,000 a month.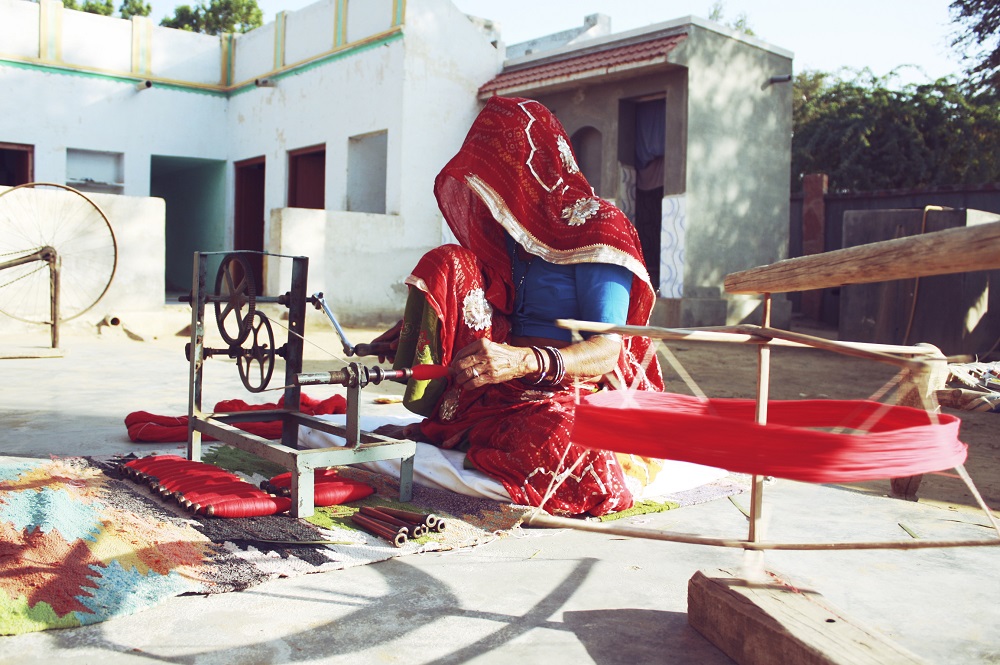 Now in its 10th year of business, in an effort to reaffirm its faith in its artisan shareholders, RangSutra has decided to take on the entire gamut of operations from designing and production to marketing. It plans to open its own shop in Delhi or Gurgaon with a new range of designs themed 'Be the Change'.
The organisation is also extremely women-centric with a 70% membership of female artisans. Three of the six board members are women and three are artisans. Female empowerment is taken seriously at the firm and as shareholders, RangSutra's women are expanding their skillset to management. They tend to be vocal about their opinions and do not hesitate to question their managers and even the managing director if there is a delay in the work assigned to them. They also understand the importance of quality in a seller's market. The company builds on traditional craft skills like hand embroidery, applique, tie-dye, handloom weaving, engineered weaving, extra weft weaving, leather craft, silver jewellery and beads. The products are innovative, combining the creation of aesthetic beauty with strong ethical work practices.
RangSutra's philosophy is 'Respect for all—the producer, shareholder and the customer.'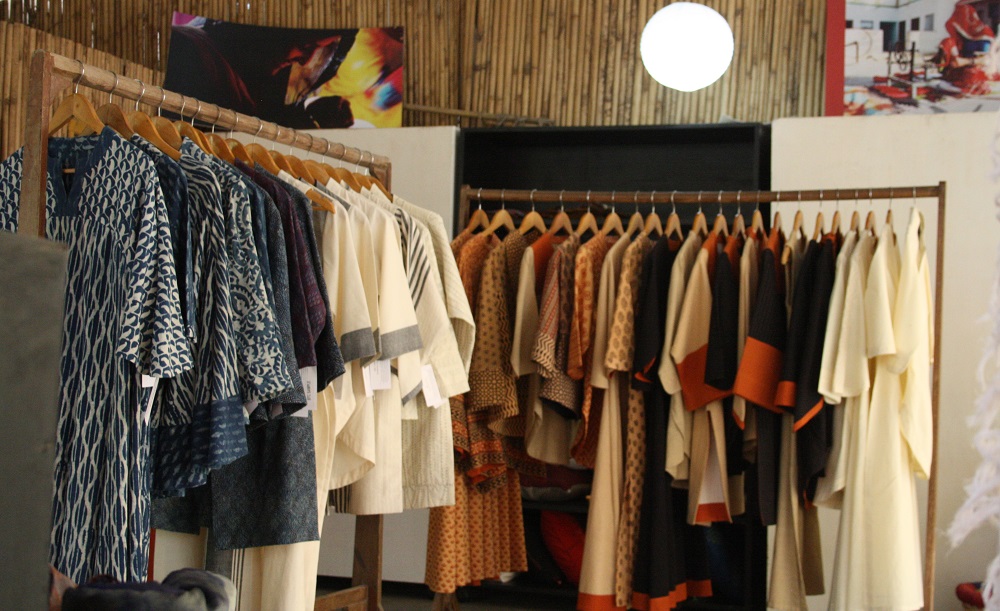 The company's business model entails working with group. After beginning with three clusters, it now works with 35 groups of artisans in UP, MP, Rajasthan, West Bengal, and Manipur. In Manipur, the organisation works in collaboration with the Manipur Women Gun Survivors Network and in Madhya Pradesh with women who have given up scavenging to become artisans.
Fifty women have become crafts managers and have greater responsibilities. Artisans are involved at all levels of the production chain from sourcing material and weaving and dyeing fabrics, to product development and quality control of the final product. Since 2011, RangSutra has also focused on workshops for the development, monitoring and quality control of new products. The workshops impart management and planning skills to those handling groups of artisans, like tracking orders and ensuring timely delivery, leading to a significant jump in orders. The cutting of kurtas and other apparel has been centralised in Bikaner. The stitching is also done in Bikaner and Mirzapur to ensure standardisation of quality. The embroidery embellishment happens in village centres and garments are dry cleaned to ensure they are spotless and that the fabric colours don't run. Even the waste material collected from the stitching of kurtas and cushion covers are used to make patchwork bedspreads, bags and mobile phone covers.
While RangSutra takes on young artisans of 16 or 17 as apprentices, the average age of a craftsperson involved in the project is between 30 to 40 years.
It also engages older artisans in their sixties, but finds that it is easier to mould younger ones. Meharunnisa, in her mid-forties, is a shareholder and a tie-dye specialist from Bikaner. Her association with RangSutra began after two-and-a-half years of intense training. With her confidence level at an all-time high, she says "my work lets people know about me, my ability to supply in bulk and the finesse involved". Meharunnisa earns Rs.12,000 a month and is confident of handling export orders that adhere to global standards.
Badii Bai, who specializes in embroidery, is the anchor of a women artisans group in a village in the Pugal division of Bikaner. Having worked with RangSutra since its inception, she says "Many women in my village are shareholders. We work together as a family with customers, suppliers and RangSutra to ensure better returns. We have a sense of ownership and pride and a feeling that this is more than just a job. We don't have to go beyond our homes for work. Our clients come for hundreds of miles to look at our work and lives. We have a glorious past and look forward to a richer future."
Jaan Mohammed is the solitary block printer in Bikaner city and revels in his status. He works from home, a home he built with three years' worth of the earnings he saved after starting work with RangSutra. He has co-opted his wife to work with him so that the family has a better life.
Like Jaan Mohammed, Nirmala Devi, an embroidery artisan from Mirzapur, has been able to establish herself so well that she could afford to request her husband Anil, working in Kolhapur, to return and work alongside her.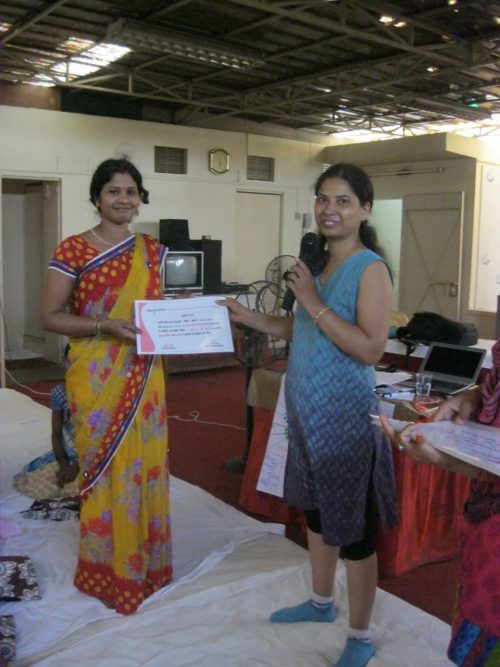 Nirmala is a vyavasthaapak, or a manager. Before joining the RangSutra team she was a member of a women SHG (self-help group), Swami Vivekanands Shiksha Samiti. She was married at 19 and soon found that her in-laws did not want her to step out of the house to work, so she began to make kurtas and children's clothes at home. On meeting the RangSutra team, she showed them samples of her work and was sent for a week-long training session at a stitching workshop in Jaunpur. She was even able to go on an 'exposure visit' to RangSutra's base in Bikaner and came back inspired.
Nirmala Devi is independent. She has a regular inflow of work and uses her time to help other women sustain their own needs as well as aspirations just like she does. With a daughter who needs medical help because she suffers from a growth disorder, Nirmala is determined to increase her earnings and her capacity to become an independent entrepreneur.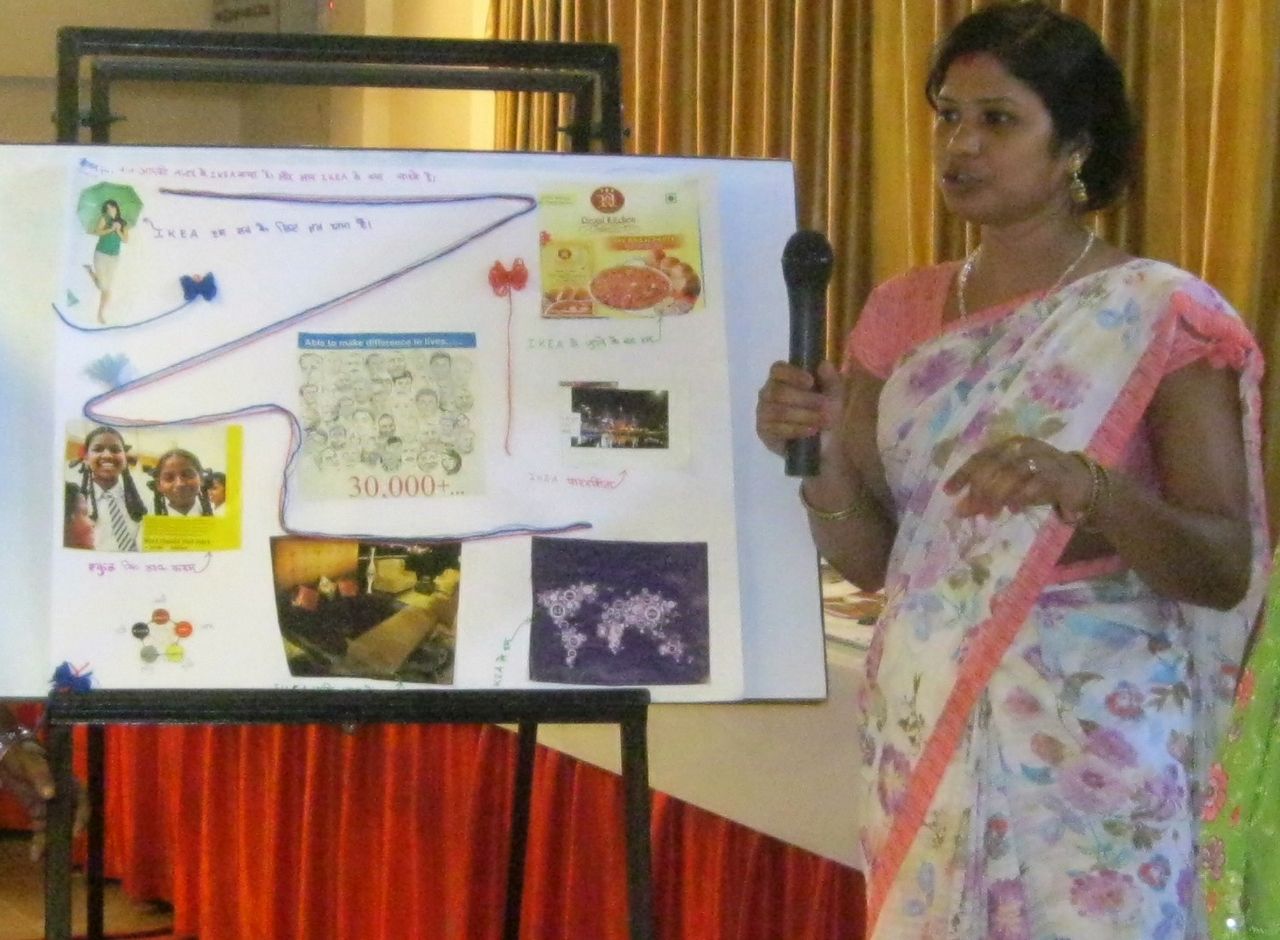 Omprakash, in his late thirties, is associated with the Napasar handloom cluster as part of the RangSutra Craft Duniya Producer Company. He works with 250 weavers to keep alive the craft of lohi, a light-weight, hand-woven blanket. Each weaver produces eight to 10 meters per day, which is small in these days of mass production. Omprkash's work showcases that craft heritage can be kept alive with artisans maintaining world-class standards.
Radha bai, Badli Bari and Nirmala Devi signify a new dawn for craftspeople on the margins. They are making their presence felt in society, their voices are beginning to matter at home and women like them are being emboldened to educate their daughters and become leaders in village forums.
Know more about RangSutra here.
Like this story? Or have something to share? Write to us: contact@thebetterindia.com, or connect with us on Facebook and Twitter.
NEW: Click here to get positive news on WhatsApp!
We bring stories straight from the heart of India, to inspire millions and create a wave of impact. Our positive movement is growing bigger everyday, and we would love for you to join it.
Please contribute whatever you can, every little penny helps our team in bringing you more stories that support dreams and spread hope.