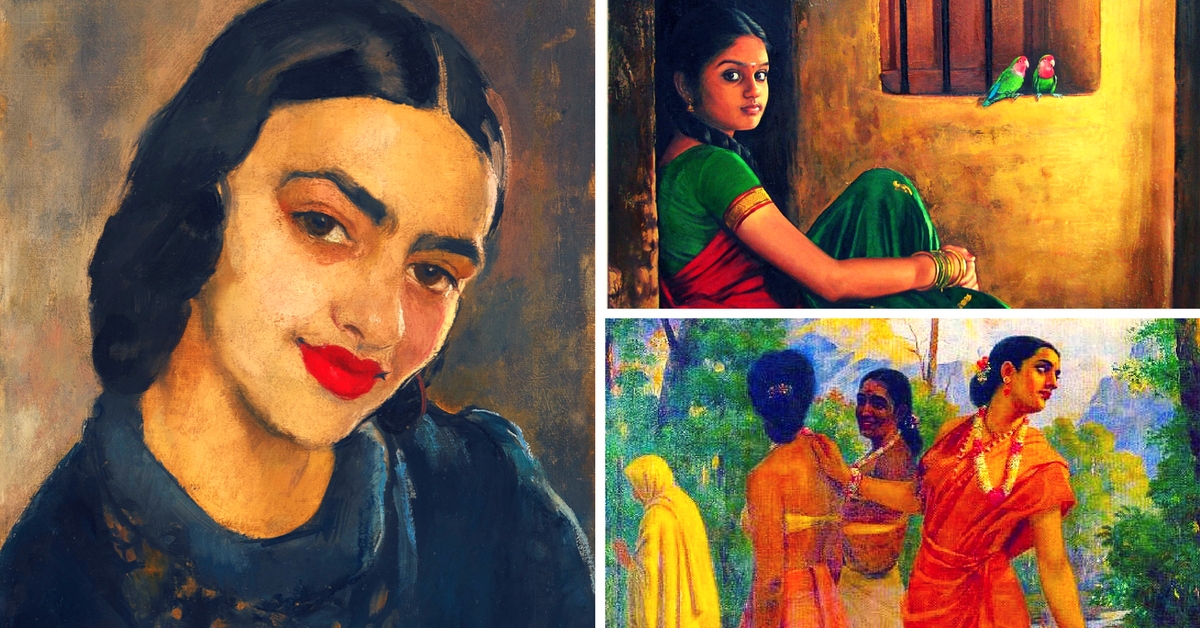 Indian artists have created some magnificent works of art that have the taken the world by storm. In no particular order, here is a list of 12 of the most famous Indian paintings of all time - recognizable pieces from the ages that will never be forgotten.
"Art washes away from the soul the dust of everyday life."
― Pablo Picasso
While we are inundated with art day-in and day-out, there are a few special pieces that have transcended time and culture to stake their rightful place in art history. For years, these paintings have held the attention of art lover, not just because they are beautiful, but because they hold within themselves a story. Every brush stroke and each drop of color used is a word written on the canvas.
Indian artists too have created some magnificent works of art that have the taken the world by storm. In no particular order, here is a list of 12 of the most famous Indian paintings of all time – recognizable pieces from the ages that will never be forgotten.
1. Self Portrait – Amrita Sher-Gil

This is a 1931 self-portrait by Amrita Sher-Gil, depicting one of India's most important modern artists at the age of 18. This is the also first painting by the artist ever to be offered in Christie's London, and one of only eight canvases by Sher-Gil to be offered at auction globally. Sher-Gil's self-portraits are painted with an intensity that is almost hypnotic, drawing the viewer into the innermost psyche of the artist, where one discovers a sea of melancholy.
2. Bharat Mata – Abanindranath Tagore
One of the most iconic paintings of Abanindranath Tagore (the founder of the Bengal School of Art), Bharat Mata depicts a saffron clad woman, dressed like a sadhvi, holding a book, sheaves of paddy, a piece of white cloth and a garland in her four hands. Immensely important because of its emotional and historical value, the painting became immensely popular among the nationalists in those days, especially in the wake of Lord Curzon's plan to bifurcate Bengal. Interestingly, Sister Nivedita, an admirer of the painting, wanted to carry it from Kashmir to Kanyakumari to spread nationalist fervour among the people of the country
3. Shakuntala – Raja Ravi Verma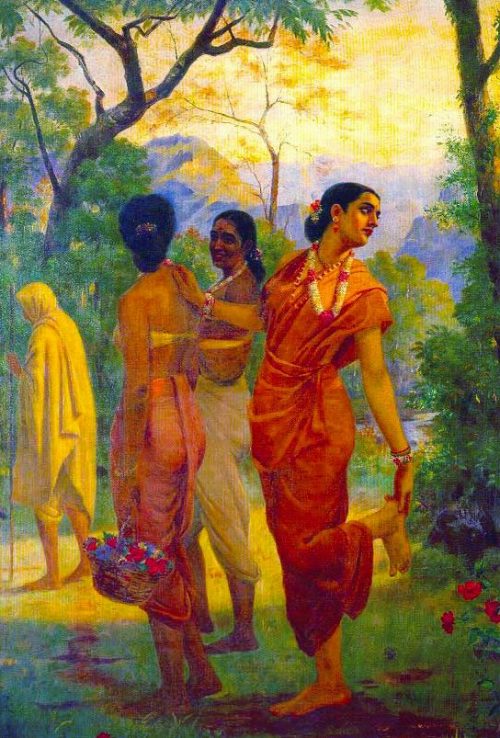 Shakuntala is an epic painting by celebrated Indian painter, Raja Ravi Varma. Ravi Varma, depicts Shakuntala, an important character of Mahabaratha, pretending to remove a thorn from her foot, while actually looking for her husband/lover, Dushyantha, while her friends call her bluff. Tapati Guha Thakurta, an art historian, wrote;
"This very gesture – the twist and turn of head and body – draws the viewer into the narrative, inviting one to place this scene within an imagined sequence of images and events. On its own, the painting stands like a frozen tableau (like a still from a moving film), plucked out of an on-running spectacle of episodes."
4. Bapuji – Nandlal Bose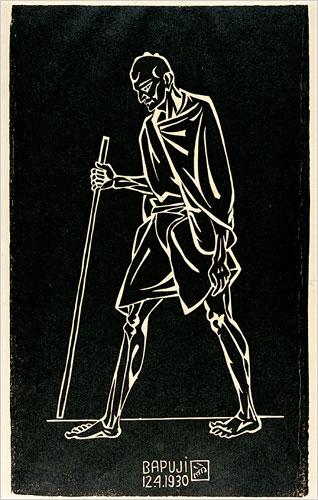 Everybody knows about Mahatma Gandhi as one of the greatest freedom fighters the world has ever seen. But how many among us know that Bapu has been a muse for many of his contemporary artists both in India and abroad? The legendary Nandalal Bose, an artist of Shantiniketan during the life time of Gandhi, had stated that Bapu was an inspiration for all artists. His famous linocut portrait of the Mahatma titled 'Dandi March' (with the legend Bapuji, 1930, inscribed on it) created in 1930, reflects his respect for Gandhi and is on permanent display at the National Gallery of Modern Art in Delhi.
---
Also Read: A Tribute to the Artist who Sketched and Illuminated India's National Emblem
---
5. Mahishasura – Tyeb Mehta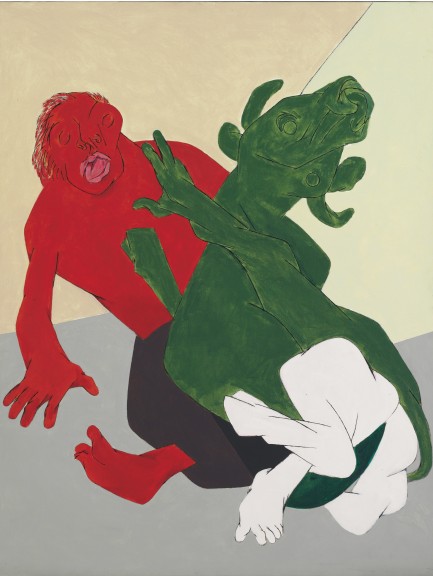 The most important work by India's finest contemporary artist, Tyeb Mehta's Mahishasura – a reinterpretation of the tale of the demon by the same name – was the first Indian painting to cross the million dollar mark, selling for a whopping $1.584 million at Christie's in 2005. The painting happened after Tyeb's visit to Shantiniketan where he was inspired by the legend of Mahishasura. Mehta fuses ancient imagery with simplicity of form, colour and line, resulting in a powerfully modern work full of fresh vitality.
6. Self-Portrait – Rabindranath Tagore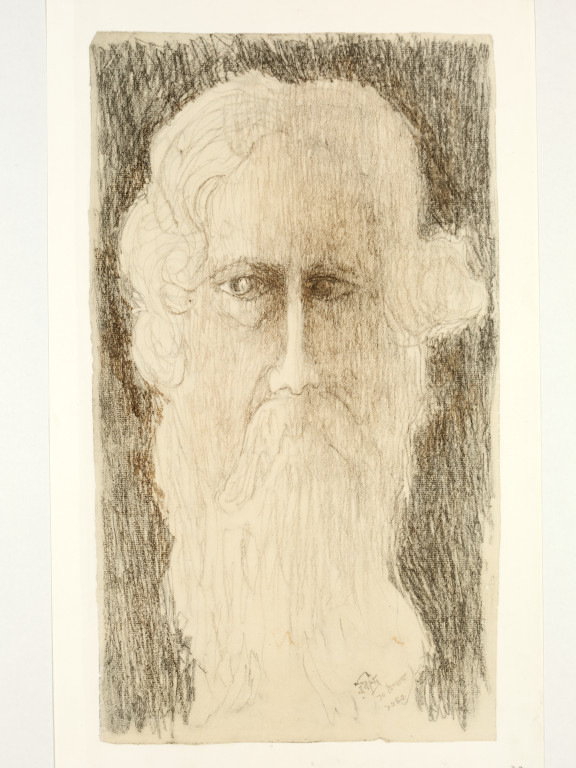 Nobel laureate Rabindranath Tagore started painting in 1924 at the age of 63, though long before this, an element of effort could be noticed in the various corrections and doodles in his manuscripts. Towards the end of his career, Tagore, striving to create a universally accessible art, took up painting more consistently. He made thousands of sketches and drawings using brush, pencil and pen, the most famous of them being his self-portrait. This painting depicts the full-face, self-portrait of the bearded artist, enhanced by the lack of colour, unworked background and the use of primitive looking pencil lines.
7. Three Pujarins – Jamini Roy
Jamini Roy, the eminent Bengali artist who is counted among the early modernists of twentieth century Indian art, created a masterpiece when he painted three almond-eyed priestesses for his work named Three Pujarins. Inspired by the folk art tradition of Bengal, Roy experimented with vibrant colours and developed his own individual style of painting that resulted in artwork that were a visual feast.
8. Horses – M F Husain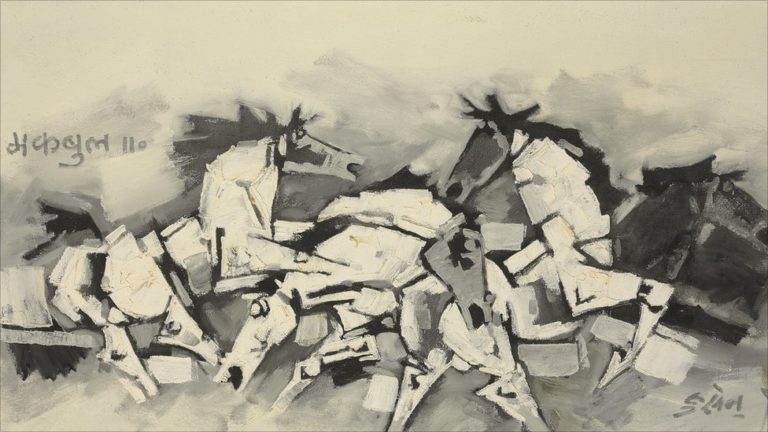 Early in his painting career, and until his death, Maqbool Fida Husain, one of India's most prolific painters, enjoyed depicting the lively and free spirit of horses in many of his works. This painting by the maestro captures the power and energy of three horses through bold outlines that define the strong beasts in full gallop. Among Husain's best works and a collector's dream, this painting was placed on auction at Christie's in 2008 and fetched over INR 1 crore.
9. Krishna (Spring in Kullu) – Nicholas Roerich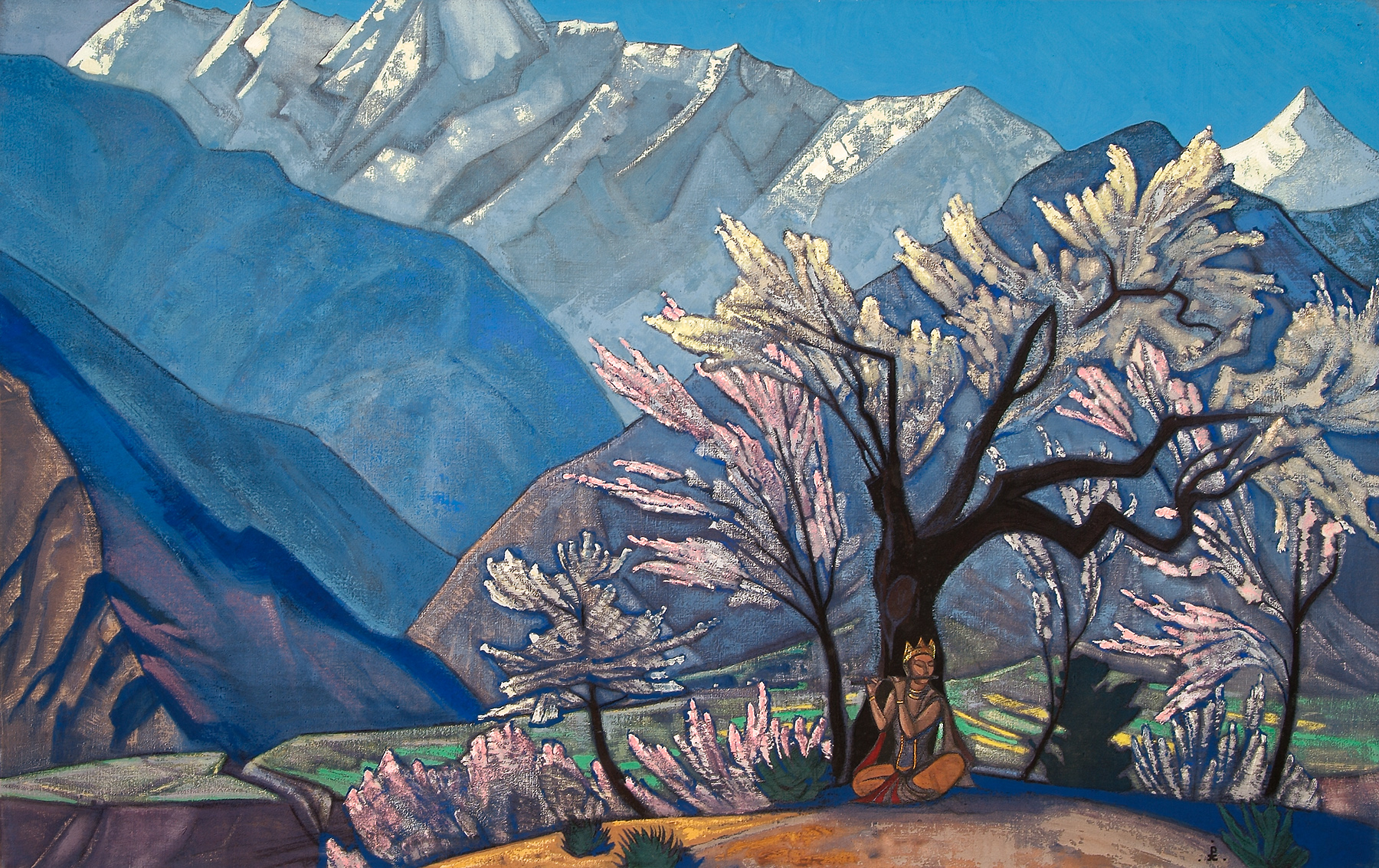 One cannot overlook the claim of Krishna (Spring in Kullu) by famous Russian artist Nicholas Roerich while talking about famous Indian art work. The painting that is on permanent display at Nicholas Roerich Museum, New York has Krishna playing the flute under a tree in blossom with majestic snow covered mountains in the backdrop. Roerich, who after having traveled the world, made Kullu his home and died there. In 1979, he was declared by ASI as one of the nine artists whose work are considered national art treasures.
10. Bindu – S H Raza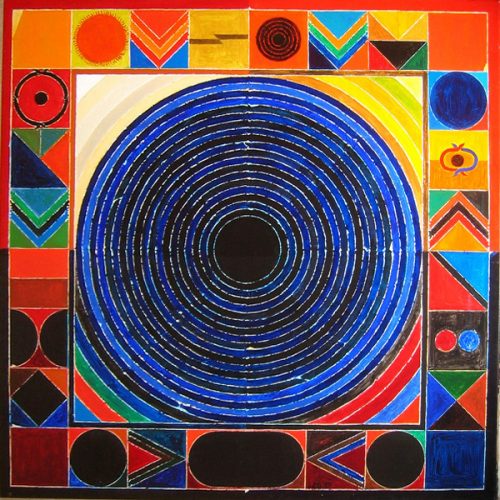 A legendary modern artist who popularised Indian iconography globally, Syed Haider Raza never tired of the bindu'or the shunya that became the focal point of energy in his work. Through his long and prolific career — his first solo exhibition was in the year 1946 — Raza's art evolved continuously. But by the '70s, he had found the motif that would make him a legend: the bindu. Raza once stated that "Bindu is a source of energy, source of life. Life begins here, attains infinity here." Other than the bindu, his instantly recognizable trademark geometric abstract works also explored themes like prakriti (nature), kundalini (primal energy) and tribhuj (triangle).
11. Glow of Hope – S L Haldankar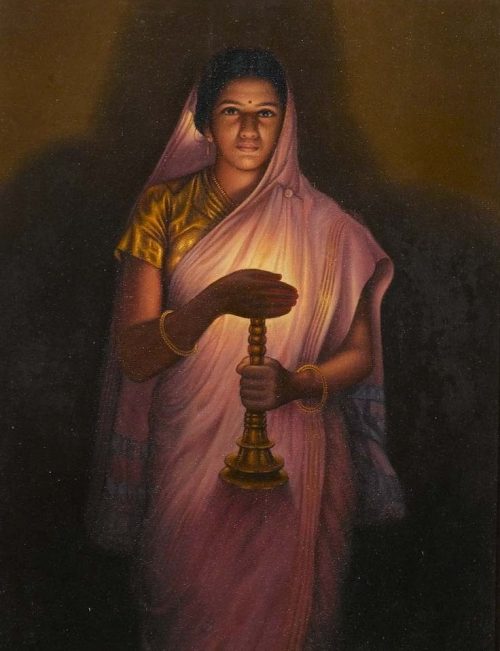 Seventy years ago, a young, demure girl stood still for three hours with a lamp in her hand. She was posing for a work of art being created by her father S L Haldankar. This watercolour masterpiece, popularly known as Lady with the Lamp or Glow of Hope has been a star attraction in the Sri Jayachamarajendra Art Gallery in Jaganmohan Palace in Mysore for nearly 60 years now.  The sensitivity, simplicity, soft and subtle colours used as well as the ethereal depiction of the light reflecting from the fingers, has made this painting a highly-regarded work which is renowned worldwide.
12. Tamil Girls with Her Parrots – S Elayaraja
S Elayaraja's paintings are reknown for being hyper-real, almost photographical as he depicts 'Dravidian girls', in his much-acclaimed, inimitable style. In the painting, the girl is seen sitting with her parrots and smiling subtly into the frame with a knowing look in her eyes. Elayaraja painstakingly breathes life into every detail, from the folds of the girl's dress to the shining gold-threaded patterns and borders of her skirt, the pretty parrots perched on the window sill behind her, the brown wooden frame behind her and the cemented floor. Bathed in an almost angelic golden light, the painting showcases the artists's deep bond with his cultural background, growing up in a temple town in Tamil Nadu.
---
Also Read: Meet the Artists Who Live Among the Baiga Tribals and Depict Their Rich Culture in Art
---
We bring stories straight from the heart of India, to inspire millions and create a wave of impact. Our positive movement is growing bigger everyday, and we would love for you to join it.
Please contribute whatever you can, every little penny helps our team in bringing you more stories that support dreams and spread hope.
Tell Us More