In a bid to prevent open defecation and usher in hygiene and cleanliness among slum-dwellers of New Delhi, a group of college students have initiated a unique campaign that has brought down the open defecation rates in some slums from 95% to 3%.
In a bid to prevent open defecation and usher in hygiene and cleanliness among slum-dwellers of New Delhi, a group of college students have initiated a unique campaign that has brought down the open defecation rates in some slums from 95% to 3%.
Had you visited or wandered close to the slums in Sultanpuri and Kirti Nagar in New Delhi a year ago, you would have witnessed a common and appalling sight of slum-dwellers walking into open fields with a tin can to relieve themselves. You might have walked past stinky toilet complexes lying vandalized with broken, leaky walls, and pipes. But not anymore!
Thanks to a group of enterprising college students from Shaheed Sukhdev College of Business Studies (SSCBS), Delhi University, the open defecation rates in these slums have come down from 95% to a mere 3% in just one year.
And this was made possible through community involvement and healthy sanitary initiatives like Project Raahat undertaken by the Enactus team in SSCBS.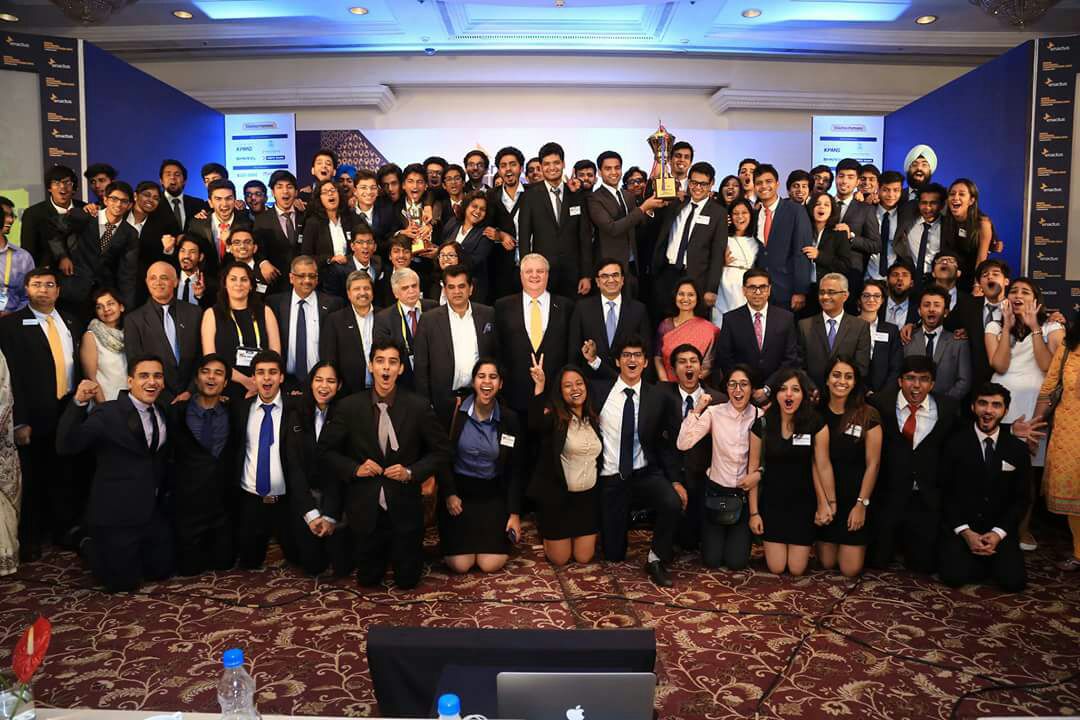 Enactus is a global non-profit organisation run by students at individual university and college levels committed to using the power of entrepreneurial action to transform lives and shape a better and more sustainable world. In India, Enactus is active in more than 150 colleges and universities involving more than 4,300 students working on nearly 122 projects across the country. The SSCBS Enactus team comprises of 70 students, of which 20 are directly involved in Project Raahat.
---
You may also like: Waterless and Zero-Waste: These Toilets Are Bringing A Sanitation Revolution in Rural India
---
Project Raahat aims to eradicate open defecation and provide safe sanitation facilities to the urban slum dwellers of Delhi. They come up with innovative measures for management of toilet complexes, incorporate aesthetic modification and sensitize people on healthy sanitary practices. The idea sprung from an older project called 'Sanitary Solutions' in which they were educating people living in slums about healthy and hygienic practices like the use of sanitary napkins, etc.
They even made sanitary napkins and distributed them to women.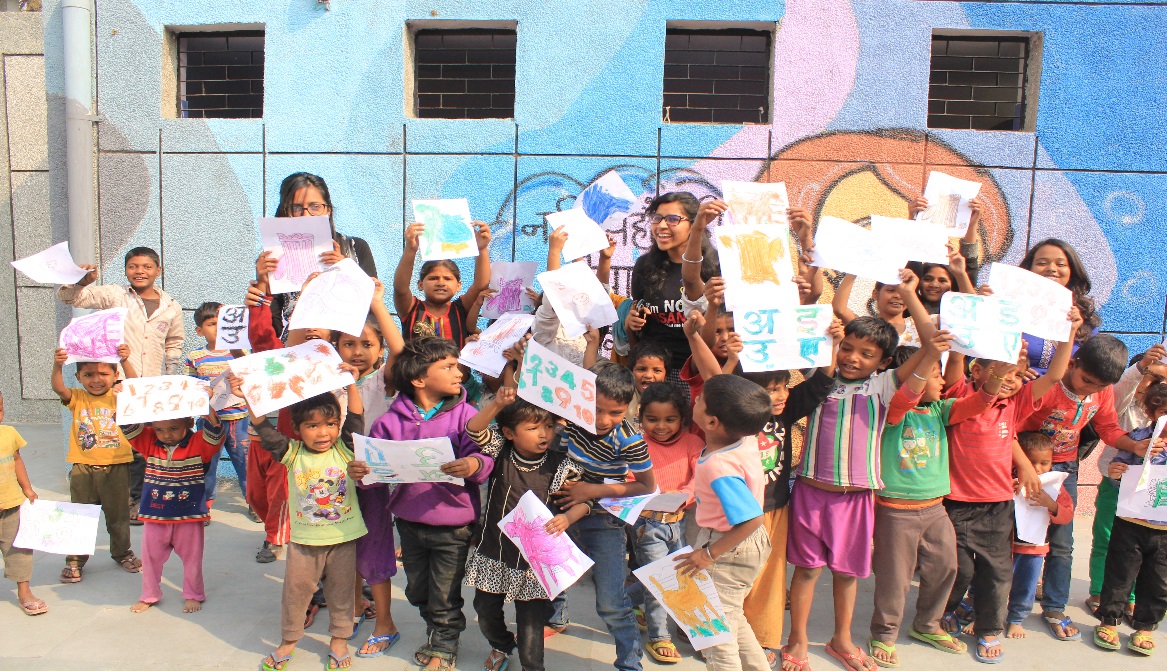 During this time, Enactus SSCBS conducted several need assessment surveys in these slums to understand what the community required. They found that people didn't have clean toilets and in some cases no toilets at all. Instead they chose to defecate in open grounds or near railway lines close by. They also found that the existing toilet complexes in these slums were in a dilapidated state with broken walls, no water or electricity supply, and unclean latrines that were a breeding ground for pathogens. Thus, in collaboration with the Delhi Urban Shelter Improvement Board (DUSIB), SSCBS Enactus became the first student body in Delhi to be allocated four toilet complexes in Sultanpuri and Kirti Nagar slums for holistic growth and upkeep of the local community.
The students are responsible for the operational management of the complex. They also sensitize the slum community on using these toilets. To reduce open defecation, they had to come up with unique innovative methods to attract people to use the new toilet complexes. They followed a three-point action plan. First, they made the toilet complex aesthetically attractive by creating wall art. They used witty Bollywood slogans of pop culture icons like Amitabh Bachchan and Salman Khan on the walls; bright and vivid in colour, you could see Gabbar Singh saying, 'Basanti, khule mein na jaa' (Basanti, don't defecate in the open) on one of the walls.
They also drew and painted cartoons and caricatures on the walls to attract people and children towards them.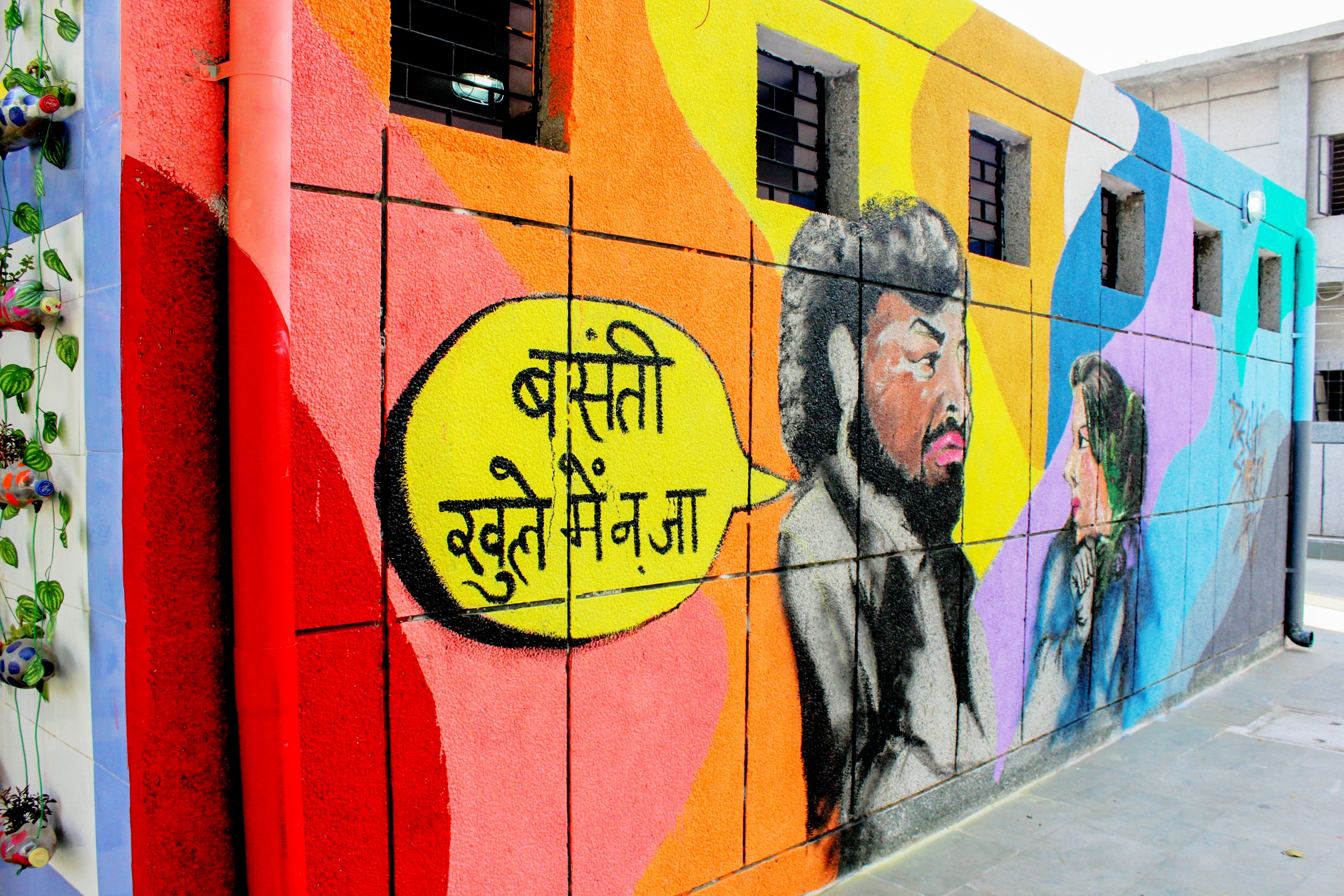 "We created a superhero called 'Raahi' to attract children there and tap into their psychology as someone who would pull them out of their misery and put them on the road to sanitation," says Aanisha Belur, an associate with SSCBS Enactus working on Project Raahat. The next step was to create a sense of community responsibility towards the maintenance of the toilet complexes. For this, they grew vertical gardens where they planted saplings in half-cut plastic bottles filled with soil and hung them on the side of the toilet building. This encouraged people to not break or vandalize the complex and to contribute towards the upkeep of the toilet complex.
---
You may also like: This 16-Year-Old Feels Humiliated Because She Has to Defecate in the Open. Gift Her a Toilet!
---
Additionally, they conduct separate regular camps on a weekly basis for men, women and children where they teach them how to adopt sanitary practices, including use of washrooms, cleanliness and closed-door defecation practices.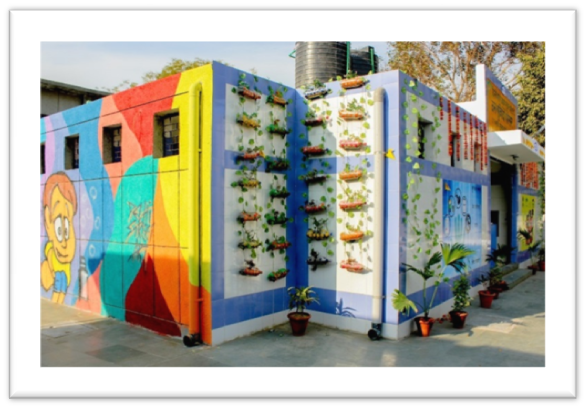 For example, the students ran a series of camps on a daily basis in December where they stood near grounds and stopped and questioned those who were going to defecate in the open. They involved the slum children to run up to those who were going to defecate outside and tell them to use the washroom instead. The aim was to induce shame in the adults as children would go close to them and say 'They are going to defecate in the open in public.' It was fun for the children too and achieved the community goal of making everyone use the bathrooms. More than cleanliness, money is a great deal harder to come by for these slum residents, many of whom are below the poverty line.
"After speaking to many of them, we realised a major reason they chose not to use the government toilet complexes is that they had to pay a rupee per person each time they used it," says Aanisha. As an alternative they would use the Mobile Toilet Vans (MTVs) which are free to use for women but are ill-maintained. To tackle this, the group of students came up with a pass system where a family of three had to pay only Rs 100 per month to use the toilet facilities at any time or any number of times. They established various rates depending on the number of family members. The facilities can be availed for free by senior and physically challenged citizens and children below 10 years of age. The passes contain a family photograph, the names of the family members and their local address.
All they have to do is show the pass to the caretaker of the toilet complex before using it.
A family of four availing the pass system.
A critical aspect of Project Raahat is entrepreneurship. In this case the students identify and appoint a caretaker and cleaner from within the slum community who is given a fixed monthly salary based on the number of passes sold and renewed each month.
The intention behind this move is to sensitize people to the fact that cleaning toilets is a dignified job and people doing it shouldn't be looked down upon in society due to the caste hierarchy. Enactus doesn't end its role there. They ensure the caretaker's family members are enrolled for relevant government schemes and their children sent to school too. This enterprising, self-sustaining model helped Enactus SSCBS win a national level competition, which led them to represent India at the Enactus World Cup held in Toronto, Canada, in September. Project Raahat, along with Project Udaan, were selected as first runners-up at the World Cup, coming ahead of countries like Germany and Nigeria.
---
You may also like: An Enterprising Young IAS Couple Has Developed an App to Help Anyone Find Clean Toilets!
---
Project Raahat also received a grant of Rs 5 lakh from the Delhi University Innovation Project. SSCBS Enactus inaugurated the first toilet complex in Sultanpuri in December last year and continues to invest its efforts in eradicating open defecation in urban slums. In the coming year, Project Raahat will take up the responsibility of 12 more toilet complexes and help create a self-sustainable environment and livelihood for its slum residents.
You can contact Aanisha by writing at aanishabelur@gmail.com.
Like this story? Or have something to share? Write to us: contact@thebetterindia.com, or connect with us on Facebook and Twitter (@thebetterindia).