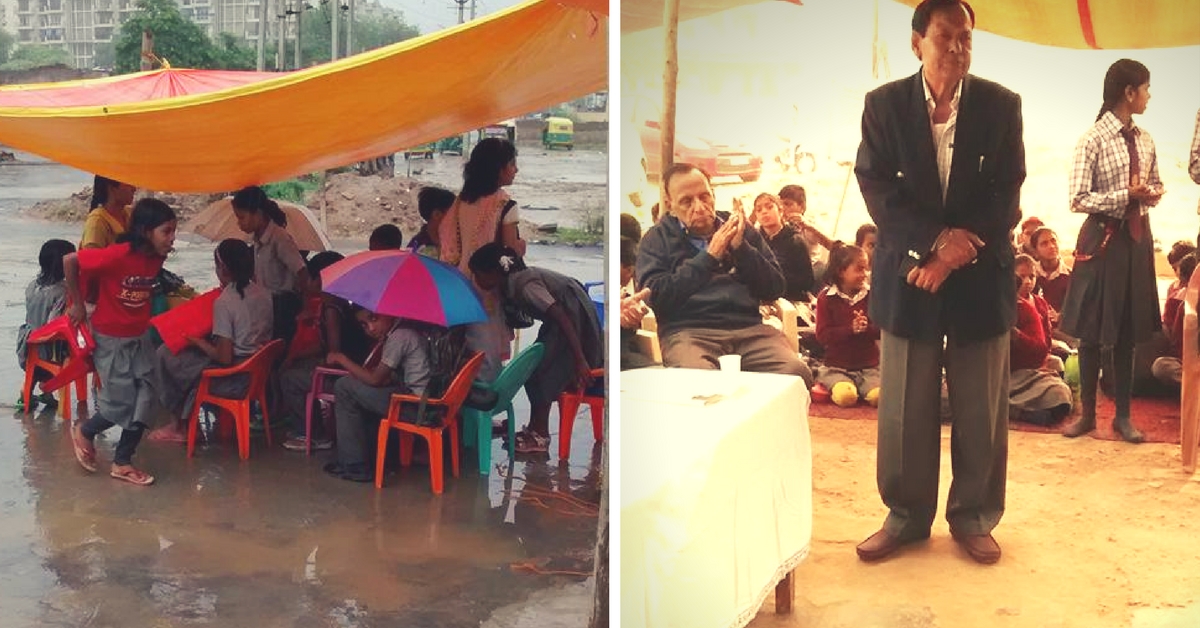 A 70-year-old retired engineer, J D Khurana, and his wife Kamlesh have started a school for underprivileged children in Gurgaon. The school runs in a parking lot and 460 students learn in tents.
A 70-year-old retired engineer, J D Khurana, and his wife Kamlesh have started a school for underprivileged children in Gurgaon. The school runs in a parking lot and 460 students learn in tents.
Like many such projects, it started small. Thirty years ago, engineer J D Khurana and his wife Kamlesh Khurana, a school principal, started funding the education of their driver's son. Then they started helping a blind student of the college where Kamlesh was principal.
This continued and the sapling of their initiative has now grown into a full-fledged tree called Nai Kiran Universal School in Gurgaon, where 460 children receive education.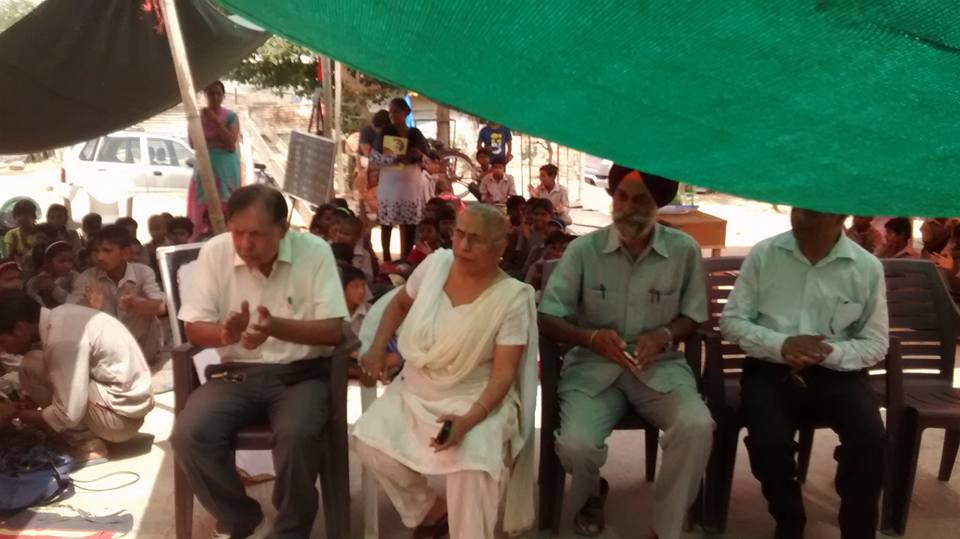 Khurana is 70 years old now and Kamlesh is 65. The couple says that it broke their hearts whenever they saw young children having to work as domestic servants and rag-pickers. They didn't just stop at showing sympathy but took a step forward and decided to carve a brighter future for these children too. They both started saving some money every month from their salaries to help those in need and founded an NGO, Guru Nanak Sewa Sansthan. The NGO runs the Nai Kiran School, where children from low-income households are given quality education.
"It's an English medium school and we follow the Delhi Public School curriculum. We provide books, textbooks, mid-day meals as well as the winter and summer uniforms, free of cost. A physician visits the school every week and we get them immunised too," says Khurana.
The children study in classes from pre-nursery to Class 9. There are 14 full-time teachers and a few volunteers who contribute from time to time.
The classes are conducted in makeshift tents since the school has no building.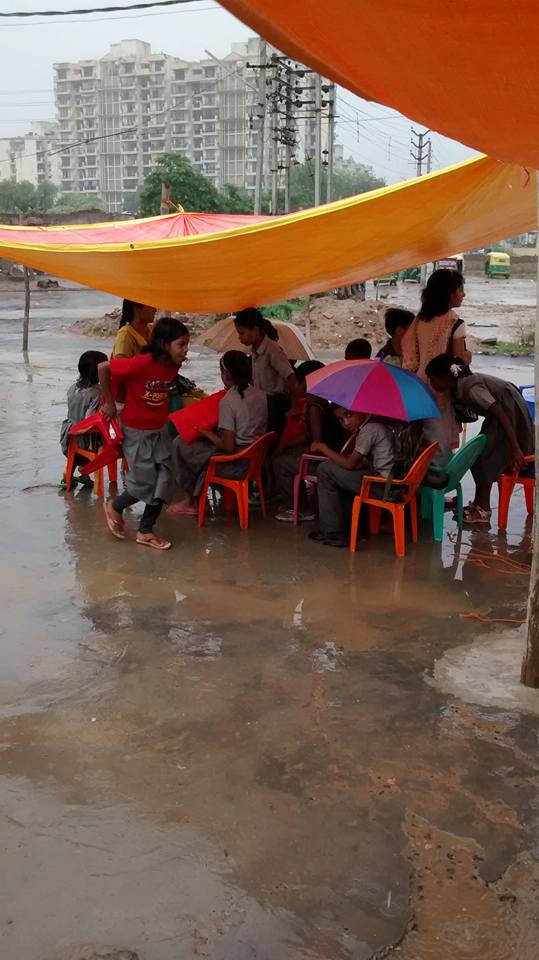 But the journey has never been easy for the Khuranas. They conducted classes in the premises of an abandoned building for a few years, with permission of the owner. But the building was demolished by authorities on the grounds that the land was government-owned. The tryst with the authorities didn't end there. The arrival of a new district commissioner provided hope when he ordered that the building for the school be rebuilt. After being built by the government itself, the room was yet again demolished for being an illegal construction once the commissioner's term ended. The NGO also tried to convince the government to donate the piece of land to the school, but in vain.
---
Also read: How an Innovative IAS Officer Is Single-Handedly Reviving Rajasthan's Education System
---
Since then, classes have been held in the rented basement area in tents.To avoid any conflict, the tents are erected every morning before classes and taken off every day after school hours.
"We also provide compulsory free computer education from nursery onwards, but due to the lack of space, it has been discontinued for more than a year. What keeps us going is the fact that even during adverse weather conditions the children are always present in full strength," says Khurana.
Many of the students of Nai Kiran School are bright and go on to get selected in prestigious schools and colleges once they leave this institution. Mensa International, the largest and oldest high IQ society in the world conducted IQ tests in the school recently and two students- Vinod and Kalpana – received a 99+ percentile.
"Forty of our students got admission in Delhi Public School-run Shiksha Kendra; 55 went to Shalom Hills International School; six are studying in Atul Memorial School and some others in other renowned schools," says Khurana.
A students' group titled Sarathi from the Management Development Institute (MDI), Gurgaon, has now taken an initiative to raise funds for the school.
With the aim of putting a roof over the students' heads and helping Khurana fund different facilities like mid-day meals, stationery, and uniforms, Sarathi is running a crowd-funding campaign.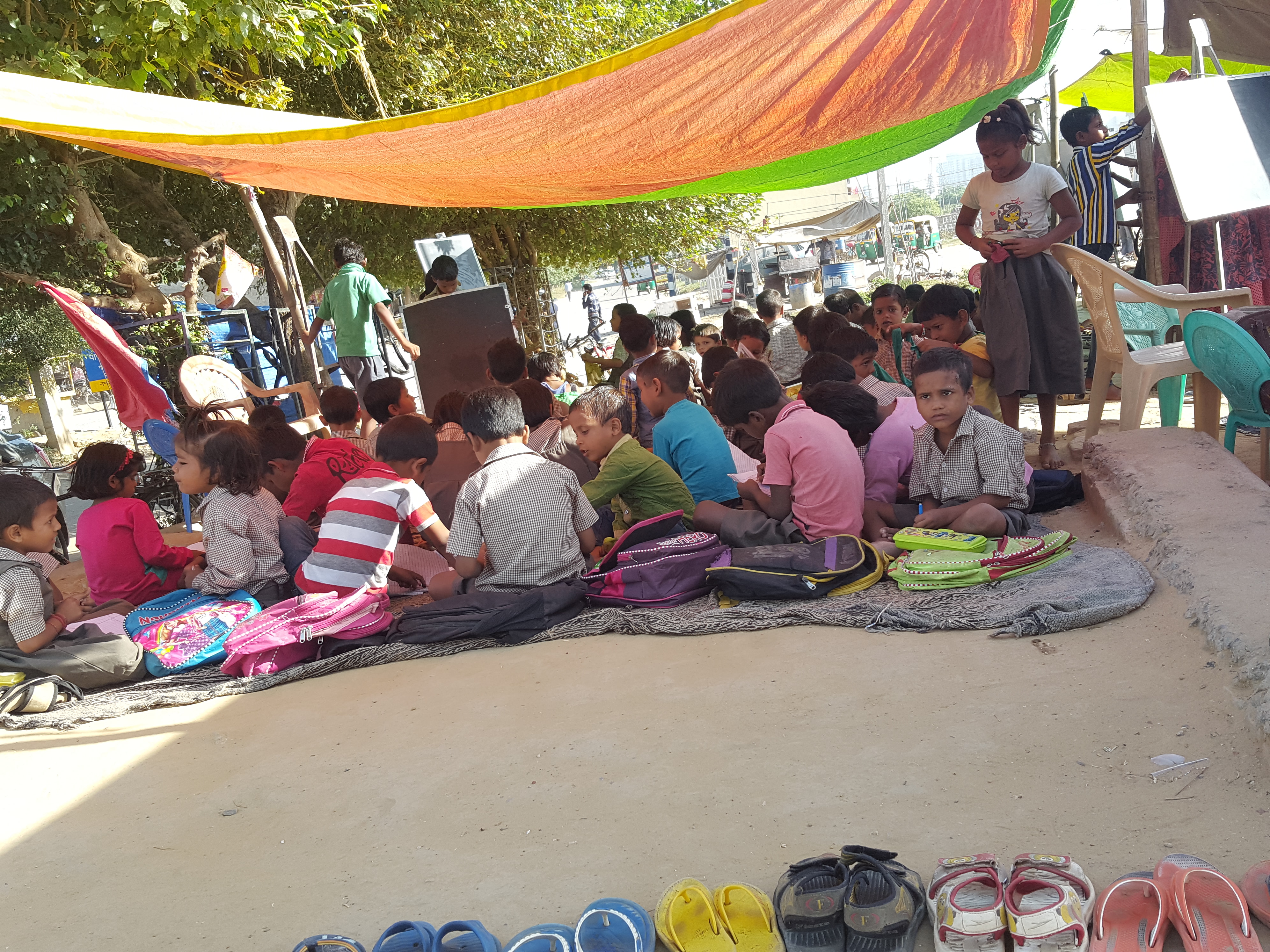 "We wanted to take up a project that would allow us to use our management skills to help a social cause. Our college authorities liked and supported the idea and we started looking for a project we could take up. That's when we came across J D Khurana's work. He is doing such great work; the kids have been found to be among the top 4% in NCR by an international organisation like Mensa! We felt that we needed to help them in any way we can," says Raj Singh Bhati, student of MDI and member of Sarathi.
---
Also read: TBI Blogs: Meet the Young Turk Bringing Hope & Joy to Children of Jammu & Kashmir through Education
---
To know more about Nai Kiran Universal School, visit their official Facebook page here. To contribute to the fundraiser, click here.
Like this story? Or have something to share? Write to us: contact@thebetterindia.com, or connect with us on Facebook and Twitter.
NEW: Click here to get positive news on WhatsApp!