LGBTQ issues are still borderline taboo in many sections of Indian society, and individuals identifying as such often face a hard time. A Bangalore-based 20-year-old transgender woman is using poetry to express her struggles and her determination to fight regressive mindsets and attitudes.
It is a matter of grave concern that almost the entire world grapples with the blurred lines between nature and culture when it comes to identity fabrications. For decades, the world has denied acceptance and importance to people who claimed to have identities different from the hetero-normative ones.
This tampers with the ideas of equality and freedom, and also affects personal journeys of individuals who do not feel they belong to the rigid hetero-normative sets of gender identification commonly accepted in society.
One woman who exemplifies the above-mentioned struggle is Shilok Mukkati from Bangalore, a renowned poet, and a Radio Jockey in Radio Active CR 90.4 MHz. She has pursued her studies in Psychology, Journalism, and Economics from Jain University, Bangalore, and presently runs a show called 'Colourful Kamanabillu' presently. In her early forays as a poet, she marked her presence with her spontaneous series of poems on the menstruation cycle.
There was a CD released, crediting Shilok for her contribution, and this led her to poetry full-time, while handling a show 'Yarivaru', initiated by another transgender woman, Priyanka.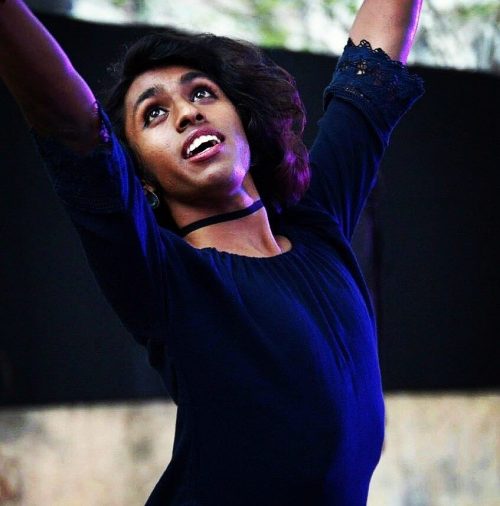 Shilok has actively contributed to her radio channel, enabling the channel to win a National Award from the Ministry of Electronics & Information Technology. Her poetry's content varies from her own experience as a transgender to lesbian love, and is immensely inspirational and reverential.
Shilok's life has been a spectrum of all kinds of experiences. She has emerged as a fighter, responding with strength to all the bullying and public shaming about her identity. Her attitude towards the concept of violence in public places is reflects everyone who falls prey to this heinous perpetration.
Writing primarily in Kannada, Shilok's journey as a poet began with Open Sky, a platform that allows budding artists to showcase their talents in almost every performative field. Shilok feels writing is extremely emotive as a mode of documentation. She remembers going for the pilot slam after being invited by the founder Shaun D'Souza. There, she realized she had the potential to come out of the closet and express herself and her identity through the art of poetry. This led her to perform with Open Sky later, where she received positive response to her thoughts.
The community is now her primary source of knowledge regarding Spoken Word Poetry, and she is very appreciative of it.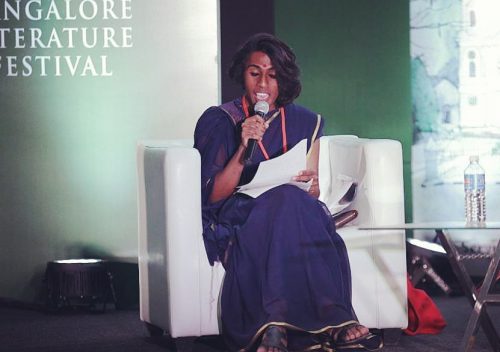 Admitting to having "faked" masculinity, Shilok realized she has always felt like a woman, and went on to be one without any hesitance. Her self-confidence helped her become so popular among people. "Feeling like a celebrity keeps me on cloud nine!" she gushes. She received an invitation to the Bangalore Literature festival from Mr. Subodh (of Atta Galata fame) and a renowned Kannada writer, Prathiba Nandkumar. There – among the other esteemed authors – she contributed to the panel discussion on literature in general. "The experience left me in tears of happiness," she says.
Finally, Shilok confesses she has an abiding love for literature, which she credits for clarifying her thoughts on the concepts of sex and sexuality. She loves Kannada literature for its sensitivity and endless space for LGBTQ-related stories. One of her favourite authors in the domain is Chandani, also a transgender poet who is currently penning down her autobiography. Shilok also refers to Dalit literature as a responsive, subaltern domain of writing. She believes LGBTQ literature is more individual in terms of dealing with personal angst, with great potential for the future.
This article is written by Swati Sinha, from St. Josephs College, Bangalore, for Open Sky Slam.
Connect with the Open Sky Slam community on their Facebook page.
Like this story? Or have something to share? Write to us: contact@thebetterindia.com, or connect with us on Facebook and Twitter.
NEW: Click here to get positive news on WhatsApp!