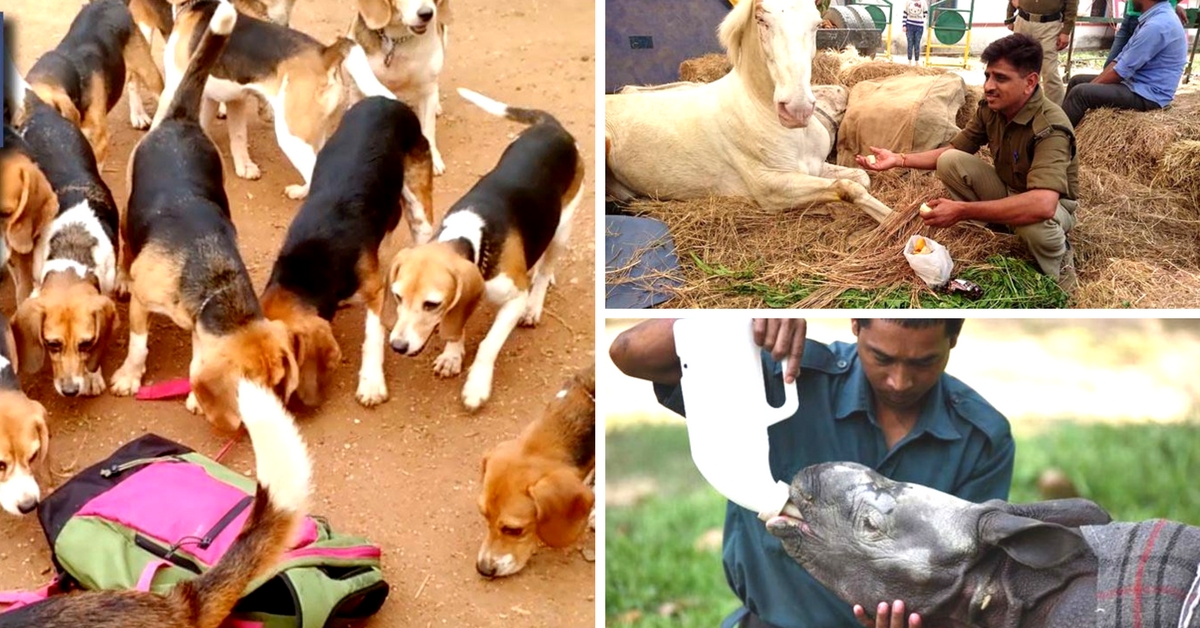 From bans on animal fighting and repeat animal testing to heartwarming rescue efforts, the hard work of animal lovers definitely paid off this year. Here's a round-up of the 12 times India came together for animals and animal welfare in 2016.
This year has been quite a year for animals. Yes, we do have a long way to go to address the many injustices and cruelties that still exist, but there were many victories that deserve to be celebrated, no matter how small. Thanks to the work done by amazing nonprofit organizations, shelters, sanctuaries, and individual animal lovers, we are working together to create a more humane and more sustainable India like never before, and this is something we should all be proud of.
This year has also seen some landmark judgements in the field of animal welfare. In the light of the animal welfare concerns associated with the shipping, import and upkeep of foreign-bred dogs, the Director General of Foreign Trade instituted a ban on the import of dogs for breeding into India. The landmark notification came after an intensive campaign by HSI/India and People for Animals, urging the government to recognize the rampant animal abuse in breeding circles.
From bans on animal fighting and repeat animal testing to heartwarming rescue efforts, the hard work of animal lovers definitely paid off this year. Here's a round-up of the 12 times India came together for animals and animal welfare in 2016.
1. Over 150 Beagles Rescued From Testing Labs in India Got their First 'Lick' of Freedom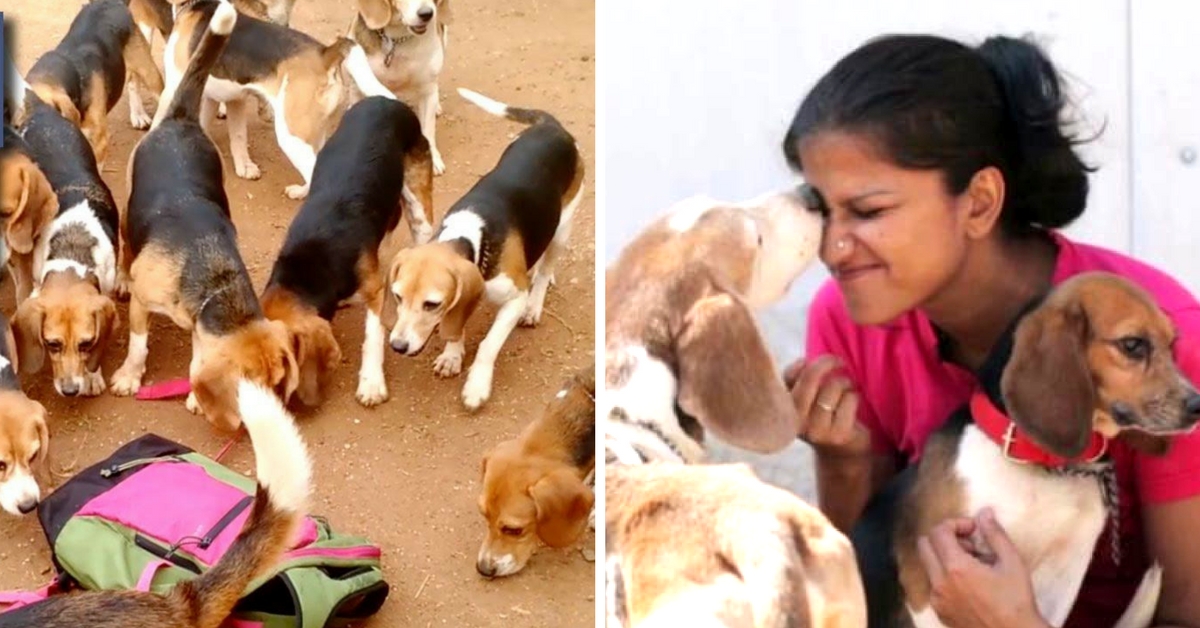 Earlier this year, 156 beagles received a new lease of life, when a Bengaluru-based laboratory set them free after the government refused them permission to use the dogs for experiments. Much to the surprise and delight of animal rights organization CUPA (Compassion Unlimited Plus Action) which organized an adoption run for them, most of the beagles immediately found a new family.
Born and bred in the laboratory, the "freagles" weren't exactly like regular dogs – they were quiet, easily scared, and didn't even know the joys of walks or chasing after a ball. So, when CUPA followed up after just a couple of months with the new families, they were delighted to witness an incredible transformation: every beagle had gone from being just another numbered animal to an individual personality with quirky characteristics.
2. A Community Conservation Initiative for Olive Ridley Turtles and Their Hatchlings in Odisha
Located on the eastern coast of India, Odisha is known to host the world's largest olive ridley sea turtle nesting site. Every year, between the months of December and April, thousands of olive ridleys emerge from the cool, clear waters of the Bay of Bengal for their famed mass nesting, also known as arribada. Over the years, beach erosion and human intrusion has led to severe decline in the number of these beautiful turtles and their hatchlings.
In 2016, HSI-India partnered with Action for Protection of Wild Animals to implementing a community conservation initiative for Olive Ridley turtles in Odisha. Thanks to the increased awareness created by this initiative, 679 turtles were protected and 39,286 eggs were safely collected and relocated to a protected hatchery. After clean-up drives were conducted to clear nesting beaches of debris and other solid waste, 23,103 hatchlings were rescued and released to the sea.
Read More Here.
3. Wildlife Rescuers Worked Overtime to Save 107 Animals From Assam Flood Waters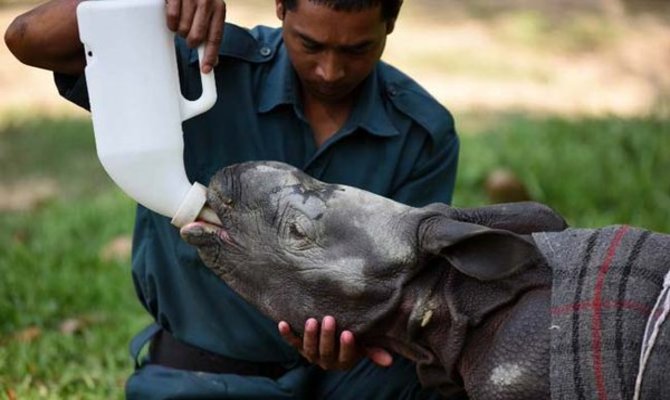 This year, heavy monsoon rains caused large scale flooding in Assam, forcing 1.2 million people to abandon their waterlogged homes. Eighty percent of Kaziranga National Park, one of the most important wildlife sanctuaries in the world and home to the world's largest population of the endangered one-horned rhinoceros, was also submerged under flood waters.
Mobile Veterinary Units of Centre for Wildlife Rehabilitation and Conservation (CWRC) worked day and night to rescue 62 hog deer, three eastern swamp deer, 10 Asian one-horned rhinoceros, and eight rhinos calves separated from their mothers. The Assam forest department also deployed over 1,000 people, including staff on the highways, to ensure safe passage of animals to the hills from low lying areas.
Also Read: Wildlife Rescuers Worked Overtime to Save 107 Animals From Assam Flood Waters
4. When Vets, Villagers and Army Soldiers Teamed Up to Help Sidda, the Injured Wild Elephant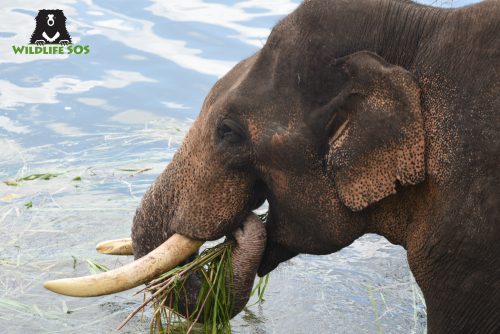 A wild elephant, Siddha had suffered injuries on his leg and shoulder after falling into a stretch of water. Unable to walk for more than 40 days, Sidda had been helped into a standing position after a joint operation conducted by the Karnataka forest department, the Indian army and the NGO WildlifeSOS. For this the elephant was put in a specially designed chamber so that it would make easier for the veterinarians to treat him.
Despite showing dramatic signs of improvement in the days after he was moved into the chamber, Sidda lost his fight for survival due to an internal infection. Sidda's plight had struck a chord with thousands of animal lovers who followed his story online or visited the elephant to offer prayers and support throughout his treatment. While all the efforts failed to save him, it did highlight the need for changes in wildlife conservation regulations as well as treatment of injured animals.
5. The #NoMore50 Campaign Against Animal Cruelty Garnered 88,000 Signatures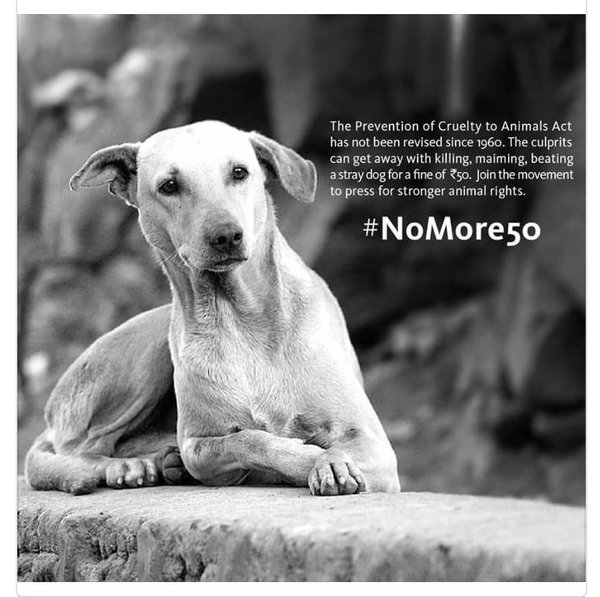 After a series of brutal and inhumane incidents of animal cruelty, several proactive citizens, parliamentarians and celebrities launched the #NoMore50 campaign in order to press for stronger animal rights law so that the culprits do not get away by merely paying Rs 50 for their unlawful action under the prevailing Act.
The leniency inherent in the current law had left animal right activists simmering at the lack of willingness to strengthen the PCA Act for several years now. With this in mind, Poonam Mahajan (an MP from North Mumbai) also introduced a private members bill seeking an increase in the penalties for animal cruelty through an amendment of the PCA Act. A signature campaign urging the Prime Minister to increase the penalty for animal cruelty, has so far garnered around 88,000 signatures. You can sign it here.
6. Animal Rescue Experts and Villagers Teamed up to Save a Leopard from Drowning in a Well. Not Once but Twice!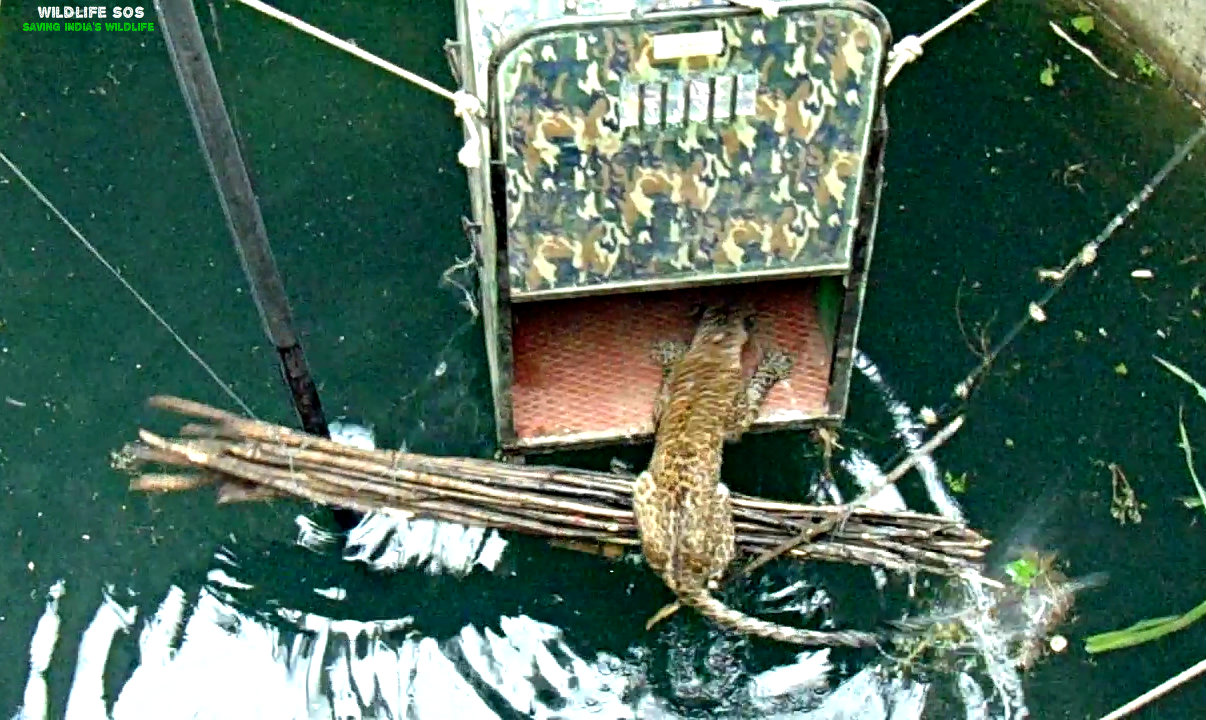 In Pimpalgaon Siddhanath village, in the Junnar division of Maharashtra, animal rescue experts and villagers came together to save a leopard from drowning in a 60 feet deep open well. A farmer had heard the distressed cries of the animal bellowing from the bottom of the well and contacted officials of the forest department. They in turn reached out to the nearby Manikdoh Leopard Rescue Centre, which is run by the NGO WildlifeSOS.
Once assembled, the team sprang into action. First, they lowered a wooden platform into the well. The leopard climbed on board, exhausted. Next, the team lowered a cage.
At first, the frightened cat eventually jumped into the box which was then carefully hoisted by the rescuers. After being examined the leopard—a four-year-old female—was found to be in good health and released back into the wild. In another heartwarming story of a community coming together for the benefit of wildlife, officials and villagers used ropes to pull out a leopard which fell into a well in the heart of Guwahati.
---
You May Like: How a Determined Vet in Kaziranga Is Saving India's Orphan Animals
---
7. A Petition Signed by 9,600 Animal Lovers Made a Retail Giant Ban the Sale of Snares and Traps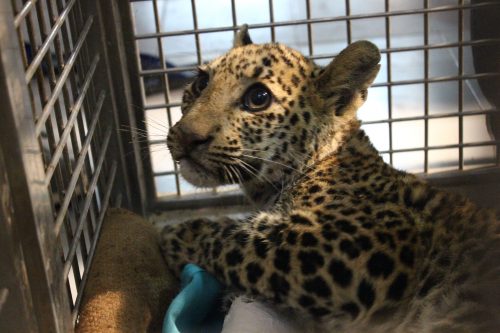 Animals caught in snares and traps often struggle for hours—in some cases, days—before succumbing to thirst, hunger, strangulation, internal injuries and even predation from carnivores. The animals that manage to escape often succumb to their injuries and die days or weeks after their painful escape. And this is not to mention the agony, terror and anxiety that any trapped animal will experience.
WildlifeSOS were appalled to discover that snares and traps were not just easily available, but were being sold in India by one of the world's leading online retailers. The NGO immediately launched a petition imploring the global e-commerce giant to stop selling snares and other items that encourage or propagate maiming, hunting, trapping and killing of wildlife. As a result of sustained efforts, the petition gathered over 9,600 signatures with animal lovers from across the globe expressing their outrage and vowing to boycott the retailer. The retail giant finally gave in and sent a written confirmation, agreeing to remove all such items.
Read More Here.
8. Ministry of Health and Family Welfare Banned the Repeat Animal Testing and the Draize Test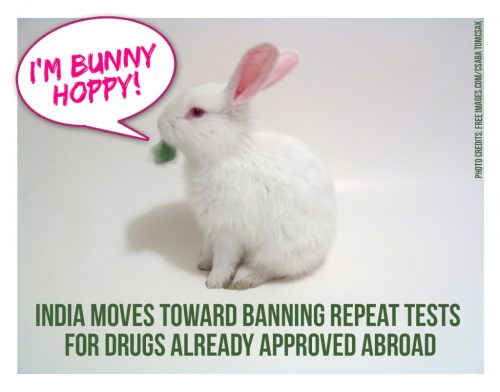 In March 2016, the Ministry of Health and Family Welfare amended the Drugs and Cosmetics Rules to ban animal testing of drugs that have already been tested in another country that is part of the Organisation for Economic Cooperation and Development (OECD). By banning redundant and painful tests on animals, this decision will spared the lives of the potentially hundreds of animals used in repeat experiments each year.
Later in November, the ministry also issued a notification that banned the use of the Draize test on rabbits and also mandated the use of OECD validated non-animal alternatives. The Draize test is used to measure eye and skin irritation by applying chemicals on restrained rabbits. HSI/India, PETA and other stakeholders were instrumental in persuading the government in adopting humane non-animal alternatives.
9. From a Prosthetic Limb to a Million Prayers, India Came Together to Hold a Vigil for Police Horse Shaktiman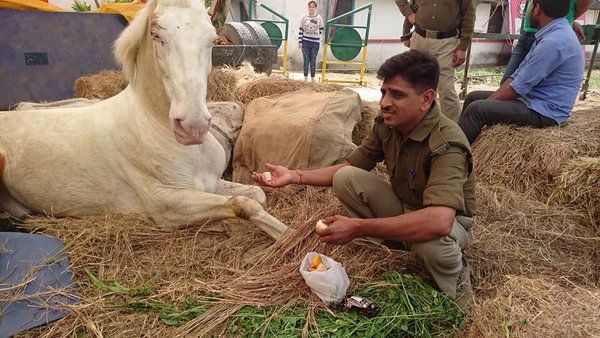 A statuesque white horse, Shaktiman was the pride of the mounted police unit of Uttarakhand when he was injured in a political demonstration in the capital city of Dehradun. With his limb having to be amputated in a life-saving surgery, Shaktiman's plight became front page news and his day by day survival status was monitored by animal lovers across India.
A team of vet and animal experts worked tirelessly to save Shaktiman as millions prayed for his quick recovery. He was also fitted with an artificial prosthetic leg brought from USA but he was unable to recover from an infection and passed away in April 2016.
Heartbroken after his death, thousand of Indians wrote to the Prime Minister, urging him to protect India's most vulnerable beings and show that cruelty won't be tolerated by strengthening India's animal-protection laws. They also demanded that animal abusers receive jail time and significant fines, as well as counseling and a ban on having contact with animals.
10. Mohan, Dubbed "The Unluckiest Elephant in the World", Was Rescued After 3 Years of Effort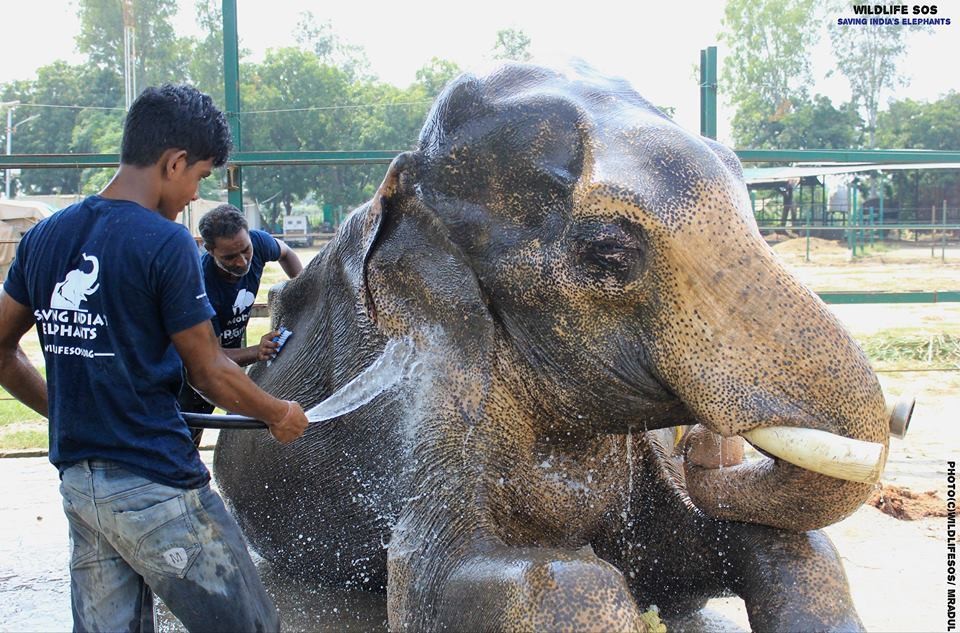 When Wildlife SOS first rescued Raju, an elephant who became famous for "weeping" upon his rescue, in India back in 2014, they came across another elephant who had undergone the same cruelty Raju had suffered for decades. That elephant was Mohan. Ever since 2014, the organization has been fighting relentlessly to deliver Mohan the same type of freedom Raju now enjoys.
Separated from his family and herd as a baby, a badly treated and hungry Mohan spent the majority of his time begging for money in the villages near Lucknow. He earned the nickname of the "unluckiest elephant in the world" when his rescue and transport to Wildlife SOS' Elephant Conservation and Care Center in Mathura was postponed by hostile, violent local mobs, who were determined to keep him chained up. Eventually, he was placed in the custody of the forestry department, where he could do nothing else but wait.
In September 2016, a high court finally took Mohan's deteriorating health into serious consideration and gave the go-ahead for Mohan to be transferred to Wildlife SOS's elephant care center, where he'll receive long-term medical treatment and, more importantly, a home where he'll never be hurt again.
Also Read: This Elephant Shed Tears When He Was Freed from Chains. Meet the Team That Rescued Him.
11. Animal Lovers Came Together to Save Bhadra, the Dog Thrown from Chennai Rooftop
The infamous viral video of a man throwing a dog from the terrace of a two-storeyed building had left many across the country shocked and outraged. But to everyone's great relief, animal rights activist Shravan Krishnan and his team found Bhadra (the name they gave the dog) alive and took her to Vepery Medical College for treatment. He also filed an FIR as well as the petition in the Court against both the accused.
Even as Bhadra awaited justice against those who flung her off the terrace, she has found a permanent home with Karthik Dhandhapani, a resident of Chennai. In the heart-warming post he revealed how adopting Bhadra was a dream come true and how gradually the friendly dog had become family for him.
Read More Here.
12. Over a Thousand Birds Were Rescued During the Uttarayan Festival in Jan 2016, the Highest Count Ever!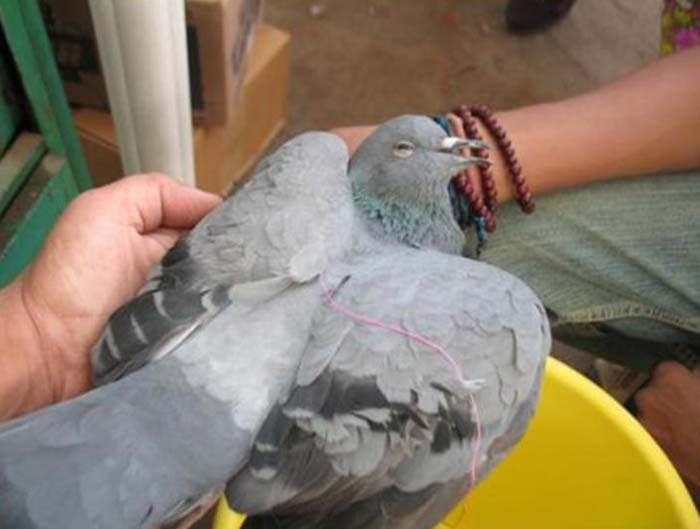 Pelican, Saras Crane, White Rumped Vulture, Greylag Geese and other critically endangered species are often among those injured during two days of the Uttarayan, the International Kite Festival held in Gujarat. This year, the rescue of 1,728 birds was by far the highest count since the Save the Bird campaign began. This campaign was started in 2006 to rescue and rehabilitate birds who become entangled with the glass-coated manja or nylon thread, suffering grievous injuries.
In another great move, the Telangana and Andhra Pradesh governments also banned the procuring, storing, sale and use of nylon manja (other than grievously injuring birds, its is also toxic and non-biodegradable) before the annual Sankranti festival.
Tell Us More
We bring stories straight from the heart of India, to inspire millions and create a wave of impact. Our positive movement is growing bigger everyday, and we would love for you to join it.
Please contribute whatever you can, every little penny helps our team in bringing you more stories that support dreams and spread hope.