Community meal centres like Amma's canteen, Jan Aahar centres and Annapurna Rasois offer wholesome meals to the hungry at a reasonably low price. With food security for the poor becoming a big issue in India, it is time we rekindle the spirit of sharing and address the issue of chronic hunger through community kitchens.
We live in a time of overabundant food production, but despite this, millions of people in India go hungry every day. In particular, the recent and continuing phenomenon of rising food prices has resulted in a considerable section of the urban population facing serious food insecurity even as the urban economy grows rapidly.
In a bid to tackle the chronic hunger of India's poor, in the recent years, more and more states across the country have been rolling out 'soup kitchens' for the poor. Usually running alongside a government initiative, soup kitchens are meal centres where food is offered to the hungry for free or at a reasonably low price.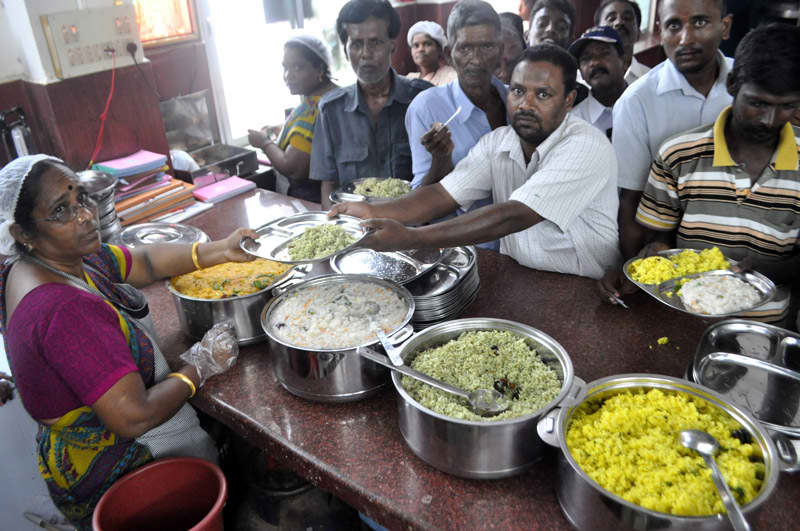 Here's the story of how state-run low-cost kitchens across India are affirming the value of affordable, nutritious meals for the working class.
Every morning in Chennai — and once again around noon — one can notice long lines of people outside the Amma Canteens in the city. Among the clients, one can find daily wage labourers, head-loaders, factory workers, security guards, domestic workers, auto-rickshaw drivers, street vendors and construction workers, interspersed with children.
Astutely named 'Amma' canteens, these low-cost community kitchens were launched by the late J Jayalalithaa, Tamil Nadu's former chief minister, three years ago. The hot wholesome meals are sold at subsidised rates met by the Municipal Corporation, except the cost of rice which is supplied by the state government.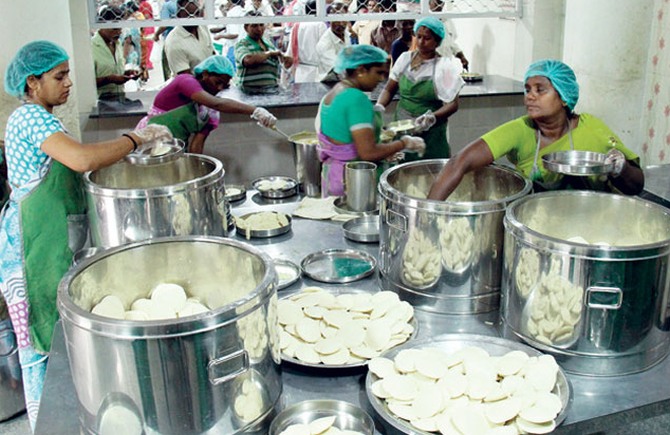 The menu is simple: idli and pongal for breakfast, three varieties of rice dishes for lunch, and chapattis served with dal for dinner (the chapattis come for 3 rupees each with free dal). A pioneering welfare scheme, these canteens were an instant hit with the urban poor. While their earlier meals at private eateries cost Rs.40-50, the workers could now fill their stomach for as less as Rs 10. Even when much of Chennai was crippled by recent cyclone Vardah, the 400-odd Amma canteens meant the poor did not go hungry
The immense success of Amma canteens has prompted many other state governments to do the same. In 2015, the Uttarakhand government launched 14 new state government-run eateries, 'Indira Amma Canteens' that would serve a variety of local food at Rs 20 a plate. The menu incorporates Garhwali and Kumaoni dishes that uses local ingredients like pahari rice, gauth ki dal, pahari tur, bhatt ki dal , mandua and jhangora. All the food served at these canteens are cooked by different women's self-help groups, including members of the Mahila Mangal Dal.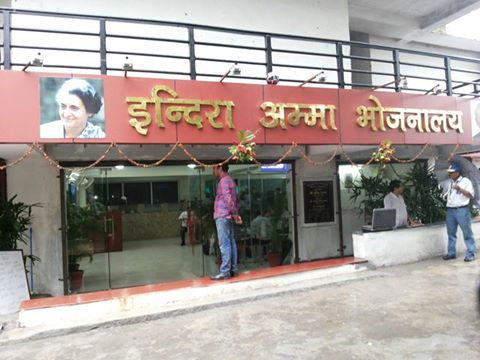 In Andhra Pradesh, NTR Anna canteens were launched in June 2016 and are already feeding hundreds of government employees who have recently relocated from Hyderabad to the state's new capital Amravati. In Telangana, multiple TRP meal kiosks have been set in Hyderabad.  Their frugal meal of rice, sambar and pickle (at Rs 5 per plate) feeds almost 15000 people daily.
In Odisha, Ahaar centres serving piping hot dalma (a watery mixture of lentil and boiled vegetables) with rice at just 5 rupees a plate have proven to be a big draw. While Chhattisgarh has enshrined its low-cost kitchens in law, Jharkhand's 'Mukhyamantri Dal Bhat Yojana' is among the oldest of soup kitchens run in the country. Madhya Pradesh is planning to launch its own version of subsidised canteens next year while Delhi has announced the launch of its 'Aam Aadmi' canteens.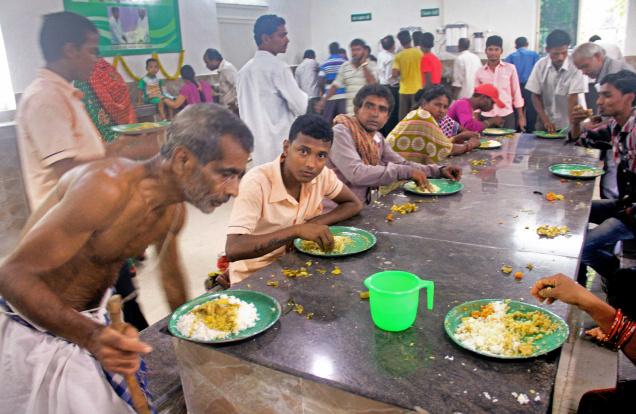 Recently, Rajasthan became the latest state to start its own scheme, Annapurna Rasoi. These canteens will provide good quality, subsidised meals to the less-privileged three times a day against a payment of Rs 5 for breakfast and Rs 8 for lunch and dinner. People interested in sponsoring meals can contact Jeevan Sambal Trust, the self-help group that is implementing this scheme.
Other than state-run community kitchens, several public-spirited individuals have also been running low cost canteens that cater to low-income, migrant and homeless population. In 2014, 'Kashtachi Bhakar' – a Pune eatery which provides food at affordable rates for labourers, students and people from the weaker sections of the society – completed 40 years.
'Kashtachi Bhakar' which literally means hard earned food, was started on October 2, 1974 by Gandhian activist, Baba Adhav, who is also the founder of Hamal Panchayat, a forum which works for the labourers. From just one eatery in 1974, the city now has 12 such eateries in Pune. These eateries operate on no-loss no-profit basis to provide hygienic, fresh and nutritional food to people who come from all over the state in search of employment.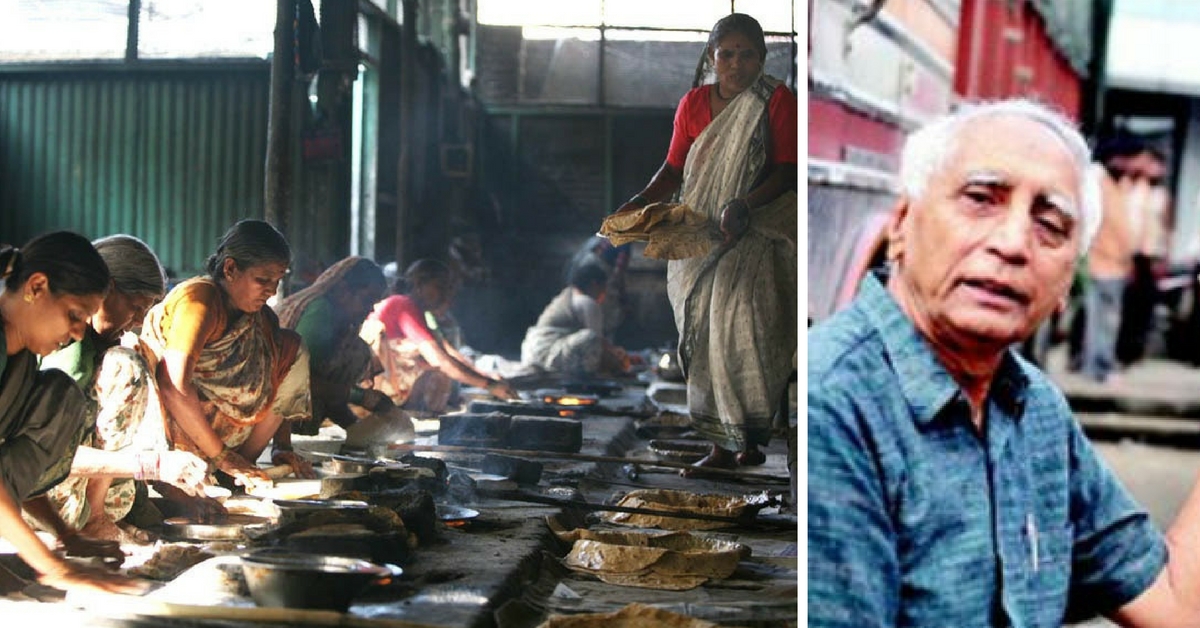 Another inspiring example is being set by Gurugram-based Janta Meals, a canteen chain for the urban poor. Prabhat Agarwal first felt the need for such nutritious and hygienically prepared affordable meals while running his NGO, Aravali Scholars, in Sikanderpur Basti. When he met Dutch national Jesse van de Zand in 2013, the latter was looking for opportunities to invest in early-stage social enterprises. The duo and Apeksha Porwal, a friend who joined the team, cofounded Janta Meals in 2013.
The Janta Meals' centralised kitchen is completely mechanised — from washing, peeling and cutting vegetables to making chapattis. This, along with efficient cooking and large volumes, helps keep the prices low i.e Rs 20-30 per meal. Freshness of the food and affordable pricing has got Janta Meals a phenomenal response – it sells 9000 plates a day! The organization also supplies food to garment factories, NGOs, schools in slums and construction sites.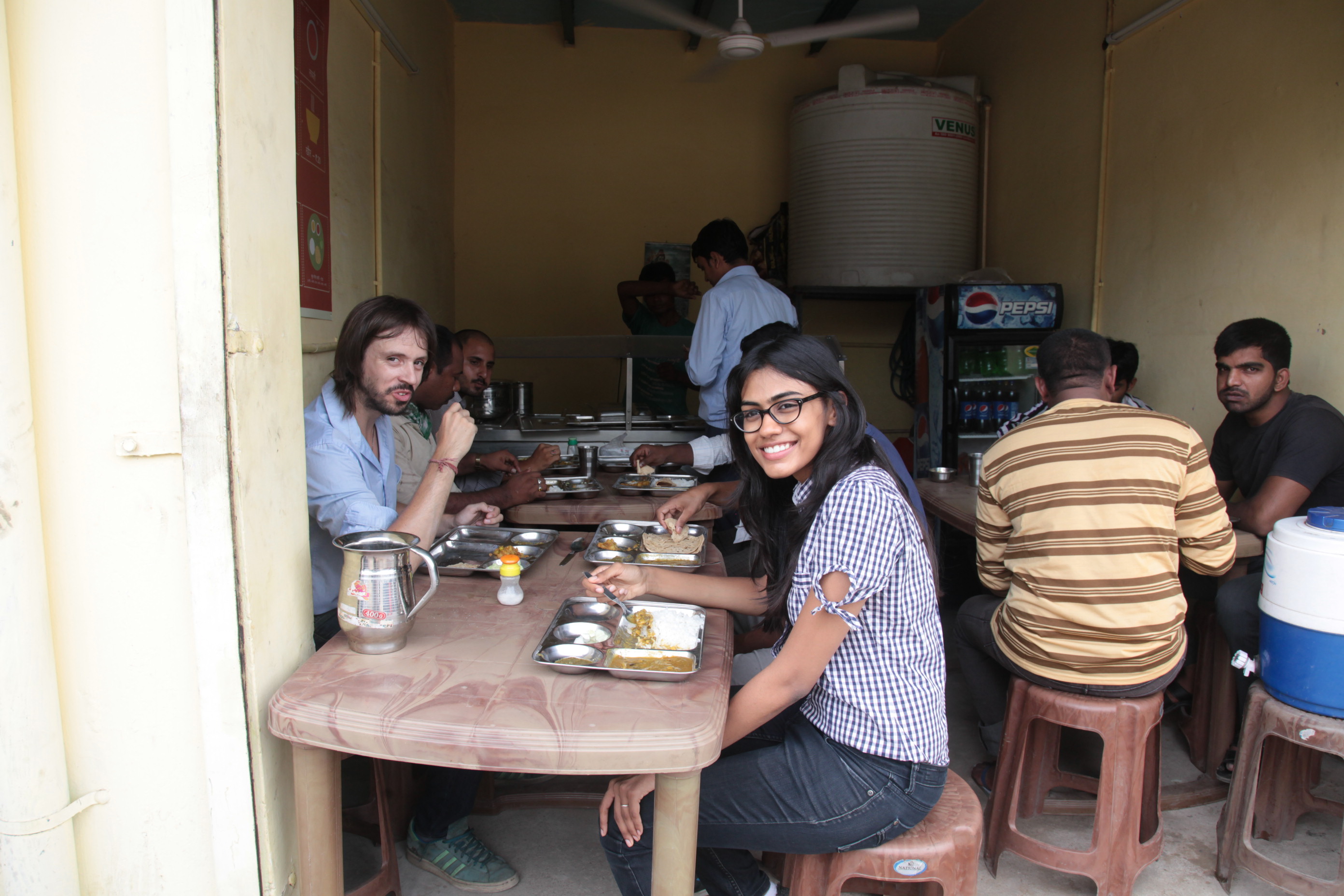 Whether it was feeding birds, ants, cows or human beings, India has always had a rich tradition of sharing food. The gurudwaras, through their free kitchens (langar), have long been providing physical sustenance to the poor. With food security becoming a big issue in the country these days, it is time we went back to our roots, rekindle the spirit of sharing and address the issue of food security through community kitchens.
Contact Details:
Baba Adhav (Founder of Kashtachi Bhakar)
Hamal Panchayat
Bhawani Peth, Pune
Phone Number: 020-26386799
Ajay Kumar (Janta Meals)
Email: ajay@jantameals.com
Mobile: 08285087465
---
Also Read: From Driving the Funeral Van to Feeding Cancer Patients, Shimla's 'Vela' Bobby Does It All for Free!
---
We bring stories straight from the heart of India, to inspire millions and create a wave of impact. Our positive movement is growing bigger everyday, and we would love for you to join it.
Please contribute whatever you can, every little penny helps our team in bringing you more stories that support dreams and spread hope.