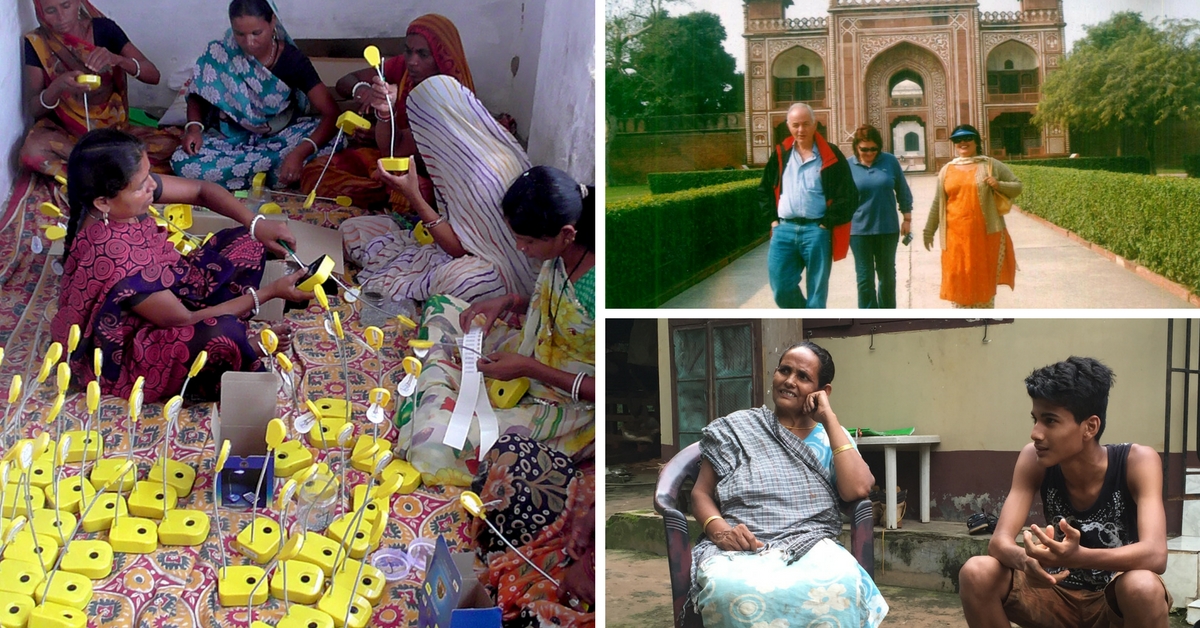 Women have faced a steep struggle in getting equal rights and recognition at the workplace in India. However, these women have chosen to take on male-dominated workspaces head on, and come out triumphant.
Women have faced a steep struggle in getting equal rights and recognition at the workplace in India. However, these women have chosen to take on male-dominated workspaces head on, and come out triumphant.
Access to sustainable paid employment is the key to women's empowerment and capacity to exercise control over their lives. The Beijing Platform for Action had underlined this reality two decades ago. Yet, as experts have pointed out, when it comes to work, women continue to suffer from the "twin deficits of capabilities and opportunities". However, in this year-end special, we train the spotlight on women who have broken barriers and made a mark in workspaces that are otherwise reserved for men. In the process, they have set a unique precedent, and also brought change and prosperity to their family and community.
Dairy women try to milk out a career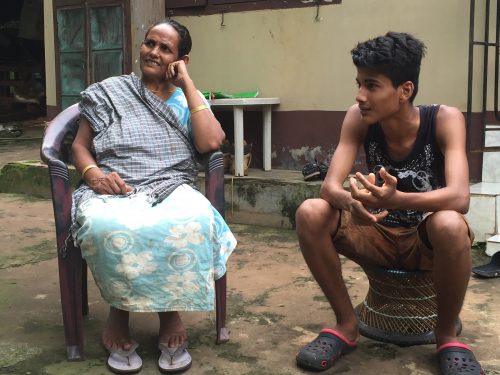 Bora Bai lives on the outskirts of Guwahati in Assam on a small hillock set against the picturesque backdrop of lush hills of the Shillong plateau. What looks like an idyllic setting is actually quite the opposite. Life is really tough for Bora, a single woman who runs a small dairy on the outskirts of the city to make ends meet. Moreover, as the sole caregiver for two elderly relatives and a grandson, Bora truly has her hands full. From doing the household chores to cleaning the cattle shed adjoining her little hutment to bathing the two cows and buffaloes, lugging loads of fodder from the nearby forest, milking the cattle twice a day, and then managing the sale of milk, her packed schedule doesn't leave the 55-year-old any time for herself.
Once her husband passed away – she was only in her 20s at the time – the challenge of keeping the dairy work going, her only source of income, fell entirely on her. Whereas earlier she tended to the animals, negotiating for the sale of milk was completely new to her. This transaction is usually handled by men because of the middlemen who come into the community to collect milk from each household. Thereafter, they take it to the State-run cooperatives, or retail directly to homes and shops in the city. The payment, informs Bora, is a fixed amount, usually Rs. 20-22 a litre.
Whatever she has learnt about dairy farming has been on the job. "If the government can provide women with specific training that will enable us to identify common cattle diseases, select good milk-yielding breeds, and even deal with the financial aspects, especially matters related to loans and insurance, it would make a huge difference. Women do eventually figure out ways to do things, but it would be good to go into this line of work with some sound information-base so that men cannot take advantage of our ignorance. "
— Taru Bahl
Hey, she's a mechanic!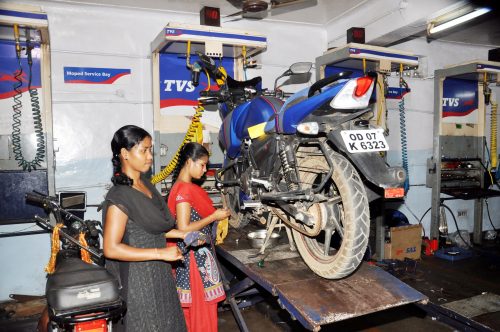 It is not every day that one sees girls training to become mechanics. But 16 teenage girls from Odisha's far-flung Gajapati district came out recently to take the training in Berhampur, located more than 100 kms. from their remote villages. "I was excited to get this opportunity, and I am happy that I was able to complete the four-month course," shares Subarni Paikaray, a delighted 19-year-old from Gumma block. Subarni, as well as the other girls training with her, had been unable to pursue their studies any further, but they were happy that they had been selected for vocational training under a programme on empowerment of adolescent girls being implemented in the district.
Several young women like Subarni are being trained in various skill development courses, which not only enhances their livelihood opportunities but also delays their age of marriage, resulting in long-term health and social benefits. In Gajapati district, for example, 40 % of currently married women aged 20-24 years were married before the age of 18 (Annual Health Survey, 2012-13). The rate of pregnancy and motherhood among 15 to 19-year-old married adolescent girls was reported to be as high as 48.5 &. In addition, approximately, one out of seven (13.4 %) girls are school dropouts in the 6 to 17-year age group, and this increases to one in three in the 13 to 17-year age bracket.
Fortunately, Subarni will never become a part of these statistics. Unlike her vulnerable counterparts, these days she is gearing up to be placed at either a service centre or showroom in Gajapati or its nearby districts. The growing aspiration of girls and young women from tribal areas points to a gradually changing socio-cultural trend where women no longer want to confine themselves to conventional livelihood sources.
— Elisa Patnaik
Female tourist guides love their job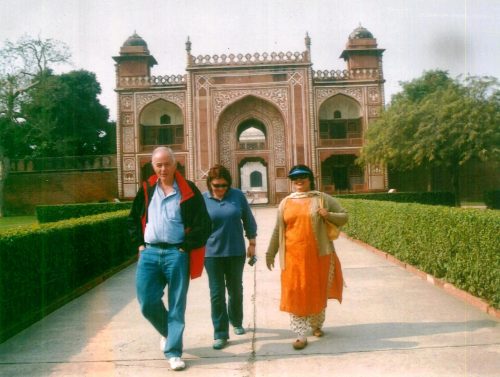 In popular imagination, a tourist guide is usually a man who accosts people outside monuments and other historical sites, offering guided excursions. This image has been further reinforced by the 1965 classic film Guide where cinematic legend Dev Anand transforms into Raju, a happy-go-lucky freelance guide who paves the way for a talented, but cloistered, married woman to rediscover her passion for dancing, and free herself from the clutches of a loveless relationship. However, think for a moment—is it possible to imagine a woman stepping into Raju's shoes as the footloose, fancy-free guide? Perhaps not, due to the stigma attached to this vocation. Yet, surprisingly, Indian women make wonderful guides.
Delhi-based Kamlesh Sharma, 70, is one of them, and perhaps one of the pioneers in the profession – she became a guide way back in 1970. "I had done multiple Masters – in History, English, and B.Ed. I wanted to teach, but my husband, who worked for the India Tourism Development Corporation (ITDC), felt it was better for me to become a guide as it could be done as a freelancer. Once I started, I simply loved doing it. The most joyful aspect of being a guide is when foreigners respect you and openly and generously appreciate our culture. They do their homework well and ask many questions," she says.
According to Wilhelmina Tunious, who became a guide in 1984, now more than ever, guides have to be better informed, "Tourists have become very demanding. Because of access to the Internet, they are already well-informed about the city they are visiting, and they want us to take them to all kinds of places that they have read about online. Consequently, one has to be a step ahead."
Female tourist guides confess they feel the pinch when nobody acknowledges their work. "Whoever comes to know I work as a guide asks me why I am not doing a 'good' job with a pension," shares Sharma. Tunious adds, "Though the work in itself is very exciting, people do not consider it respectable. They have no awareness about it. When I say I am a tourist guide, they invariable say, 'Raju guide? Like Dev Anand?'"
— Elsa Mathews
Radharani's a proud painter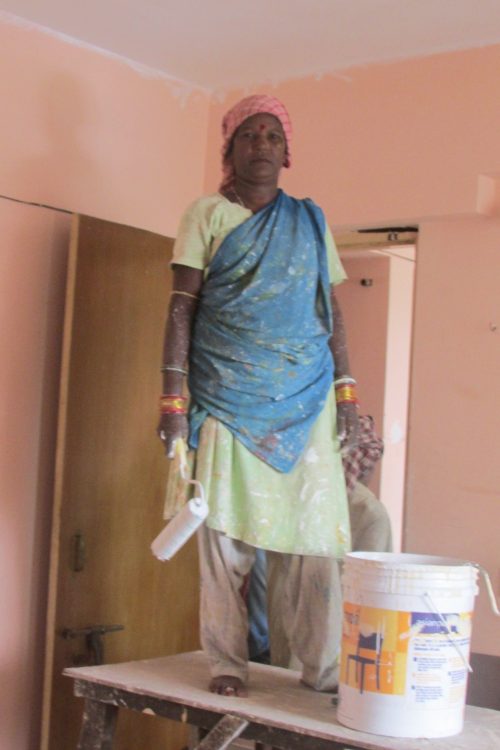 Generally, when one pictures a construction site, it's a space where men are in-charge — as contractors, supervisors, masons, painters, and so on. Men usually relegate women to the role of overworked and underpaid unskilled labourers with no voice or rights. But while this may be the overwhelming reality, when women are able to overcome the gender barrier and skill themselves, they outshine their male counterparts, and are, in fact, able to secure plum assignments without the assistance of middlemen who otherwise control this sector.
In her crowded slum of Salia Sahi in Bhubaneswar, Odisha, Radharani, 43, is a respected community member. The neighbourhood women look up to her because, unlike her lot, she calls the shots at home and in her workplace. As a highly skilled painter, she has carved her own place in the local construction business, where everyone respects her for her workmanship and professionalism. Heading a team of five women, whom she has trained, she is conscious of delivering quality work on time.
Obviously, when Radharani had decided to venture into this line of work, things were not all that easy. Initially, she encountered stiff resistance from contractors. Seeing a woman in action surprised people, and they doubted her abilities. She recalls, "Six years ago, I had got a contract for painting a State-run guest house. I was hard at work one morning, perched on my bamboo ladder, when the engineer in-charge called out to me. When I came down and took off my headscarf, I astonished him. He remarked that he never imagined that he would see a woman head a team of painters."
Radharani has learned the skills from her husband, Shankar Pradhan. He roped her in to bring in more money to pay for the education of their two children. She remarks, "My husband taught me how to paint, but now I can do better work than him. I get more assignments and make more money. However, he doesn't mind it and even tries to pitch in with the housework."
— Rakhi Ghosh
Solar sisters bring light, prosperity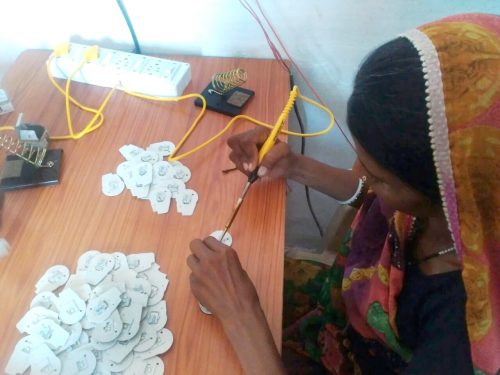 Rukmani Devi Katara, Maya Roat, and Babli Devi have many things in common. They live in remote villages in Rajasthan's Dungarpur district, and share a tribal heritage. They have also lived with abject poverty for as long as they can remember. However, today, it's not their deprivations or their culture that binds them. Instead, it's the pride of becoming capable entrepreneurs, thanks to the Solar Urja Lamp (SoUL) project. The project is by the Indian Institute of Technology (IIT), Bombay, underway with the Rajasthan State Rural Livelihood Mission's support. The intervention has empowered tribal women to make a decent living assembling and retailing small, portable solar lamps.
A resident of Mandava village, Rukmani, 30, could only study up to Class VIII. Her parents felt that contributing to the family income was far more crucial to their survival than gaining an education. She, however, has put no such restrictions on her four children, and has planned a very different future for them. She feels she can realise it because of her solar lamp assembly work. Chetan Singh Solanki, Professor of Solar Energy at IIT-Bombay, conducted a 10-day training workshop. It has enabled Rukmani and her friends to become familiar with instruments such as the millimeter and solar panels. They have also learnt to put the solar lamps together component-by-component. Apart from that, they have learnt marketing techniques as well.
Rukmani is a whiz at assembling solar lanterns, and a star saleswoman, too. She sold 1,300 lamps in the very first month and made Rs. 19,500. Previously, she used to work as a labourer, and made a maximum of Rs. 6,000 a year. With her enhanced income, Rukmani has rented a small shop for Rs. 2,000 where she wants to retail solar lamps. "I have been able to make good money. I want to use it to ensure my children's education. It'll them get the kind of jobs that we couldn't even dream of," she declares confidently.
— Renu Rakesh
To read more stories about other inspiring women, visit the Women's Feature Service website.
Like this story? Or have something to share? Write to us: contact@thebetterindia.com, or connect with us on Facebook and Twitter.
NEW: Click here to get positive news on WhatsApp!
We bring stories straight from the heart of India, to inspire millions and create a wave of impact. Our positive movement is growing bigger everyday, and we would love for you to join it.
Please contribute whatever you can, every little penny helps our team in bringing you more stories that support dreams and spread hope.
Tell Us More