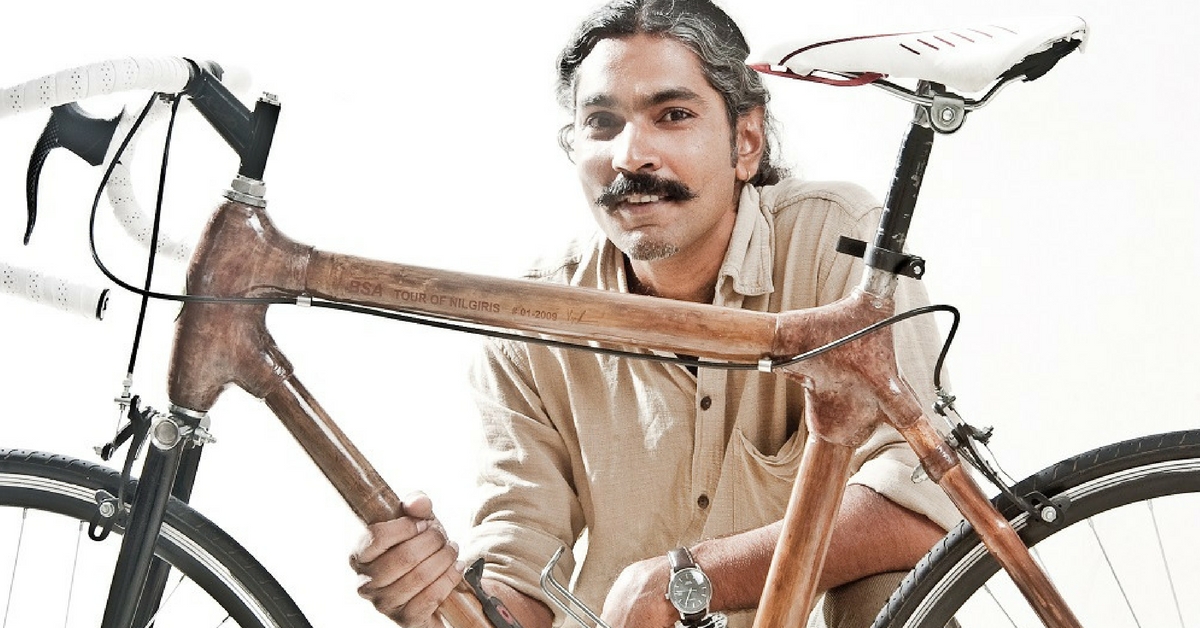 Meet Vijay Sharma, a 42-year-old who took on the challenge of making bicycles using bamboo and was successful.
Vijay Sharma is literally a hands-on man. He loves making new things on his own and experiments with unconventional materials to achieve interesting results. The son of a carpenter, Vijay used to make his own leather slippers and bags back in college. He has even tried making a tennis racket out of cane, and some bamboo furniture including a bed for himself.
"I've spent my childhood making things in my father's carpentry workshop. I enjoy using my own hands to create things," he says.
In 2009, when egged on by a friend, Vijay took on the challenge of making bicycles using bamboo. He developed two prototypes (both fully-functional) before getting the technique perfect.
Basically, the frame of the bicycle is made of bamboo and held together at the joints by hemp fibre (instead of glass or carbon fibre). The wheels, handlebars, brakes, and pedals have metal parts.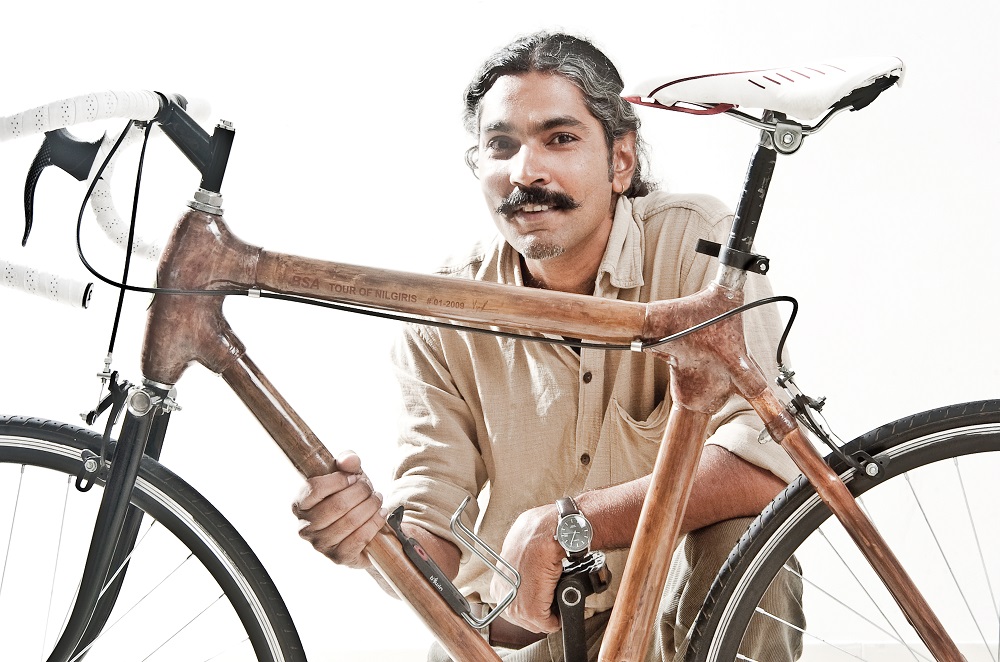 Vijay says using bamboo instead of metals such as steel or aluminium helps conserve all the energy spent in mining the metal, transporting it, processing it, and eventually turning it into pipes that are used to make bicycle frames.
---
You may also like: Two Environmentalists Are Trying to Rekindle the Lost Bond between the Locals & the Forest at Panna
---
"Bamboo, on the other hand has zero carbon footprint unless you transport it to long distances. It is a natural tube, light-weight and has very good compressive and tensile strength, which are important factors when making bikes. Bamboo makes for a great shock absorber because it has good elasticity and provides enough rigidity to the frame," says the 42-year-old. Bamboo also has to be treated to prevent wood borers from attacking it and it has to be made water-proof before use. But it "isn't a big deal," according to Vijay.
His bicycles, better known as bambikes, have successfully cleared the Japanese Industrial test at the TI factory in Chennai. Under this test, a bicycle is subjected 1,00,000 times to vibrations. Remarkably, the bambike underwent 2,00,000 vibrations without the bamboo frame breaking apart. Vijay has also made a cargo mountain terrain bicycle for an Italian cycling enthusiast who visited Bangalore for the express purpose of getting a bambike. Sharma has even crafted a bicycle to gift the winner of the Tour of Nilgiris, one of the longest organised mountain bike rides in India.
---
You may also like: These 'Plastic' Bags Are Actually Made of Potato & Tapioca – and Can Become Animal Food on Disposal!
---
These bicycles are lighter than steel bikes and almost the same weight as aluminium bikes. But despite all the goodness, the bambike hasn't had a lot of takers in India.
So far, Sharma has built about 20 bicycles, all of which were ordered by cycling enthusiasts abroad.
"People in India have a perception that bamboo is a cheap material and therefore the bike will be cheaper than a traditional metal bike but this is a handcrafted bicycle and not a factory-manufactured product," says Vijay. The bambike frame costs anywhere between Rs. 15,000-25,000 depending on the customisation.
Seeing the lack of demand in India, he has stopped making the bambike. Vijay sold his last bi-cycle in 2015. He now prefers to teach anyone who's interested in the art of making their own bicycles using bamboo. He once taught a young high school graduate how to make the bambike, who then rode on it to Ladakh.
"Once in a while, he used to send me updates about his whereabouts and tell me that the bike is doing great," recalls Vijay. He also taught an Australian sailor to make the frame and shipped it to Australia. "I may be the first Indian to make the bamboo bicycle but I am not the first person in the world. The first bamboo bicycle was made in 1898. In the 1990s, a Brazilian designer made another one. Then there was an American in the mid-2000s and then it was me. So I don't mind sharing the knowledge," he says.
The bambike isn't Vijay's first time creating and designing things on his own. Before the bambike, he had tried his hand at making tricycles, and successfully so. He has also made a side cart for his Enfield bike.
Vijay is now working on a new project with another designer friend. Together they are building a hybrid four-wheeled cycle cart that runs on battery and pedals. The duo is working on their first prototype and don't know if the vehicle will be commercially feasible.
"There will be a lot of challenges in making this one because we both are designers. We do not have an engineering background," says Vijay. "But we will figure it out." He is planning to involve an engineering student to help them understand the complexities of building such a vehicle, and is confident that their first prototype will be ready in the next two-three months.
---
You may also like: How Thousands of Children in Pune Prevented Over 50 Tonnes of Plastic from Reaching the Sea
---
Clearly, the fate of the bambike has not eroded this designer's enthusiasm for making new things. Not one bit. "I don't want to change the world or anything. But I am curious about doing certain things. Even though I am 42, it doesn't kill my curiosity to try and see if I can make something different," he says.
For the man who loves playing the guitar, brewing his own beer and gardening, getting his hands dirty is the best way to satiate this curiosity. "I don't do it to make money," he says. "The joy of creating stuff is unparalleled."
You can contact Vijay Sharma by writing to him at vijaycira@gmail.com.
(Written by Ira Swasthi)
Like this story? Or have something to share? Write to us: contact@thebetterindia.com, or connect with us on Facebook and Twitter.
NEW: Click here to get positive news on WhatsApp!