An innovative design that saves water and turns human refuse into an useful resource, Ecosan toilets can help India meet the new Sustainable Development Goals while supporting the Indian government's vision of a cleaner, healthier society.
Ever wonder about the efficiency of the modern toilet and water-based sewage systems? The conventional toilet design uses large amounts of water with each flush, something which just isn't sustainable in the long run, and completely impossible in areas that suffer from water shortage, which defines a majority of India.
So obviously simply building toilets where there isn't enough water is impractical. This is why initiatives like Ecosan are so interesting and necessary, and will in the future end up transforming the way we design, build and use toilets. In these toilets, there is no need to flush and the urine and faecal matter is utilised as valuable urea and manure. In one stroke, human refuse is turned into a useful resource, water is saved and there is no sewage!
Here's the story of how Ecosan toilets have been slowly but surely bringing a sanitation revolution in rural India.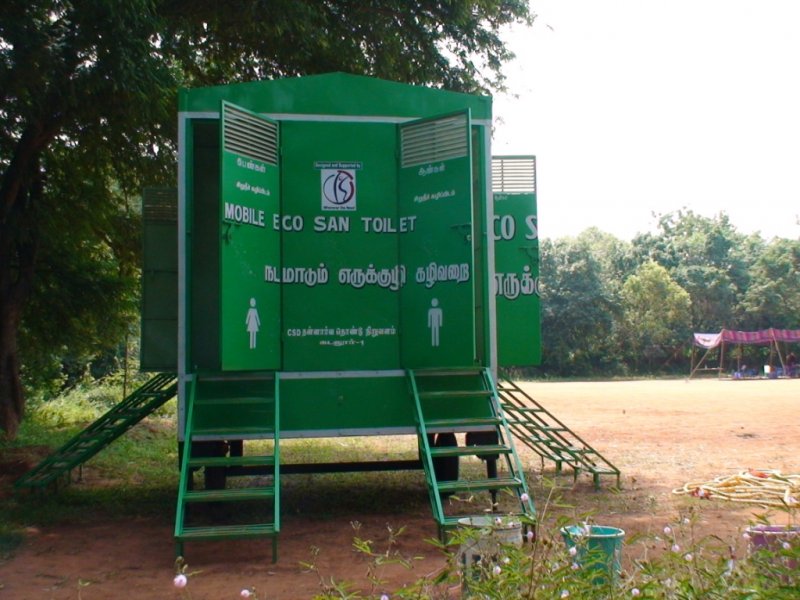 A strikingly underwhelming figure, Marachi Subburaman certainly does not look like the kind of man who has helped build more than 20,000 toilets in Tamil Nadu's Tiruchirapalli district and established a toilet design that is nothing short of the ideal, especially for rural India.
In 1976, 26-year-old Subburaman started working for an organisation in Andhra Pradesh that helped poor people build low-cost houses. As a part of his job, he used to go from village to village, dealing with several types of building material. Once when he was visiting a village, he wanted to relieve himself in the morning.
On asking the villagers, he was horrified to find out that the villagers relieved themselves by the water tank, which was also the village's source of drinking water. He ended up building an improvised toilet in the village that day. It was also the day when he decided to do something about the lack of sanitation in the region.
In 1986, Subburaman formed an organisation called Society for Community Organisation and People's Education (SCOPE) in Trichy. While its main focus was on creating avenues for women's groups to improve their incomes, SCOPE also took up several projects to build toilets, along with its other efforts.
Subburaman soon realised that a major part of household savings were eaten up by medical expenditure on treating infectious diseases, many of which were rife because drinking water was contaminated with faeces. So, when the Central Rural Sanitation Programme (launched in 1986 to provide grants to construct toilets in villages) reached Trichy, Subburaman persuaded the district authorities to invest all the funds in one village. The idea was to make sanitation work in an entire village. Thus, Devapuram in Trichy became a model village for sanitation in 1990.
In 1997, when the central government was reviewing CRSP, SCOPE was invited to the committee that formulated the Total Sanitation Campaign (later renamed the Nirmal Bharat Abhiyan). Subburaman's organization was also among the initial winners of the Nirmal Gram Puraskar.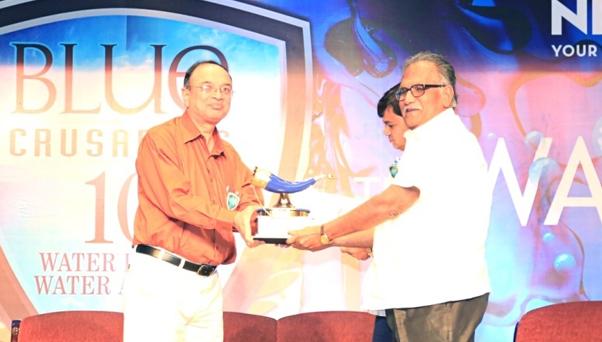 At that time, as a part of TSC, SCOPE was working on intensive toilet construction in a region called Musiri. As Musiri had an irrigation canal from the river Cauvery running through it, percolation from the canal had raised the water table of the area. This had made it impossible to make and use toilet pits constructed under government's sanitation programme. Water collected in the pit was unable to percolate down because the soil was already saturated with water. Also, very few could afford Rs 30,000-40,000 to build a concrete septic tank, where water flows out into a drain instead of percolating down. So, the excreta used to float up, especially six months after the rainy season.
That's when Subburaman heard about a toilet innovation by a British marine engineer, Paul Calvert. Calvert worked each winter along the coast of Thiruvananthapuram in a fishing village where open defecation was widespread. The high water table in the area made toilet pits difficult to construct, and even more difficult to use, as the waste floated up.
---
Also Read: An NRI Couple Shows Us How to Return to India and Transform Its Villages
---
So, based on Swedish planner Uno Winblad's Ecosan toilet design (his book Ecological Sanitation is a bible for those looking for sustainable ways of sanitation) , Calvert had designed a toilet with separate receptacles for urine and faeces, with two different chambers underneath. When one filled up, it was sealed and the other one was opened. After faeces had dried up and decomposed thoroughly in the sealed chamber, the excreta turned into manure that could be used for crops. Urine, almost entirely free of germs, was diverted to a vessel from where it was applied to plants after being diluted with water; urine is a rich source of urea and phosphate for plants.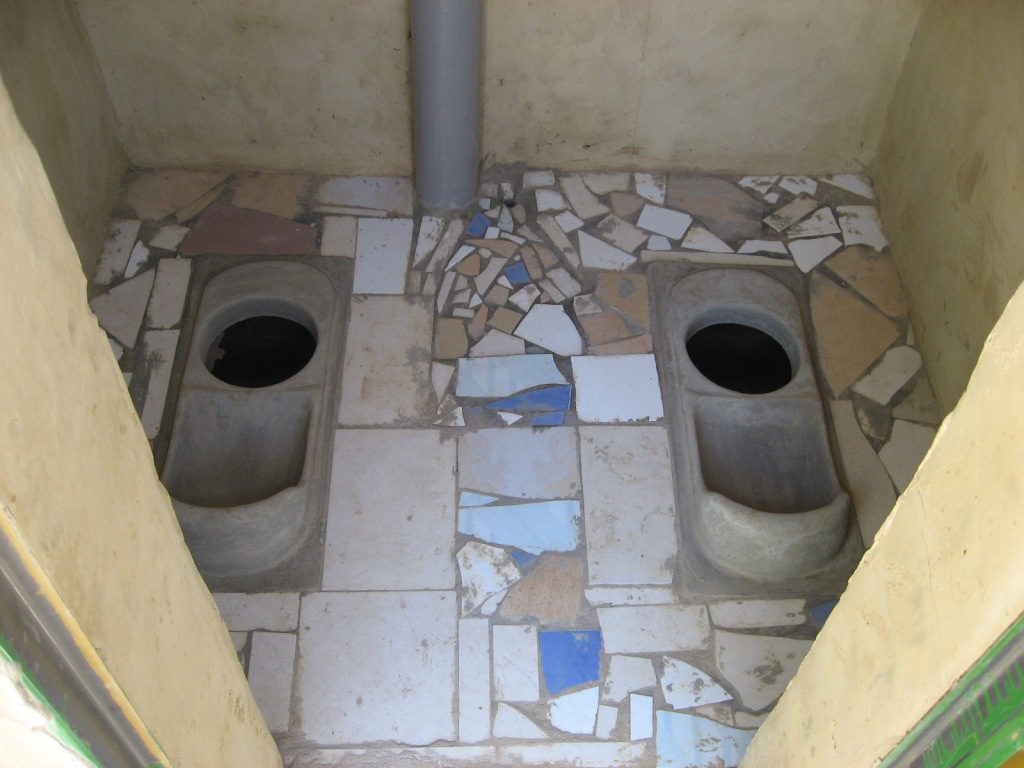 Calvert's toilet design made sanitation available in the village with high water table. Subburaman was immediately drawn to Calvert's story. Working with Calvert, who he invited to Tamil Nadu, Subburaman created a cheaper and simpler to use design that would meet Musiri's requirements.
In his design, called Ecosan Urine Diversion Toilet (EUDT), Subburaman designed one pan with one hole at each end for faeces (instead of two parallel pans), with two separate chambers underneath. In between was the hole to urinate into, which remained common regardless of which side of the pan was in use and which was sealed off to allow the faeces to decompose.
In this pan, the user has to move back after defecating to cleanse himself or herself with water that went out separately The urine, faeces and cleansing water go into separate holes. The separation is the key: it allows each to be dealt with at little to no cost.
There are several reasons this design is so good. One, it contains the millions of pathogens found in faeces – one gramme of faeces can contain up to 10 million viruses, one million bacteria, over 1,000 parasitic cysts, and over a 100 eggs of worms – and prevents them from escaping and infecting other people. When the faeces dry out and remain isolated in a chamber over weeks and months, they decompose and break down into harmless soil nutrients – what they indeed were before humans ate the food: nutrients from the soil prepared into food.
This means valuable soil nutrients take out in the form of crops are returned to the soil. Called the closing the loop on nutrients by scientists, this process mimics the way nutrients are recycled in nature and is ideal for soil conservation without the risk of infection.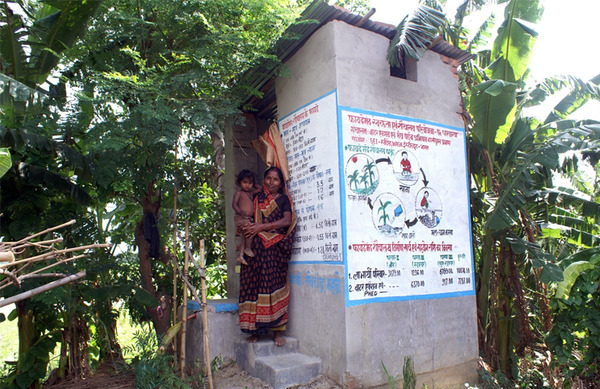 Secondly, Ecosan toilets save water and electricity, the two biggest expenses in water-borne sewerage by eliminating the need for sewage treatment plants, elaborate sewer network, and the expenses on maintenance and operations of such systems.
Thirdly, this also means that it can provide sanitation in extreme areas; in desert areas, where water scarcity necessitates frugal use of water; in rocky areas, where it is not possible to dig for pits and sewers; in coastal and flooded areas, with very high water tables; in earthquake prone zones, as there is no danger of sewage leaking through cracked sewer lines or pits.
In fact, this method got a big boost in the efforts to rehabilitate coastal areas destroyed by the 2004 tsunami as Ecosan toilets could contain excreta (and the infections it could unleash) even in water-logged areas.
So, in the 1990s, SCOPE used Subbaraman's tweaked design to make a public Ecosan toilet in Musiri. Today, if you go to Musiri, panchayat leaders proudly take visitors to see their urine-diverting dry public toilet. There are seven toilets for men and seven for women. Each has two pits under it, which are opened and sealed in rotation. The urine goes through a charcoal filter and is collected. From here, it is taken in vessels to an experimental farm, where the benefits of these nutrients in increasing productivity and savings on chemical fertilizers have been studied and documented.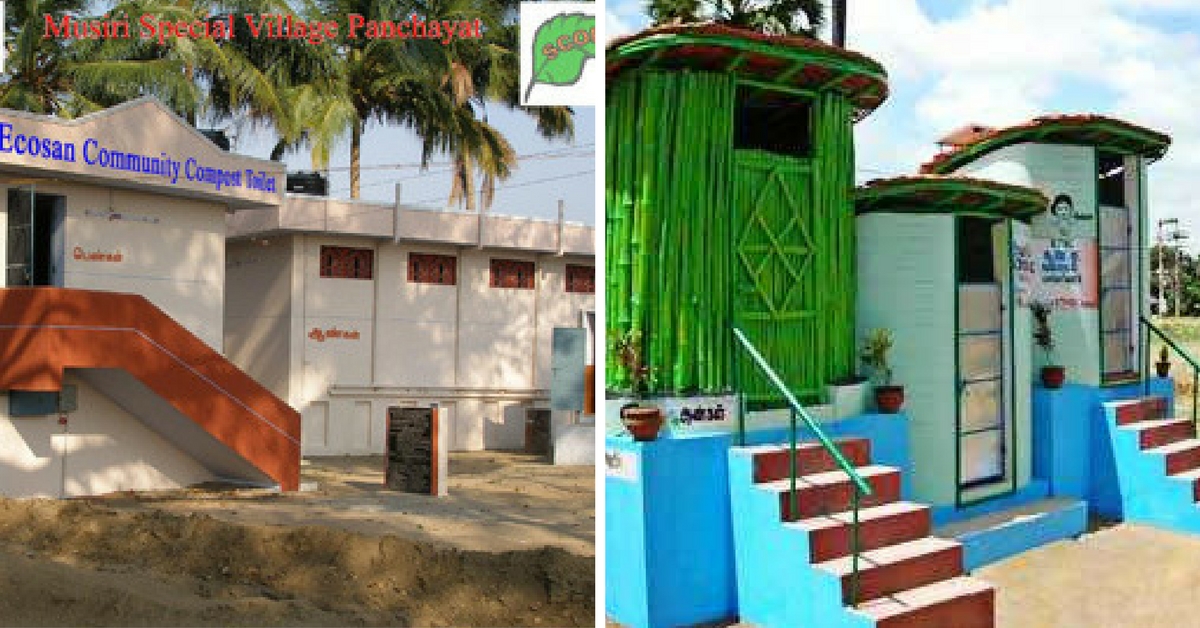 Subburaman's design and Musiri have become the inspiration for several sanitation efforts across the country that are experimenting with Ecosan designs that suit local conditions. ome examples of thriving models of these toilets can be seen in Gujarat, Karnataka, Maharashtra, Andhra Pradesh, Kerala, Orissa, Bihar and Ladakh. Voluntary organization like Myrada, Eco Solutions, UNICEF, WaterAction, Wherever The Need (WTN) etc. have designed toilets that are running efficiently in urban, semi-urban, rural and coastal areas.
As the nation embarks on the Swachh Bharat Mission to end open defecation, Ecosan Urine Diversion Toilet (EUDT) offers an inexpensive and easy-to-operate alternative to traditional waste disposal. Here's a short video that explains how these zero-waste toilets can help India meet the new Sustainable Development Goals while supporting the Indian government's vision of a cleaner, healthier society.
---
This World Toilet Day, The Better India is supporting Lonwadi, a village in Maharashtra, to become open defecation free in just one month! The residents want to build a toilet in each home and secure a healthy, hygienic and dignified life for themselves. Please lend your support to the residents in their quest and help them get access to toilets, sanitation facilities and a healthy future like all of us.
Unable to view the above button? Click here
Like this story? Have something to share? Email: contact@thebetterindia.com, or join us on Facebook and Twitter (@thebetterindia).
NEW! Log into www.gettbi.com to get positive news on Whatsapp.