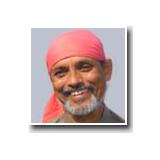 Here comes the latest in the wonderful series of profiles from our guest writer, Utkarsh Joshi. This is the story of Padmashree Dr. Anil Joshi, who learnt early in life that in
Here comes the latest in the wonderful series of profiles from our guest writer, Utkarsh Joshi. This is the story of Padmashree Dr. Anil Joshi, who learnt early in life that in order to develop the hill community where he worked as a lecturer, he would have to focus on rural advancement and making the best use of local resources. Read on to know how he brought about this revolution.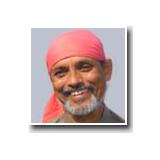 To the people of the hills in the upper reaches of India he is no less than a messiah and what he has achieved is no less than a miracle. Padmashree Dr. Anil Joshi, or "Sir" as the local populace refers to him, has made it his life's mission to make the villagers in the hills more self reliant – by promoting the local economy through local means and by upgrading generational hand-me-down wisdom.
Dr. Anil Joshi was born in 1955 in Kotdwara – a small town on the edge of Uttrakhand, at the foothills of the Shivalik range of the Himalayas. A bright student, he did well through school and college and after completing his PhD. in environmental science he eventually joined the Kotdwara government college as a lecturer. But being a man of the hills, he wanted to do more for the mountain community than just research. With inaccessibility, a lack of infrastructure, and most of the men folk either working in urban centers or foot soldiers in the army – these communities were getting increasingly dependent on urban centers and products for their livelihood. The answer as per the young Dr. Joshi was rural development and one which needed to employ local resources and make the villagers self reliant.
That was the initial thought with which he tried to break ice with the locals, telling them that he was a social worker. But most of the villagers he first approached shunned him, telling him that since he was not staying with them, he would not know enough to help! When he remarked he was a social worker – they asked why he didn't think of roads or schools. But he remained patient and slowly worked on building his relationship with the hill community. It's a relationship which has prospered in the intervening 29 years and brought about a silent revolution in the way these communities exist today.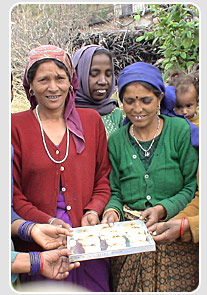 He began alone, but decided to give a more formal name and face to his approach, and thus Himalayan Environmental Studies and Conservation Organization or HESCO was formed in 1981. Some of his students and colleagues joined him as well. Based on their fundamental principles of participatory research and with a combination of science and tradition, they have gone to villages and enlisted local people to help them with their research. Doing this, they have developed new things while at the same time upgrading their hand-me-down knowledge to make them more relevant in today's age. For instance, the hills were overrun with 'Kurri' a wild shrub which was identified by the HESCO team as a weed. They identified uses for the shrub in order to control its growth. The sticks were strong enough to be used for furniture, the flowers and leaves could be used for incense sticks and the leftovers as fodder for goats! This has provided employment as well as monetization. HESCO has also worked on upgrading the local water mill used to grind grain or the 'gharat' – to make it an effective tool for power generation and provided indigenous electricity to these villages. According to Dr. Joshi, if all the traditional 'gharats' are modernized in the same way, local employment can mushroom while at the same time the hills can produce up to 2500MW of power for the country at practically no cost!
Stopping landslides and soil erosion using biological methods; creating a social platform for women to generate employment and marketing opportunities; advocating forest fire prevention and disaster management methods; circulating a local children's newspaper; using local development as a tool to wean away youth from anti social activities in border states – these are just some of the activities that HESCO and Dr. Joshi have been tirelessly working on to bring about a change. His highly educated team gets paid between Rs 2000 and Rs 6000 per month but their motivation keeps them going.
The government and the international community have also taken note of the stellar work that is being done by Dr. Joshi and team. Dr. Joshi was awarded the Padamshree in 2006 and HESCO works closely with government organizations like the Department of Science and Technology, Department of Bio-Technology, BSF, ITBP, CRPF, the Social Security Board – to name a few.
Dr Joshi's role model is Mahatma Gandhi, and he believes that to help the common people, one needs to stay with them and stay like them. Thus he leads a simple and austere life with the villagers and knows that his work is far from done. But he can sit back and be satisfied as an agent of change for his first love – the hills. It is not everyone who has the satisfaction of doing something which impacts close to 5 lakh villagers, in more than 10,000 villages, spread across 9 mountain states of the Himalayas.
The mountain man has truly lived up to his name.
To learn more about HESCO and their work, visit their website.