Dr. Vishal Rao, who recently developed a voice prosthesis that can help throat cancer patients speak after surgery for just Rs. 50, has now developed a wooden device to insert the prosthesis into a patient's throat in just two minutes. And the best part? A toymaker helped him develop it.
"A discovery is said to be an accident meeting a prepared mind" – Albert Szent-Gyorgyi
This quote, in a nutshell, describes a recent innovation by Dr. Vishal Rao, an oncologist and head and neck surgeon at the Bangalore-based HealthCare Global (HCG) Cancer Center.
About a year ago, Dr. Rao developed the Aum Voice Prosthesis – a device to help patients speak and eat properly after their voice box is removed.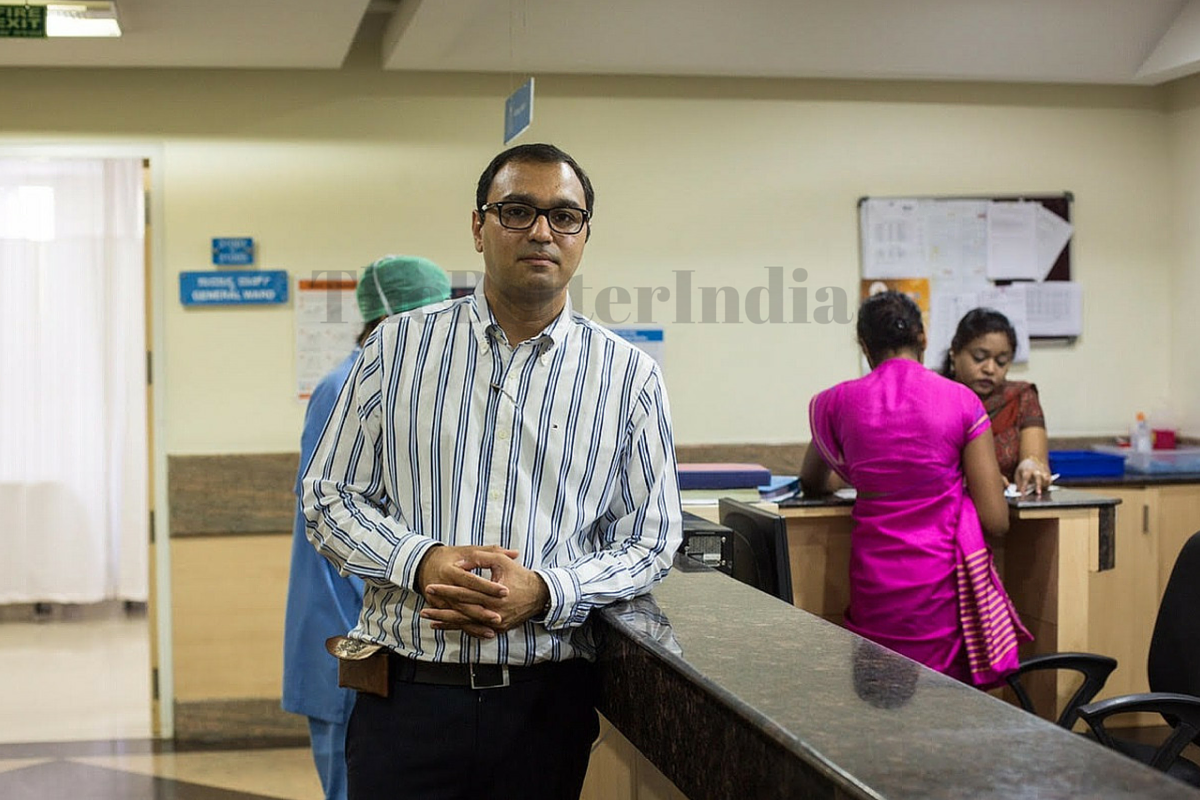 Made of silicone, the device is useful for a patient whose larynx is removed due to conditions like throat cancer. Unlike the available prostheses that cost anywhere between Rs. 15,000 and Rs. 30,000, and need replacement every six months, Dr. Rao's prosthesis costs just Rs. 50. It is placed in an opening between the windpipe and food pipe using a surgical procedure that takes about 10 minutes, and is performed in a minor operation theatre (OT)
TBI spoke to Dr. Rao about the prosthesis and its working in December 2015 (Read here). But his amazing story was not meant to end there. After reducing the cost of the prosthesis phenomenally, Dr. Rao continued his research until he found a way to make the insertion procedure simple and cost effective as well. He has now developed a wooden inserter to place the voice prosthesis in a patient's throat within a time span of two minutes. Priced at Rs. 100, the device saves cost and also prevents the anxiety that many patients feel at the very mention of an OT.
---
You may also like: This Doctor Invented a Rs. 50 Device To Give Throat Cancer Patients Their Voice Again
---
His eureka moment: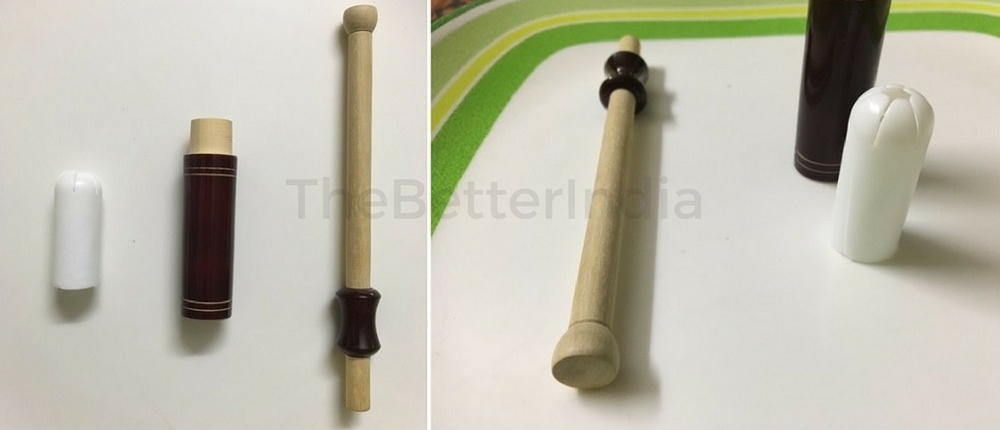 "About 30 people are using the voice prosthesis to speak with. And that is awesome. But I have to take patients to the OT for the insertion process. This, I felt, was not up to the mark because the procedure makes some patients nervous. Moreover, I wanted to reduce the cost too," says Dr. Rao.
He started thinking about ways to develop a device that would enable him to push the prosthesis into the throat without any surgical procedures. After eight months of hard work and diligent study, and failed prototypes, unsuitable designs, and several roadblocks, he sat with a team of engineers, seeking their advice.
"As I was explaining how the prosthesis needs to be pushed inside the throat using a stick-like device that should slowly slide it into the hole in the neck, my friends laughed at me. They said it seemed like I was talking about a child's toy and not about a medical device. And voila! My brain stopped for a second. It made sense. I realised I shouldn't be talking to engineers; I should be talking to toy makers instead," he says.
The very next day, Dr. Rao went to Channapatna, a small town in Karnataka, famous for its wooden toys and lacquerware.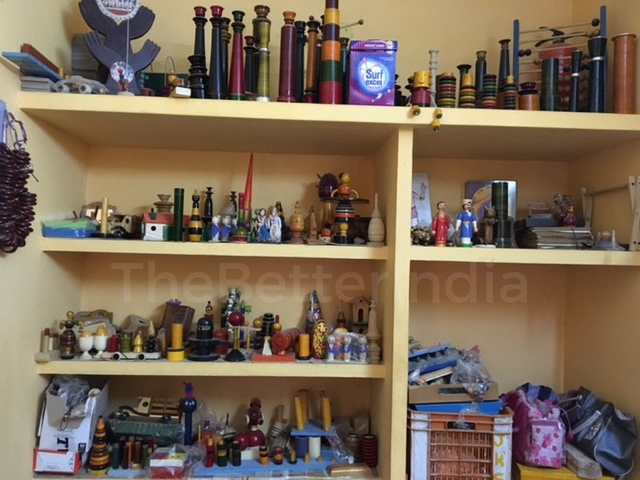 Here, the 38-year-old found himself surrounded by beautiful toys in a small shed belonging to a toymaker named Kouser.
"It was a room full of wooden toys, which looked scientific and were impressive. There was a small globe, the working model of the solar system, and more. I told him about my requirements and he instantly said, 'This sounds simple. I can make it.' I drew some figures, gave him measurements, and just like that – he gave me the first prototype in a couple of hours."
---
You may also like: Anyone Can Check Their Eyes at Home With This Origami-Style DIY Eye Test Costing Under a Dollar
---
How the inserter works:

The inserter is a colourful device painted with vegetable dye. It consists of a wooden cylinder, a wooden piston and a polyethylene tube with a conical end. The prosthesis is placed in the tube, the cylinder is screwed on to in, enclosing the prosthesis, and a piston is used to simply push the device that then lodges at the right spot in the throat.
"No matter how complex a problem is, you should always find the simplest solution. The medicine industry has been trying to innovate in a way that nobody can copy them. But I have made such a simple device that anyone can make it. Anyone can open it, dismantle and say 'Oh! This is simple.' And that is important for me," he says.
The current status: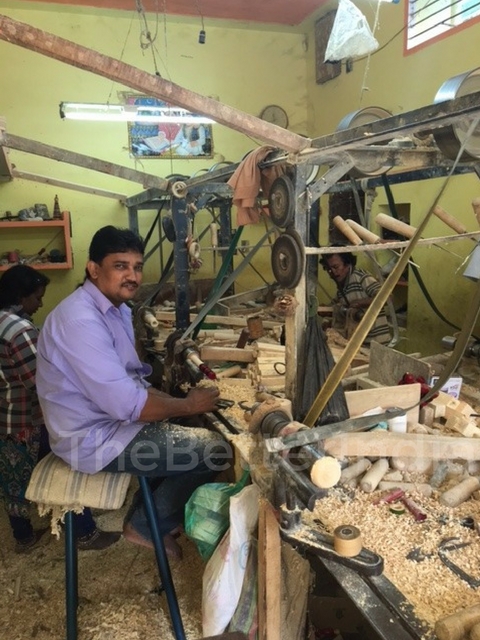 Dr. Rao has named the inserter Shusruth, after Sushrutha – a famous Indian physician known for his valuable contributions to the world of ancient medicine. Dr. Rao has received the scientific and ethical clearance to study the safety, utility, and success of the device and has initiated a study at HCG to develop it further. The device has also been tested on one patient, who, according to Dr. Rao, responded well to the procedure.
---
You may also like: Meet the Doctor Who Has Been Fighting a Potentially Blinding Disease in Premature Babies since 1997
---
Dr. Rao says he feels that talented toymakers can use their art to help innovate in the field of medicine. "Knowledge permits a doctor to work, but the spirit of service blended with the zeal to solve a clinical problem creates the recipe for innovation in medicine. These toymakers use science to build toys. Medicine is an extension of the same science. I feel the toy industry has the potential to extend its capabilities and make medical devices that are environment-friendly and easily disposable," he concludes.
You can contact Dr. Rao by writing to him at drvishalrao@yahoo.com
Like this story? Or have something to share? Write to us: contact@thebetterindia.com, or connect with us on Facebook and Twitter.
NEW: Click here to get positive news on WhatsApp!