Pune-based Sagar Mitra Abhiyan's simple, safe and effective plan is helping over a lakh school children contribute to the collection, recycling and disposal of plastic waste.
Scientists have warned about the dangers of plastic pollution and microplastics in the environment for a while now. However, most people still aren't convinced of the link between carelessly discarding a water bottle and damage in the seas. After all, plastic in the ocean doesn't have the powerful symbolism of nuclear plants or oil spills: most of it is below the waves, often invisible to the naked eye.
A unique Pune-based initiative, Sagar Mitra Abhiyan (Friend of the Ocean), hopes to change this by creating a cultural shift in public perceptions and behaviour concerning plastic pollution.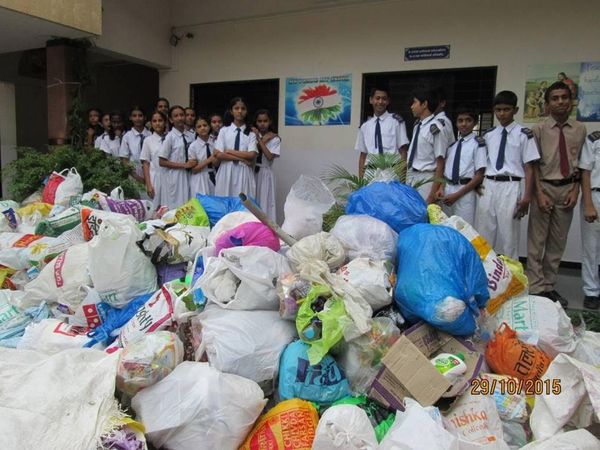 It all started during a riverbank cleanliness drive that had been organised by the NGO The Academic Advisors (TAA) with schoolchildren. The founders of TAA, Vinod Bodhankar, Susan Raj and Lalit Rathi, had accompanied the children on the cleanliness drive.
When the trio saw that the mountain of waste along the riverbank contained syringe needles, pieces of glass and other such sharp objects, they realised that they could not ask the children to pick up plastic from sites where they could be exposed to such hazardous materials. Sending the children home, they decided to design a method in which children could safely and effectively contribute to the collection, recycling and disposal of plastic.
This resulted in TAA's Sagar-Mitra Abhiyaan initiative which began in 2011 with 150 children from one school. The Abhiyan is supported and guided by other NGOs like the Pune Jalbiradari and the Clean Garbage Management Private Ltd.
Under this programme, students from classes 5 to 9 are shown a presentation about pollution caused by plastic, which is then explained in the clearest and simplest terms by TAA members. The slideshow contains images of marine life and birds choked to death on plastic or the heaps of refuse containing tons of plastic that is contaminating rivers, lakes and other water bodies.
For most children, it is the first time that such a direct connection has been shown between human practices and the destruction that is caused to millions of blameless creatures. This quickly and effectively communicates the message that preventing plastic waste from reaching water bodies can protect many such creatures from dying or choking through no fault of their own. As a result, the presentation succeeds in bringing the focus on plastic as a major environmental threat.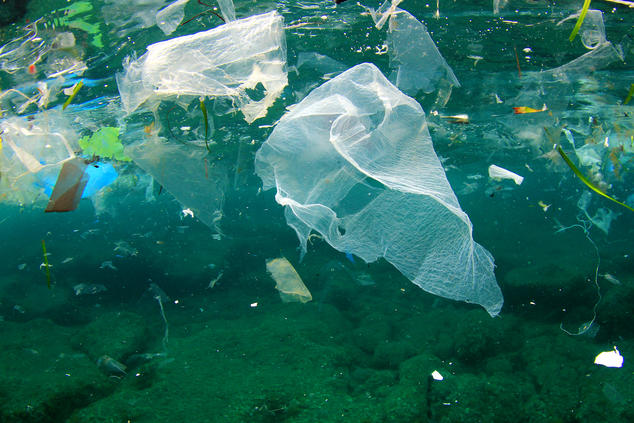 After the presentation, the students are given a plastic bag in which they will collect clean, dry, empty plastic from their homes (with at least one item daily, or 30 items in a month) like packets, bottles, bottle tops, ball pen casings, old combs etc. These are put into a big plastic bag kept specially for the purpose.
Every month, on a designated day, the students hand over the bag full of plastic items to teachers and volunteers at school. There is no penalty for students who say they could not find any plastic – they can hand over the the empty Sagar-Mitra plastic bag to deposit at the school.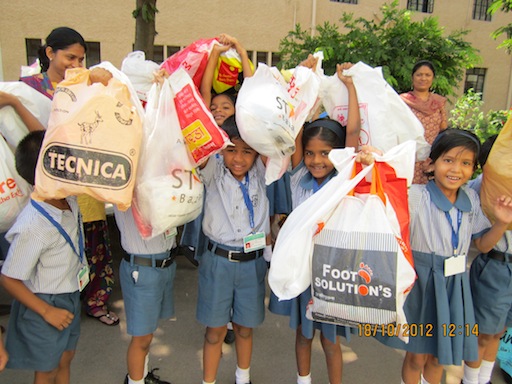 Each child, who collects plastic waste, only from the confines of his or her home, is a declared a 'Sagar-Mitra' which translates to 'Friend of the Ocean' in Hindi. In turn, these children also spread awareness among their family members and friends.
The handed over plastic is picked up by a Sagar-Mitra vehicle that arrives with a driver and cleaner at each school. It is weighed and packed into the vehicle after the price of Rs 8 per kg has been handed over to the school's green fund. The plastic is delivered to the warehouses of the Clean Garbage Manufacturing Pvt. Ltd. (CGMPL), who recycle the plastic waste into diesel or hard boards like table tops and pots. Coloured plastic is converted into bright buckets and planters. This step also helps in saving trees as recycled plastic is used instead of wood.
---
Also Read: Kerala Govt. Will Now Pay Residents for Plastic Waste and Recycle It to Make Roads. Brilliant!
---
However, around 30-40% of plastic items cannot be disposed of through the conventional demand funnels. These are sent for pyrolysis – the chemical decomposition of plastic using heat in the absence of oxygen, which results in its conversion to some forms of fuel. One of the collaborators Sagar-Mitra, scientist Nilesh Inamdar, has developed a machine that converts clean and dry plastic into furnace oil and coal powder.
A simple and effective initiative, the Sagar Mitra Abhiyan has worked exceedingly well. For the children, the practice of collecting plastic has become a daily routine as natural for them as doing their homework or packing their school bags. Even ex-students bring their plastic to their schools for collection. Teachers and their families too have got used to this practice.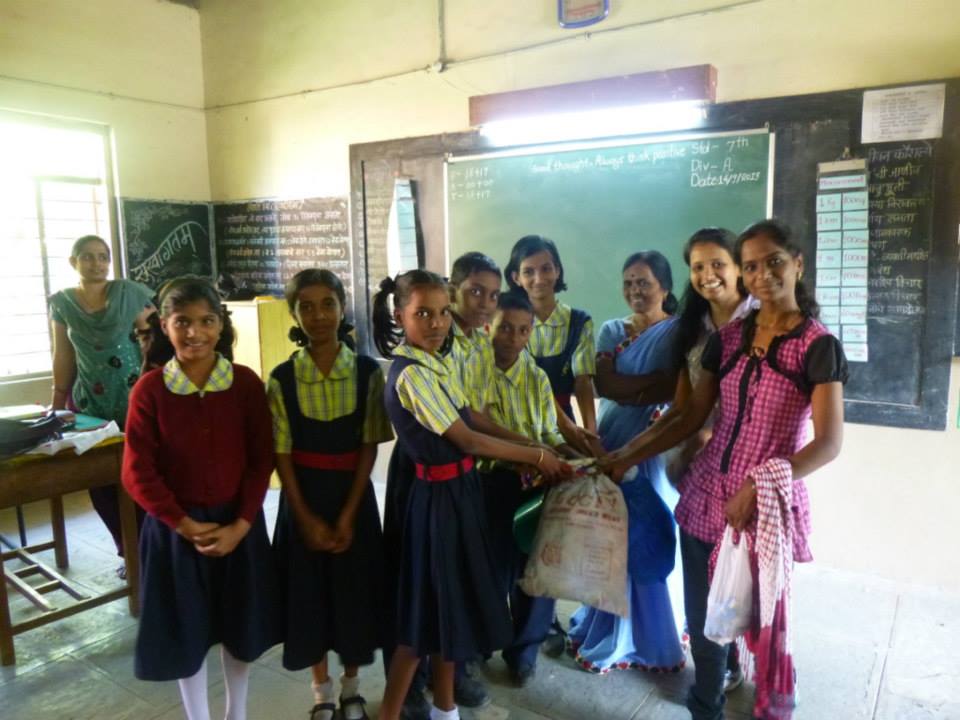 Over a lakh students from classes 5 to 9 from schools spread across Pune city are currently a part of this initiative, and more are being added every day as more schools are becoming a part of the programme. Till date, students have contributed 50 tonnes of plastic they have collected from their homes. This is huge if one considers the fact that it takes a mere 100 kilograms of plastic to contaminate a square kilometre of ocean or farmland. It is also significant given that one tonne of plastic is extracted after sorting through 15o tonnes of mixed garbage.
Sagar Mitra Abhiyan now aims to cover all 780 schools (and 12 lakh children) in Pune by 2018. It has already been introduced in 40 cities/towns in India with the target of every school in 150 city by 2020. Since 2015, it also began reaching out to housing societies in several cities.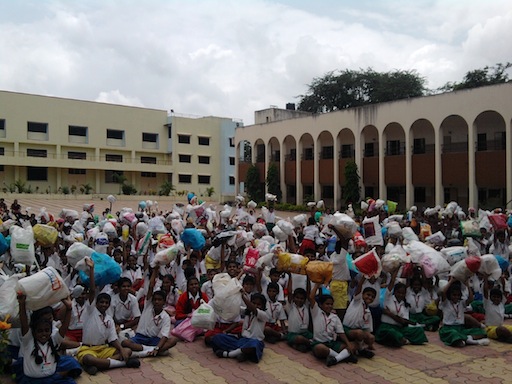 In 2015, Sagar Mitra Abhiyan's efforts were noticed and the members were called to meet Prakash Javadekar, the environment minister, as well as the Directorate of Secondary Education in Maharashtra. The initiative was also introduced in two research papers at the 15th World Lake Conference held at Perugia, Italy in 2014, which inspired similar initiatives in New York and Morocco.
Sagar Mitra Abhiyaan has also spawned some wonderful sister initiatives – SAGAR-MAATHA and SAGAR-DHAARA. While the former focusses on preventing plastic pollution and encouraging afforestation in the mountains, the latter focusses on rain-water harvesting in schools. As Bodhankar, founder member of the Sagar Mitra Abhiyan, says,
"Every child influences at least three people in such practices at home and elsewhere. Thanks to every child involved with the initiative, by 2020, we will be able to make a significant difference to the way people use, dispose and recycle plastic. "
Contact Details : Vinod Bodhankar
Phone Number: 9850230064
Email: parvatara@gmail.com
Website: http://www.sagarmitra.org
---
You May Like: These 'Plastic' Bags Are Actually Made of Potato & Tapioca – and Can Become Animal Food on Disposal!
---